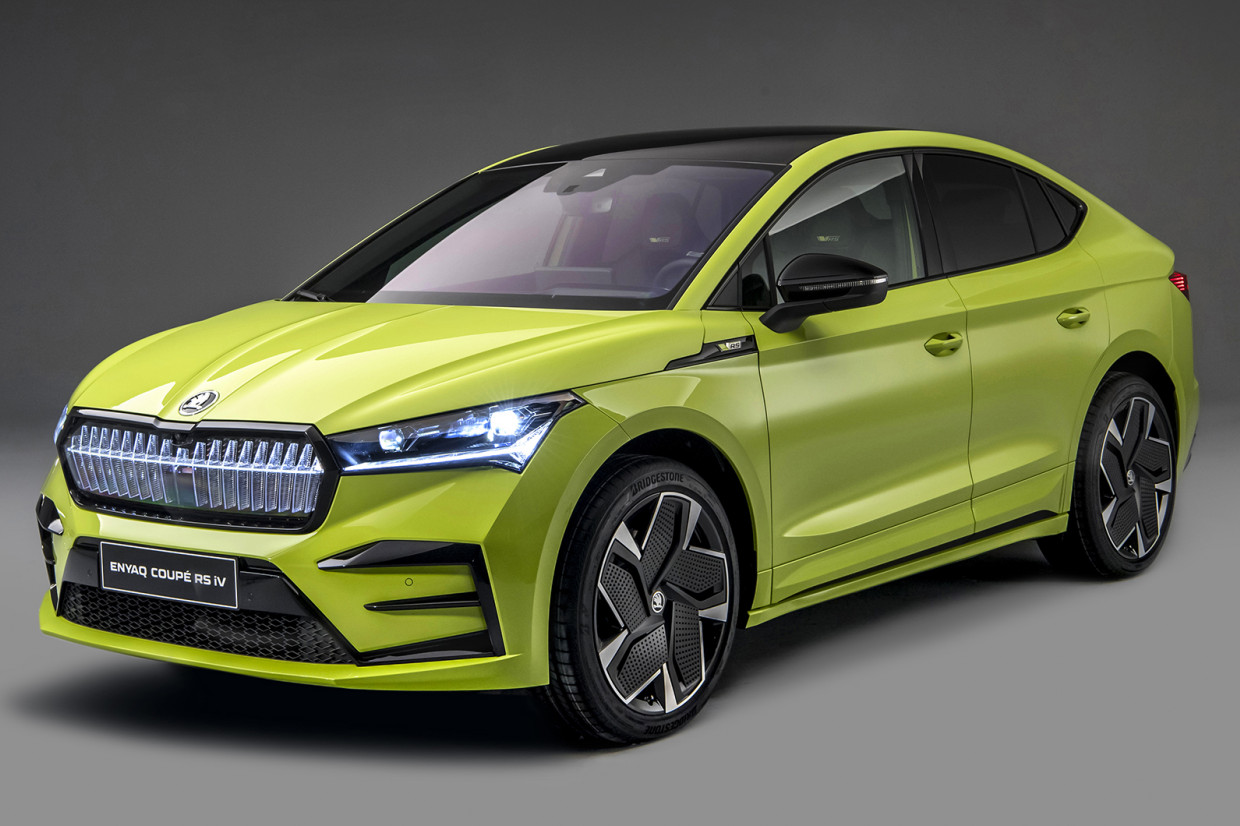 Impressed by the practicality, size and range of the excellent Skoda Enyaq iV, but fancy your electric SUVs with a dash of extra style and a healthy slug of performance? Then we have good news: say hello to the new Skoda Enyaq Coupe iV.
As the name suggests, the Czech firm's newest offering is a variant of its excellent electric SUV – we've given it a maximum five-star rating, so you know it's good – with a sloping coupe roofline. Skoda boss Thomas Schäfer claims it "brings even more emotiveness, sports styling and elegance to the Skoda iV family".
Still, this isn't just a style makeover: excitingly, the Enyaq Coupe iV will be the first electric Skoda to gain a hot performance version wearing the firm's fabled vRS badge. That model features two electric motors producing 220kW (295bhp) and, should you never want to worry about losing your machine in a car park, can be finished in Hyper Green paint. Which, as you'll see from the picture at the top of this piece, really is very, very green.
We'll get to that mean green machine in a bit. Let's start with the basics.
Right, exactly what is the Skoda Enyaq Coupe iV?
It's a new variant of Skoda's bespoke electric Enyaq that is designed to capitalise on the growing popularity of 'coupe-SUVs', which take a high-riding, rugged SUV and add a sloping body style. And yes, we know that if you look up it in the dictionary it clearly says a coupe only has two doors. But car firms have long since decided to ignore such technicalities...
Essentially, the Enyaq Coupe is intended for people looking for a big, practical and high-riding electric car, but who don't want a boxy, big SUV.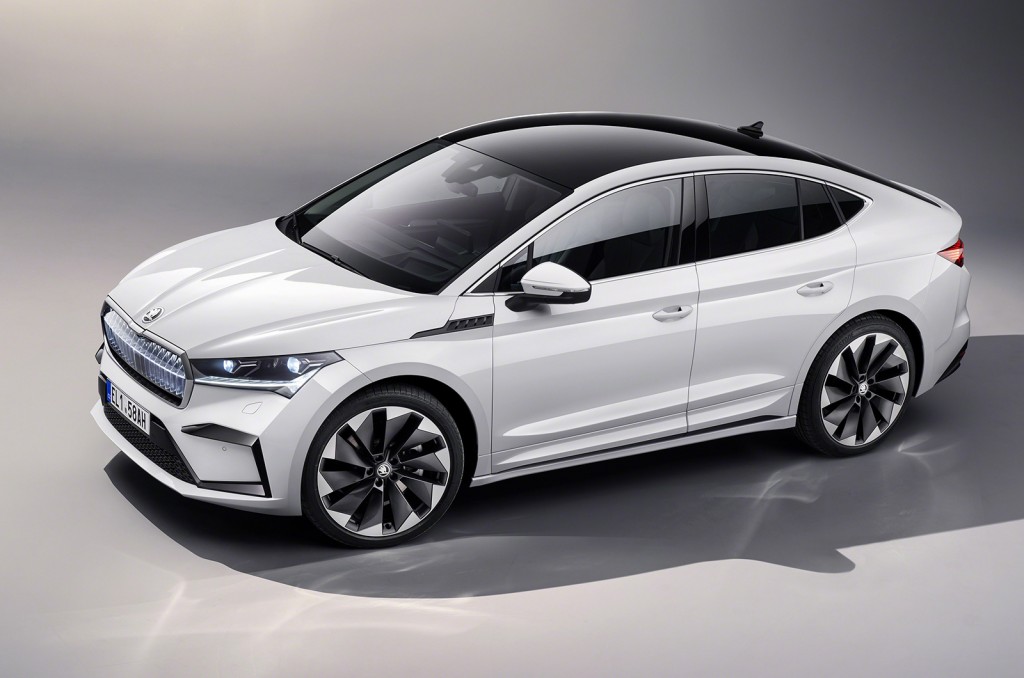 Both cars are built on the Volkswagen Group's bespoke electric MEB platform, which uses the classic 'skateboard' chassis format with the batteries under the floor and the ability to put motors at either end. That means the Skoda Enyaq and Enyaq Coupe are closely related to the Volkswagen ID 4 and its own swooping coupe-styled sibling, the ID 5.
In terms of design, the front end of the Enyaq Coupe is similar to its SUV sibling, albeit with a revamped front apron and new body-coloured side skirts. The big change comes after the car's B-pillar between the front and rear doors, when the roofline gently erases down to the rear bootlid.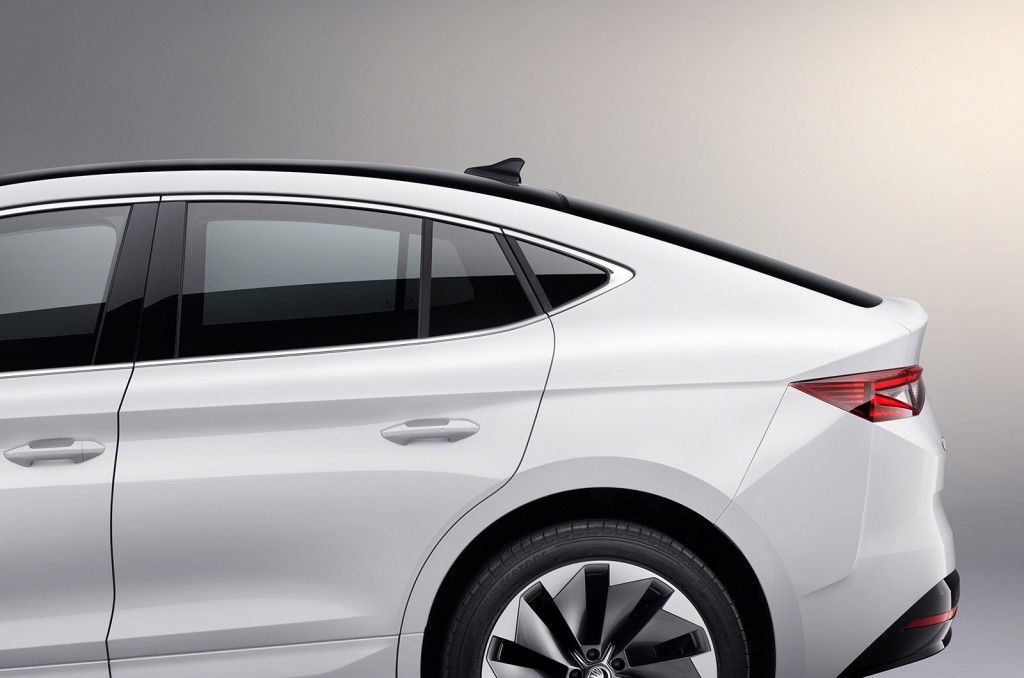 That sloping roof includes a black panoramic glass roof as standards, which is designed to merge into the rear window and - trivia alert - is the largest glass roof offered in the Skoda range. Skoda claims the glass is thinner than a normal full roof helping to let more daylight in and maximise headroom in the back.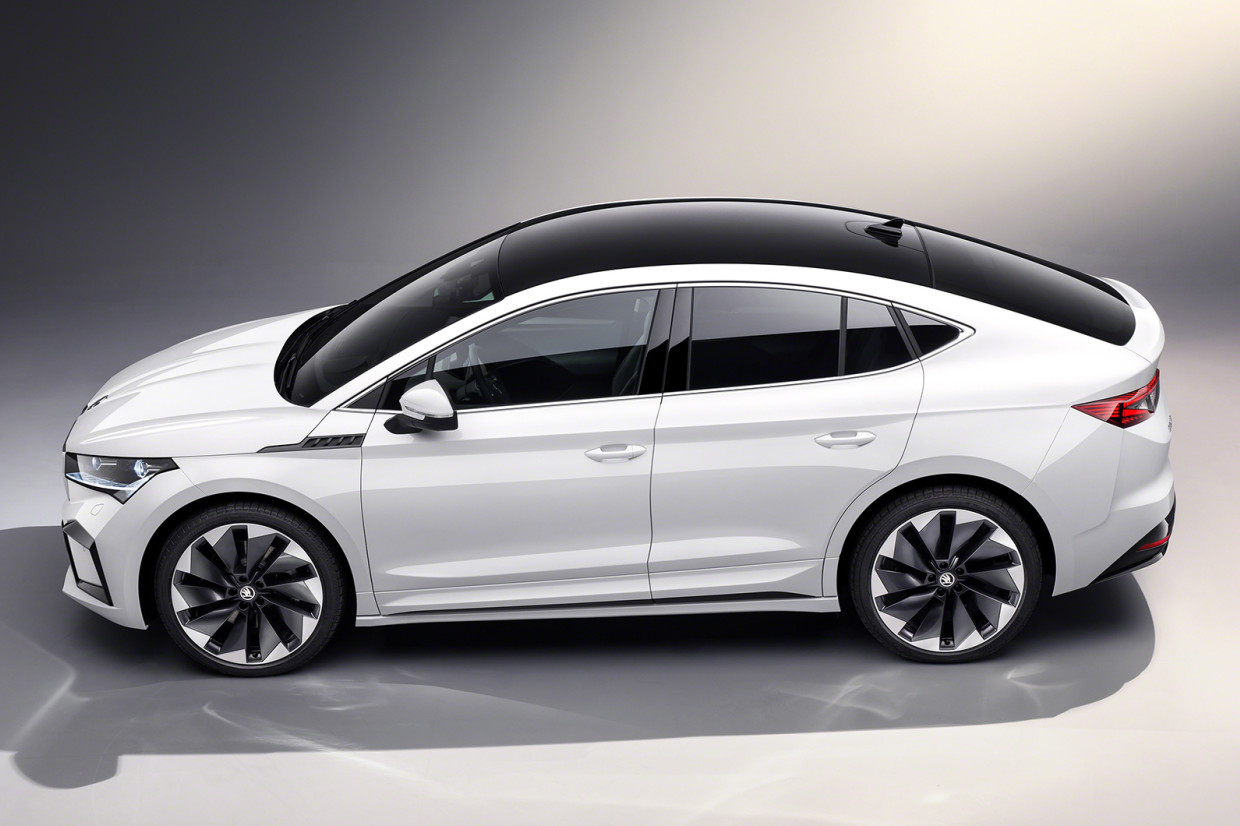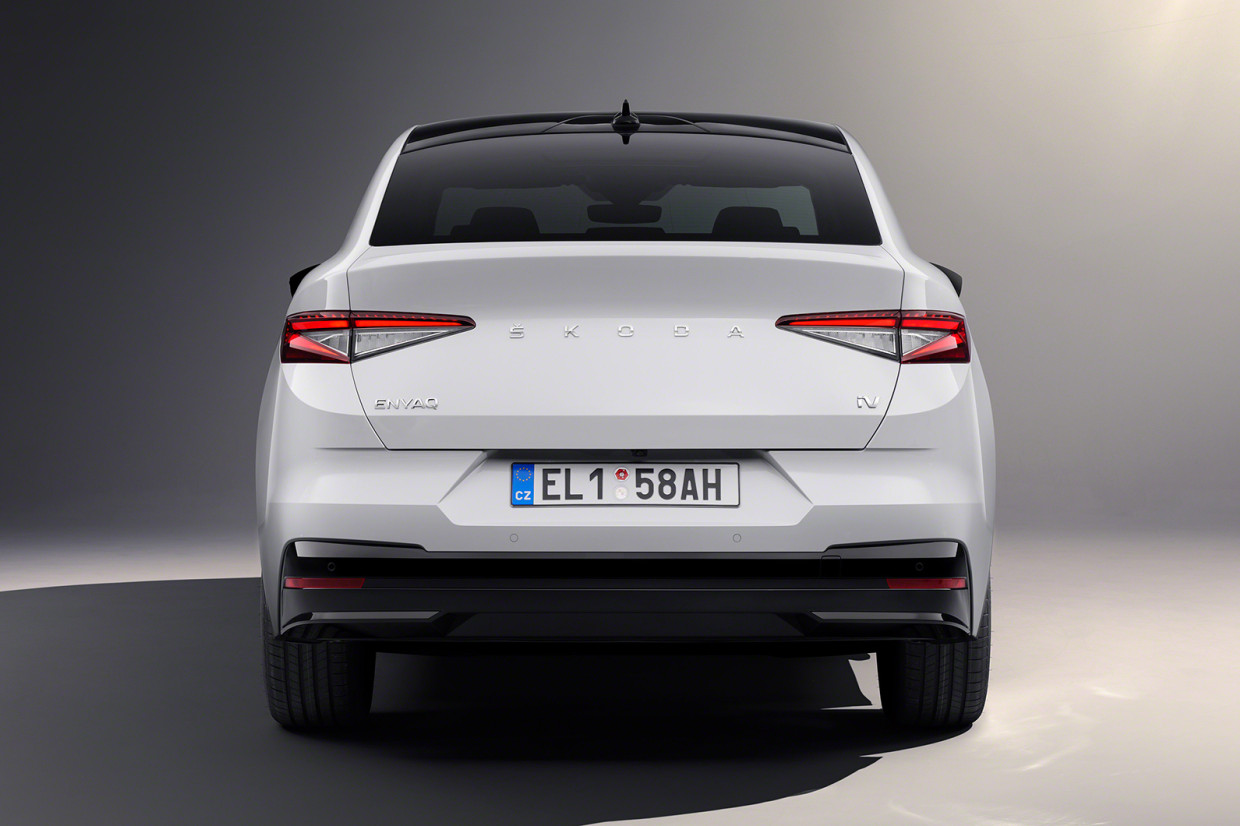 Okay, enough about the roof: is there any difference beyond the bodywork?
At 4653mm, the Enyaq Coupe is longer than the SUV version, albeit only by 4mm. At 1622mm, it's also 6mm higher, too, while its 1879mm width and 2765mm wheelbase are identical to the SUV.
The sloping roofline inevitably means there will be less headroom in the rear, although Skoda hasn't gone into detail on this year. We do know the boot is 15 litres smaller, although at 570 litres it's still really big for a machine of this size and likely price point. This might be a more emotional Skoda, but the Czech firm still has a reputation for practicality to uphold.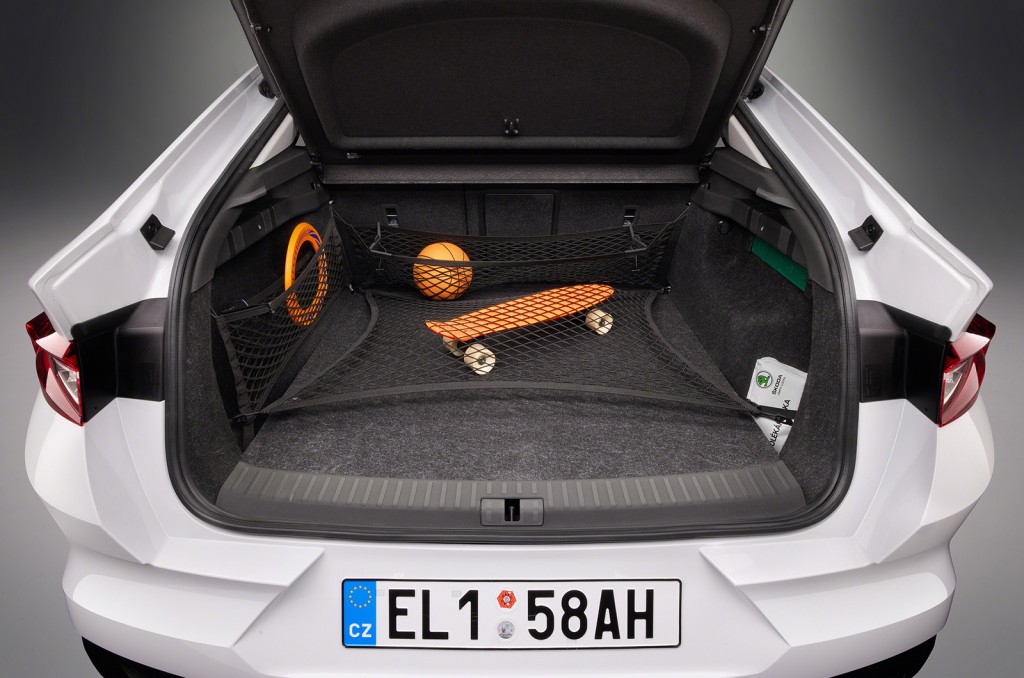 While the two machines are mechanically identical, there are some key differences in their powertrain and battery line-ups. For starters, while the Enyaq SUV is offered with a choice of 62kWh and 82kWh batteries (although Skoda brands them the 60 and 80, because round numbers are nicer or something), the Coupe is only offered with the larger 82kWh (77kWh usable) unit.
The entry-level Enyaq Coupe iV 80 will feature a single motor that drives the rear wheels and produces 150kW (201bhp) and 229lb ft of torque. There will also be a twin-motor, all-wheel-drive version, the iV 80x, with 195kW (262bhp) and 312lb ft of torque. Both models feature a limited top speed of 99mph.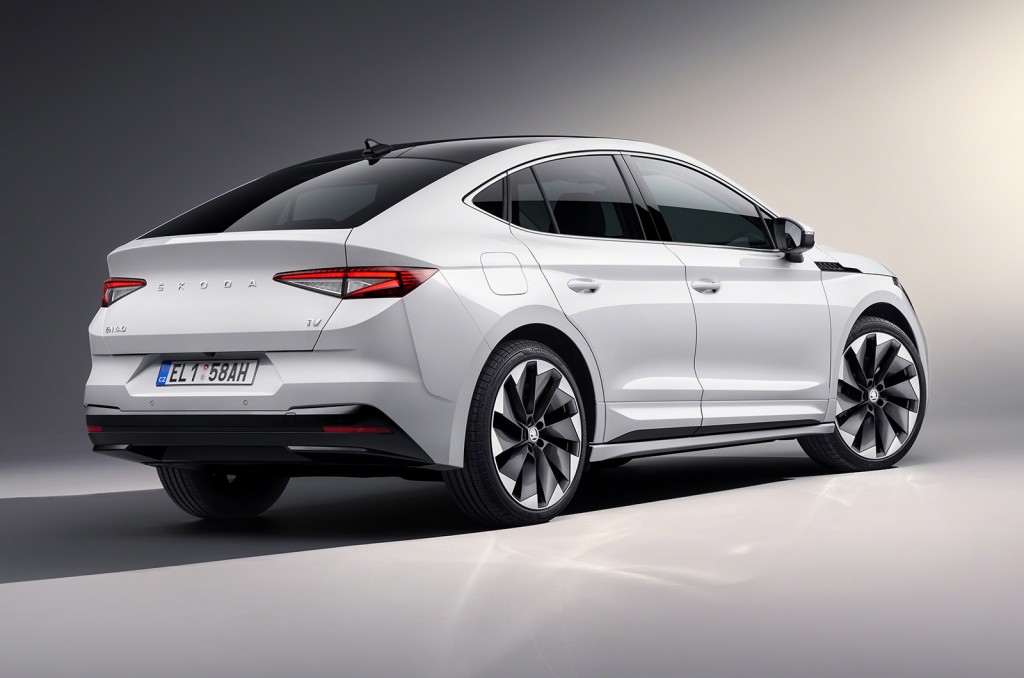 While the coupe roofline does impact rear headroom and boot space, it is more aerodynamic than the SUV: for all you budding aerodynamicists out there, Skoda claims it has a drag coefficient of 0.234. That means the single-motor Coupe has an official range of 339 miles – that's nine miles more than the SUV.
The machine is capable of DC fast charging at speeds up to 120kW. That means it can charge from 10 to 80% in 29 minutes. A home charge on an 11kW callbox takes six-eight hours. Oh, and it has a maximum towing capacity of up to 1400kg.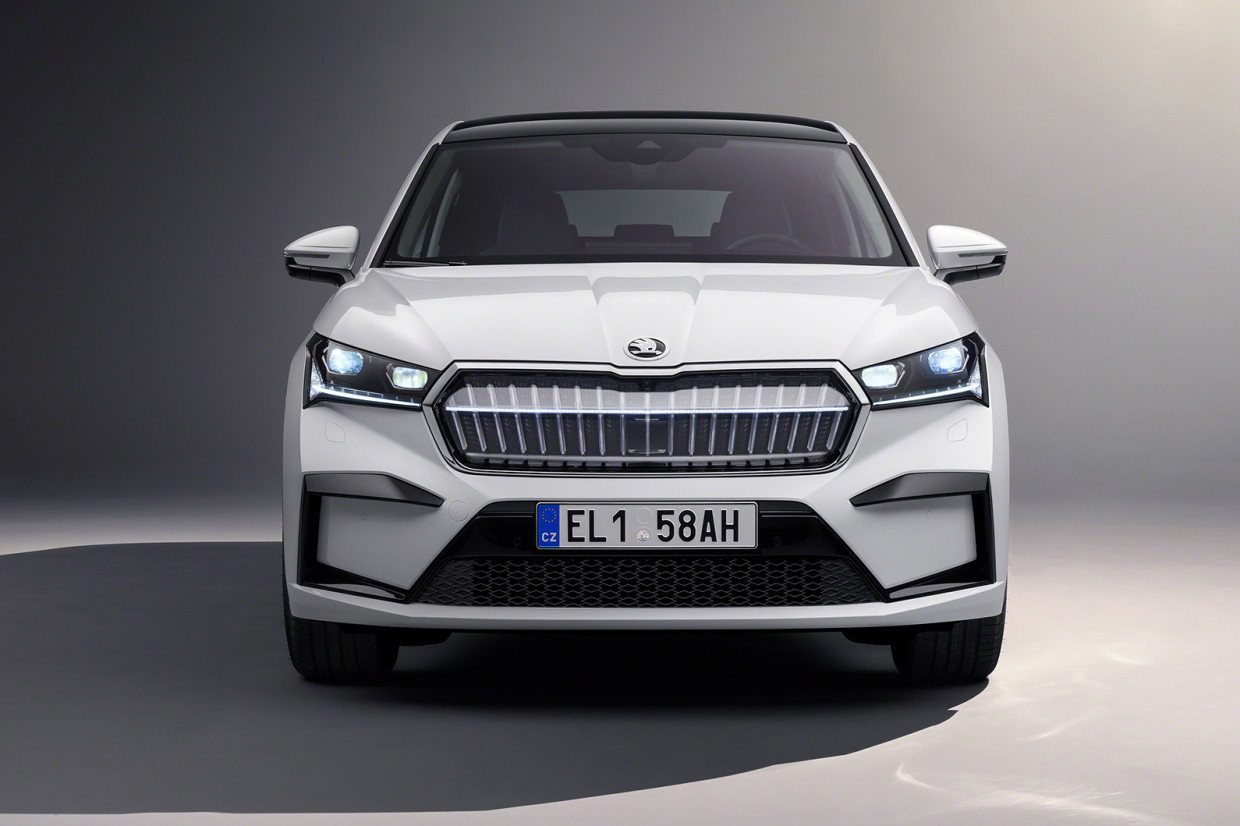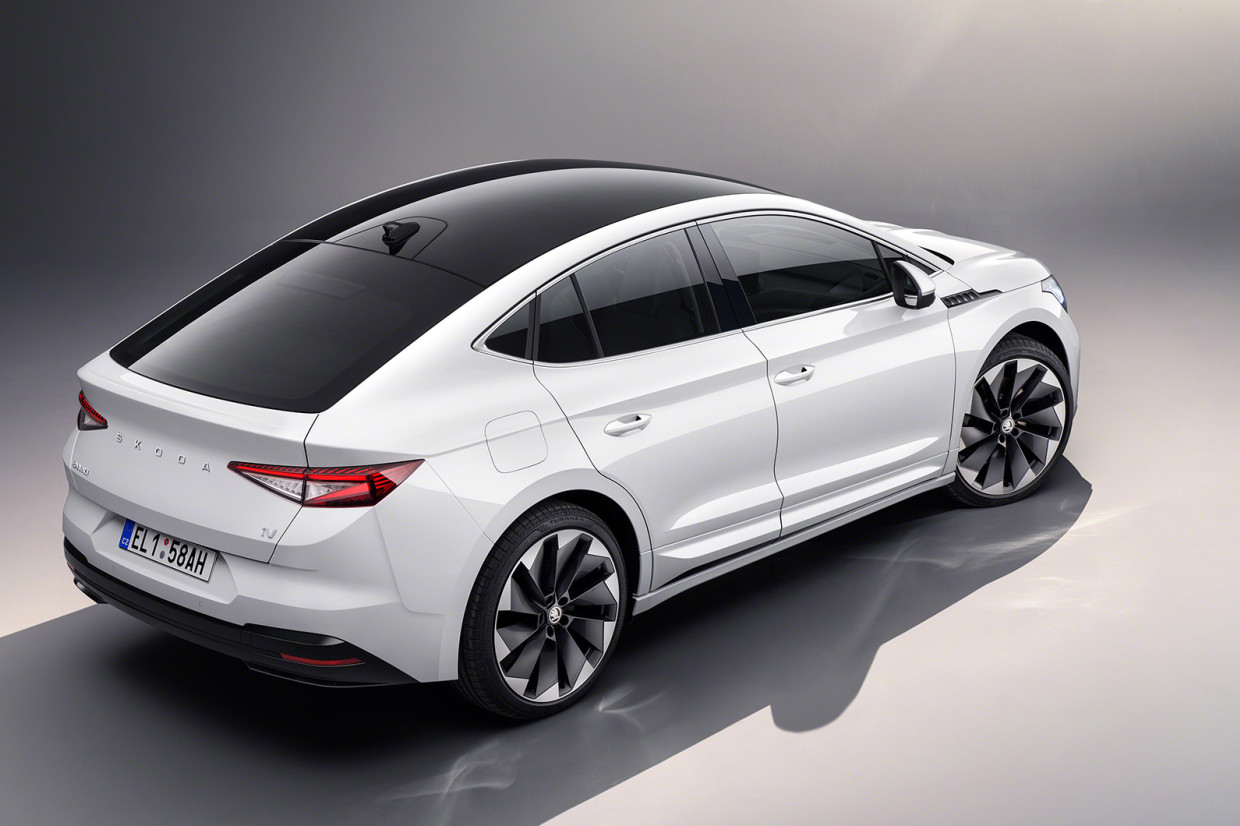 Right, let's talk about this vRs performance version then…
The range-topping Enyaq Coupe is the first electric Skoda to carry the firm's vRS badge. For the uninitiated, vRS stands for Rally Sport (it's simply branded RS in most markets, but gets a 'v' in the UK because Ford has dibs on RS for its performance models), and has been used on a range of high-performance road cars since 2000.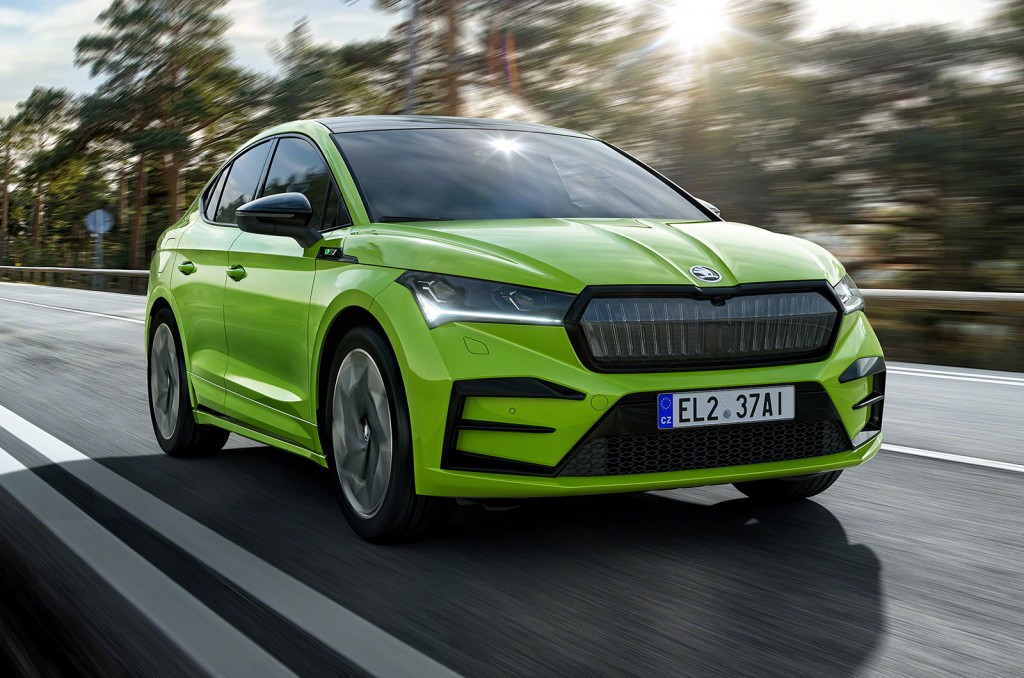 The Enyaq Coupe iV vRS features two motors powering all four wheels, producing 220kW (295bhp) and a healthy 338lb ft of torque. It can sprint from 0-62mph in 6.5 seconds, and has a top speed of 111mph. If those stats seem a bit familiar, they're virtually identical to the closely related Volkswagen ID 5 GTX that is the first model featuring VW's new performance badge.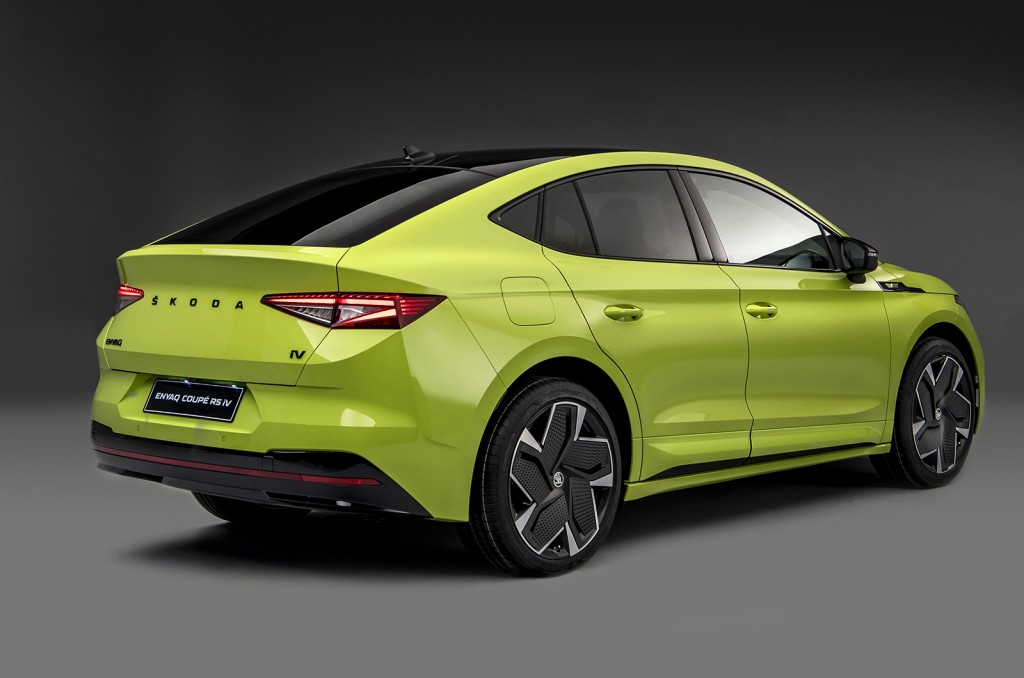 As well as extra power, the vRS version of the Enyaq Coupe has several other features to make it stand out. It features a 'sport chassis' – also offered on the SportLine trim –  which sits 15mm lower at the front and 10mm lower at the rear. And it also features Skoda's 'Crystal Face', which lights up the vertical ribs of the front 'grille' panel using 131 LEDs as standard (that's optional on other versions).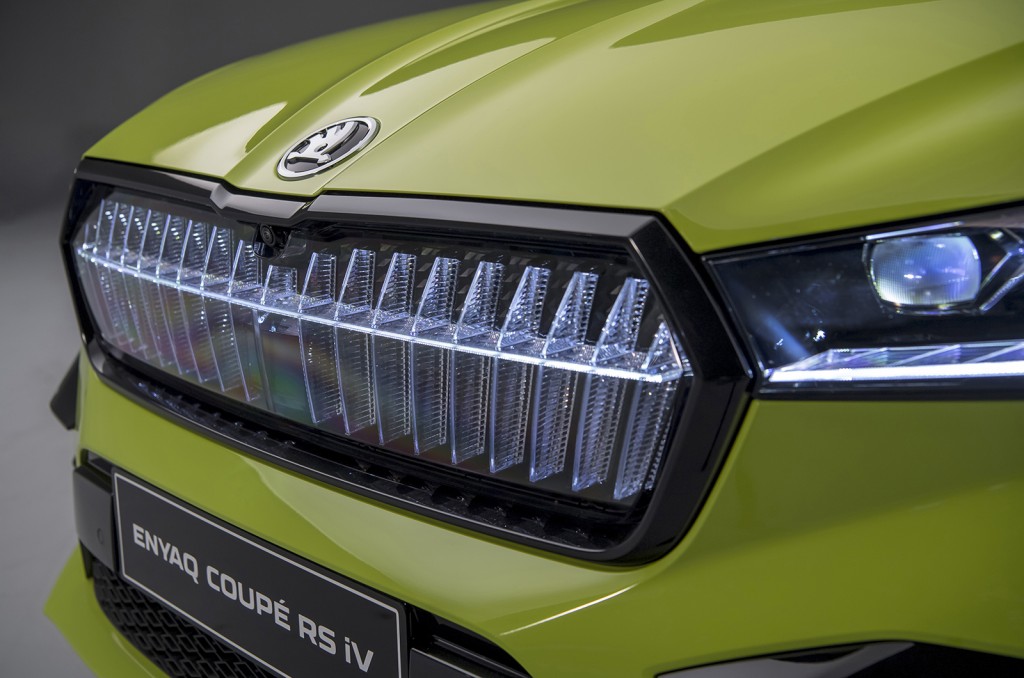 Other sporty-styled vRS design details include a gloss black grille surround and rear diffuser, a full length reflector on the rear bumper and special 20inch alloy wheels as standard - although you can plump for 21in versions if you prefer.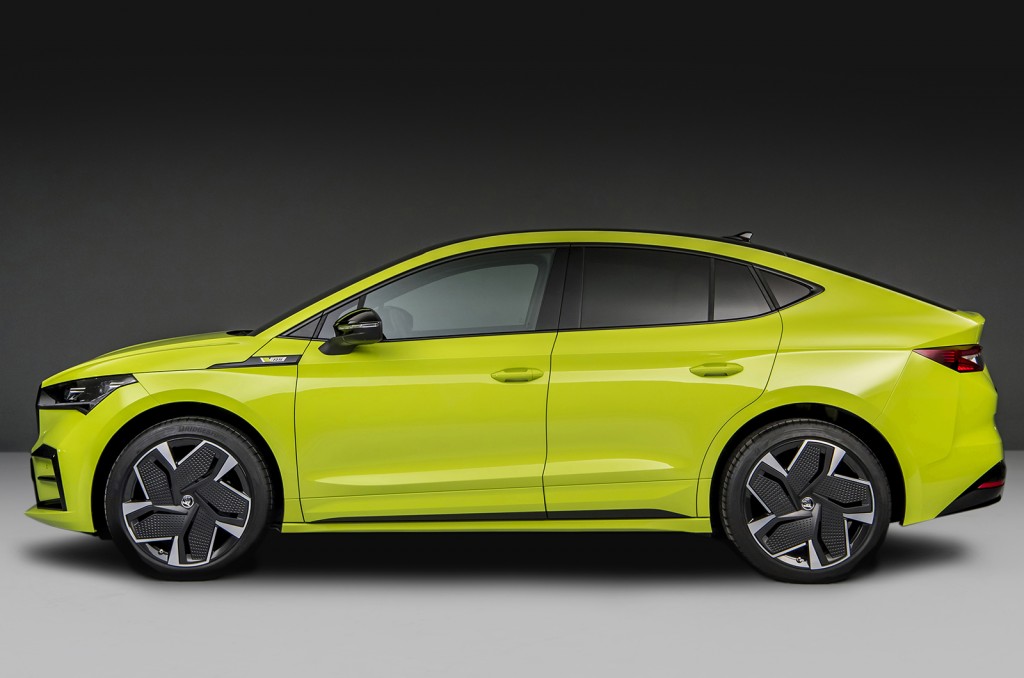 There's also a bespoke vRS interior trim, which features sport seats covered with black leather featuring contrast stitching, a sports steering wheel, a leather-look dashboard and carbonfibre-effect strips on the dashboard and door trim.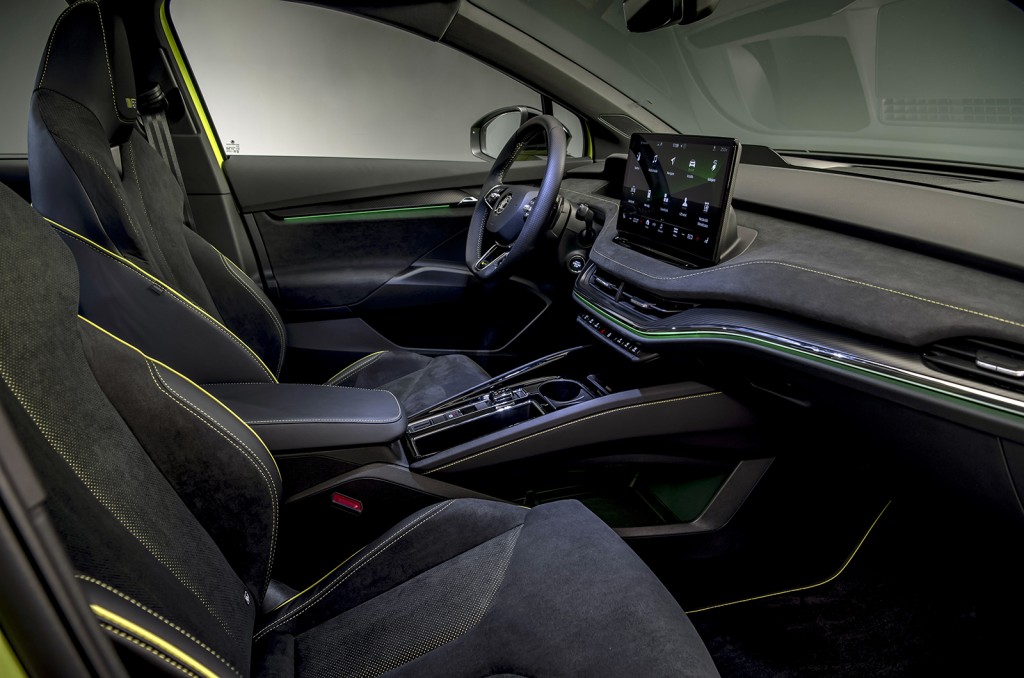 Oh, and the Hyper Green colour featured in the official press shots will only be offered on the vRS versions, should you fancy a high-performance electric car that has a passing resemblance to Kermit the Frog.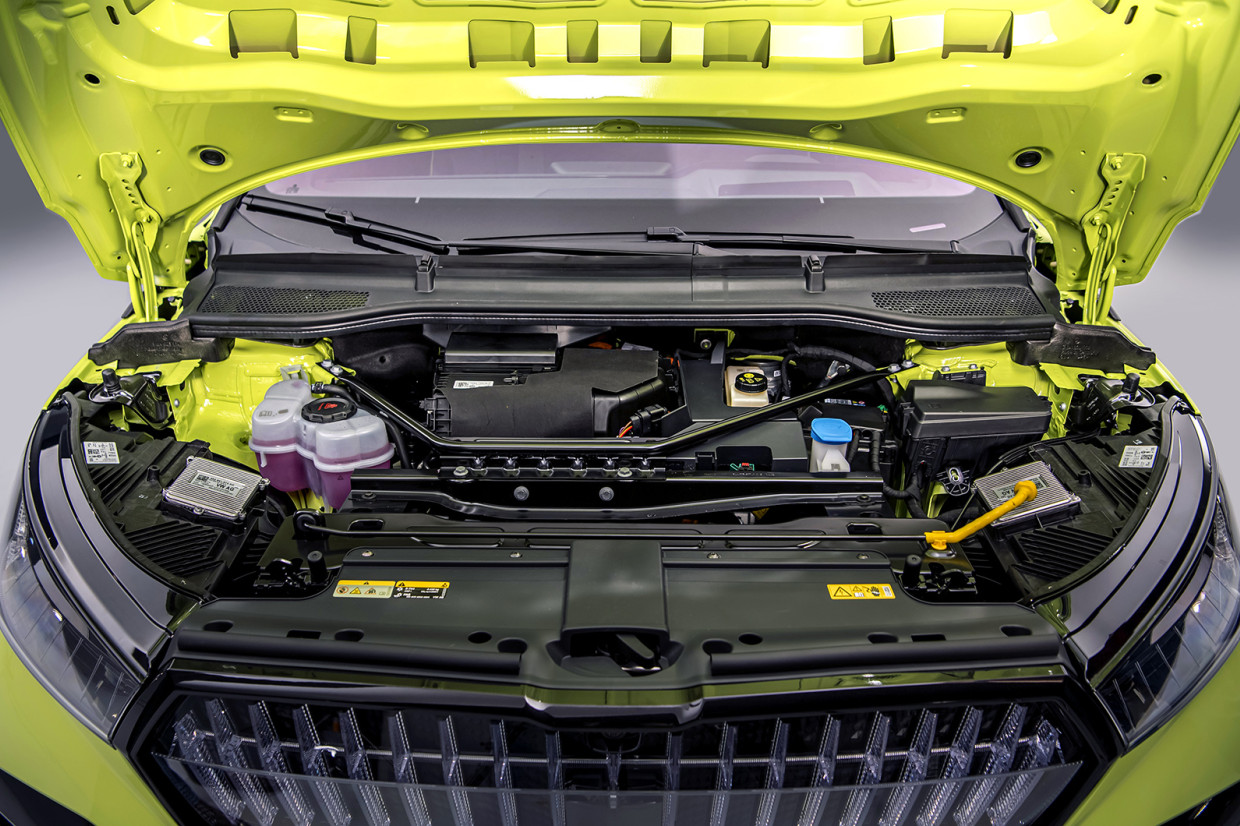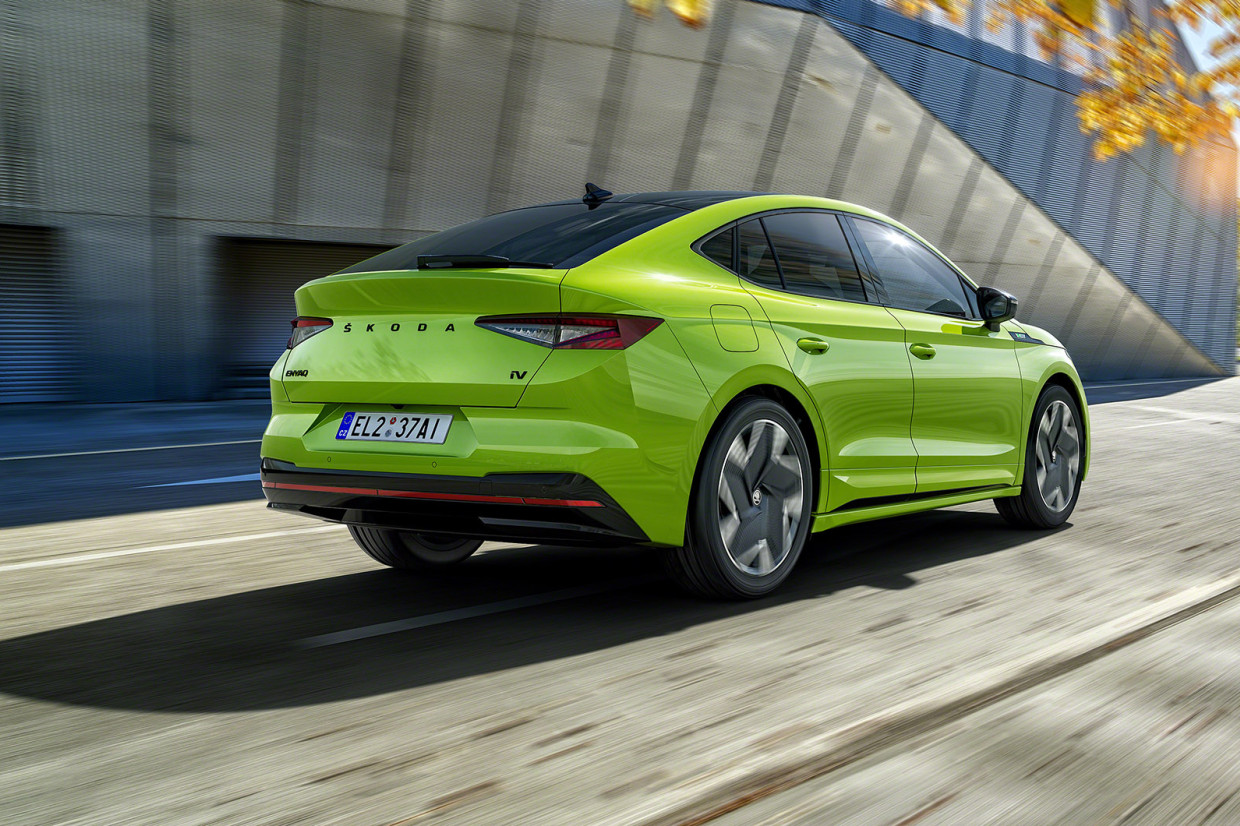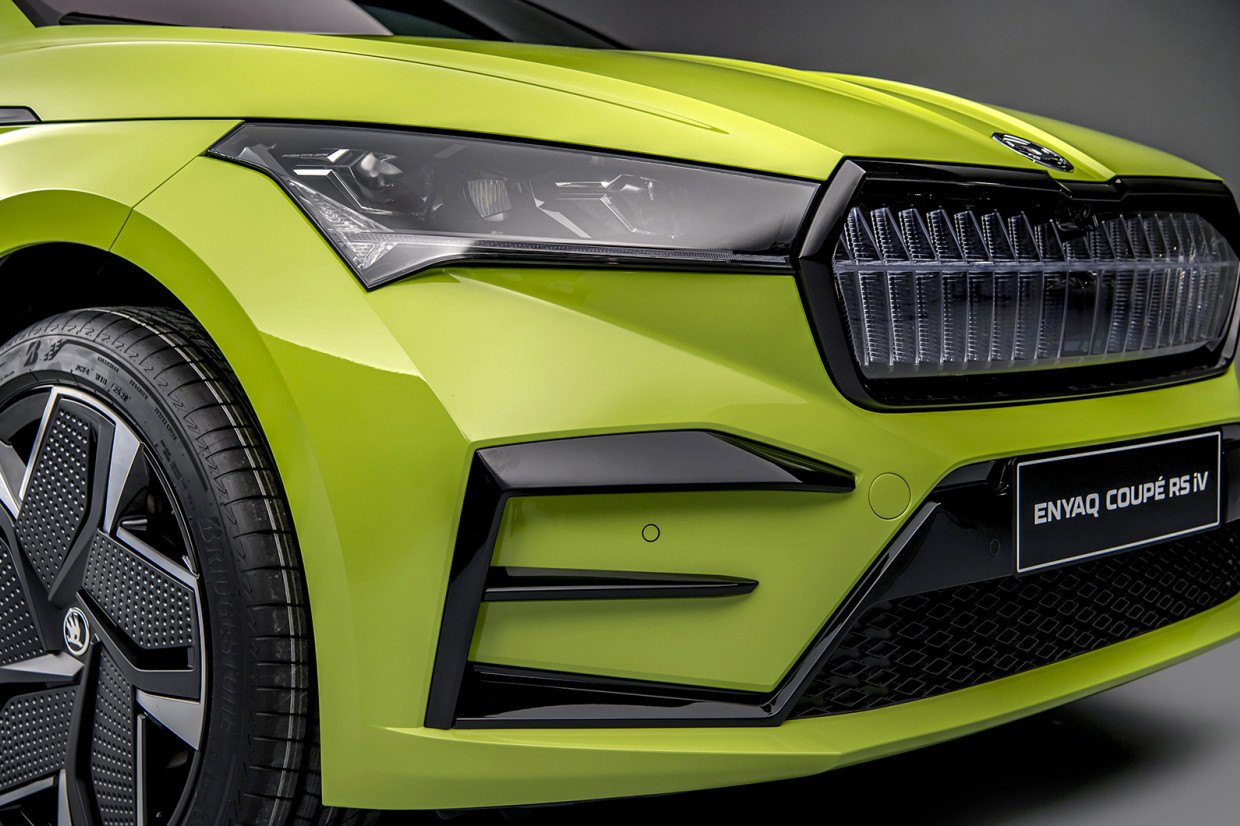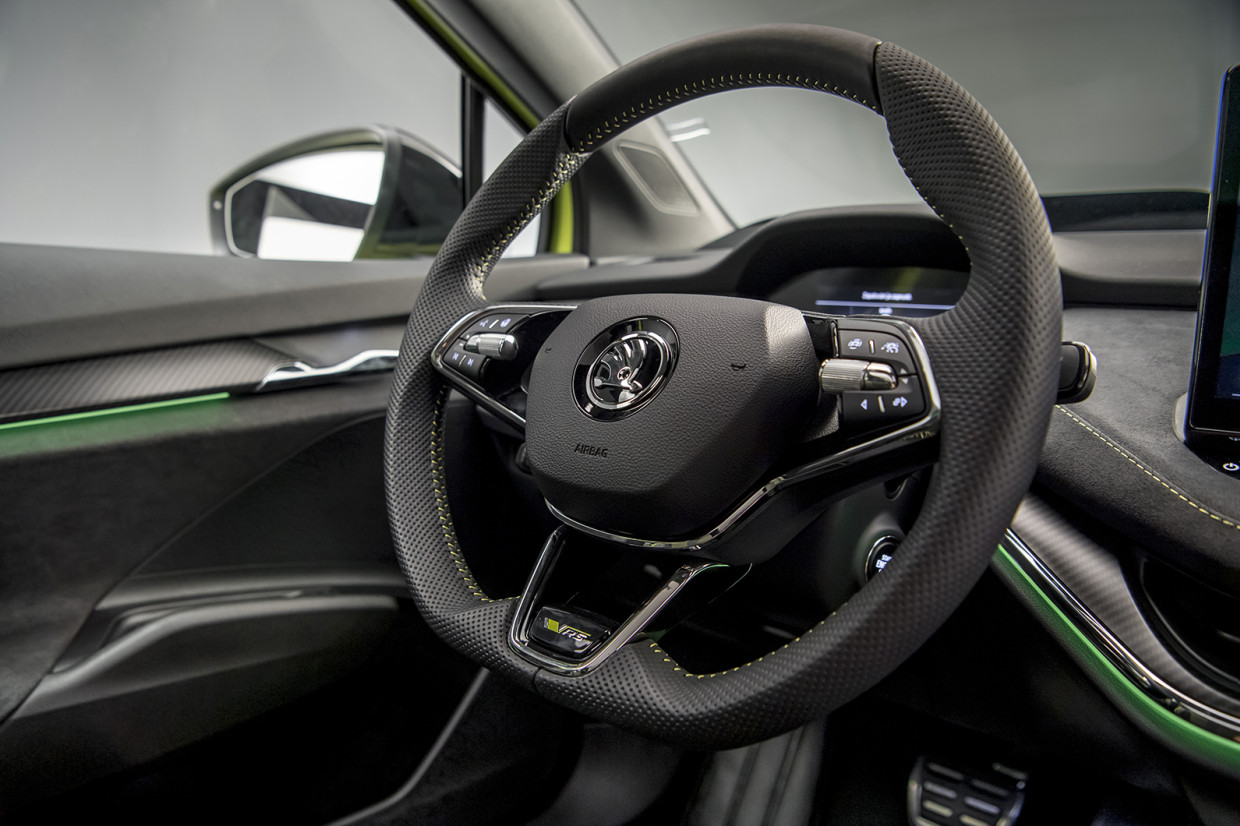 What kit comes with the regular Enyaq Coupe?
All Enyaq Coupe models come with a 13in central touchscreen and a 5.3in digital instrument display, while a head-up display can be added as an option. Basically, it's got all the kit of the Enyaq SUV, including loads of safety features, a permanent internet connection that allows various features to be controlled by a Skoda app, a heated steering wheel and an infotainment system featuring DAB and Android Auto and Apple CarPlay compatibility.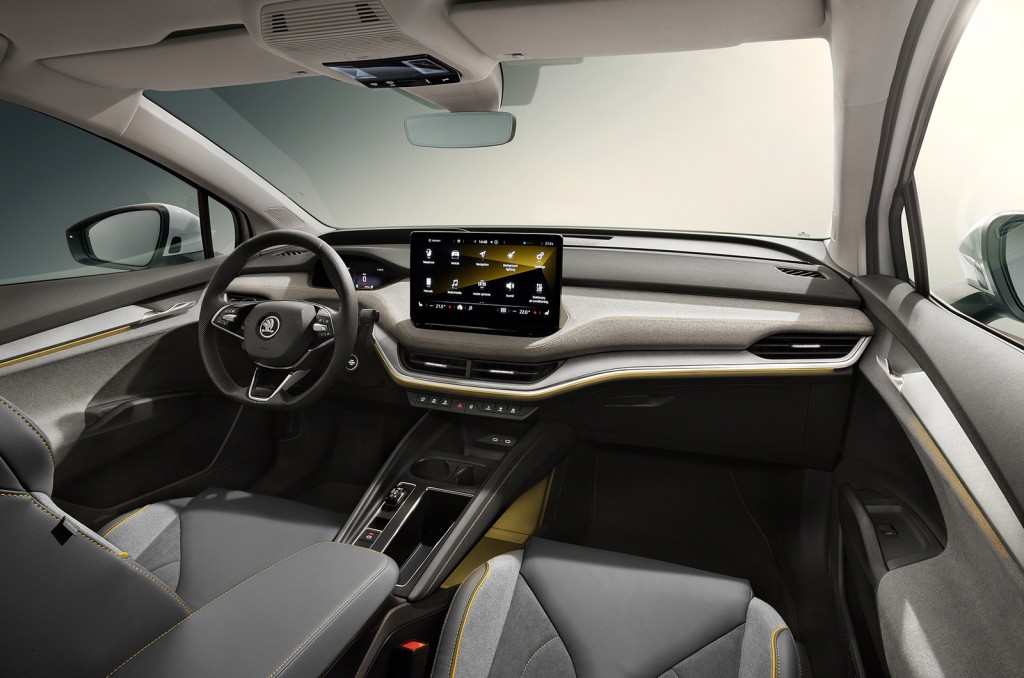 Skoda has dumped trim levels for the Enyaq range, instead offering what it calls 'Design Selections'. There's the entry level Loft, a Lodge option with a focus on sustainable materials, including seat covers made from a blend of 40% natural wool and 60% polyester made from recycled PET bottles, and an ecoSuite option that features leather seats.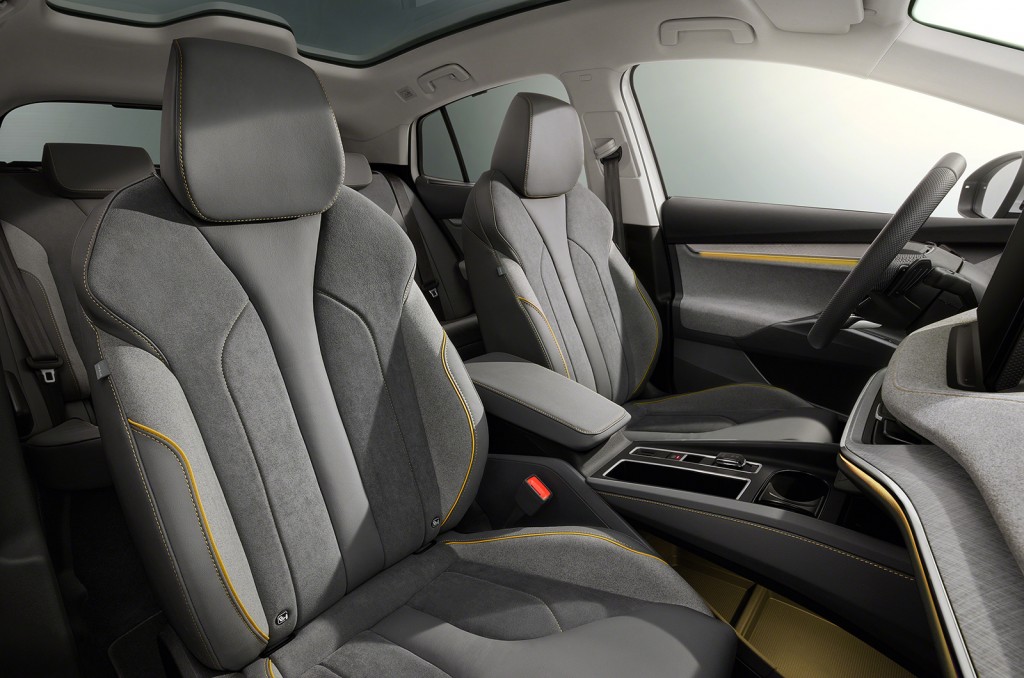 There's also a SportLine option, which gets a bunch of sporty styling cues inspired by the vRS models, and the lowered sport chassis. Wheel sizes range from 19 to 21 inches.
When's it coming and what will it cost?
The Enyaq Coupe will be produced at Skoda's main Mlada Boleslav factory, on the same production line as the SUV version, and will go on sale in the UK later this year. 
UK pricing has now been set yet, but expect a slight premium over the 82kWh version of the SUV, which starts at £40,130.
The sporty vRS variant will be available to order from February, with order books for the Standard Coupe opening in May for arrival in August.