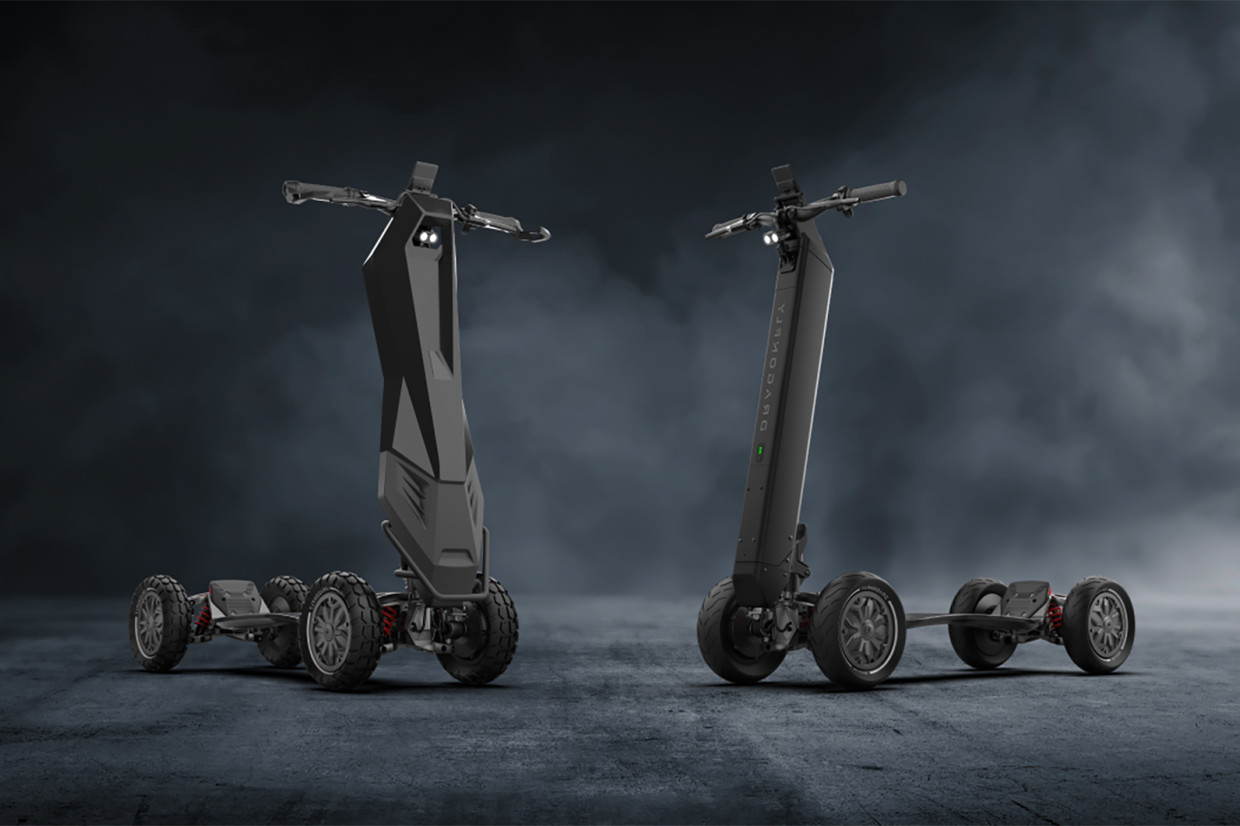 This is the new Dragonfly Hyperscooter, a 1650 Watt four-wheeled electric scooter that its makers claim is the "urban mobility equivalent of a supercar". 
Get the lastest e-mobility news with our FREE newsletter
The bold machine has been developed by London-based personal vehicle specialist D-Fly, and has just been launched on Indiegogo, priced from £1750. Company boss Jez Williman said that the machine was built to meet a market need for "a more advanced, high-quality product that would usher in a new era of e-mobility".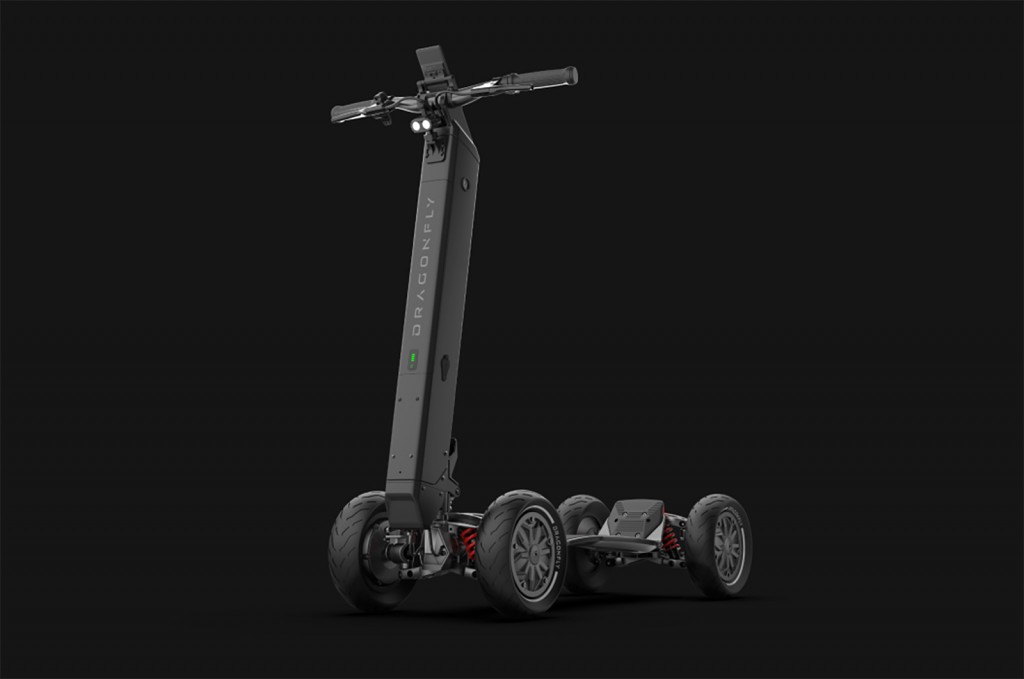 The obvious difference between the Dragonfly Hyperscooter and traditional e-scooters is that it has four-wheeled full-tilt steering, which enables it to offer a host of unique features. The wheels are wrapped in 10in pneumatic tyres made from natural rubber.
The machine also features dual wishbone suspension, with adjustable hydraulic damped spring suspension on each of the four wheels, while the deck has adjustable suspension. The firm claims that as a result it offers "unparalleled stability and control".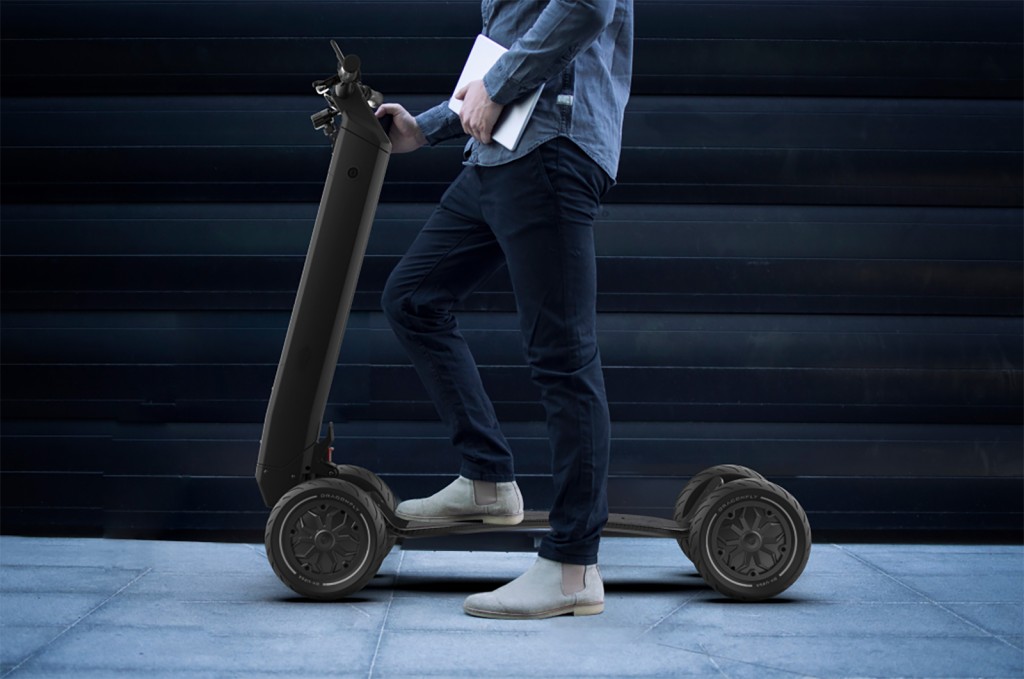 The Hyperscooter features a pair of 550W motors, which combine a peak power output of 1650W. Power is delivered to all four wheels and the machine offers three speed settings of nine, 15.5 and 25mph.
While D-Fly has not given a battery size, it says the machine has a range of 50 miles, and can be charged from empty to 100% in around three hours.
Other design details include twin headlights, LED indicators, an audio alarm with GPS tracking, and a built-in smart lock. In total, the machine weighs 16.8kg.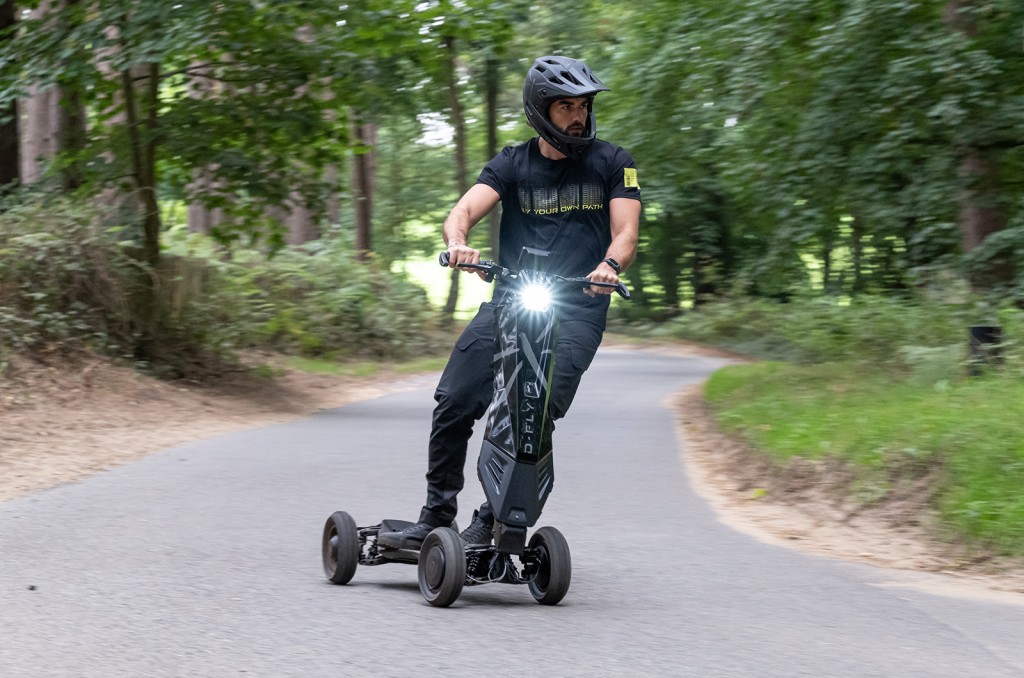 The Dragonfly Hyperscooter is available in two formats: the urban-focused DF and the off-road DFX. The latter, which is priced from £2100, features wider fenders and hand guards.
While it is currently legal to buy privately owned electric scooters it is illegal to use them on public roads and they can only be used on private land. The government has announced plans to legalise light electric vehicles through the creation of a new vehicle category, initially working on a class for two-wheeled electric scooters.
The Dragonfly Hyperscooter would likely fall into a different category that traditional e-scooters due to having four wheels.
READ MORE
Subscribe to the Move Electric newsletter
e-CARS
Video: Can the National Grid cope with a surge in electric vehicles?
e-BIKES
What to look for when buying an e-bike: Move Electric's top tipsx
The rise of Volt Bikes: 'when we launched, people thought we were mad'
e-MOTORBIKES
Maeving RM1 electric motorbike review
Q&A: Zapp founder on why electric mopeds are the future
Government plans 2035 ban on new non-zero emission motorbike sales
e-SCOOTERS
Tier to upgrade e-scooter fleet with a smart 'Parrot'
Q&A: Neuron Mobility's UK boss on e-scooters, safety and helmet selfies
e-WORLD
Polestar to supply battery tech to electric boat firm Candela
Engineering giant ABB working on electric Dover-Calais ferry