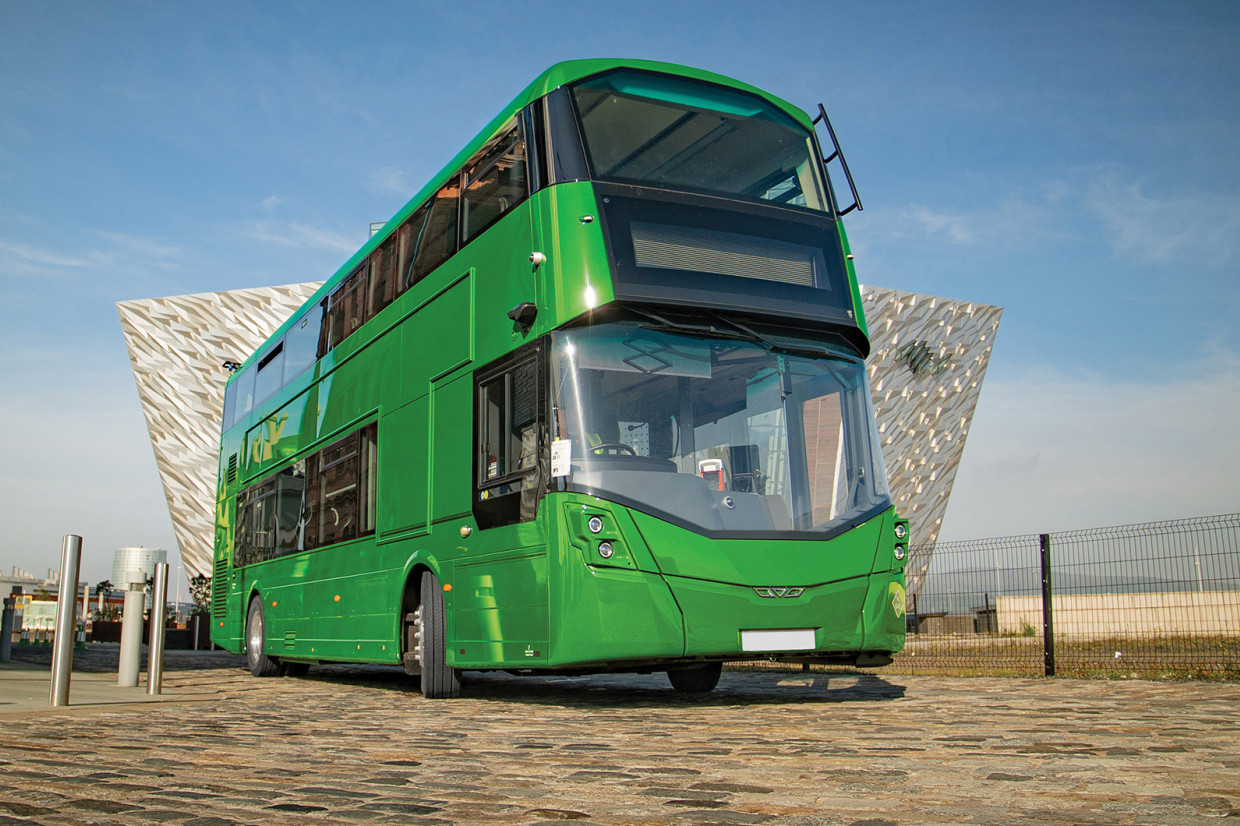 Public transport giant First Bus will roll out an extra 117 electric buses across four regions in the next 12 months – with depots in York and Norwich set to become zero-emission only.
The new electric machines will be manufactured by Wrightbus in Northern Ireland and operated by First Bus in Yorkshire, Norfolk, Portsmouth and Hampshire. They will be funded in part by £25.3 million of government funding.
The Move Electric newsletter: packed like an electric bus (although three won't turn up at once)
That backing will come through extra cash for the existing Zero Emission Buses Regional Area (ZEBRA) initiative, which was launched in 2021. Local authorities can apply to the scheme for funding for both zero-emission buses and the supporting infrastructure. The government says that the new investment means almost £300 million has been invested so far, supporting the introduction of up to 1395 buses.
Norfolk County Council will receive the bulk of the new money, with £11.5 million in founding to deliver 55 additional Zero-Emission Buses (ZEBs). Portsmouth City Council and Hampshire County Council will receive £6.2 million to provide 28 buses, the West Yorkshire Combined Authority gets £5.7 million for 25 buses, with £1.9 million given to the City of York Council for nine ZEBs.
The funding mean the depots in Norwich and York will become First Bus's first electric-only depots outside of London, while the Hoeford, Hampshire deputy will be fully electric for commercial buses.
Roads Minister Richard Holden said: "These new British-built zero emission buses will support hundreds of high-quality manufacturing jobs in Northern Ireland, grow our economy and help clean up the air in towns and cities across the country."
First Bus boss Janette Bell added: "As leaders in sustainable mobility, we are fully aligned with the Government's ambitions for a net-zero carbon transport system. We are rapidly transforming our business with zero emission bus fleets and will continue to work closely with central and local government across the UK to deliver our decarbonisation plans."
First Bus, which is part of FirstGroup, will now operate more than 600 zero-emission buses in the UK.
READ MORE
Subscribe to the Move Electric newsletter
e-CARS
Ten electric cars we're excited for in 2023
Getting an EV sideways: how easy is it to drift a Kia EV6 GT?
Q&A: Jaguar Racing's Sam Bird and Mitch Evans on Formula E's new era
e-BIKES
Ten electric bikes we're excited for in 2023
Can you get fit using an electric bike?
e-MOTORBIKES
Ten electric motorbikes we're excited for in 2023
Super Soco TC Max electric motorbike review
Cake and Polestar team up for new special edition Makka e-motorbike
e-SCOOTERS
Planned laws to legalise private e-scooters face delay
Five key takeaways from the rental e-scooter trials report
Which train firms have banned e-scooters from their services?
e-WORLD
Move Electric's best features of 2022: lap records, tuk-tuks… and sausage rolls
Volvo Trucks keeps on electric trucking with three new models