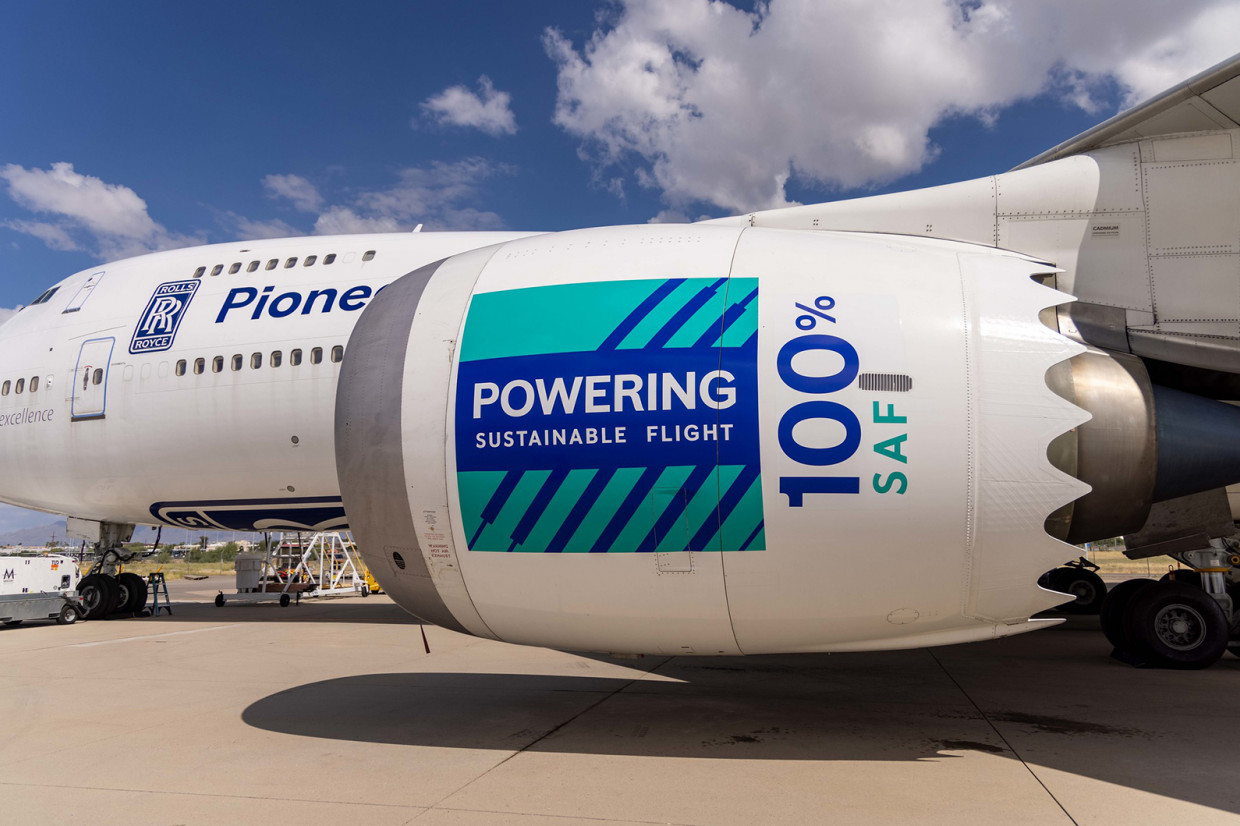 The first net-zero transatlantic flight could take place next year, the British Transport Secretary has pledged.
Speaking during a visit to the USA, Grant Shapps has pledged up to £1 million of competition funding to the aviation industry to meet the ambitious target. The aviation industry is one of the highest emitters of greenhouse gases, and presents a massive challenge to decarbonise, with heavy battery electric technology not suitable for long-haul planes.
The test flight would use 100% sustainable aviation fuel (SAF), and would be used to assess the fuel to be used for commercial transatlantic flights in the future.
Citing industry estimates, the Department for Transport says that if the UK developed a sustainable aviation fuel industry it could support up to 5200 direct jobs and achieve an annual turnover of £2.3billion by 2040.
The net-zero initiative has been developed by the Jet Zero Council – see what they did there? – which has been established as a partnership between industry and government to develop new technologies to cut aviation emissions. 
Sustainable aviation fuel is made from waste materials including household waste and used cooking oil, and the government claims it offers greenhouse gas emissions savings of more than 70% compared to conventional kerosene-based fossil fuel. The government says that the SAF flight will be net zero through the use of greenhouse gas removal.
Transport Secretary Grant Shapps said: "This trailblazing net zero emissions flight, a world first, will demonstrate the vital role that sustainable aviation fuel can play in decarbonising aviation in line with our ambitious net zero targets."
Rolls-Royce has pledged support for the flight, having run its large commercial jet engines using SAF in a test flight last year.
Tim Alderslade, the boss of Airlines UK, said the industry "strongly" supported the development of an SAF industry, saying it would play a "vital role" in the sector becoming net zero by 2050.
He added: "This announcement will provide additional momentum to achieving this and, alongside the recent £180m in Treasury support for the development of new UK SAF plants, demonstrates the commitment of Government to making SAF a key part of the decarbonisation of aviation.
"We now need to turbocharge production in order to build the initial three SAF plants by 2025 and UK airlines have shown real commitment to making this happen with our partnerships with Philipps 66, Velocys and LanzaTech."
The DfT added that £400m of further funding is being made available to push private sector investment through a government partnership with Breakthrough Energy Catalyst.
READ MORE
Subscribe to the Move Electric newsletter
e-CARS
New electric cars for 2022 and beyond: what's coming when
New BMW i7 unveiled as luxury electric saloon
e-BIKES
Best e-bikes for every category 2022
Moustache Samedi 28.7 e-bike review
e-MOTORBIKES
Yamaha Neo's electric scooter review
Cake launches new global electric motorbike race series 
e-SCOOTERS
Government set to announce plans to legalise private e-scooter use
New study finds e-scooters are five times safer than bikes
e-WORLD
World's first airport for flying taxis opens in UK