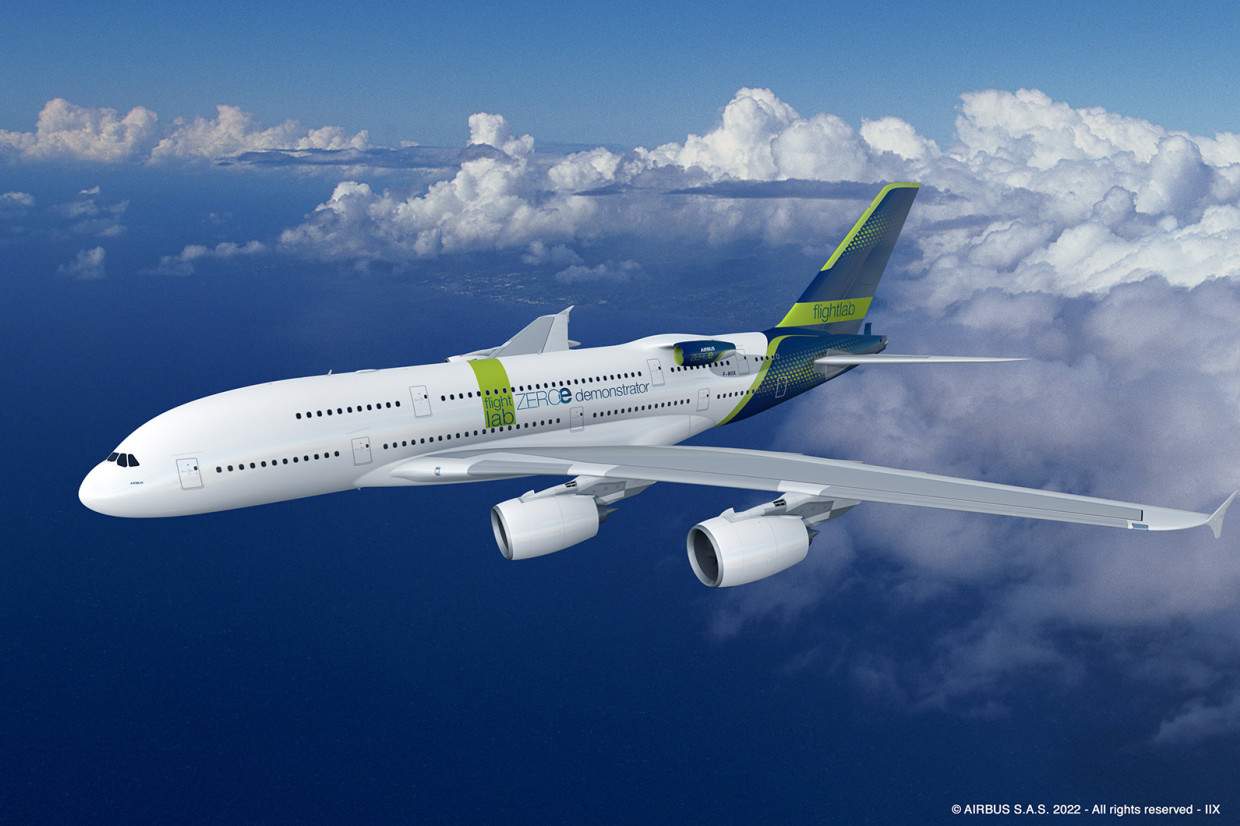 Aircraft giant Airbus says that it will begin test flights of a hydrogen powertrain on an A380 'superjumbo' by the middle of this decade - with the aim of introducing it for commercial use by 2035.
The zero-emission ZEROe project will use hydrogen combustion technology that will be developed in a partnership between the European plane manufacturer and CFM International, a joint venture between GE and Safran Aircraft Engines.
The goal of the project is to test an aircraft combustion engine that is fuelled by hydrogen. Unlike hydrogen fuel cell technology, which uses hydrogen and oxygen to produce electric energy to run an electric motor, the Airbus technology will use liquid hydrogen as a fuel source for a specially developed combustion engine.
And yes, that does mean the ZEROe plane isn't electric-powered, so you could argue it doesn't belong on Move Electric. But we're all about the future of mobility, and the sheer size and scale of planes means that battery electric technology isn't really feasible to achieve zero emission flying. Plus it is kind of cool.
Airbus isn't alone in chasing 'green' hydrogen to power future planes: there's also the UK government-backed FlyZero project.
Anyway, back to the ZEROe. The powertrain will be fitted to an A380 – the world's largest passenger aircraft - in order for test runs. Airbus says the project will be a multi-year programme, with test flights due to begin around the middle of the decade. The goal is to launch a zero-emission commercial aircraft using the technology by 2035.
Airbus will fit the hydrogen system to A380 MSN1, which was the first-ever A380 to be produced and flown. It has since been used as a testbed for various technologies. 
As well as providing the test plane and running the development programme, Airbus will produce the liquid hydrogen tanks and set the specs for the hydrogen propulsion system. CFM will then modify the cumbustor, fuel system and control system of a GE Passport turbofan engine.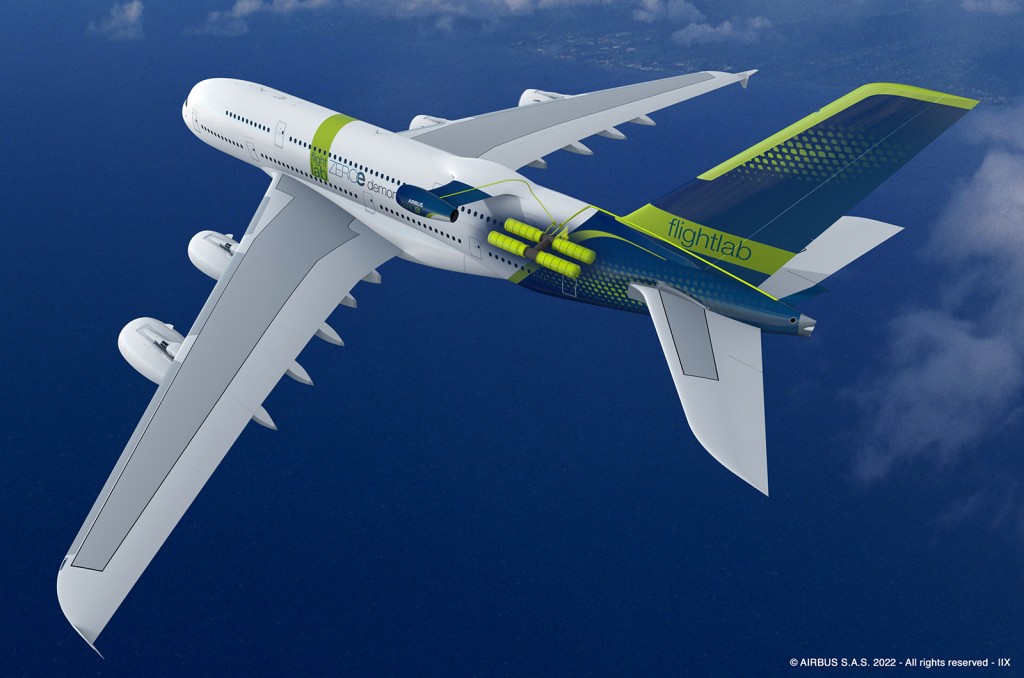 The engine will be mounted on the rear fuselage of the A380 to enable the engine emissions to be monitored separately from those of the existing engines that will power the aircraft.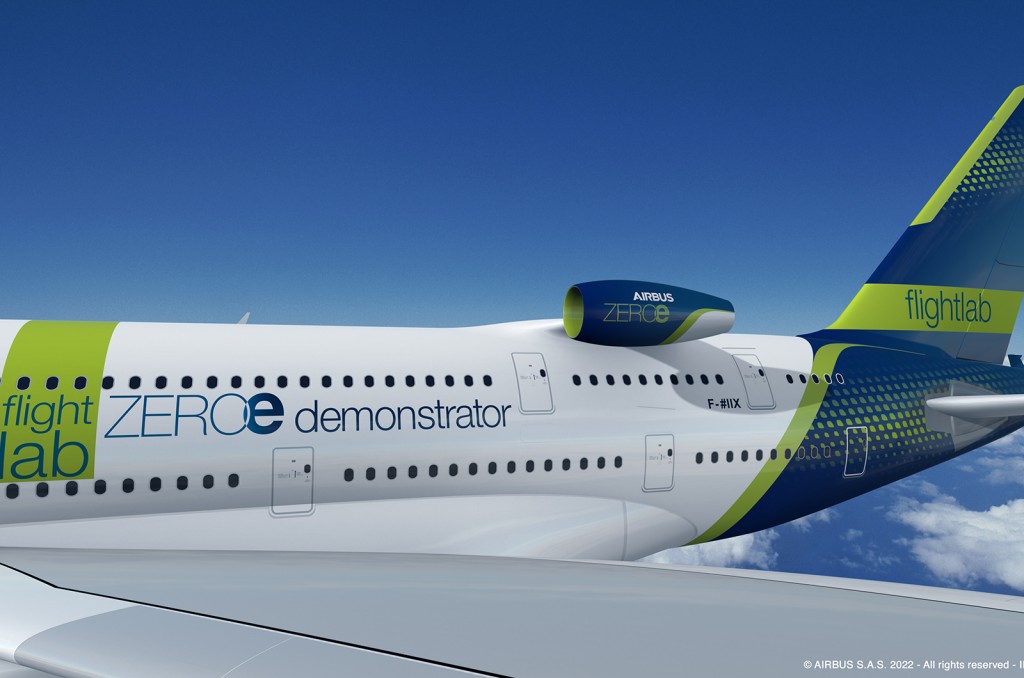 Each component of the new system will be tested individually on the ground, before ground tests of the full system. Once that is successful it will be fitted to the A380 MSN1.
Aviation is one of the biggest single causes of carbon emissions worldwide. Airbus and CFM have both signed up to an Air Transport Action Group plan to achieve net-zero carbon emissions by 2050.
Airbus has a track record of innovating with new powertrain technology as it has tried to find ways to cut the environmental impact of flying. That includes the E-Fan electric craft and the E-Fan X hybrid-electric machine.
READ MORE
e-CARS
The 10 electric cars with the longest range
e-BIKES
Desiknio Pinion C1.9 Classic e-bike review
Ride for a worthy cause: Big Issue eBikes launches in Bristol
e-MOTORBIKES
Triumph reveals first electric TE-1 motorbike
BMW CE 04 electric scooter review
e-SCOOTERS
Superpedestrian Link e-scooter: first ride
The new battery tech designed to make e-scooters more sustainable
e-WORLD
New Candela C-8 electric hydrofoil has first 'flight'
Awake Ravik S 22 aims to take electric surfboards to the extreme