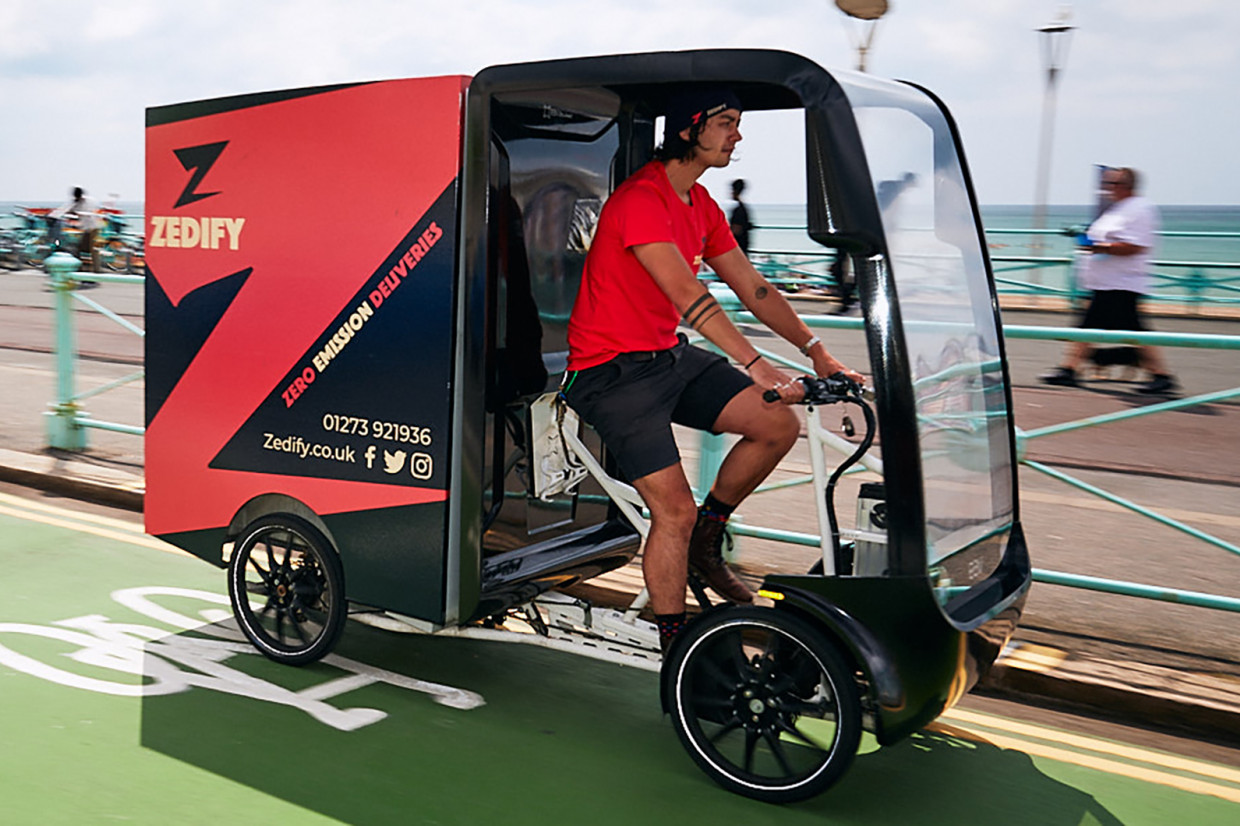 Transport for London (TfL) has launched a new Cargo Bike Action Plan, which is intended to help make the machines "a leading option" for last-mile good deliveries in the UK capital.
Around 26 per cent of all retail sales are now made online, creating a huge need for deliveries of panels, food shopping and other goods. Currently, around 90 per cent of goods in London are transported by road, primarily in vans or lorries. The new action plan is designed to ensure that an increasing number of those deliveries are might using light commercial vehicles.
The latest e-bike news delivered to your inbox: sign up for our FREE newsletter
Mayor of London Sadiq Khan wants 80 per cent of trips in London to be made by walking, cycling or public transport by 2041, and has also pledged to reduce the number of lorries and vans entering the city during the morning traffic peak by 10 per cent by 2026.
Although the TfL plan covers all forms of cargo bikes, it has a focus on cargo e-bikes, which have rapidly grown in popularity in recent years. The machines are already widely in use in London, backed by a number of TfL schemes – but the plan aims to increase that use significantly.
TfL says that its analysis shows that cargo e-bikes could replace up to 17 per cent of van mileage in central London by 2030 – the equivalent of around 62 million van miles. That would represent a saving of around 30,000 tonnes of CO2, and TfL also cites benefits in terms of reduced congestion.
Move Electric's best electric bikes for 2023
The Action Plan covers various aspects of how cargo bike use should be encouraged in London. As part of the plan, TfL says it will develop new cargo bike guidance and collect safety data on the machines to help establish best-practice standards.
TfL says it will promote the use of cargo bikes, particularly in Low Traffic Neighbourhoods and in boroughs with their own emissions reduction schemes. Another goal will be to continue to develop cycle infrastructure such as bike lanes, while making sure those routes are suitable for larger, wider cargo e-bikes.
There is also a commitment to explore ways to develop micromobility hubs and parking areas to support the machines, and to monitor the usage of cargo e-bikes so that future growth can be supported by new infrastructure.
London's walking and cycling commissioned, Will Norman, said: "Cargo bikes are no longer a niche concept, and they can be real game changers when it comes to delivering freight and servicing trips. Not only do they provide environmental benefits by not contributing to air pollution, they also make journeys more efficient, and present a much lower risk of danger to people walking and cycling than vans and HGVs."
Rob King, the boss of cargo e-bike delivery start-up Zedify, said: "Cargo bike logistics has hit a vital stage of growth but it's still a young sector and we need to invest in the ecosystem with things like product development as well as finance and insurance options. This is why businesses like Zedify need to scale rapidly and deliver amazing co-benefits from better air quality, carbon reduction, and fair employment to safer, healthier cities that are better for everyone." 
Phil Ellis, the boss of shared bike firm Beryl that runs a number of cargo e-bike schemes in London, added: "What we have learned from running e-cargo bike hire schemes in London is that they can be incredibly useful to many people, from businesses and tradesmen to families and individuals. 
"They're unique in terms of offering a sustainable, fast and efficient way to shuttle goods across urban environments; making them perfect for a wide range of tasks from carrying tools and delivering packages to getting your shopping done."
READ MORE
Subscribe to the Move Electric newsletter
e-CARS
What is a heat pump and how do they benefit electric cars?
Bold new Volkswagen ID 2all previews sub-£22,000 electric car
e-BIKES
Ten electric bikes we're excited for in 2023
Nine ways to keep your e-bike safe
E-bike theft: how common is it and what can you do to protect your e-bike?
Haibike AllMtn CF 6 e-bike review
e-MOTORBIKES
10 electric motorbike start-ups you should watch out for
Energica e-motorbike to take on all-comers in US racing series
Ducati: How the Italian motorbike brand is gearing up for the electric era
e-SCOOTERS
Planned laws to legalise private e-scooters face delay
Leading e-scooter firms team up on best-practice guide for cities
Ambiguity over e-scooter legality causing 'confusion', says police chief
e-WORLD
Solar panels: 8 ways the sun can power your electric life
First ride: Lunaz Upcycled Electric Vehicle bin lorry
AutoFlight secures huge order for Prosperity 1 eVTOL craft