Move Electric rating: three-and-a-half stars out of five
What does it cost?
£3099
What is it?
The Moustache Samedi 28.3 Open sits slap bang in the middle of the Samedi range. It's a chic bike that's just as at home in the city as it is on light bridleways and touring routes. 
What is it like?  
Whether you're looking for a bike to commute on, to tour on, or just get about on day to day, the Moustache Samedi 28.3 is a great pick and is among the more affordable of the Samedi 28 range. It comes with a choice of two frame styles: 'open' and 'standard'. The bike I rode at Fully Charged Silverstone was the Open, which has a low slung step-through design, great for getting on and off without the need for stretchy clothing.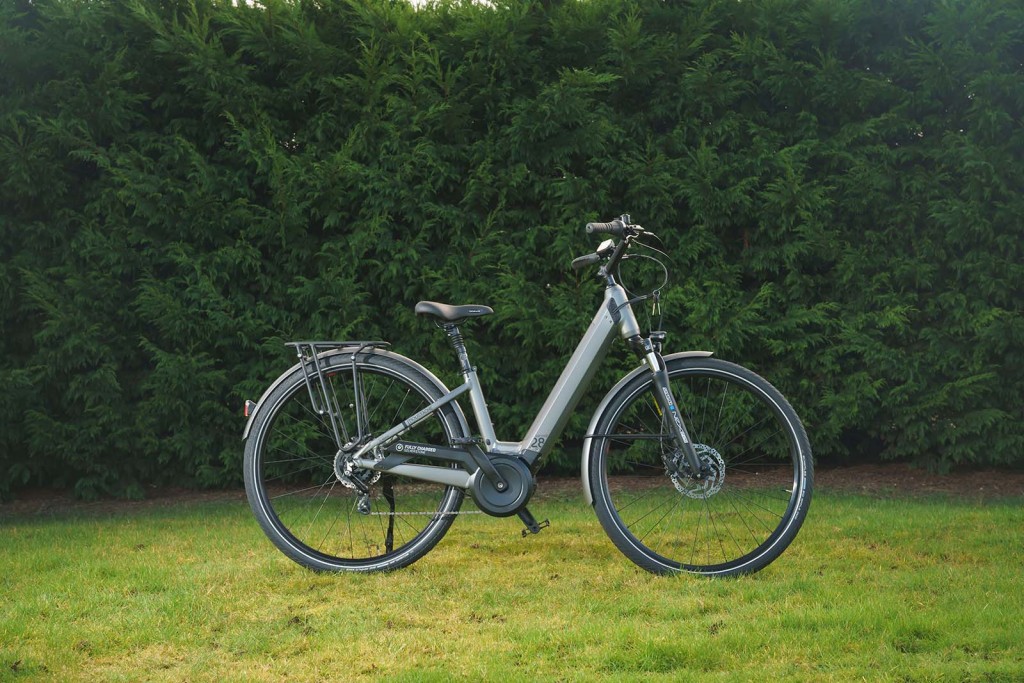 The first thing you'll notice about this bike is the distinctive handlebars. Designed specifically for use with the Samedi 28 range, these bars are unlike other flat handlebars in that they are ergonomically designed to give you a more, as Moustache claim 'natural' riding position, that is 'particularly suited to long rides. I didn't get the chance to test the long ride claim but it is surprisingly comfortable over shorter distances. 
Eskuta: the e-bike firm delivering food - and getting results
Next in the repertoire of comfort boosting components on the 28.3 is the coil-sprung Suntour NEX-E25 forks with 63mm travel. Paired with the 40mm suspension in the seatpost it rides well on the roads, absorbing potholes with ease.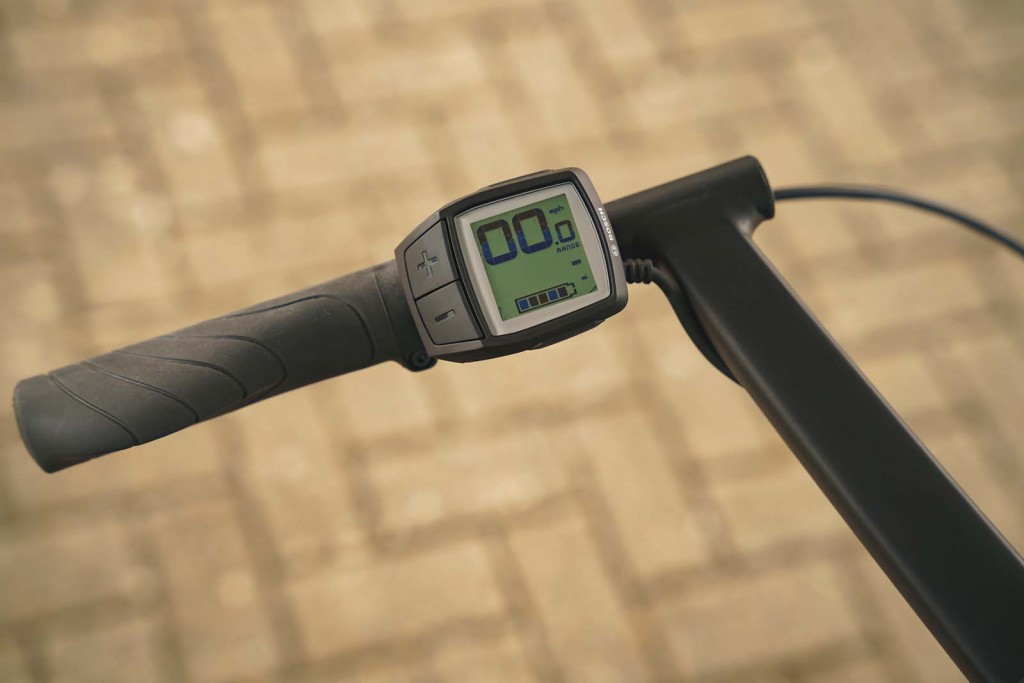 The entire lineup of Samedi bikes uses Bosch motors and batteries. The 28.3 comes with the Bosch Active Line Plus, an entry to the mid-level mid-drive motor. It runs smoothly and intuitively, providing up to 50Nm of torque, which is a perfectly good amount for a bike designed for leisure and urban riding. 
The Bosch Purion display offers enough insight into your riding stats and battery level and the five assist levels (Eco, Tour, Sport, Turbo, Off, and Walk Assist) are easily controlled by the buttons. I found that the assist levels worked well with the bike, making it easy to set off from a standing start and with minimum whirring coming from the motor. 
Moustache has paired the Active Line Plus motor with the Bosch PowerTube 500Wh, which estimates a range of roughly 40-80 miles, but this can vary greatly depending on rider weight, weather, terrain – all the usual factors.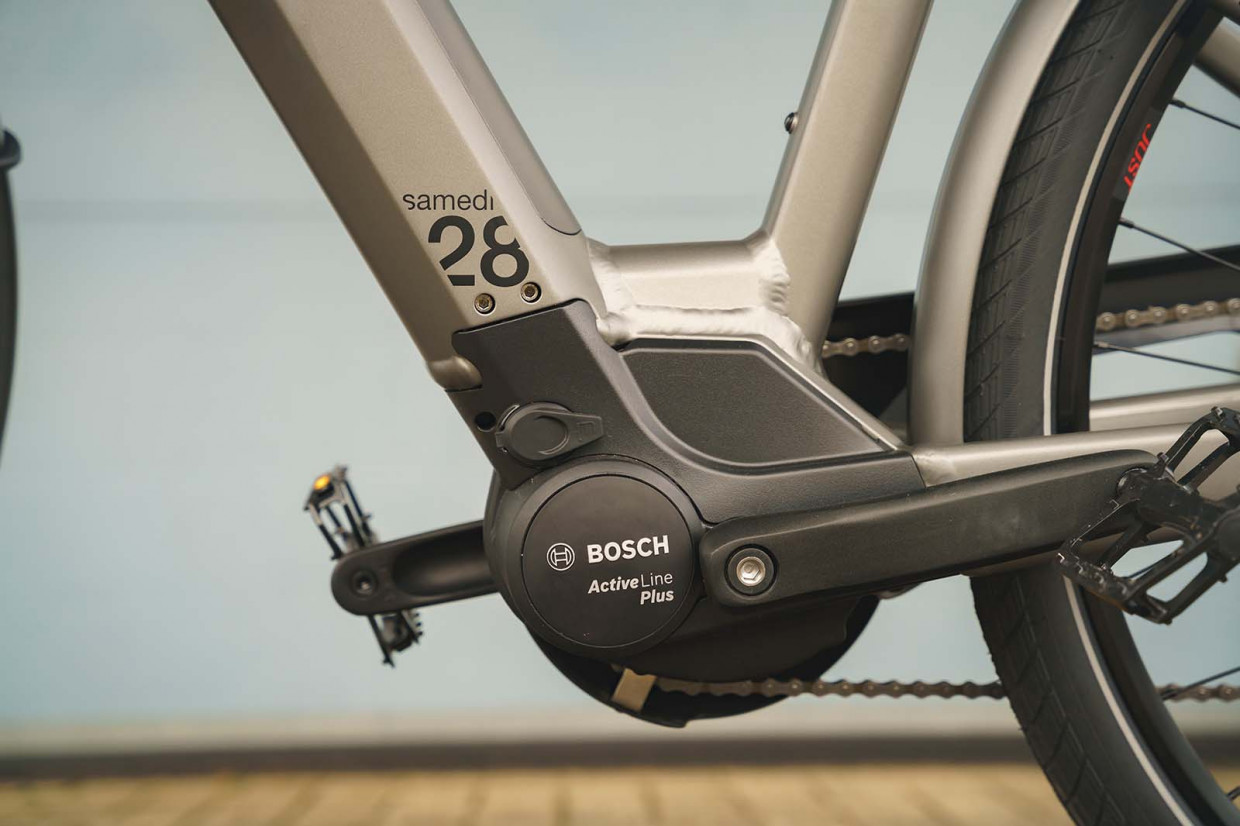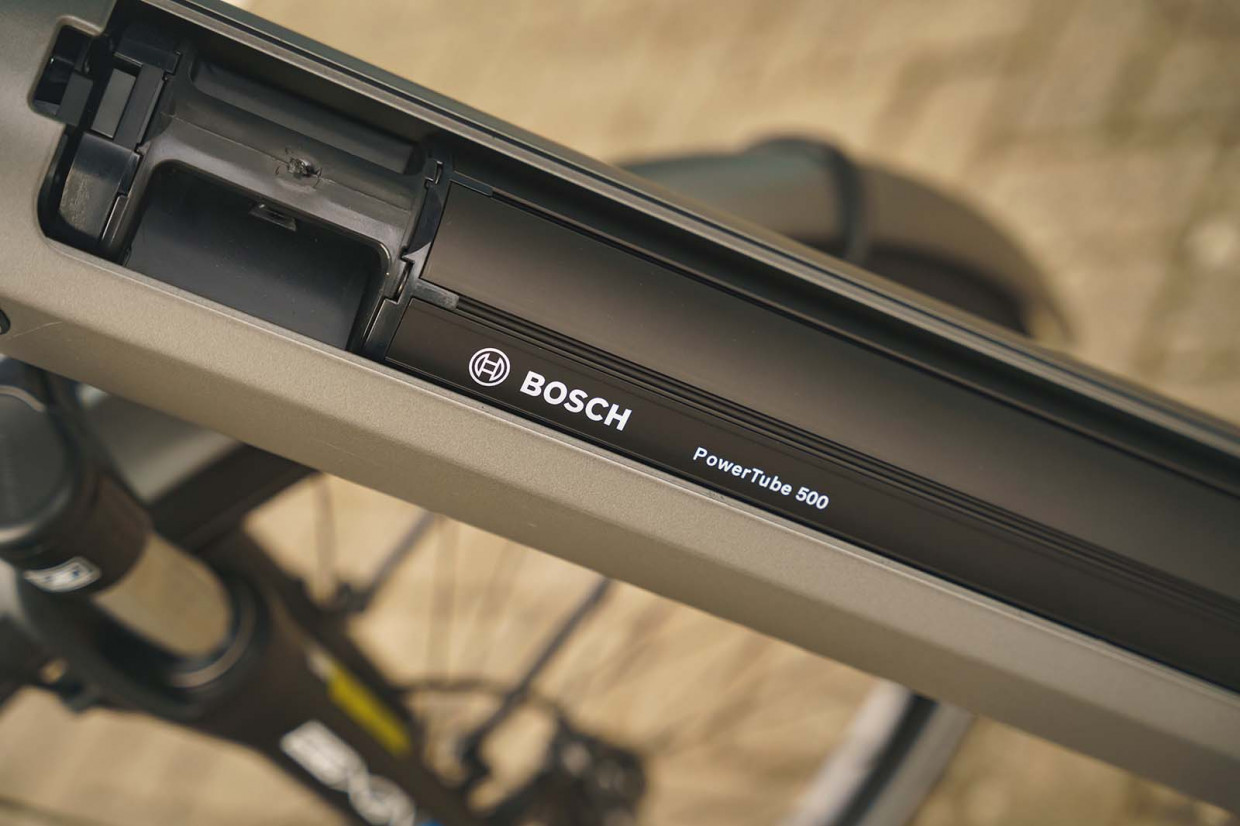 Onto the gears, and Moustache has gone for 5-speed Shimano Nexus, controlled via the twist grip on the handlebars. I am a fan of grip shift gears on bikes like these, but I did feel it might be limiting only having five to choose from if you're on a longer ride or out touring. If you find that you need more than this, the other Samedi bikes do offer more gears, with the 28.7 using a Shimano Deore 11-speed drivetrain. Naturally, of course, this does come at a price premium, but if you envision yourself riding on challenging terrain or for longer times, then this might be an area you'd consider upgrading.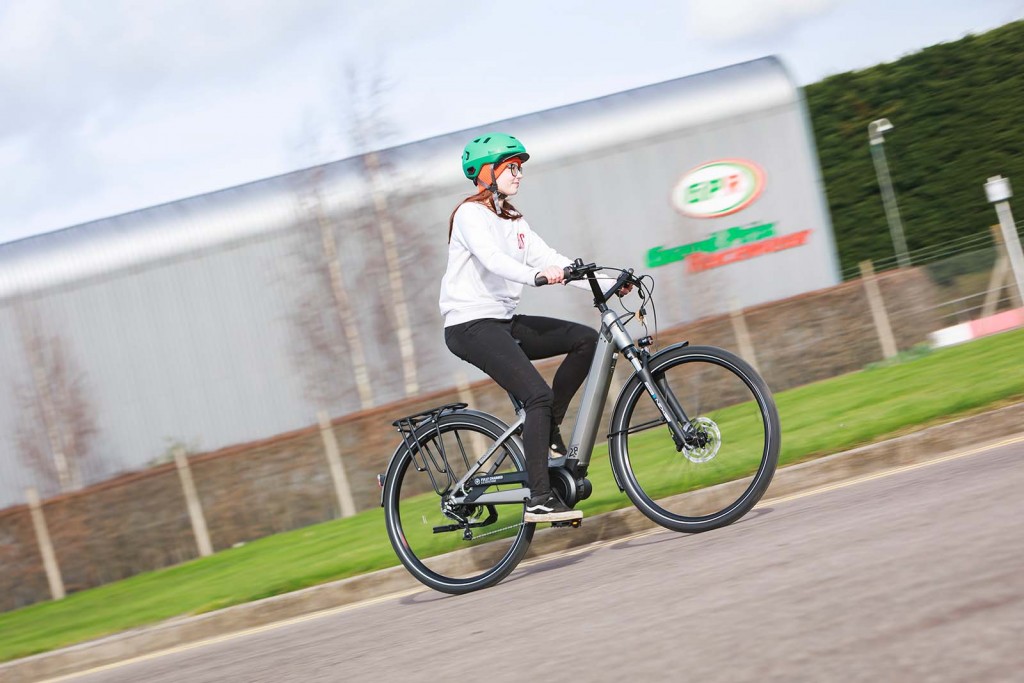 Other components used include the Shimano MT200 hydraulic disc brakes which I found performed well, even in damp conditions. Moustache has equipped 50mm Schwalbe Big Apple tyres, which help absorb some of the road buzz and mean you can quite comfortably go off the beaten track. Whether that be towpath or fire road. 
The rear rack is also worth consideration, as it is MIK compatible which opens up a wide variety of lockable pannier bags and accessories for use – something to consider if you want to use the bike for shopping, as you don't need to remove your pannier bags to go into the shop. 
Move Electric Awards 2022 Best Electric Bike: Ribble Hybrid AL e
Overall, the Moustache Samedi 28.3 Open is a very capable bike. Suited for long and short journeys alike, it contains plenty of ergonomic design and high-quality components that make riding it enjoyable. It comes with a pretty competitive price, too, at £3k it's nothing to be sniffed at as an investment for your day to day riding.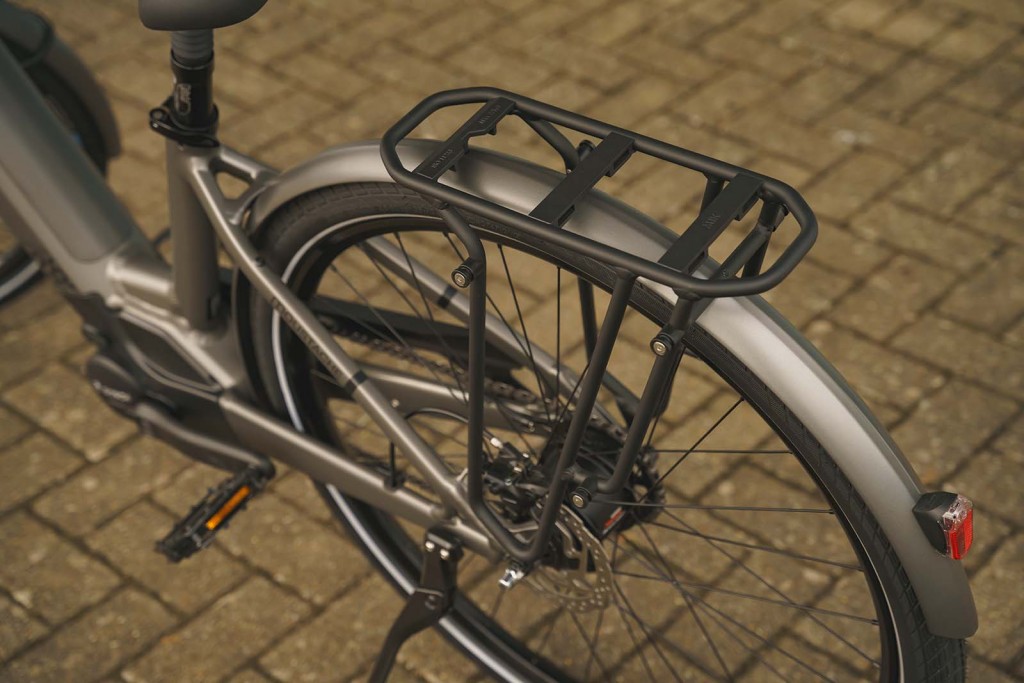 Where can I buy it?
From Fully Charged. They have showrooms across the south of England, like Silverstone, where I tested the bike. 
How does it arrive?
Largely assembled, simply adjust the handlebars and attach the pedals to get yourself rolling. 
Verdict
A decent bike for leisure or utility, the Moustache Samedi 28.3 sits in the middle of the Samedi 28 range. Beyond the distinctive style, there is substance, with plenty to get excited about for a not unreasonable price.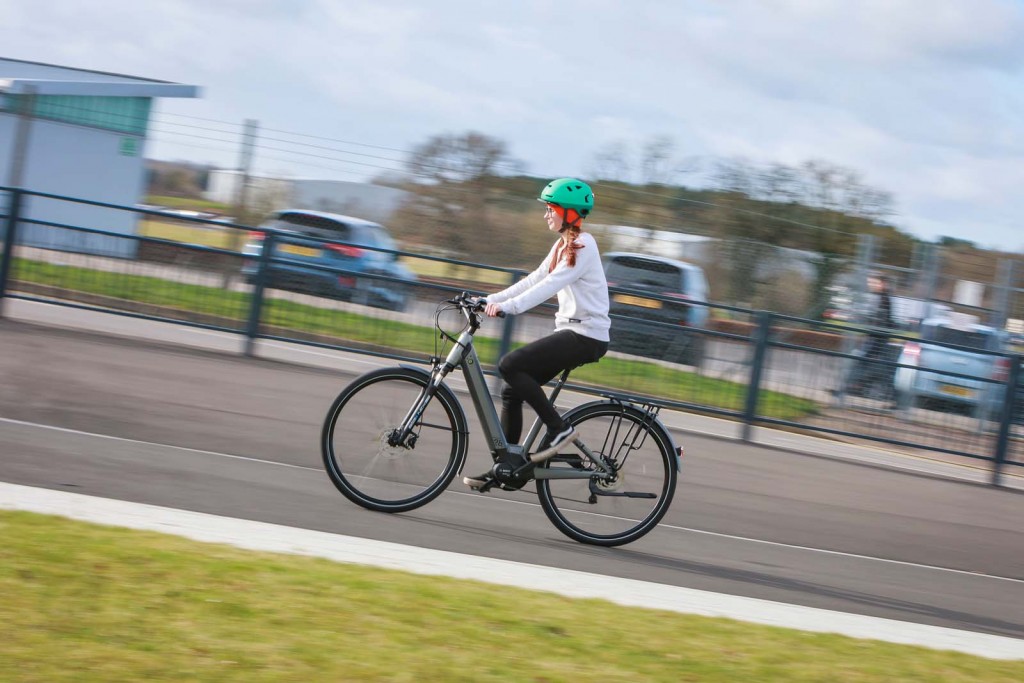 Moustache Samedi 28.3 Open
Cost
£3099
Frame size tested
S
Weight of bike
25.9kg
Groupset
Shimano Nexus 5-speed
Shimano MT200 hydraulic disc brakes
Wheels/tyres
700c wheels
Schwalbe Big Apple 700x50c tyres
Motor
Bosch Active Line Plus
Battery
Bosch PowerTube 500
Mileage range
40-80 miles
Assistance levels
Five
Charge time
4.5 hours
Included extras
Mudguards
Lights
Rear rack – MIK compatible
Bell
Bosch Purion display
Kickstand
READ MORE
Subscribe to the Move Electric newsletter
e-CARS
New Volkswagen ID Buzz: everything you need to know
How efficient are electric cars?
e-BIKES
Ducati expands e-bike range with first racing machine
e-MOTORBIKES
New Yamaha Neo is Europe-bound '50cc equivalent' electric moped
Electric Motion Epure Race e-motorbike review
e-SCOOTERS
Eskuta KS-450 e-scooter review
Taito unveils innovative new three-wheeled electric scooter
e-WORLD
Electric surfboard firm Awake aims to make waves with first e-foil
Volta Zero electric truck can 'dramatically improve' inner-city road safety