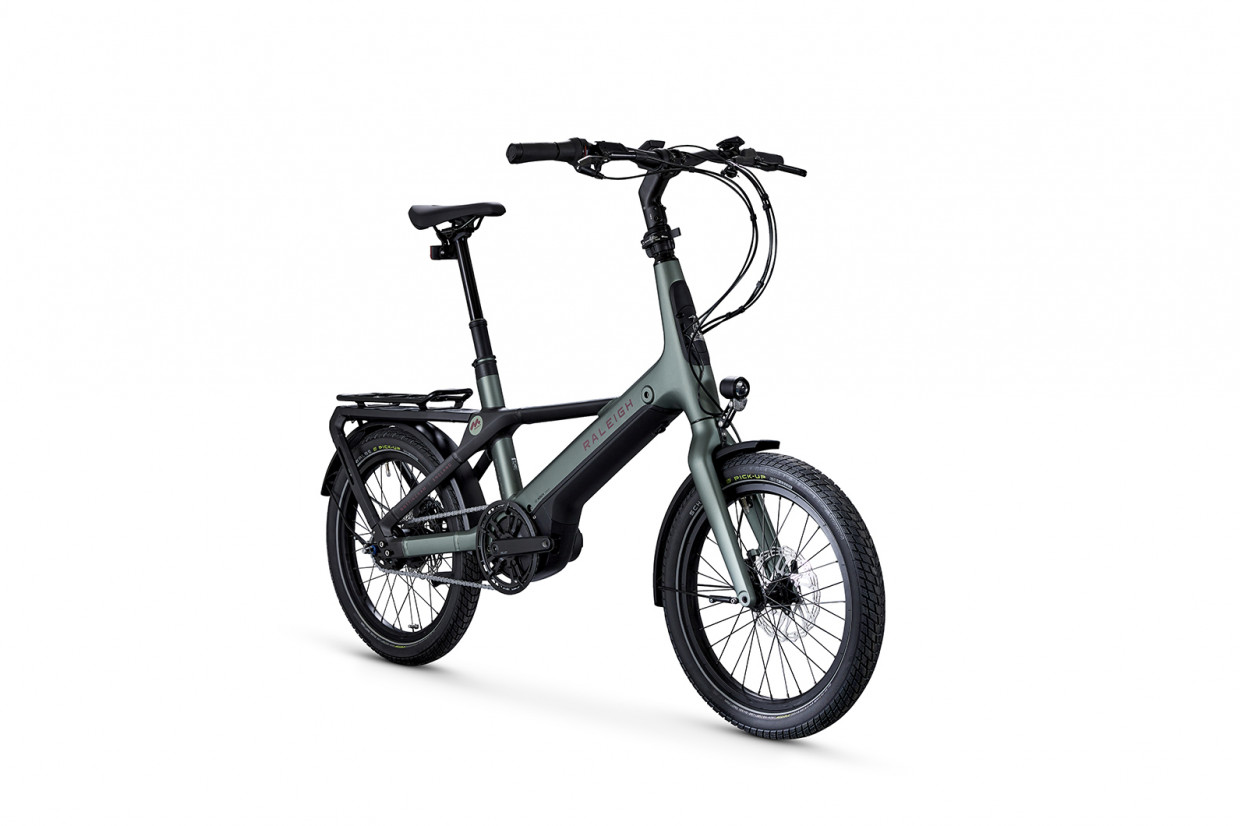 Raleigh is launching a new compact urban e-bike called Modum, which will offer plenty of carrying capacity to take on rivals such as the Tern GSD.
As more people turn to bicycles to get them, their belongings, and even pets or children around cities with them, the new Modum is a welcome addition to the long-running British firm's burgeoning urban e-bike range. 
The latest e-bike news in your inbox: sign up for our FREE newsletter
It will be available in one size, in a choice of two frame colours – which from the imagery Raleigh has supplied look to be a light blue or forest green – and comes with a MIK compatible rear rack which is compatible with a wide range of functional accessories. It is not suitable for use with a child seat but you can add a dog basket (which is good news for Move Electric's resident e-bike-loving dog).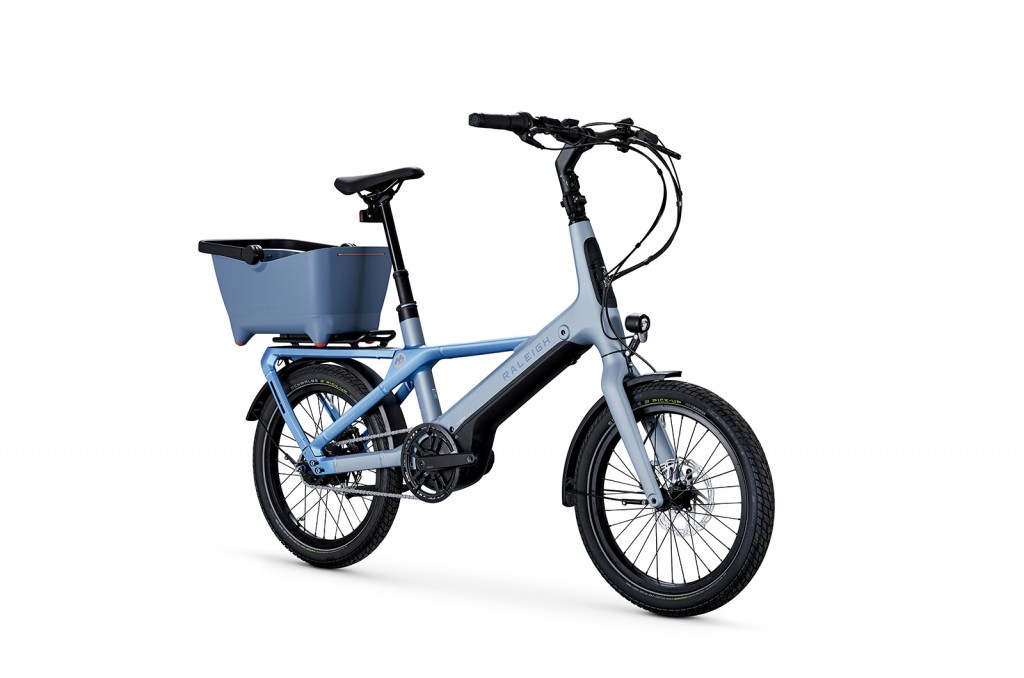 The compactness doesn't just stop with the smaller 20in wheels and frame size, however. The Modum will come with a 'quick-release speed lifter' and the handlebars will twist 180 degrees so that the bike can be stored in narrow spaces, against a wall, or even – according to Raleigh – taken on public transport. It weighs 25.6kg.
Utility wise, the Modum will come with an MIK rear rack, mudguards, and integrated front and rear lights so you won't have worry about charging more than one thing – your bike. It will be powered by Bosch's BES3 mid-drive motor, which is paired with an integrated 500Wh battery. Raleigh claims riders will be able to get a '100-mile range' with this combination.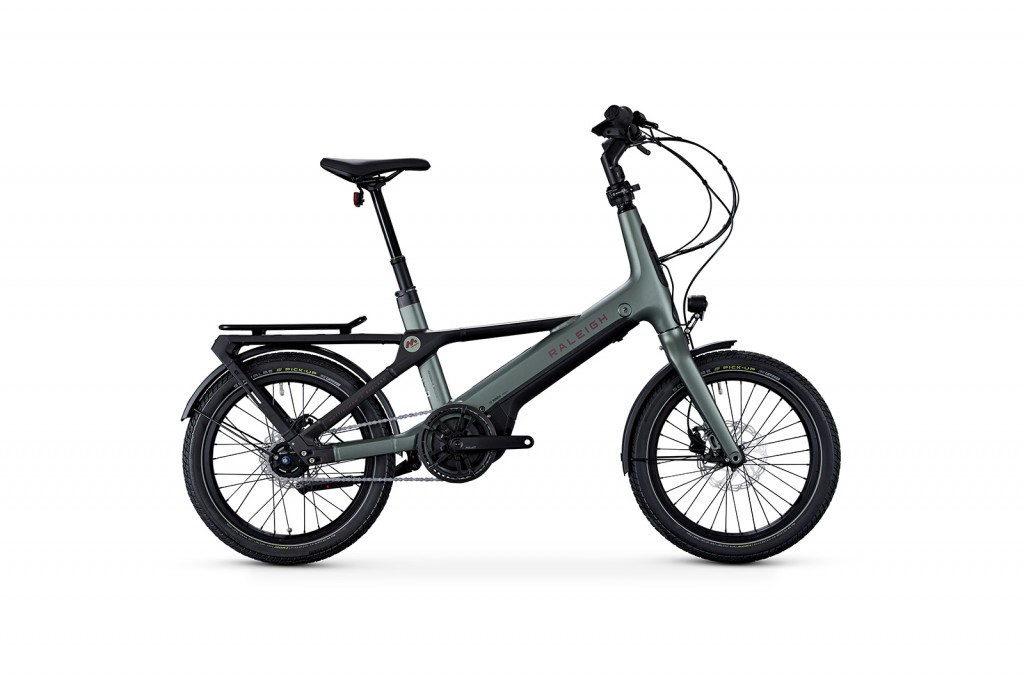 The Modum will also come with a Shumano Nexus 5 gear hub and Shimano disc brakes. Interestingly, and something we've seen more of recently, is the inclusion of a dropper post. The idea being that instead of having to jump off the saddle when stopping at lights, you can simply lower your saddle and stay seated without falling off balance. 
The Raleigh Modum will priced at £3399, and will be available to order in stores and online from June.
READ MORE
Subscribe to the Move Electric newsletter
e-CARS
What is a heat pump and how do they benefit electric cars?
Bold new Volkswagen ID 2all previews sub-£22,000 electric car
e-BIKES
Ten electric bikes we're excited for in 2023
Nine ways to keep your e-bike safe
E-bike theft: how common is it and what can you do to protect your e-bike?
Haibike AllMtn CF 6 e-bike review
e-MOTORBIKES
10 electric motorbike start-ups you should watch out for
Energica e-motorbike to take on all-comers in US racing series
Ducati: How the Italian motorbike brand is gearing up for the electric era
e-SCOOTERS
Planned laws to legalise private e-scooters face delay
Leading e-scooter firms team up on best-practice guide for cities
Ambiguity over e-scooter legality causing 'confusion', says police chief
e-WORLD
Solar panels: 8 ways the sun can power your electric life
First ride: Lunaz Upcycled Electric Vehicle bin lorry
AutoFlight secures huge order for Prosperity 1 eVTOL craft