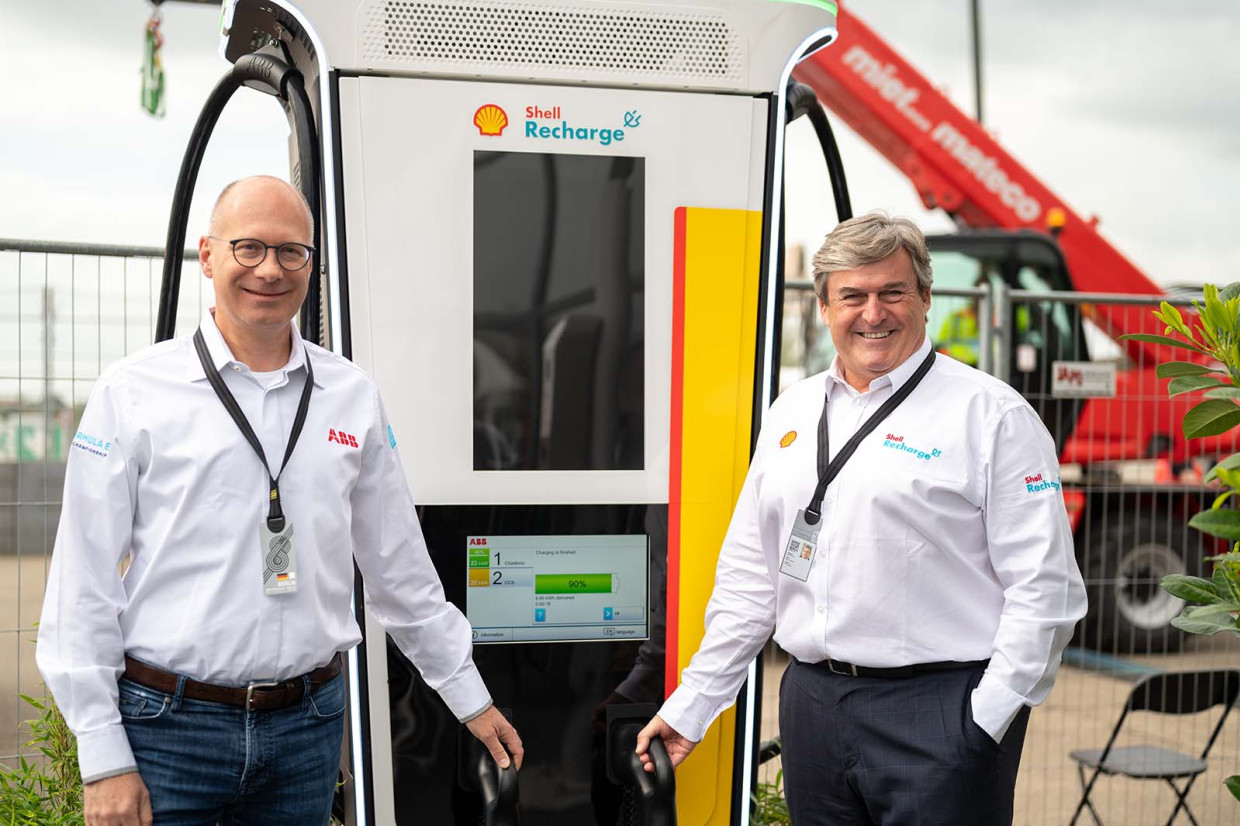 Oil firm Shell and Swiss technology business ABB have unveiled what they claim is the world's fastest EV charging point. 
ABB's new Terra 360 charger has an output of up to 360kW, meaning a car capable of accepting such speeds could be charged in less than 15 minutes. 
Shell and ABB E-mobility are planning to launch more than 200 Terra 360 charging points across Germany in the next 12 months to "ensure greater charger availability and charging speed". 
The Terra 360 is available in different configurations that can charge multiple vehicles simultaneously, and the device's modular design ensures peak utilisation of the charging station. 
Hamilton welcomes biggest new ultra-rapid charging station
ABB E-mobility recently signed an agreement with Shell to supply the tech firm's portfolio of AC and DC charging stations. The portfolio ranges from AC wallbox chargers for home, work and retail installations to the Terra 360 which is designed for fuel stations and fleet applications. 
Shell says the rollout of the Terra 360 charger will help to meet growing demand for EV charging infrastructure in Germany for both consumers and fleets. 
Shell plans to install 500,000 charging points globally by 2025 and two-and-a-half million by 2030.
"For drivers on the go, particularly those on long journeys, charging speed is key and every minute waiting can make a big difference to their journey," said István Kapitány, global executive vice president for Shell Mobility.
"Through our partnership with ABB, we are pleased to offer our customers the fastest charging available first in Germany and soon in other markets."
Frank Muehlon, CEO of ABB E-mobility, added: "With the transportation sector alone responsible for approximately 29 percent of total greenhouse gases globally, the importance of working collaboratively to drive change has never been more critical and we are delighted to be partnering with Shell on this milestone launch."
READ MORE
Subscribe to the Move Electric newsletter
e-CARS
New electric cars for 2022 and beyond: what's coming when
New BMW i7 unveiled as luxury electric saloon
e-BIKES
Best e-bikes for every category 2022
Moustache Samedi 28.7 e-bike review
e-MOTORBIKES
Yamaha Neo's electric scooter review
Cake launches new global electric motorbike race series 
e-SCOOTERS
Government set to announce plans to legalise private e-scooter use
New study finds e-scooters are five times safer than bikes
e-WORLD
World's first airport for flying taxis opens in UK