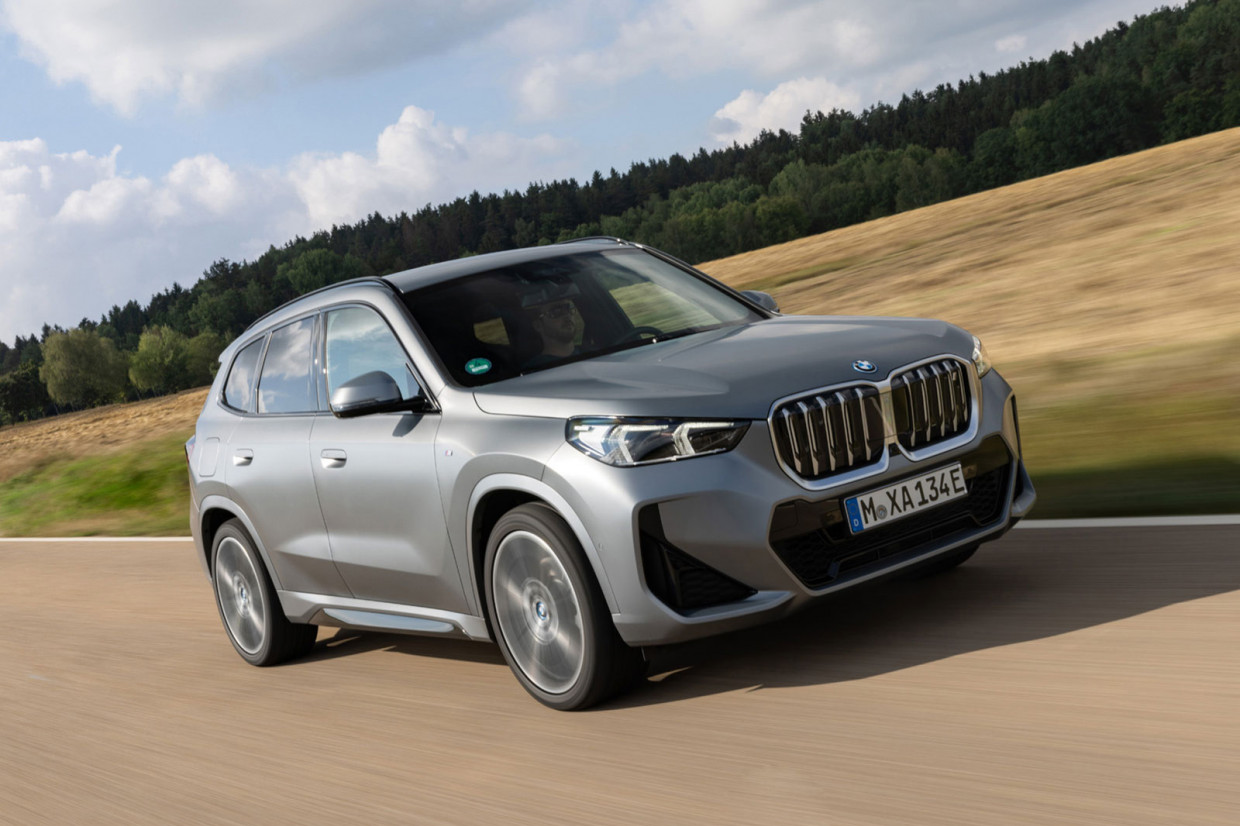 Move Electric rating: four stars out of five
Sell it to me in a sentence… 
The BMW iX1 is a seriously classy, mid-size SUV that's roomy, packed with tech, yet is also fast and efficient. 
It looks like a lot of other BMWs, yes? 
Well, yes, it does. This isn't the striking, distinctive design that the now defunct BMW i3 was. It's a rather more straightforward family SUV design that takes a lot of cues from the bigger X3, X5 and iX. It sits on a new platform – called the 'UKL' platform – and is offered with petrol, diesel and plug-in hybrid powertrains, as well as with the pure-electric powertrain that we're driving here. You can spot the electric one from the other X1s as it has blue trim highlights.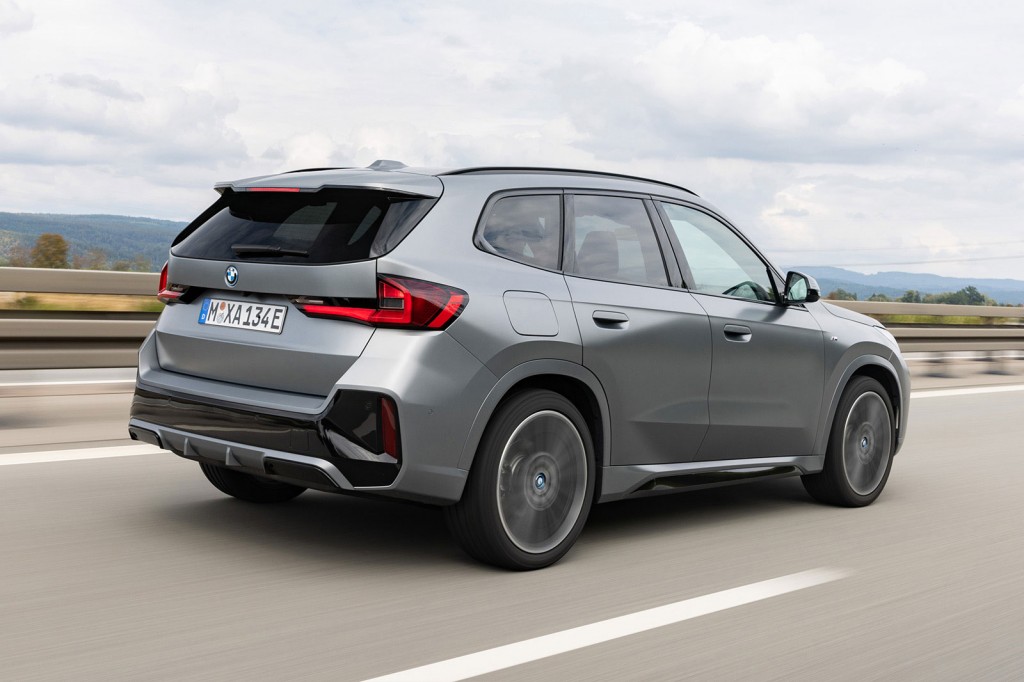 How far does it go, then?
The BMW iX1 gets a 64.7kWh usable battery capacity, which powers two electric motors – one on the front axle and one on the back - to deliver 308bhp and four-wheel drive. That's on the xDrive30 model that we're driving in pre-production form here, anyway, which is the only model confirmed for now. 
All of that adds up to an official range of between 257- and 272-miles, depending on which wheels you go for. Bigger wheels will reduce your potential range and efficiency, by the way, but our test car rode on 20-inch wheels (the biggest you can get) and still seemed reasonably efficient with a predicted real-world range of some 220 miles in warm weather and varied driving. We'd expect that to drop to as little as 180 miles in winter conditions, when all battery EVs are less efficient.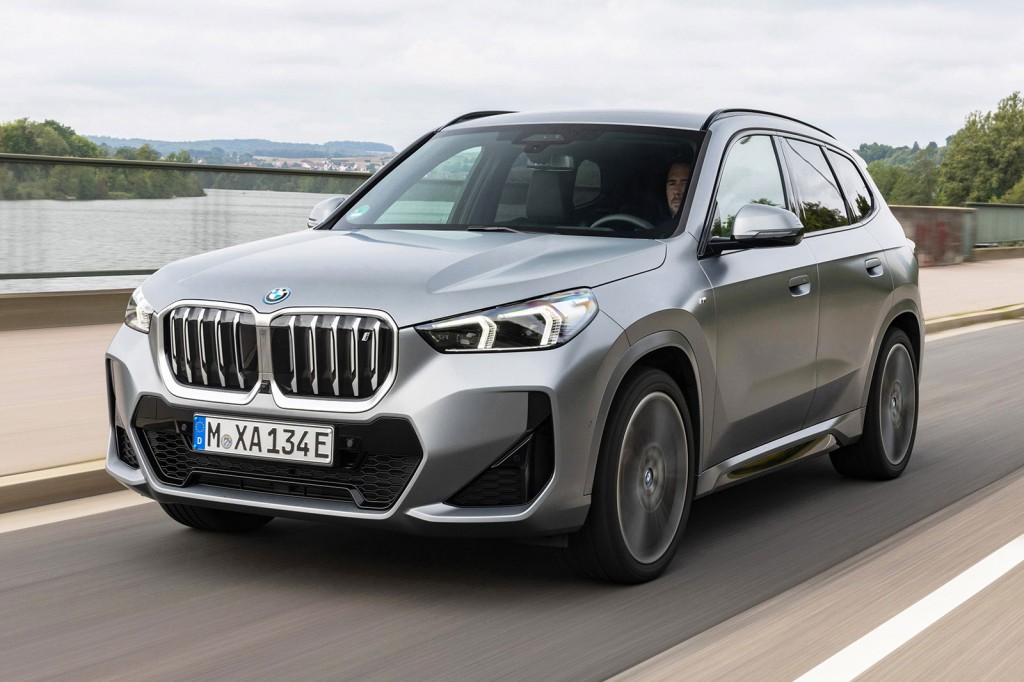 And when you do need to charge up, the BMW iX1 will do so at up to 130kW, which means a 10-80% top-up in 30 minutes provided you've got ideal conditions. There's a setting in the menus that allows you to tell the iX1 to warm or cool the batteries in preparation for rapid charging (having the batteries at the ideal temperature helps with charging speed), or it'll do it automatically if you plug in a charging station as your nav destination, which is a neat function that'll help to reduce your charge time. 
Is it fun to drive? 
Well, yes and no. With 230kW of power from the dual electric motors, and even a cheeky Boost mode for 10sec of extra urgency when you want it, it's no surprise that the BMW iX1 will hit 0-62mph in 5.7sec. It's not slow, that's for sure, even if a Tesla Model Y will be even faster.
It's really smooth and enjoyable to drive, too, but there isn't the fun, enthusiastic handling that you get in the (bigger and more expensive) Jaguar I-Pace, for instance. The steering in the iX1 is nicely weighted and predictable but it doesn't give you a whole lot of feel for what's going on at the wheels, and you can also sense that this is a heavy car. It's still one of the better handling cars next its closest rivals, such as the Audi Q4 e-tron and Mercedes EQA, and it's satisfyingly confident whether you're on a good country road or winding through town. It's just not the sporty drive that you may have been hoping for.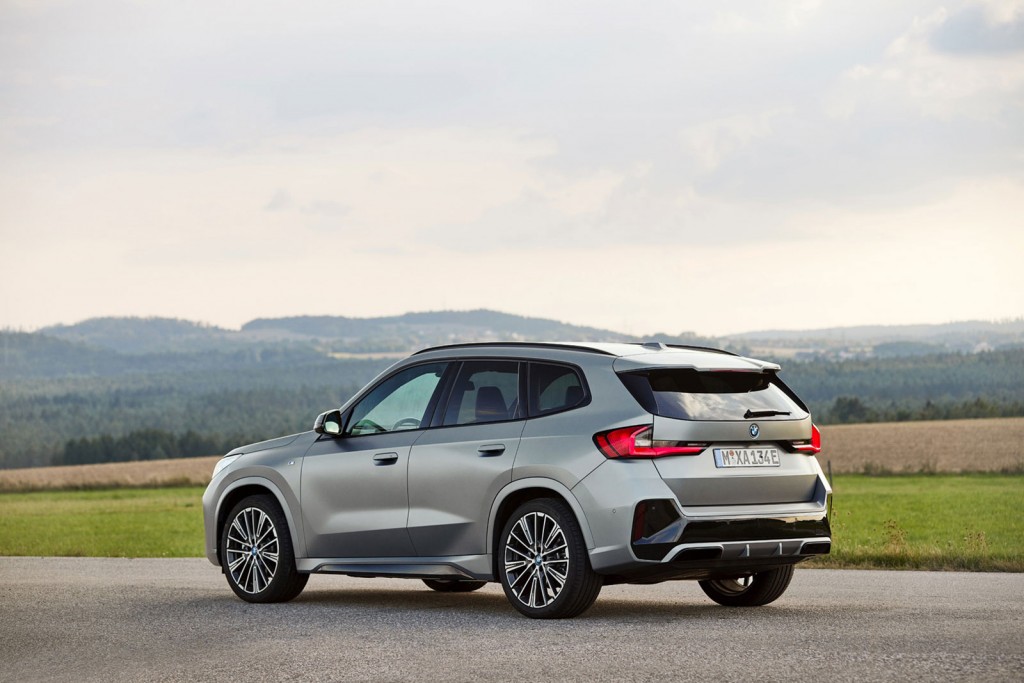 The iX1 will come with adaptive dampers as standard so that you can soften or firm-up the ride via the drive modes. Most of the time, the iX1 is comfy and unflustered in any mode, but it does get thud heavily over bigger potholes and scruffy town roads can make it feel a little fidgety. Generally, it's a very easy and relaxing car to drive.
It's practical for the family and dog, though?
Yes, very. The boot is a decent 490 litres, and it's a good, square shape with seats that fold in a 40/20/40 split, so even a big dog should be pretty happy back there. There's also a hidden cubby under the boot floor for storing your cables.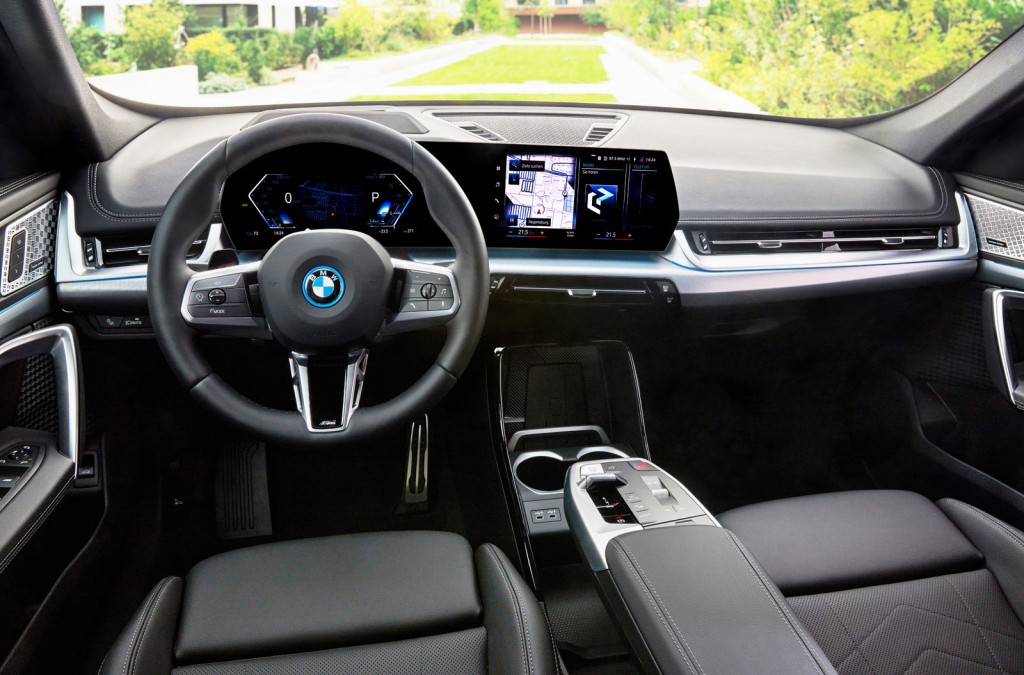 The rear seats have a decent amount of head- and legroom, and there's hard, wipe-clean plastic on the back of the front seats so that it's easy to tidy up scuff marks from tiny feet. Always a relief. 
The seats don't slide in the iX1 as they do in other X1 models, but what's likely to be more annoying is that the floor is higher in the iX1 (to accommodate the batteries) in relation to the seat cushion, so passengers with long legs can feel like their knees are bent upwards a bit uncomfortably.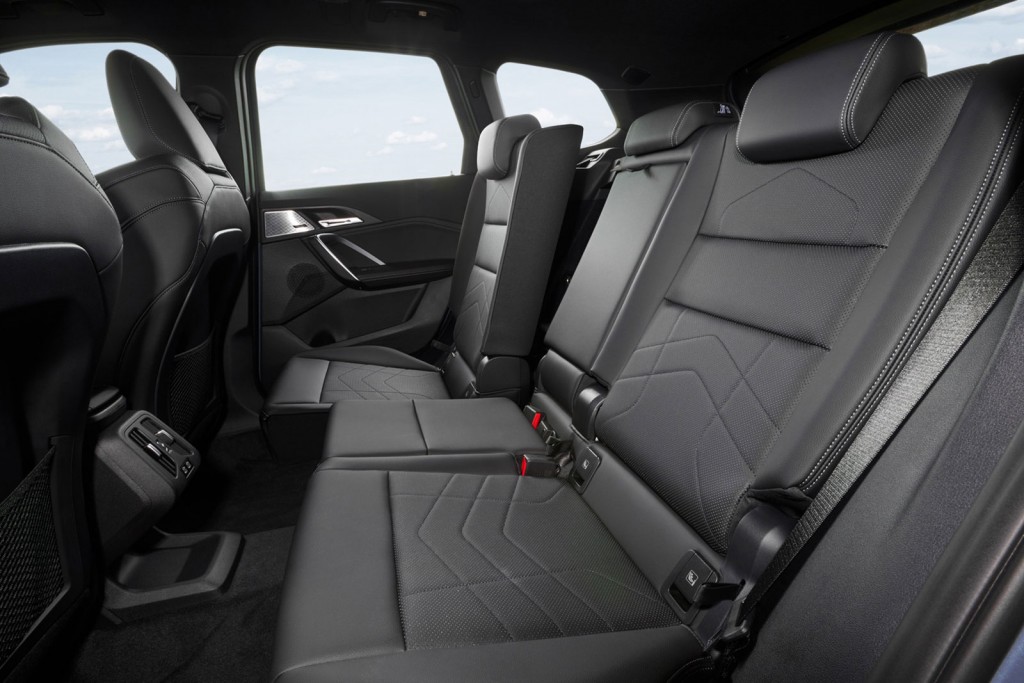 The driver and front passenger have no such issue, with really comfortable seats that offer plenty of adjustment and even an optional massage function if you want it. In fact, up front the iX1 is one of the classiest cars you can buy of all of its rivals. The materials feel lovely, everything seems to be extremely well put together and there's even a curved, frameless screen for all your infotainment that looks extremely posh. 
It works well, too. The climate controls are adjusted via the screen but are permanently visible so it's not difficult to prod them if you need to, and you get sat-nav, as well as wireless Apple CarPlay and Android Auto if you need it.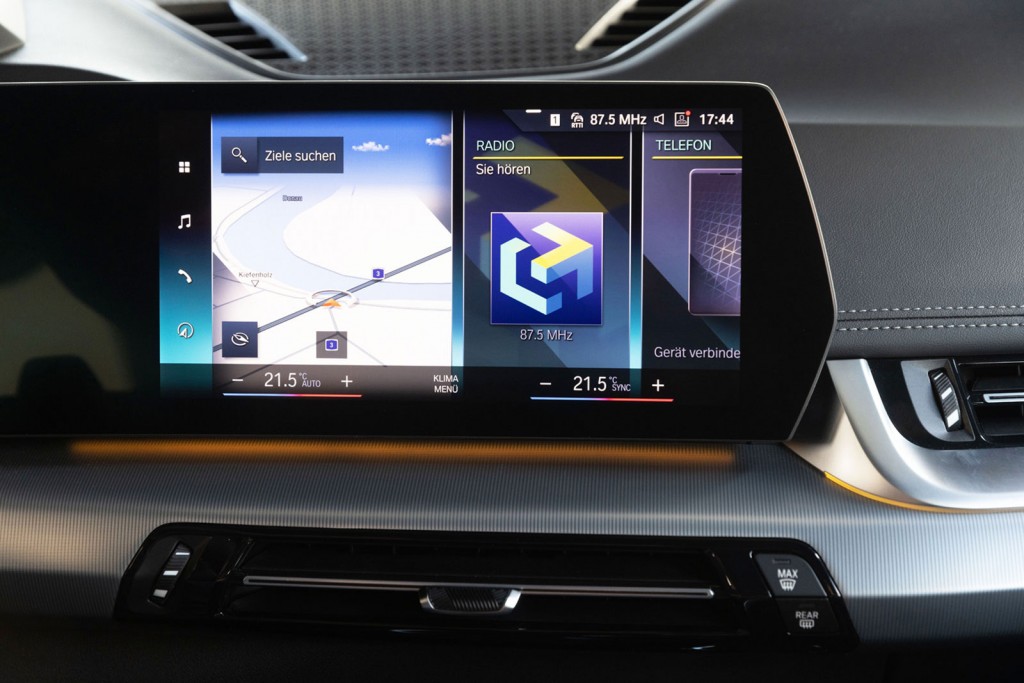 I bet that makes it expensive, though… 
Well, yes and no. The BMW iX1 starts at £52,255 for the entry-level xLine, but for the performance and equipment you get that's very similar pricing to core rivals including the Audi Q4 e-tron, Mercedes EQA and Kia EV6. M-Sport models will, of course, cost even more and will push it into Tesla Model Y territory. 
So, yes, the BMW iX1 is expensive but it's still competitive with key rivals. Monthly finance prices haven't been confirmed, but we'll know more about that when the car becomes available to order later in 2022, with deliveries expected to happen in January 2023.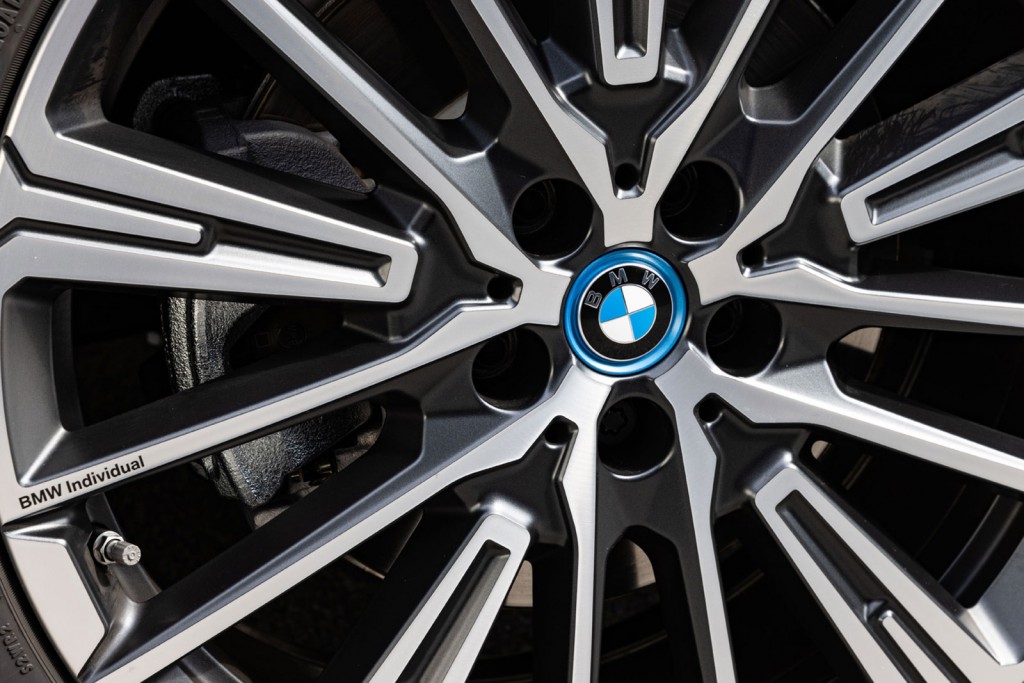 Verdict
Overall, the BMW iX1 is a very recommendable electric family SUV. The range and efficiency is decent, and practicality is good compared to most of its rivals. Most of all, the interior finish and tech is really excellent, so if you want a useful family car that's got serious, high-end executive classiness, this is a great option.
If you can live without the posh badge and general lustre of the iX1, there are options that offer more interior room and driving range for a similar- or less money – the Skoda Enyaq iV, for instance. But in the scheme of premium electric family SUVs, the BMW iX1 has all the boxes ticked and is one of the most recommendable options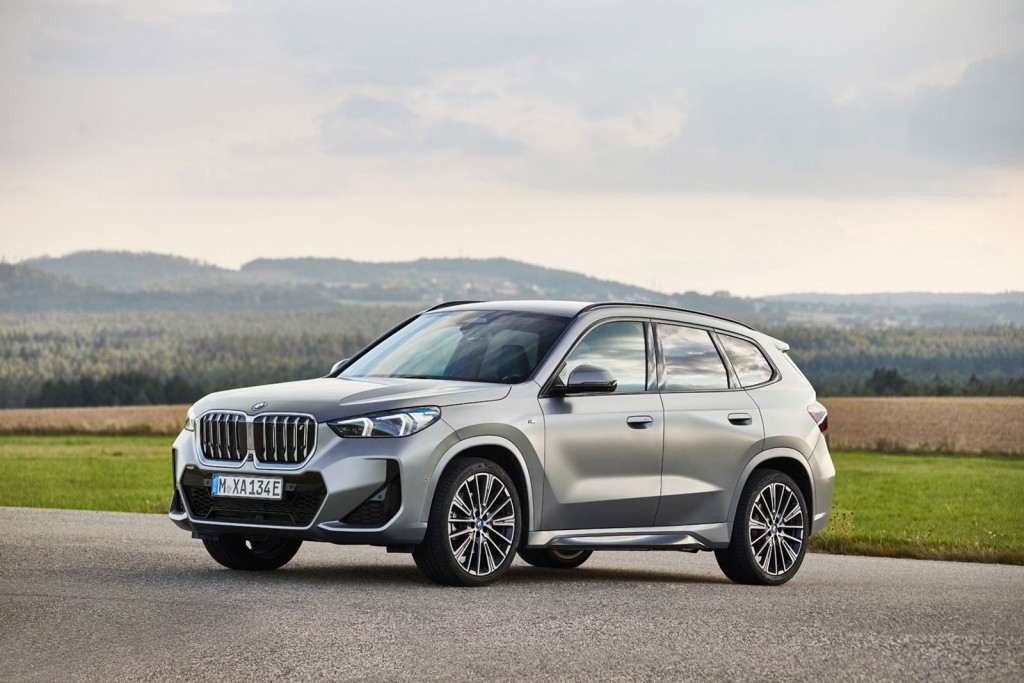 Vicky Parrott
BMW iX1 xLine specification
Price: £52,255 
Motor: Two electrically excited motors
Power: 230kw
Torque: 364lb ft 
Transmission: 1-spd direct drive, four-wheel drive
Drive battery: 66.5 / 64.7kWh (total/usable)
Kerb weight: 2085kg
0-62mph: 5.7sec
Top speed: 112mph
Energy efficiency: 3.6m/kWh  
Electric range: 257 – 272 miles
Length: 4,500mm
Width: 1,845mm
Height: 1,642mm
Wheelbase: 2,692mm
CO2, Tax band: 0g/km, 2
Rivals
Mercedes EQA 
READ MORE
Subscribe to the Move Electric newsletter
e-CARS
Video: Can the National Grid cope with a surge in electric vehicles?
e-BIKES
What to look for when buying an e-bike: Move Electric's top tips
The rise of Volt Bikes: 'when we launched, people thought we were mad'
e-MOTORBIKES
Maeving RM1 electric motorbike review
Q&A: Zapp founder on why electric mopeds are the future
Government plans 2035 ban on new non-zero emission motorbike sales
e-SCOOTERS
Tier to upgrade e-scooter fleet with a smart 'Parrot'
Q&A: Neuron Mobility's UK boss on e-scooters, safety and helmet selfies
e-WORLD
Polestar to supply battery tech to electric boat firm Candela
Engineering giant ABB working on electric Dover-Calais ferry