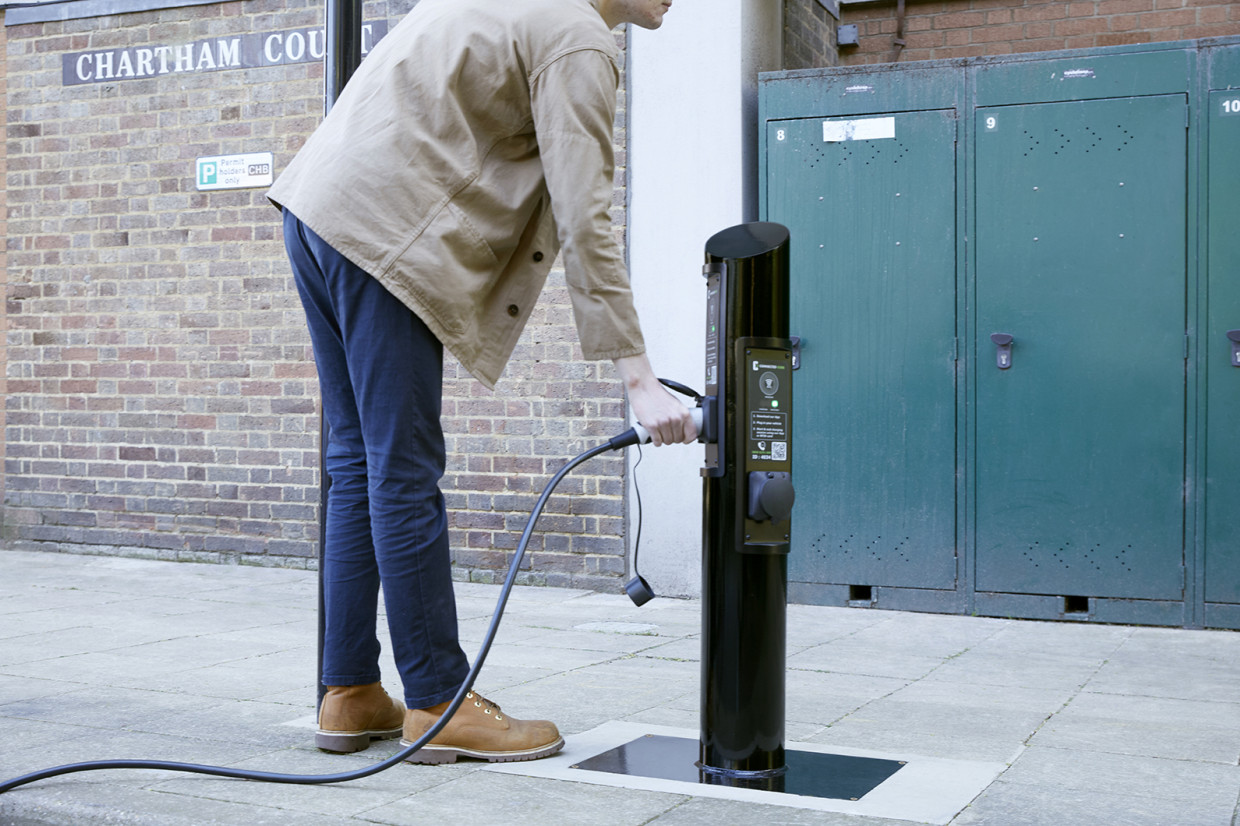 Connected Kerb has secured a deal with Surrey County Council to install 10,000 electric vehicle charging points at more than 1500 locations across the county by 2030.
The commitment is the largest for the expansion of EV charging by a local authority, and will involve chargers being installed both on street locations and in car parks. It will involve around £60 million of investment from Connected Kerb, which offers a range of chargers that range from 7kW to 22kW in speed.
The latest EV charging news in your inbox: get our FREE newsletter
Surrey County Council estimated that there is currently one charger per 9000 residents in the county.  The partnership will involve the installation of more than 5000 units, including more than 500 rapid charging points, by 2027.
Notably, the goal is to make one in five of the charging bays accessibly to drivers with disabilities. The firm's Chameleon on-street charger has been designed to be suitable for those with accessibility needs. The deal will also involve the installation of Gecko on-street chargers, and the wall-mounted Limpet and Scarab units in housing developments.
Connected Kerb boss Chris Pateman-Jones said: "If one local authority can deliver such a significant boost to the UK's charging network, just imagine what we could achieve by 2030 if every city, county, and combined authority was empowered to do the same."
Pateman-Jones added: "Although the Government's estimate of 300,000 chargers by 2030 may feel ambitious, it's eminently possible – and necessary – to achieve; this deal proves it."
Surrey County Council's cabinet member for transport, Matt Furniss, said that working with various firms over the last two years to install more than 100 EV charge points led to the deal with Connected Kerb. He said: "This contract will enable us to expand our network of chargepoints and speed up the installation process, to provide services to our residents faster."
Connected Kerb, which recently secured a £110 million investment from Aviva Investors, currently offers around 1700 charging points at more than 500 locations across the UK.
Other councils ramp-up EV charge point plans
The Surrey County Council deal is the largest in a number of recent commitments by local authorities to increase charge point provision.
Bury Council recently appointed Be.EV to install more than 30 new units in a deal with more than £9 million over the next two years. The deal will more than double the number of publicly available chargers in Bury, from the currently total of 26.
North Lincolnshire Council has agreed a deal with Ubitricity for the film to install 35 on-street chargers in the region, with residents invited to apply to the council to have one of the 5kW lamppost chargers installed in their area.
READ MORE
Subscribe to the Move Electric newsletter
e-CARS
What is a heat pump and how do they benefit electric cars?
Bold new Volkswagen ID 2all previews sub-£22,000 electric car
e-BIKES
Ten electric bikes we're excited for in 2023
Nine ways to keep your e-bike safe
E-bike theft: how common is it and what can you do to protect your e-bike?
Haibike AllMtn CF 6 e-bike review
e-MOTORBIKES
10 electric motorbike start-ups you should watch out for
Energica e-motorbike to take on all-comers in US racing series
Ducati: How the Italian motorbike brand is gearing up for the electric era
e-SCOOTERS
Planned laws to legalise private e-scooters face delay
Leading e-scooter firms team up on best-practice guide for cities
Ambiguity over e-scooter legality causing 'confusion', says police chief
e-WORLD
Solar panels: 8 ways the sun can power your electric life
First ride: Lunaz Upcycled Electric Vehicle bin lorry
AutoFlight secures huge order for Prosperity 1 eVTOL craft