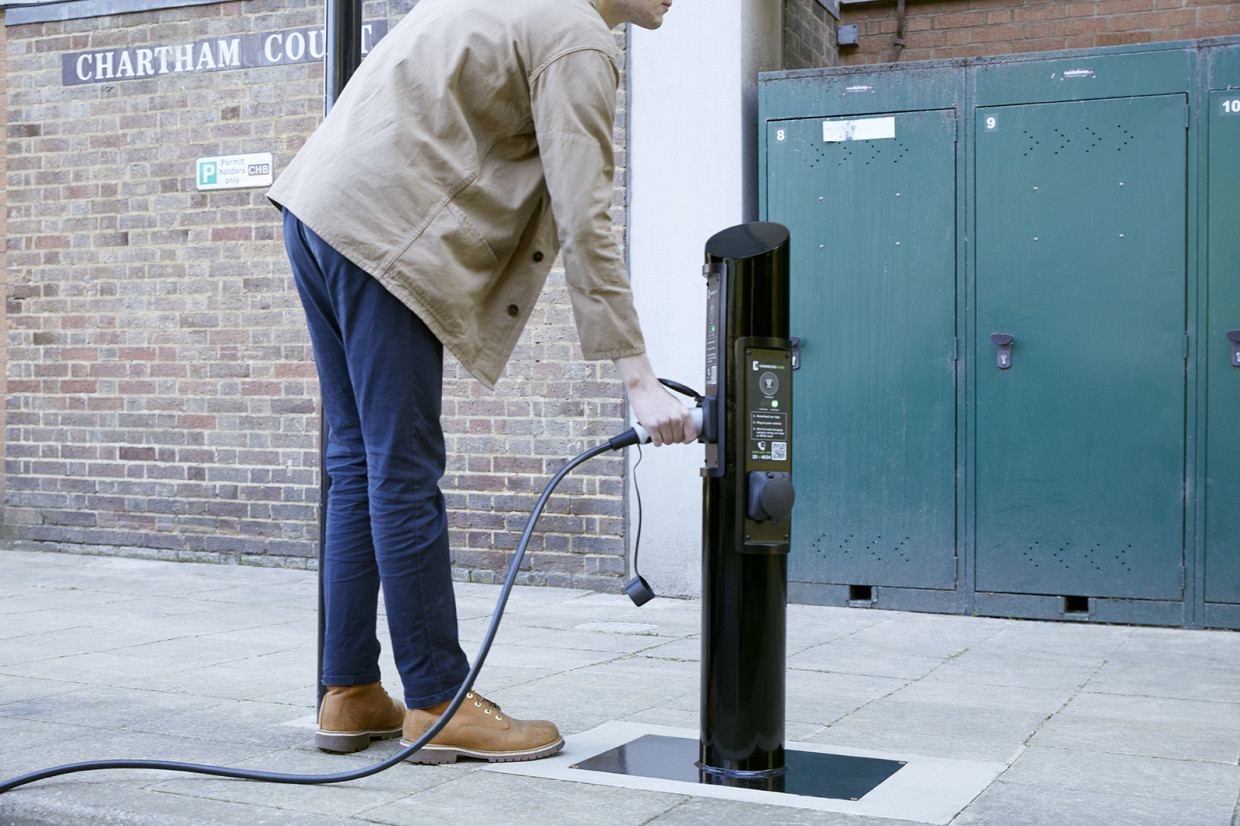 Electric vehicle charging infrastructure firm Connected Kerb has revealed its new and ultra-compact Chameleon charger.
The new public charging unit stands under one metre tall and takes the form of a narrow bollard. Most of the key components of the charging unit are located underground, which Connected Kerb claims both reduces the space it takes up on a pavement and allows for charging infrastructure to be put in place ahead of time.
The Chameleon unit is a dual charger, so it can charge two vehicles simultaneously at speeds up to 22kWh. The firm says it has also been designed to offer 'kerb appeal', which a shell made from recycled steel. 
The low height of the charger means that it is not subject to planning permission, and Connected Kerb claims that it is also accessible for wheelchair users. The modular design means that the underground components can be installed before the actual charging point, meaning that it can be installed in part, with the overground infrastructure added later once there is sufficient demand.
The unit also features 5G connectivity, and has built-in air quality sensors and other technology.
Connected Kerb already offers a range of public charging units in the UK, and has struck deals with a number of local councils to install them. It has a deal with West Sussex County Council to find, install and maintain "thousands" of units in the coming years and plans to install 190,000 public chargers in the UK by 2030.
READ MORE
Subscribe to the Move Electric newsletter
e-CARS
New Volkswagen ID Buzz: everything you need to know
How efficient are electric cars?
e-BIKES
Ducati expands e-bike range with first racing machine
e-MOTORBIKES
New Yamaha Neo is Europe-bound '50cc equivalent' electric moped
Electric Motion Epure Race e-motorbike review
e-SCOOTERS
Eskuta KS-450 e-scooter review
Taito unveils innovative new three-wheeled electric scooter
e-WORLD
Electric surfboard firm Awake aims to make waves with first e-foil
Volta Zero electric truck can 'dramatically improve' inner-city road safety