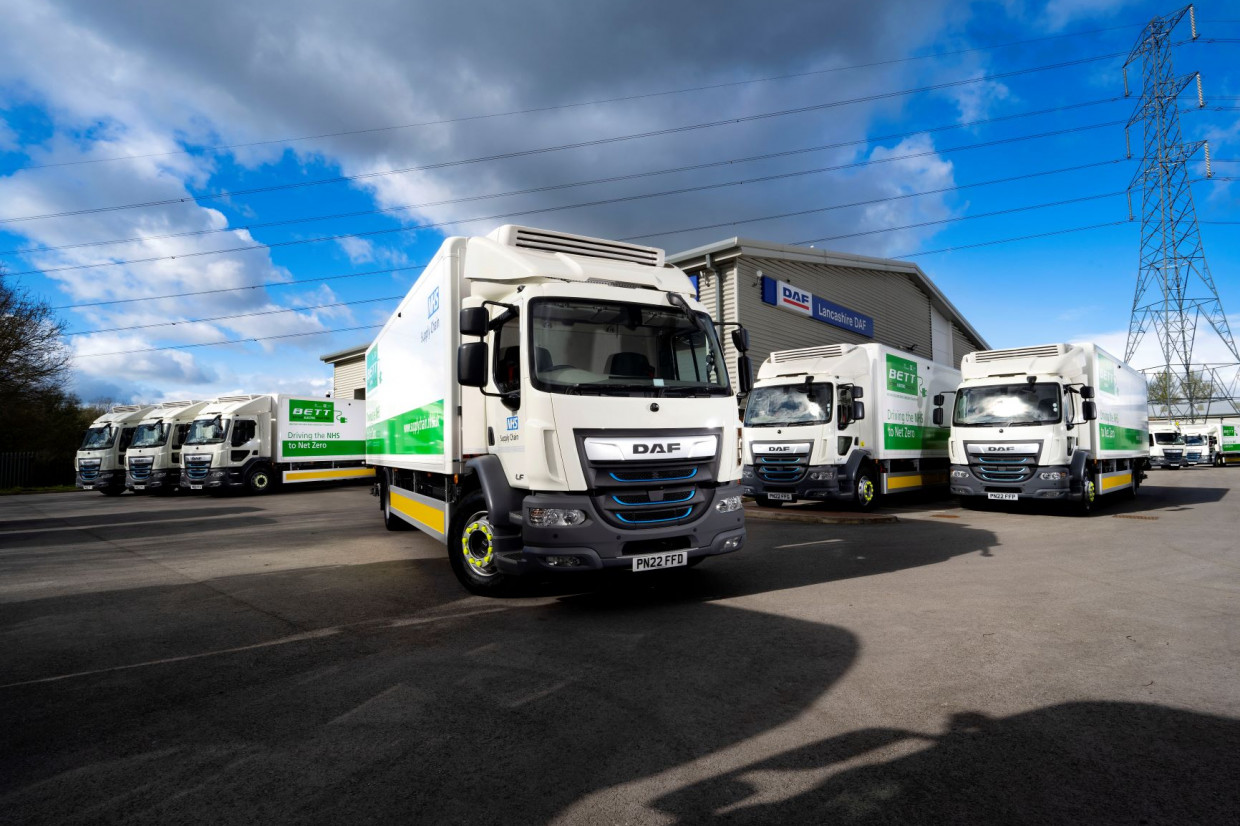 The UK government will invest more than £200 million to launch what it claims will be the world's largest fleet of zero-emission heavy good vehicles (HGVs), in order to accelerate the decarbonisation of road freight.
In a speech at a Logistics UK conference, transport minister Trudy Harrison said that the investment will be used to develop an 'extensive' zero-emission road freight demonstrator programme.
First drive: DAF LF Electric HGV
The government is aiming to ensure that all new HGVs sold in the UK will be zero-emission from 2035 onwards. That date will apply to most vehicles weighing less than 26 tonnes, with all new HGVs having to meet the rule by 2040.
The £200m investment will be used for a three-year comparative programme to develop a fleet of vehicles that can help decarbonise the UK freight industry, with competitions for battery electric and hydrogen fuel cell technology starting shortly.
HGVs and large vehicles present greater challenges to switch to zero emission powertrains than cars and vans, particularly with the size and weight of electric vehicle batteries required to meet the needs of long-haul HGVs. While hydrogen fuel cell powertrains do not have this issue, the limited hydrogen fuelling network presents challenges when it comes to refuelling them.
The demonstrator vehicles will be used to showcase technology and to father evidence on the refuelling or recharging infrastructure required to make the freight sector entirely zero-emission by 2050.
Aside from the cut in emissions, the government says that switching the UK's HGV fleet to zero emission vehicles would also reduce delivery costs and protect consumers from rising fuel prices in the long-term.
The new scheme builds on a £20m Department for Transport zero-emission freight trial that began last year, which has involved Leyland Trucks rolling out 20 DAF LF Electric trucks (pictured) for various public sector organisations. They include NHS Supply Chain, five local NHS trusts and a number of local authorities and councils.
Transport minister Trudy Harrison said: "Our road freight industry is one of the most efficient in the world and contributes over £13 billion to the UK economy each year. But we must accelerate our journey towards our net zero goals, and we're committed to leading the way globally on zero emission road vehicles."
"Our ambitious plans will continue to ensure food is stocked on the shelves and goods are supplied, while eliminating fossil fuels from HGVs and making our freight sector green for good." 
READ MORE
Subscribe to the Move Electric newsletter
e-CARS
New electric cars for 2022 and beyond: what's coming when
New BMW i7 unveiled as luxury electric saloon
e-BIKES
Best e-bikes for every category 2022
Moustache Samedi 28.7 e-bike review
e-MOTORBIKES
Yamaha Neo's electric scooter review
Cake launches new global electric motorbike race series 
e-SCOOTERS
Government set to announce plans to legalise private e-scooter use
New study finds e-scooters are five times safer than bikes
e-WORLD
World's first airport for flying taxis opens in UK