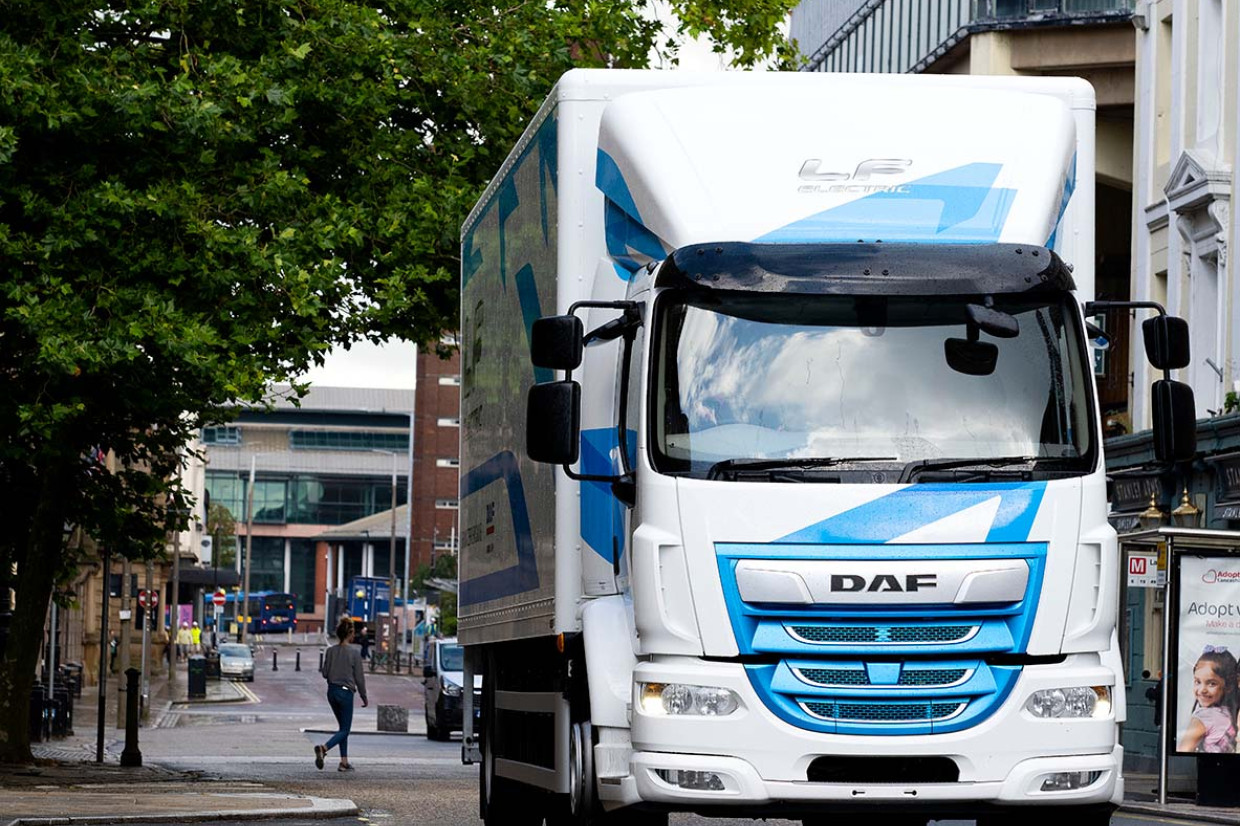 Without even entering production yet, Tesla's futuristic-looking Semi pure-electric HGV has managed to blind many to the fact that electric lorries are already a reality. For example, operators can choose from models by Renault, Mercedes, Volvo and Scania.
Enhanced green credentials, easier access to city centres and lower operating costs are among their upsides which is why Move Electric jumped at the chance to get behind the wheel of one of the latest, a DAF LF FA Full Electric.
The Dutch company sold its first electric lorry, an articulated CF, to a customer in the Netherlands in 2019. Sales of the smaller LF, a rigid model where cab and chassis are joined together so allowing customers to specify different body types, began in the UK, where the model is built, in September 2021.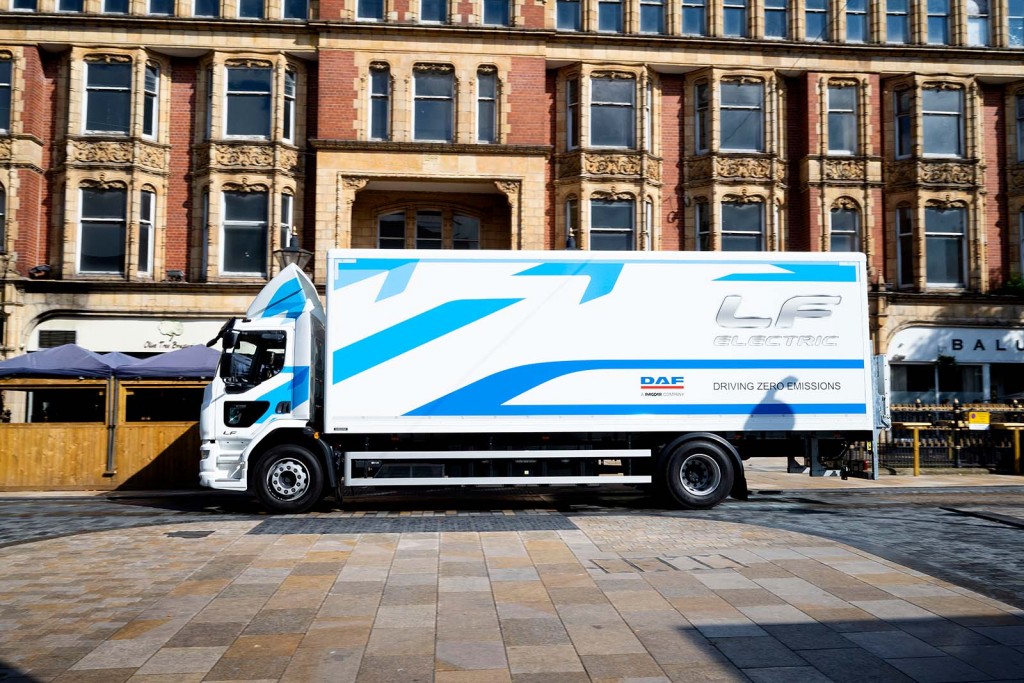 Before beginning my ascent to the LF's cab there's just time to take in the large underslung battery case (it's about the size of a fuel tank and there's one on each side) and, ahead of it, the cooling system that prevents them overheating. There's also a choice of DC and AC charging ports. Bright orange electric cables link the batteries to the electric motor and power electronics deep in the cab. 
You look down on most vehicle classes from an LF's elevated driver's seat. Add a wide, curved windscreen and deep side windows, and it's a veritable eagle's nest. So no change there. What is different about the electric LF is the fact that the traditional rev counter has been replaced by a power level indicator and the fuel gauge by one indicating the battery level.
On the sweeping centre console to the left of the driver is the rotary drive selector. Otherwise, it's a conventional cab, which will be just fine for drivers switching between conventional and electric models.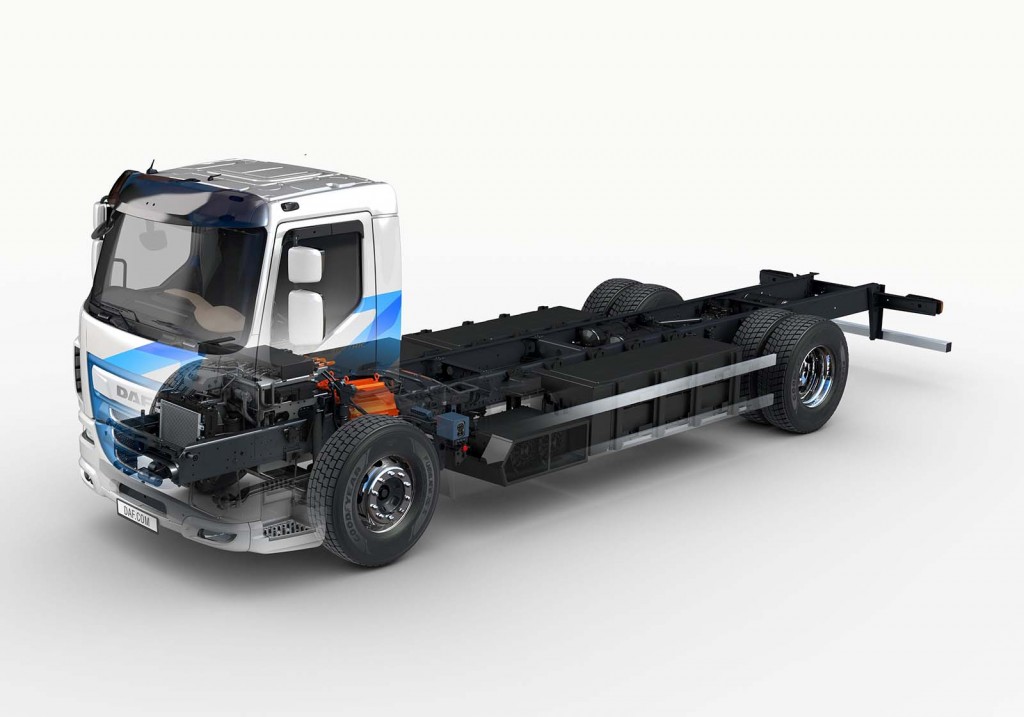 To start it you to turn the key part way before pausing to allow the power electronics to do their thing; a bit like letting a diesel's glowplugs warm up. Now turn the key fully and – nothing. Just like an electric car there's not a sound from below, which will come as a shock to any lorry driver used to a diesel clattering noisily under their chair. Squeeze the accelerator and, making sure the extended body doesn't clip anything as we swing out of the parking spot, we're away. 
The electric LF feels a little brisker than a diesel, which will please drivers keen to make a clean start from interminable city centre traffic lights, but not wildly so and that's fine because there's a lot of mass to control and, when in operation, a load to protect. One thing it does feel is stable thanks, no doubt, to those weighty, heavy, underslung batteries on either side. Range is a claimed 174 miles. 
Smooth, quiet and easy to drive, the DAF LF FA Full Electric seems perfect for its role as a vehicle servicing smaller businesses with multi-drop deliveries. Operators will need to balance its lower running costs than diesel with its higher price (up to five times more expensive) and reduced payload (one tonne less than a diesel LF). So far there are 20 in operation with public bodies as part of the Battery Electric Truck Trial funded by the Department for Transport. We look forward to more replenishing shops silently and cleanly.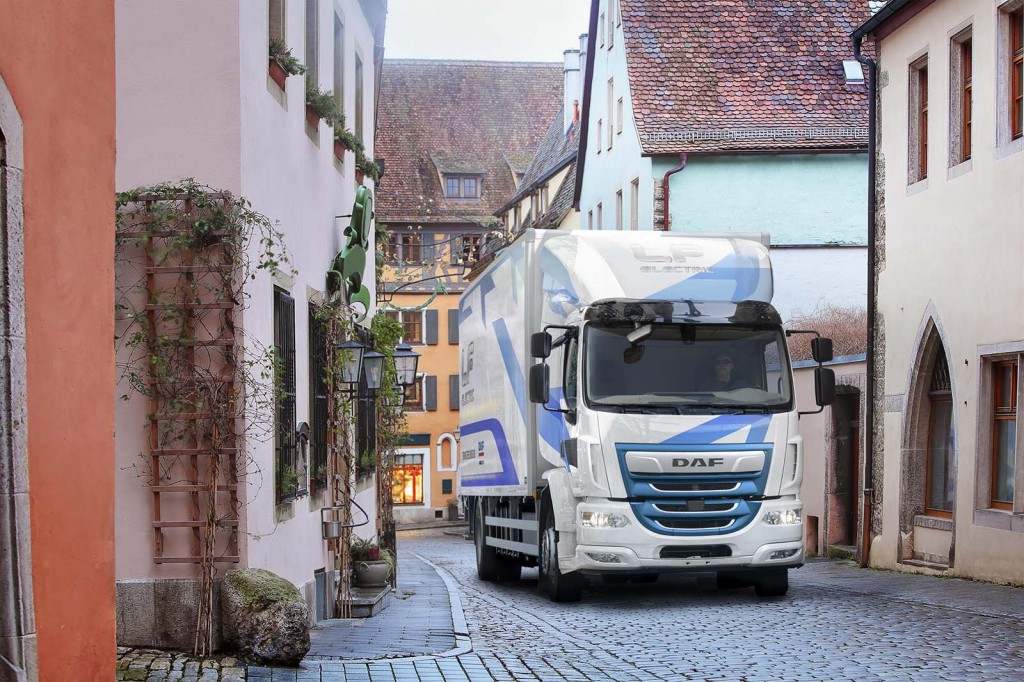 DAF LF Electric
DAF LF Electric | 'FA' rigid 19 tonnes GVW
Chassis: 4x2
Wheelbase: 5.3 / 5.8m
Weight rigid: 7300kg
Electric motor: 354hp
Torque: 1453lb ft
Battery capacity: 282kWh 
Range fully charged: up to 174 miles
Price: £300,000 plus VAT
READ MORE
Subscribe to the Move Electric newsletter
e-CARS
New Volkswagen ID Buzz: everything you need to know
How efficient are electric cars?
e-BIKES
Ducati expands e-bike range with first racing machine
e-MOTORBIKES
New Yamaha Neo is Europe-bound '50cc equivalent' electric moped
Electric Motion Epure Race e-motorbike review
e-SCOOTERS
Eskuta KS-450 e-scooter review
Taito unveils innovative new three-wheeled electric scooter
e-WORLD
Electric surfboard firm Awake aims to make waves with first e-foil
Volta Zero electric truck can 'dramatically improve' inner-city road safety