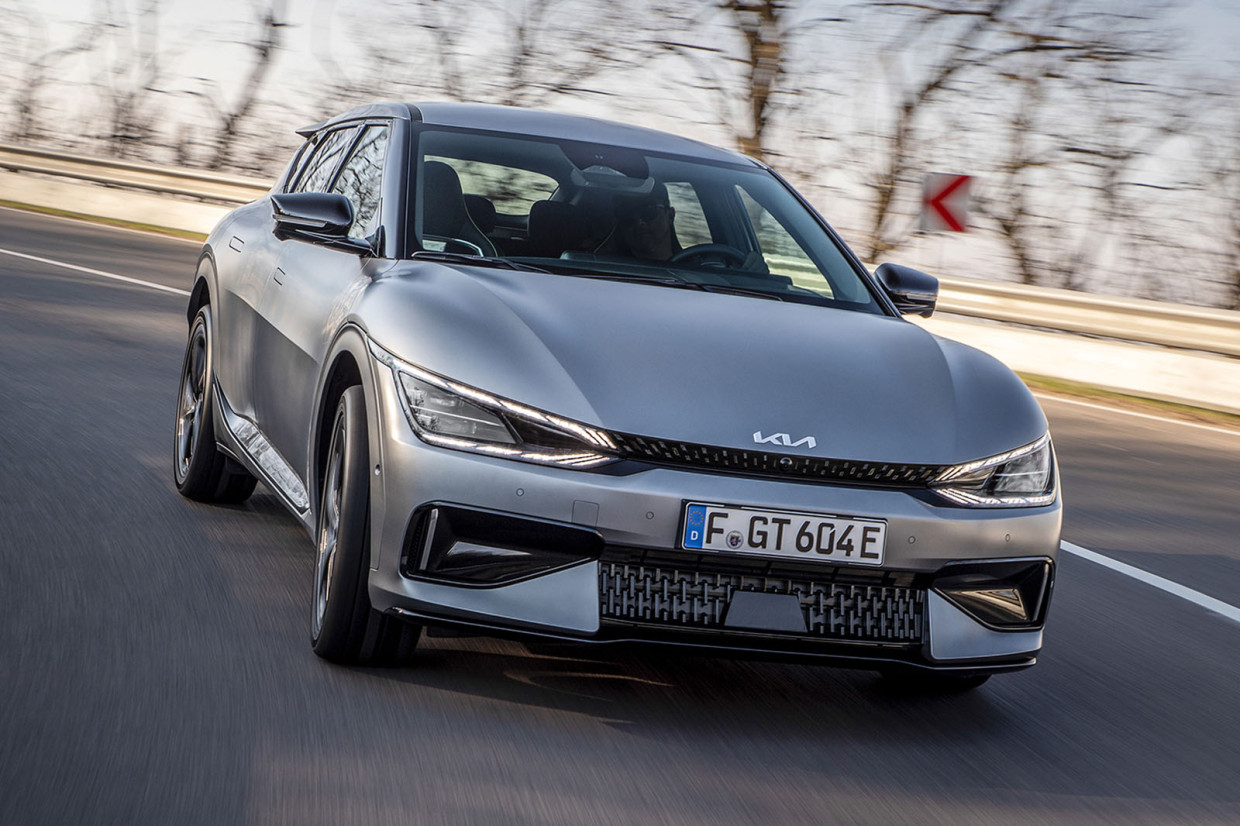 Move Electric verdict: Five stars out of five
Sell it to me in a sentence…
A faster version of Kia's stylish and segment-leading electric crossover. Much faster.
But it doesn't look very different…
You're right - this is an undercover EV rocketship, one that only the keenest spotters will be able to tell from the confusingly named GT-Line S that sits below it in the Kia EV6 hierarchy. For the record visual differences, other than the small badge on the back, are subtly revised bumpers at both ends, bigger 21-inch wheels (necessary to fit around upsized brake discs) and a dinky little tailgate spoiler. Inside its cabin the GT gets new sports seats, plus a GT button on the steering wheel to unleash the new dynamic mode that sits above Eco, Normal and Sport.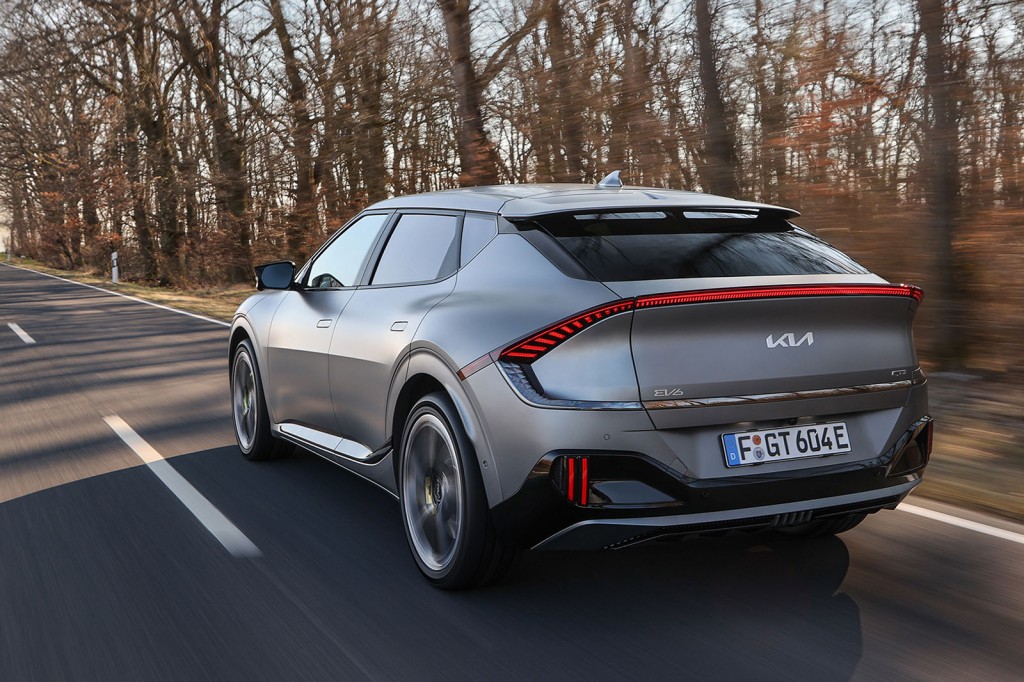 But it's faster, right?
Yes - hilariously so, and especially when you select the GT mode that unleashes the full fireworks. The existing twin-motor all-wheel driven EV6 is hardly lacking in urge, with its peak 239kW (321bhp) output giving the ability to dispatch the 0-62mph dash in 5.2 seconds, and to power it onto a 116mph top speed.
But the GT is in a different, bigger league - peak power is 430kW (577bhp), the official 0-62mph time is cut to 3.5 seconds and the top speed rises to 161mph. That means it has leapfrogged every similarly priced rival in terms of performance; it is actually slightly faster than the Porsche Taycan 4S - a car that costs £25,000 more in the UK. Unleashed fully it creates acceleration forces that feel genuinely uncomfortable.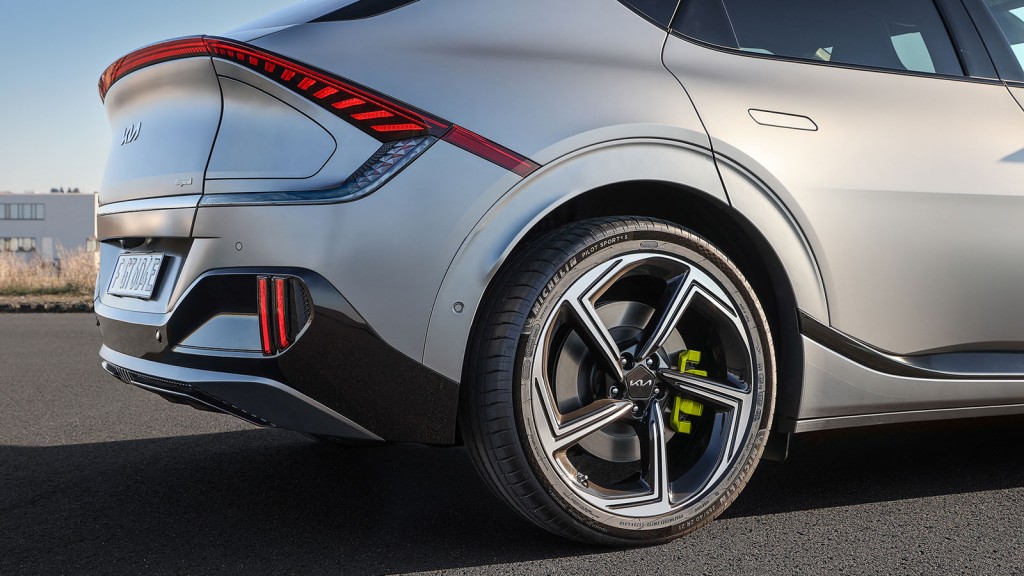 Are there other mechanical changes?
Yes - including one that really transforms the character of the car. The EV6 GT's rear motor delivers drive through a clever torque-biasing differential, one that allows different amounts of effort to be sent to each back wheel. That helps the car to turn more aggressively and - with the spinach-popping GT mode selected - gives an edgy, exciting feeling when pushing the car harder. It also allows for the unlikely option of a drift mode.
A drift mode? Really?
Absolutely. On a wide, open skidpan (with only cones at risk) this allowed for spectacular but controllable power oversteer. This really is a family spec EV that can smoke its tyres (which are sporty Michelin Pilot 4S rather than low resistance eco rubber) and act like a complete hooligan.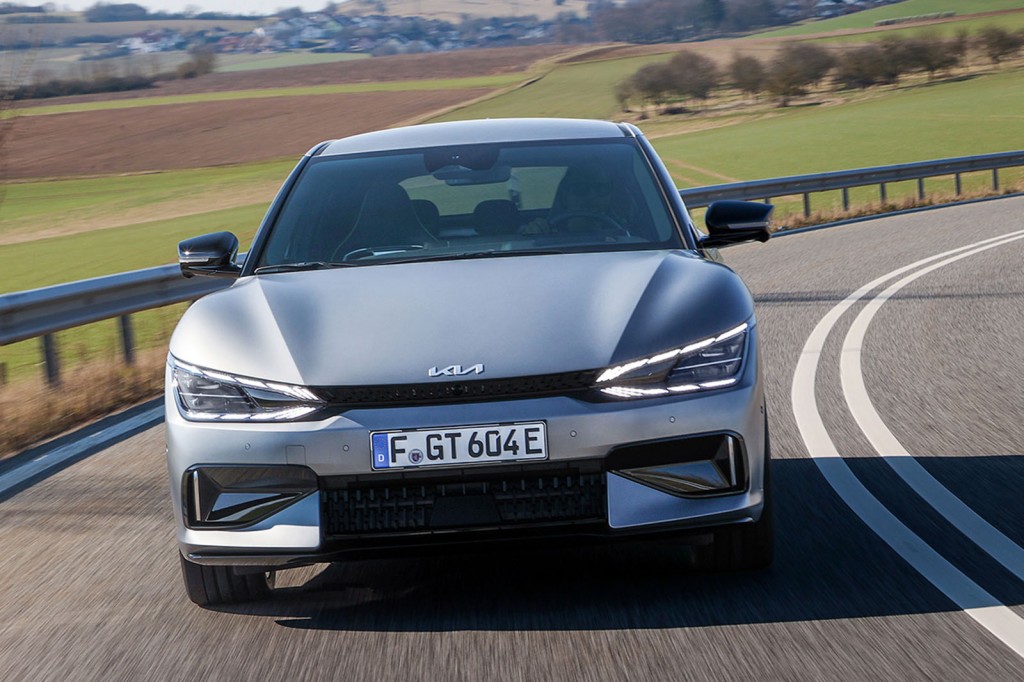 That sounds like the answer to a question that nobody is likely to be asking…
Kia's engineers admit that few owners are likely to use the drift mode very often, although it would certainly enliven the school run. But despite its presence, and the savage performance, the good news is that the car hasn't been turned harsh at lower levels of commitment. The GT sits on firmer springs than the regular EV6 and has been given adaptive dampers to help tighten it up when you want to push - but in the softer Normal and Sport modes it still feels pliant and refined. Cruising refinement remains outstanding, with the GT staying smooth and near silent when being driven at a rapid motorway pace.
All the extra urge has to have brought some compromises, right?
Okay, so there is one area where the GT feels like a step back from the lesser EV6 - range. It uses the same 77.4kWh battery pack as the regular car, with the extra performance having knocked a chunk off the WLTP figure. Kia is predicting it will manage a 263 mile official range, which is a big reduction over the 314 miles the regular AWD manages - with the least powerful rear-wheel drive version going 328 miles.
Like its sisters the GT uses an 800 Volt electrical architecture and supports ultra-fast DC charger. Hook it up to a 350kW socket and Kia says it will be possible to take the battery pack from 10 percent to 80 percent charge in just 18 minutes. This is another function normally restricted to much more powerful EVs.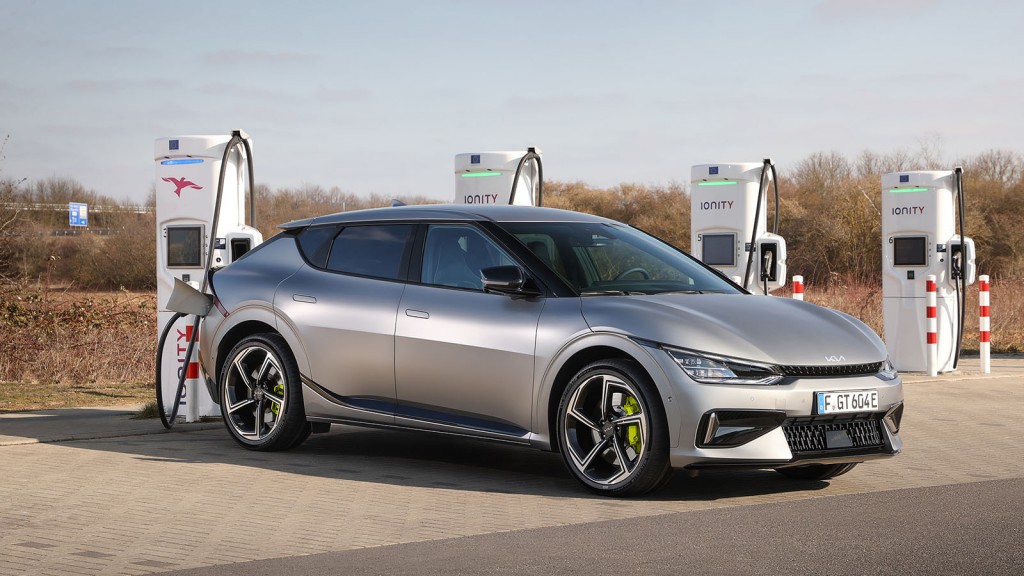 Any other grumbles?
Only small ones. Despite the sharpened dynamics the GT's steering still feels a bit inert and short on feedback. And although the variable retardation works well, with differing levels selected by paddles behind the steering wheel, I found it hard to modulate perfectly smooth stops as the car switched between electric and friction braking.
Is Kia charging a big premium for the extra performance?
Not really. The GT's £61,595 pricetag does make it the most expensive Kia ever to be offered in the UK - that's £5725 more than the GT Line S AWD, and close to a 50 percent supplement over the entry-level rear-driven EV6 Air. But standard equipment is generous and Kia isn't going to charge extra for any of the available colours - White Pearl, Midnight Black and Steel Grey are all normally part of the company's premium palette. The GT also gets a heat pump as standard to help boost efficiency in cold weather - that's a £900 option on lesser versions.
Verdict
The EV6 GT feels like a game changer, with performance that puts it in a different league from almost every mainstream rival - even the potent Polestar 2 AWD and Ford Mustang Mach-E GT are more than a second slower over the 0-62mph dash. Kia has built a genuine rival to top-end EVs including the Tesla Model Y Performance, Mercedes-AMG EQE 53+, Audi RS e-tron GT and Porsche Taycan. For the money, you can't go faster. 
Mike Duff
Kia EV6 GT Specifications
Price from: £61,595
Motor: Permanent magnet synchronous motors

Gearbox: Automatic

Driven wheels: all-wheel drive
Maximum power: 577bhp

Maximum speed: 161mph

0-62mph from: 3.5 secs

Electric range (official): 263 miles

CO2 emissions: 0g/km

Tyres: 255/40 R21

Kerb weight: 2165kg

Height: 1545mm 

Length: 4695mm

Wheelbase: 2900mm

Width with mirrors folded: 1890mm

Maximum boot capacity: 500 litres (480 rear, 20 front)