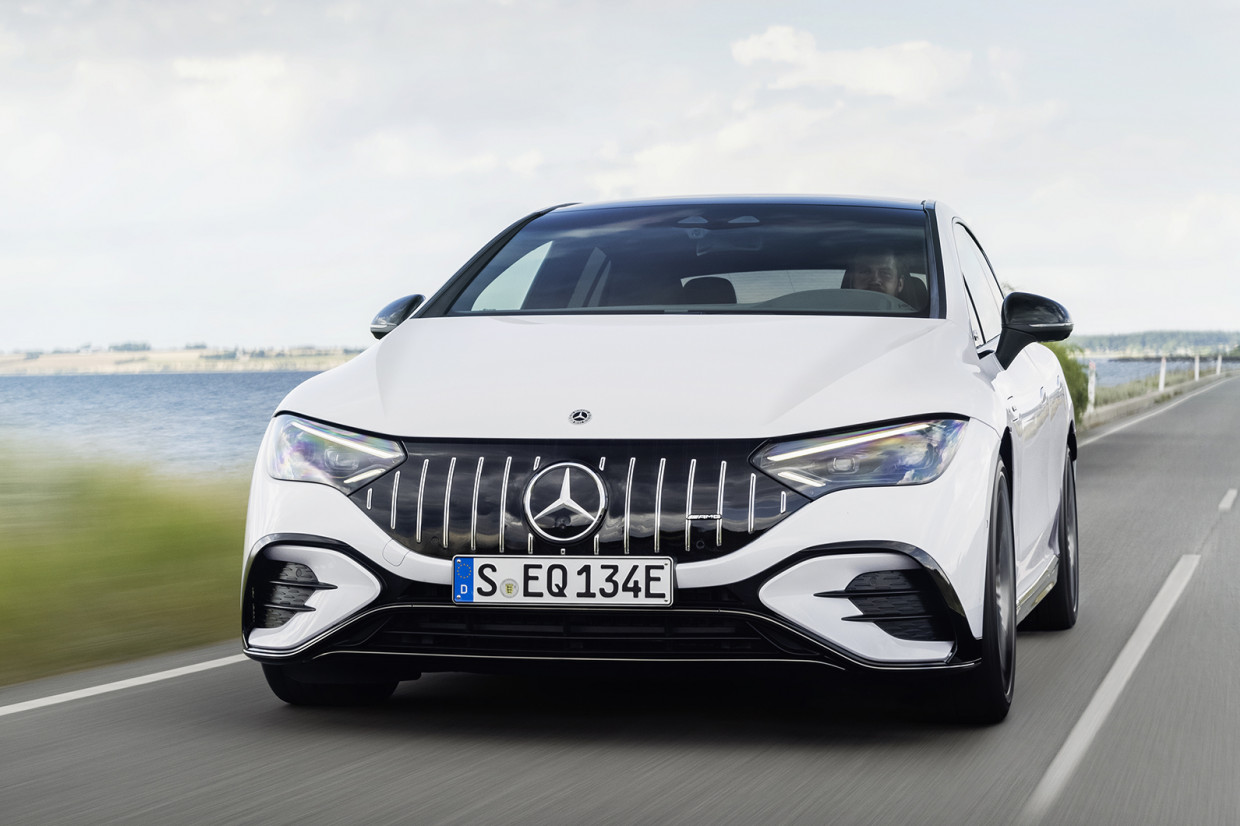 The Mercedes-Benz EQE is one of the 10 electric cars we're most excited about for 2022 – and we're even more excited now that the firm has unveiled details of not one but two performance versions.
Mercedes-AMG, the German firm's performance arm, has developed two twin-motor, all-wheel-drive versions of the BMW i4-rivalling executive saloon: the EQE 43 4Matic and EQE 53 4Matic+. For those not versed in AMG's model numbering system, the 43 is the 'entry-level' performance model, while the 53 "focuses on even more sportiness and greater driving dynamics."
Mercedes-AMG EQE: powertrain and performance
So what can these two models do? Well, the EQE 43 (the red car in the photos on this story) produces a maximum of 350kW (469bhp) and 643lb ft of torque, which is enough to propel it from 0-62mph in 4.2 seconds with a top speed of 130mph.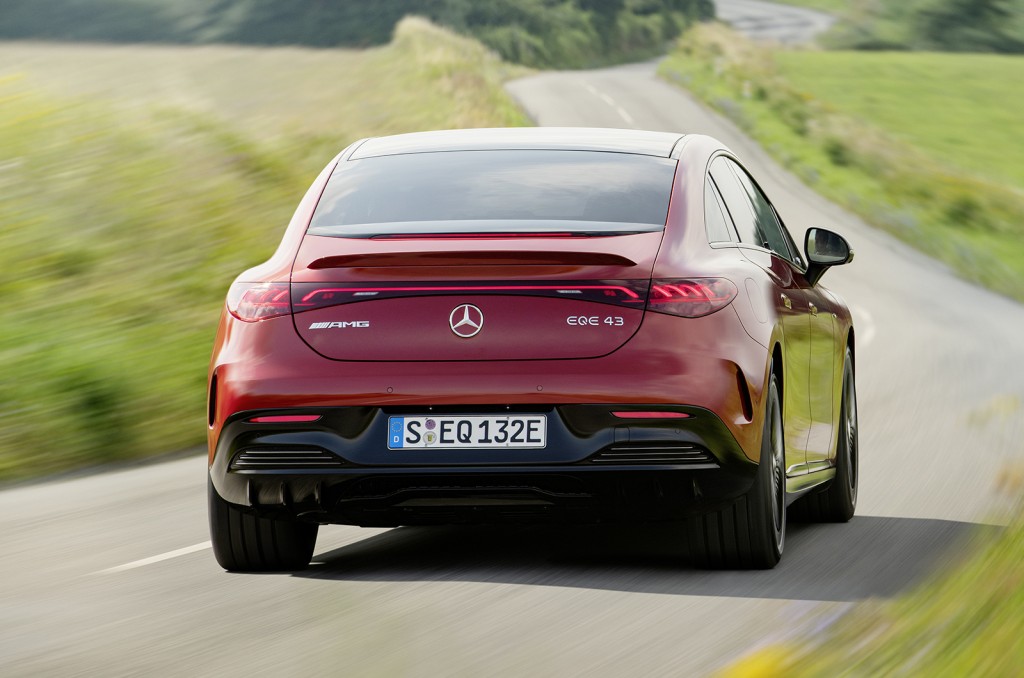 If that isn't enough performance for you, the EQE 53 (the white car in the pics) has 460kW (617bhp) and 701lf ft, a 0-62mph time of 3.5secs and a top speed of 136mph. But wait, there's more: select the EQE 53's optional AMG Dynamic Plus Package, and it gets cranked up to 505kW (677bhp) and 738lb ft, with a 0-62mph time of 3.3 secs and a 149mph top speed. That eclipses the Porsche Taycan Turbo, something we're sure Mercedes-AMG wouldn't have set out to do. At all. Honest.
As with the rest of the EQE range, the two AMG models are built on Mercedes-Benz's bespoke electric EVA2 platform. But the two permanent synchronous motors featured on the two models have been developed just for AMG's performance models, and feature upgrades including a higher current, adapted windings and a water lance.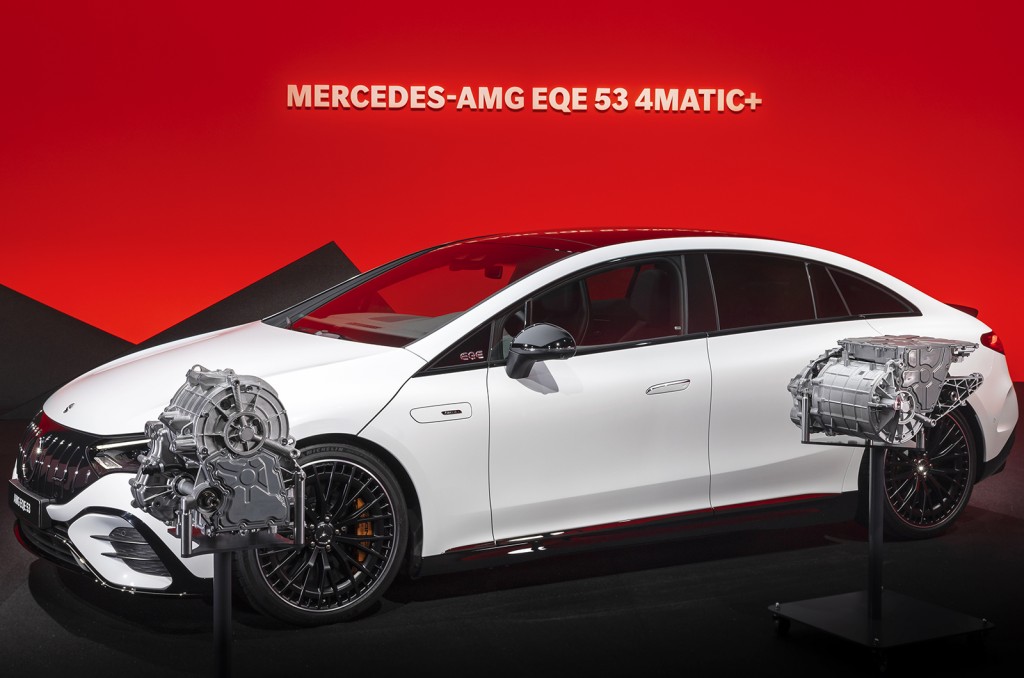 The rear motor on the two machines feature a six-phase design to offer extra power, which Mercedes says will be particularly notable during acceleration. 
There are four drive models: Slippery, Comfort, Sport and Sport Plus. If you picked that AMG Dynamic Plus Package option for your EQE 53, you also get a bonus Race Start mode.
The transmission features a new oil heat exchanger, which is also used to help pre-heat the transmission oil during cold starts, further boosting the car's efficiency.
Battery and other upgrades
Both AMG models use a 90.6kWh, 10-module high voltage battery, which features a bespoke AMG battery management system and can be charged at speeds up to 170kW. The EQE 43 has an official range of 287 miles, which dips to 276 miles for the EQE 53.
The AMG upgrades over the regular EQE don't stop at the transmission: they also use a specially tuned version of the AMG Ride Control+ air suspension, which offers adaptive adjustable damping and features bespoke wheel carriers, suspension links and anti-roll bars. The air suspension uses data from the car's acceleration and sensors that scan the path of each wheel to automatically adjust the damping force for each wheel as required.
The car also adjusts its ride height based on the performance required. Both models already sit 5mm lower than the regular Mercedes-Benz EQE 350, but this is lowered by a further 15mm in Sport and Sport Plus mode.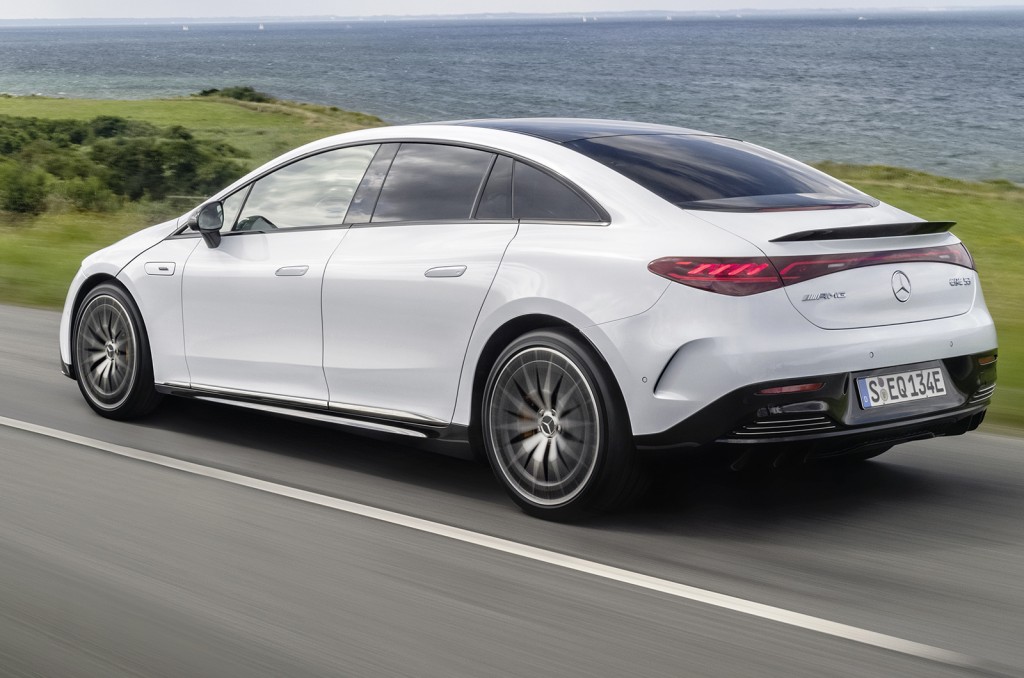 There's also real-axle steering and upgraded brakes with 415mm discs and six-piston callipers at the front and 378mm discs with single-piston floating callipers at the back. You can upgrade those to 440mm carbon-ceramic front discs should you want to drop even faster.
It looks - and sounds - better too
Mercedes-AMG has also fitted the cars with the AMG Sound Experience, which might sound like an experimental new wave band, but is actually a sound generator that offers a 'soundtrack' that "emotionally enhances the dynamic driving experience". It adjusts depending on the drive mode and circumstances.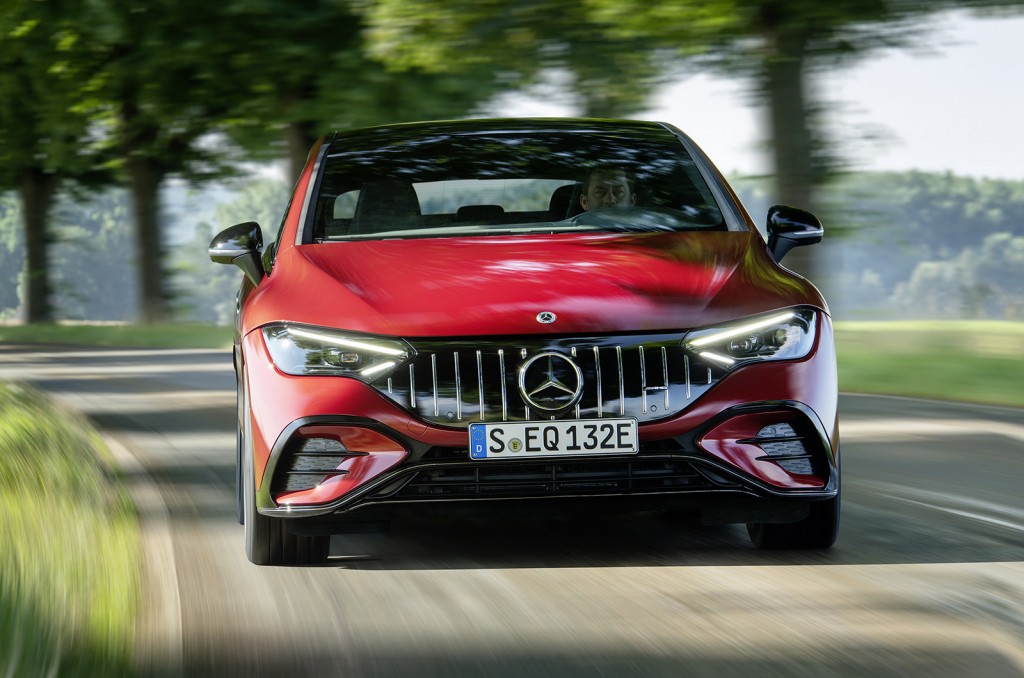 Exterior styling upgrades including a revamped front grille, a new front bumper with bigger air ducts, a boot lip spoiler and a new rear bumper. Inside, there's a flat-bottomed AMG steering wheel, digital instrument graphics and AMG sport seats. You can also select Mercedes's massive 1410mm wise Hyperscreen as an option.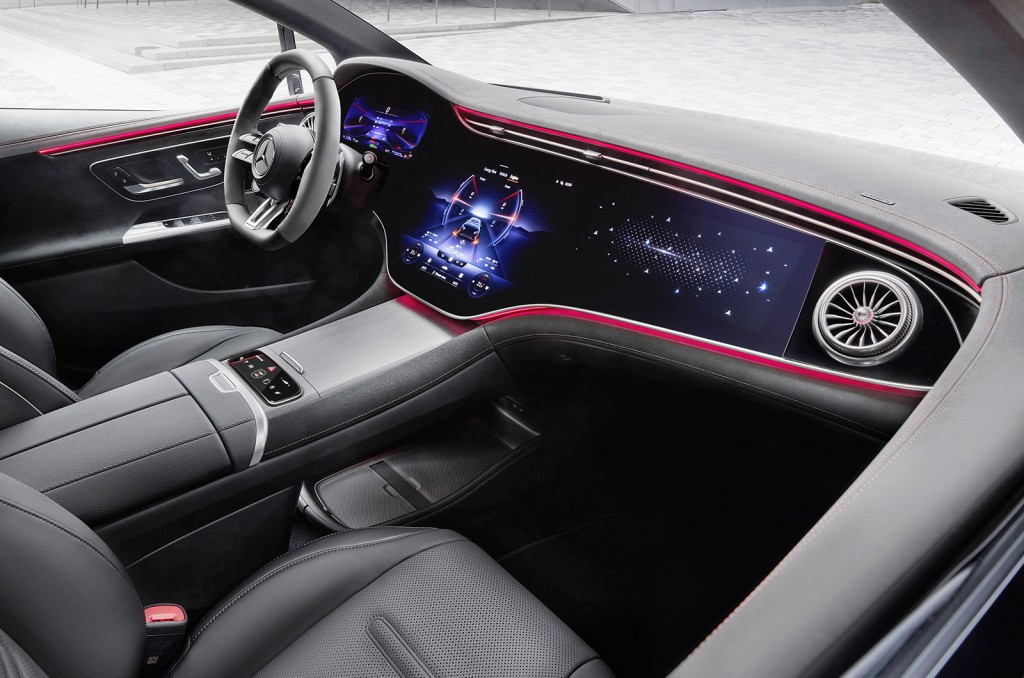 The EQE 43 and EQE 53 are due to go on sale in the UK later this year. There's no official word on pricing yet.
And Mercedes-AMG is just getting started
The new hot EQE variants join the EQS 53 in the Mercedes-AMG line-up - but the performance firm is just getting started with its electric vehicle line-up. As well as future versions of electric Mercedes-Benz models built using the EVA2 platform, the Affalterbach division of working on a number of standalone models. They will use a new AMG.EA platform, a dedicated performance EV architecture.
READ MORE
e-CARS
The ten best-selling electric cars in the UK
e-BIKES
Cairn Cycles E-Adventure 1.0 e-bike review
Ten e-bikes we're looking forward to in 2022
e-MOTORBIKES
Ten electric motorbikes to look forward to in 2022
Art, sustainability and choppers - the wonderful world of Stirling Eco
e-SCOOTERS
Hypercar firm Bugatti's first electric vehicle is an 18mph e-scooter
Ride-hailing firm Bolt set for UK expansion after big investment
e-WORLD
Veolia to open first UK plant for recycling EV batteries
The new Bobcat T7X is a truly groundbreaking electric digger