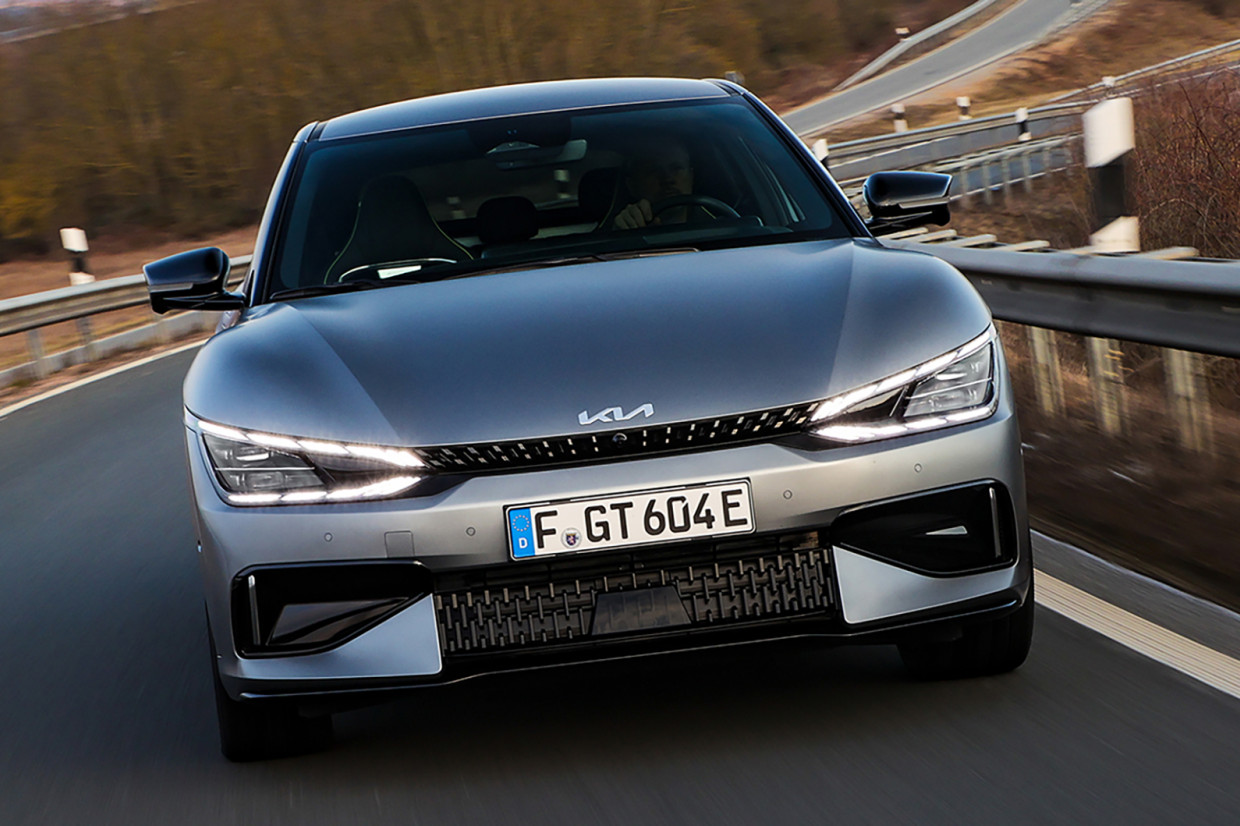 The new Kia EV6 GT, the first electric performance from the Korean firm, will make its pubic debut at the Goodwood Festival of Speed next week.
The new machine will be a flagship performance model that will sit at the top of the EV6 line-up, and will feature a twin-motor 430kW (577bhp) powertrain. It will be driven at the Festival, which runs from June 23-26, by rally driver Jade Paveley. The EV6 GT will also be on show in Goodwood's 'Electric Avenue' display.
While Goodwood will be the first time the machine has run in public, Move Electric has already had an up-close look – in fact, we've been for a ride in it...
First ride: Kia EV6 GT
While Move Electric would much rather drive a car than sit in the passenger seat, we have a highly qualified pilot for our test ride: Albert Biermann, the Hyundai Motor Group's recently retired head of research and development. Biermann has helped Hyundai and Kia develop some impressive performance machines in recent years – he was the brains behind Hyundai's N division – and still serves as a consultant to the group. 
He promised us that the new EV6 GT "will be a true GT car". He added: "It's not a car for the racetrack, it's a different story. This is designed for long distance touring, and it offers good speed, while being enjoyable to drive."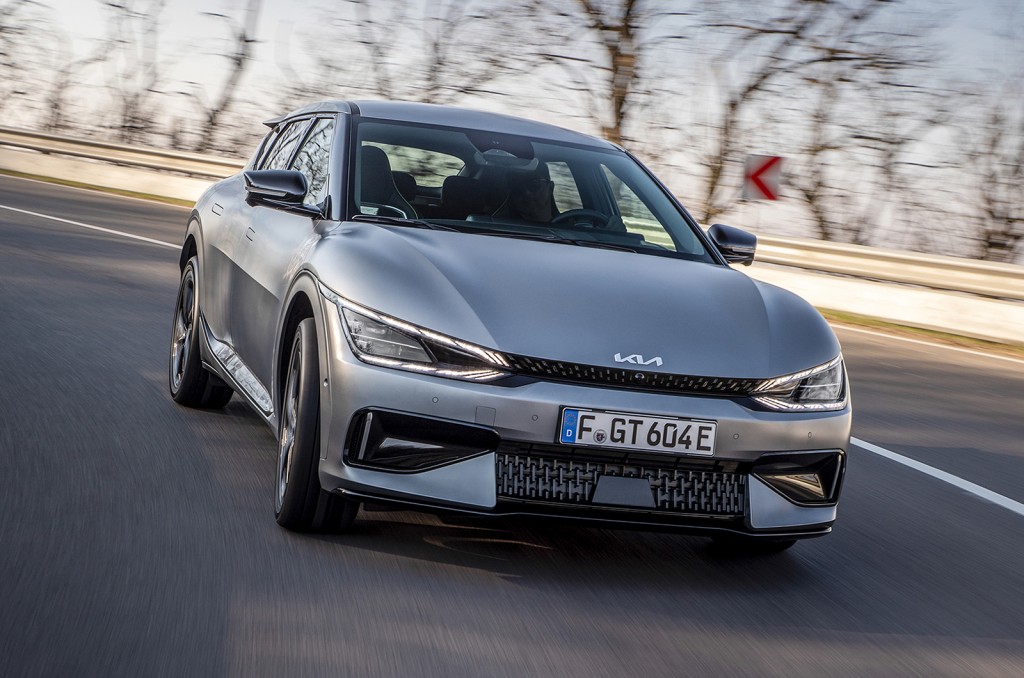 Why is Kia making a performance car?
If you have to ask, you probably haven't been attention to Kia lately. The brand has come an awful long way, and the EV6 crossover is one of the finest electric cars on the market at the moment. 
The model is already offered with a dual-motor set-up offering a not inconsiderable 239kW (321bhp) powertrain. And Biermann says that was originally intended to be the range-topper, saying that the GT wasn't in the original product plan.
"It started when someone asked 'can we have an electric car that's really competitive and can beat some other EVs that are coming from the States'," he said (he didn't actually name any car firms, but we suspect it might start with 'T' and end in 'esla'...). "It didn't take long before we had a first prototype and we were beating EVs from the USA in terms of performance, so we decided to keep going, and here we are."
Here, as Biermann was chatting to us, was inside an EV6 GT that he described as "a mix of a prototype and pre-production" car. It felt pretty finished to us, but then again we're not a world-class car development engineer. 
So what's special about the EV6 GT?
To look at, and even sit in, the GT model isn't that different from the regular EV6. There's a unique clamshell bonnet, new front and rear bumpers, a small rear aero spoiler, neon-coloured brake calipers and special 21in alloy wheels. On the inside, the machine gains suede-trimmed bucket seats – which felt very comfortable to us – and special GT badging and design elements.
Elsewhere, the EV6 GT has been extensively reworked. Biermann is particularly proud to note that all the development model on the machine has been done in-house. "There were suggestions like 'can we talk to Rimac' [the EV hypercar firm that the Hyundai Motor Group has invested in], but I said 'let me talk with my engineers'. And they went 'no problem, we have solutions to do performance cars.'"
It still uses the Hyundai Motor Group's E-GMP platform (also used by the award-winning Hyundai Ioniq 5 and Genesis GV60), and it features a pair of 160kW motors. Unusually, the rear motor is paired to two inverters - which convert the DC current from the battery into AC power – which gives that unit an extra 110kW of power, and a substantial increase in torque. 
That results in a total system output of 430kW and a whopping 546lb ft of torque, which in turn results in a 0-62mph time of 3.5 seconds and a top speed of 161mph. The GT retains the EV6's 77.6kWh battery, and with an efficiency of 2.7mpkWh it has an official range of 263 miles. As with other E-GMP models, the EV6 GT is capable of ultra-fast charging, with a 10-80% fill taking 18 minutes. 
Our passenger ride from Kia's European headquarters in Frankfurt was mostly on unrestricted and very straight stretches of German autobahn. That's not the best for discerning much about the EV6 GT's ride and handling, but with Biermann eager to show off the machine's power it was enough to highlight that acceleration is impressively rapid – and amazingly effortless.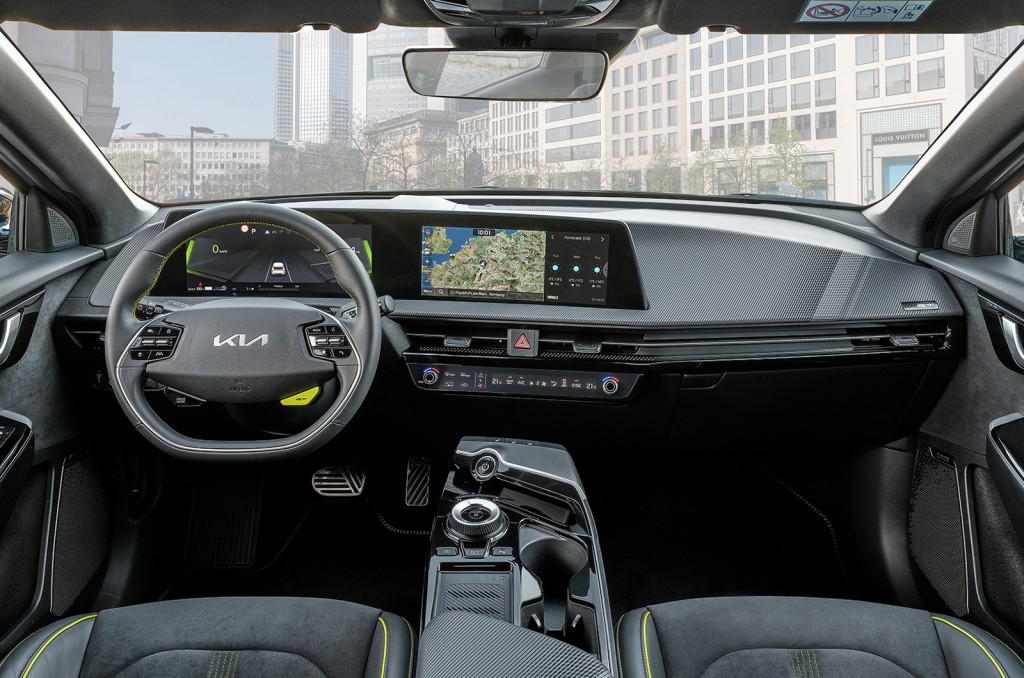 So is the EV6 GT just about the power?
Not at all. "This was a fun project," said Biermann, "but making power is one thing. Balancing power with the brakes and the chasing to make a car that handles well is another, and the creme de la creme is then doing all the fine tuning and refinement to make it perfectly balanced."
Biermann added that the E-GMP chassis is "a fantastic base to start with", meaning fundamental changes weren't required: "it can handle this level of power". There's a lower control arm on the front axles, while the suspension and steering have also been tuned. Work has been done to the active dampers, and Kia has also fitted the latest version of its e-LSD limited slip differential, which balances power between the four wheels. Biermann said the e-LSD and active dampers help to balance out the machine's 2125kg weight. 
The focus was on balancing performance with comfort at high speeds, and on ensuring that the EV6 GT is as happy cruising calmly as it is being pushed to the limit. That was clear from our ride as Biermann played with the various Drive Mode settings. As well as the Eco, Normal and Sport options that are on all the EV6 models, there's a special GT drive mode that is accessed via a big button on the steering wheel.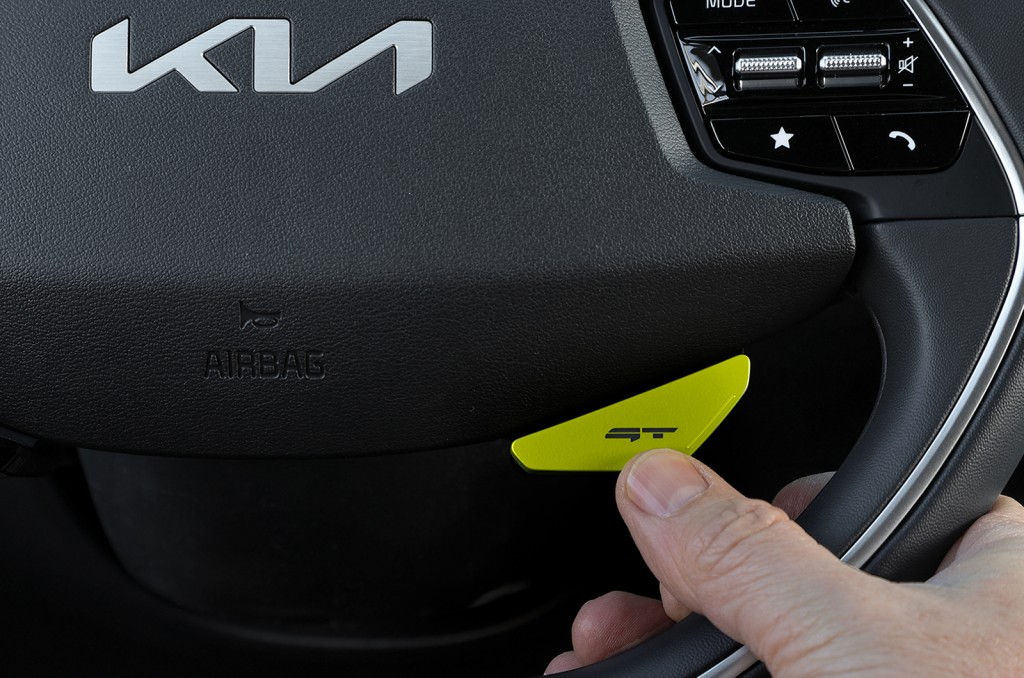 That mode makes the steering firmer, fixes the ratios, firms up the damping, tightens the e-LSD, increases the motor response and reduces the stability control systems. When Biermann selected the mode you could instantly feel the nature of the EV6 GT change but, crucially, it still maintained a decent level of balance and ride comfort. That said, we'll have to wait until we drive it on a twisting, winding road to know for sure.
Biermann was also full of praise for the machine's I-pedal system, which mixes brake recuperation. He admitted that he initially wasn't a fan of the system, but has now learned how to use it on a flowing country road to help balance the load transfer while cornering. 
How will this compare to other Hyundai Motor Group performance models?
Mechanically, the EV6 GT will be very similar to the forthcoming high-performance Hyundai Ioniq 5 N, and likely an eventual hot version of the Genesis GV60. But Biermann insisted that the EV6 GT's set-up "still gives us good room for other fun cars that we do with other brands."
The Ioniq 5 N is likely to be set-up very differently to the EV6 GT, likely with a more hardcore performance focus. 
What will it cost and when can I get one?
The EV6 GT is due to arrive later this year. Pricing hasn't been set yet, but you can confidently predict it will be above the £53,595 starting price for the current top-spec twin-motor EV6 GT-Line.
However, Biermann joked: "if you want to have something comparable with the GT spirit like this car, you'd have to spend more than twice the money. So you can have one EV6 GT for the week in grey, and then one in a bright colour for the weekend."
READ MORE
Subscribe to the Move Electric newsletter
e-CARS
New Volkswagen ID Buzz: everything you need to know
How efficient are electric cars?
e-BIKES
Ducati expands e-bike range with first racing machine
e-MOTORBIKES
New Yamaha Neo is Europe-bound '50cc equivalent' electric moped
Electric Motion Epure Race e-motorbike review
e-SCOOTERS
Eskuta KS-450 e-scooter review
Taito unveils innovative new three-wheeled electric scooter
e-WORLD
Electric surfboard firm Awake aims to make waves with first e-foil
Volta Zero electric truck can 'dramatically improve' inner-city road safety