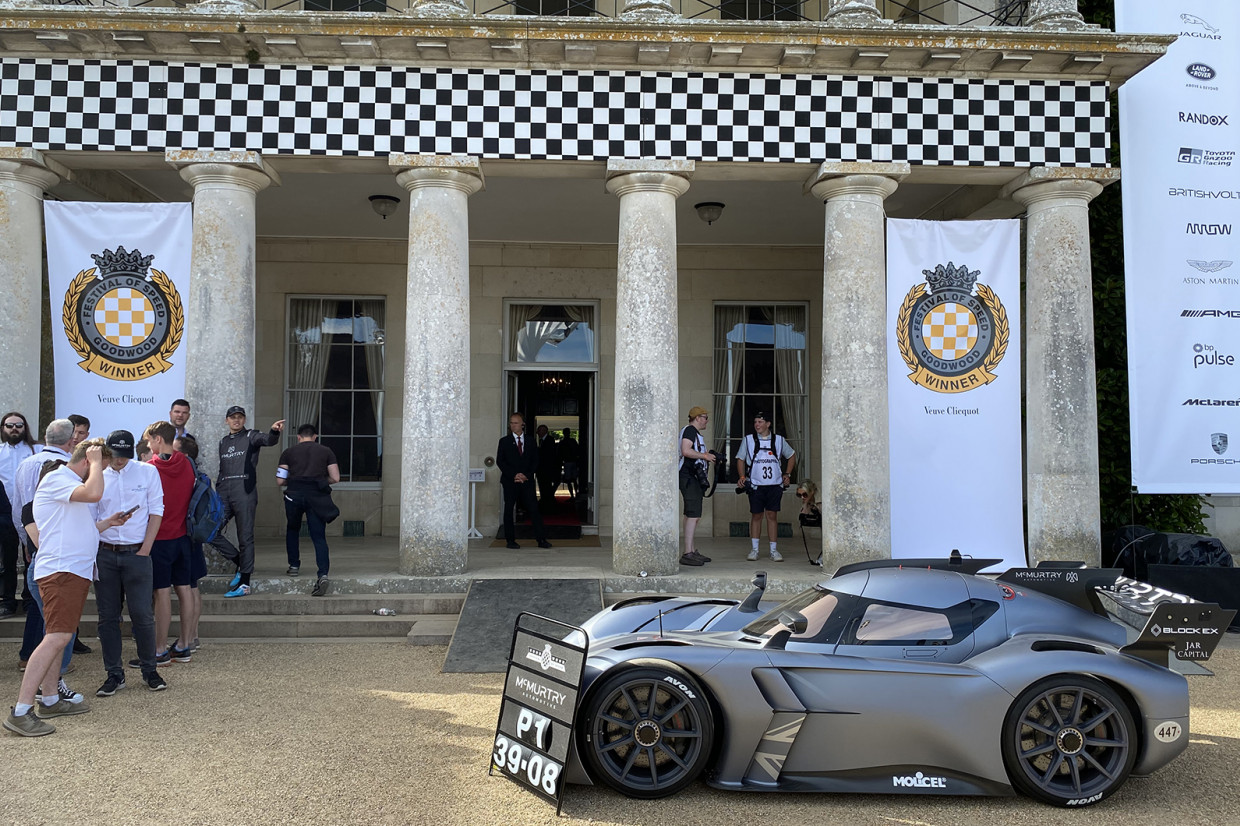 The innovative McMurtry Spéirling, a 200mph electric single-seater that looks a little bit like the Batmobile, has shattered the Goodwood Hillclimb record.
Designed and built in Gloucestershire, the radical machine uses two underbody fans that literally suck it to the road, allowing it to corner faster than rivals.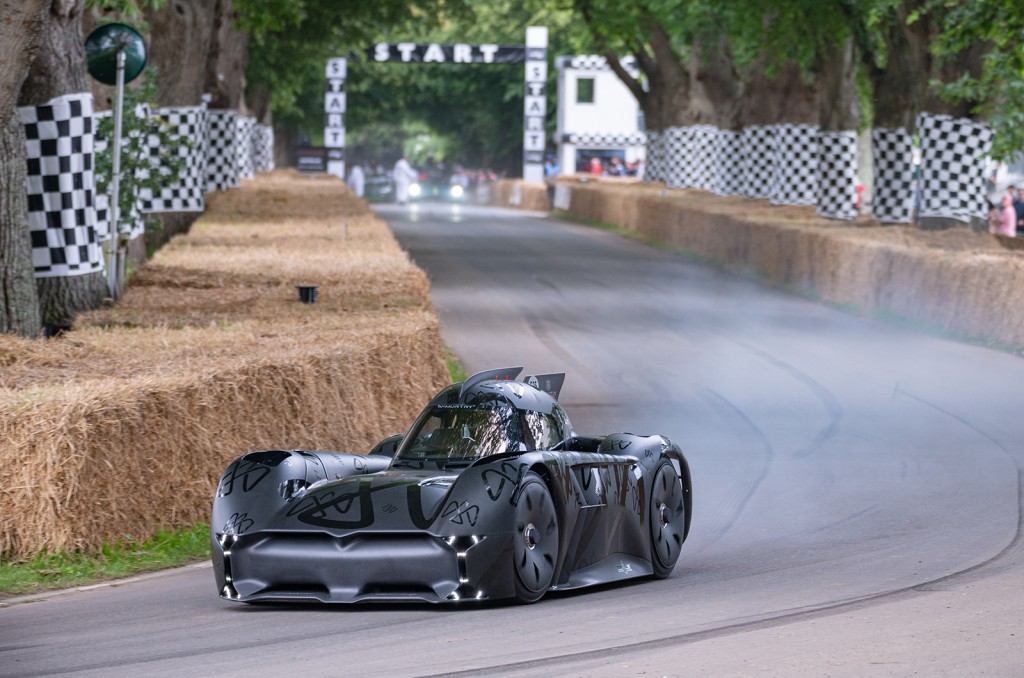 In its second appearance at the Goodwood Festival of Speed, the McMurtry Spéirling was entered into the timed Sunday Shootout event to race against the clock on the challenging 1.16-mile course – with plenty of speculation if it could eclipse the record of 39.16 seconds set by Romain Dumas in the electric Volkswagen ID R.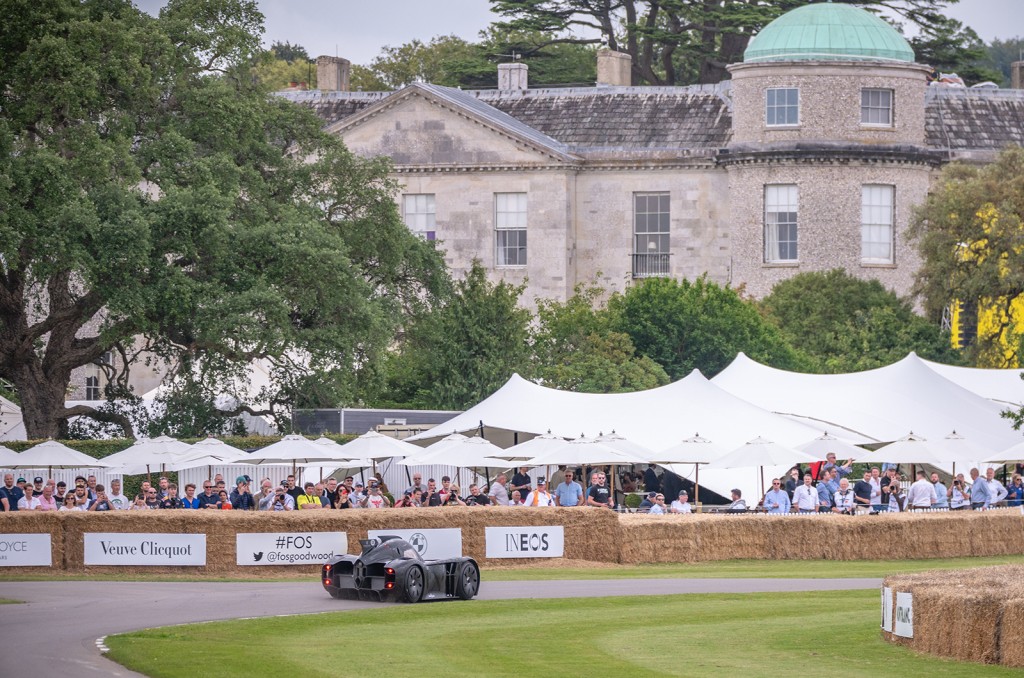 With former Formula 1 driver Max Chilton behind the wheel, the McMurtry Spéirling actually broke the ID R's time on Saturday, storming up the hill in 39.14 seconds.
Ford's bonkers electric SuperVan is the fastest van to ever tackle the Goodwood hillclimb
But there was more to come, and during the Sunday Shootout Chilton steered the McMurtry up the hill in a remarkable 39.08 seconds. For some context, Chilton crossed the line travelling at a frankly ridiculous average speed of 149.1mph. 
And yes, if you're keeping score, that does mean the two fastest cars to ever take to the Goodwood hillclimb are both electric.
For comparison, the fastest timed run by a Formula 1 car was 41.06 seconds, set by Nick Heidfeld in a McLaren-Mercedes MP4/13 in 1999. For safety reasons, F1 cars are no longer timed on the course.
Electric news in your inbox: sign up for the FREE Move Electric newsletter
The McMurtry's hill record reflected the incredible work done on the machine since it ran untimed at last year's Festival of Speed, with Chilton recruited to fine-tune the electric car's handling and unique downforce fans.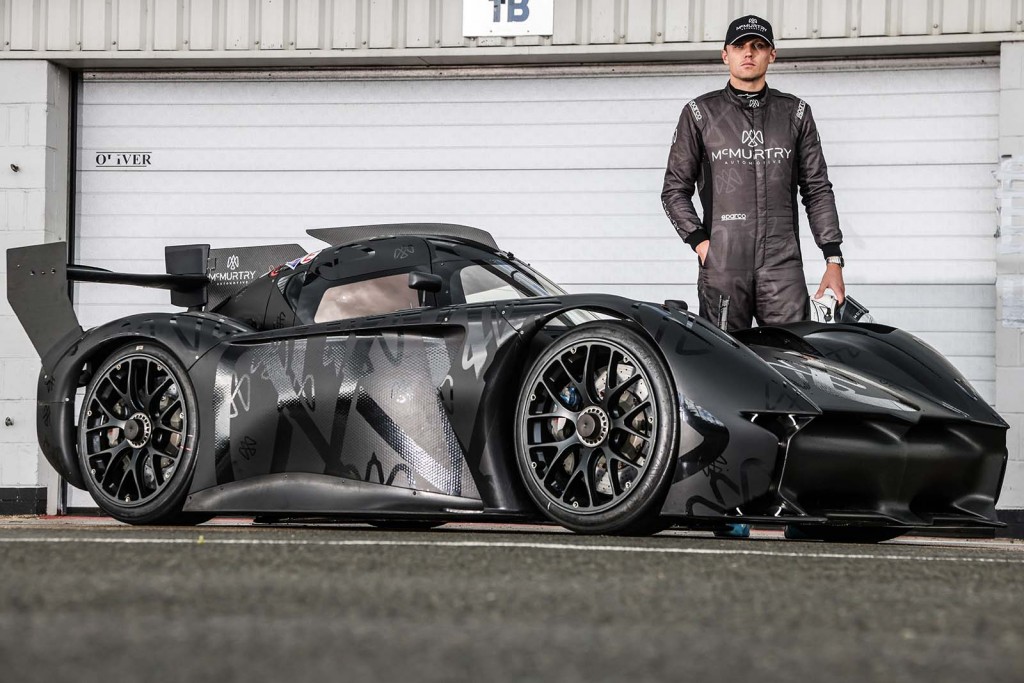 Those fans are what sets the Spéirling apart from other track cars and are key to so much that is different about it. Although not a new innovation, their adoption in the Spéirling was the idea of Sir David McMurtry, founder of McMurtry Automotive, whose experience with compressed gases and high-speed fans dates back to his days working on the Rolls Royce Olympus jet engines that powered Concorde. 
Keen to maximise the Spéirling's efficiency, McMurtry saw underbody fans not only as a way to boost the car's grip levels in corners but to reduce weight and drag by dispensing with the need for a heavy rear wing, the way downforce is traditionally generated.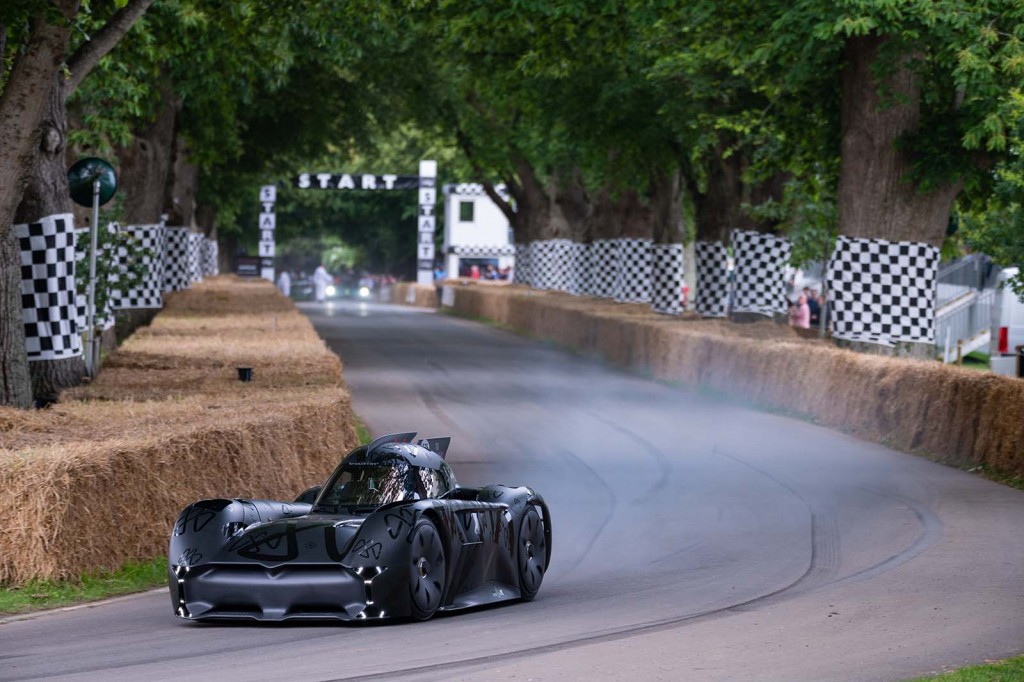 To save energy they could also be switched off on straights sections of track where downforce is not required, whereas a wing would remain in place. Removing the wing would also allow the Spéirling to be more aerodynamic, helping to boost its performance and driving range. 
On that point, the company claims the car, which has a lightweight carbonfibre body and an enclosed cockpit, can sprint from 0-186mph in less than nine seconds, exceed 200mph and operate at GT3 levels for 30 minutes. In less competitive circumstances it has a WLTP range of 350 miles – about as generous as the best road-going EVs.   
Another advantage with using fans in place of a large rear spoiler is that the Spéirling can be much smaller and more compact than comparable track cars. In fact, being 1.5m wide and 3.3m long, it's no bigger than an F1 car of the 1960s. This has given rise to some novel packaging solutions such as partly housing the battery in a U-shape around the driver's seat.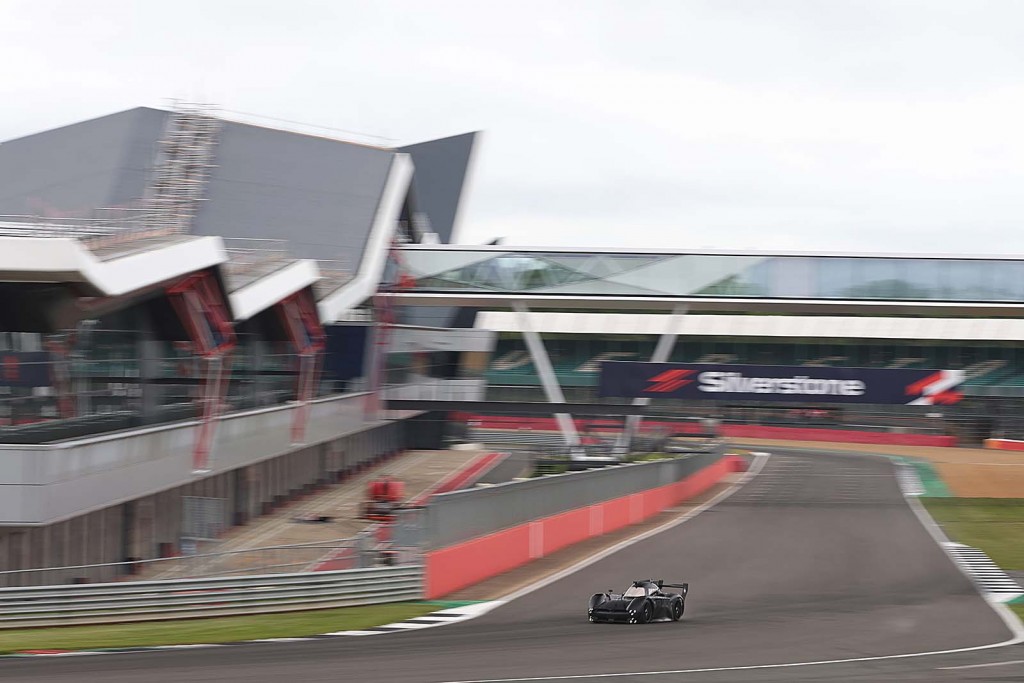 Dave Turton, mechanical design engineer at McMurtry Automotive, says that much of the past few months has been spent refining the car at both Castle Combe race circuit in Wiltshire and Silverstone, home of the Formula 1 British Grand Prix.
"With Max Chilton's help we've been focusing on getting higher and more consistent levels of downforce from the fans. In fact, on his advice we have fitted a small rear wing to the car. It contributes only around 10% of its total downforce but improves stability in corners."
The team has also been obeying Lotus founder Colin Chapman's rule of 'adding lightness' where possible. "We're constantly finding ways to reduce the Spéirling's weight and have now got it below 1000kg," says Turton. "Not all EVs have to be big and heavy."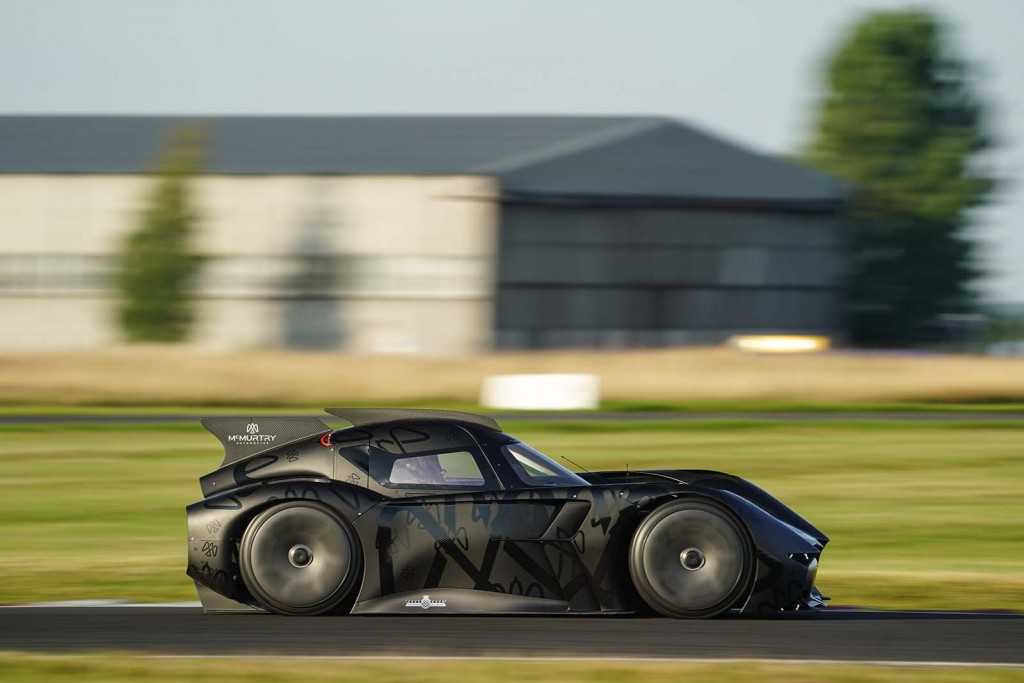 McMurtry Automotive's aim with the Spéirling has been to design and build an electric car that is also a real driver's car. Already at Silverstone, the 745kW (1000bhp) electric racer has out-performed F1 cars of the 1980s. The plan is to have the model signed off in two years' time, ready for a one-make race series, with each car expected to cost more than £1 million.
Meanwhile, a single-seater road-going version is being planned, with a launch announcement expected later this year. 
Few could notice the Spéirling when took to the hill at Goodwood. On maximum power, its fans generate 120dB of noise. Not all EVs are big and heavy – and not all of them sound like Concorde.
JOHN EVANS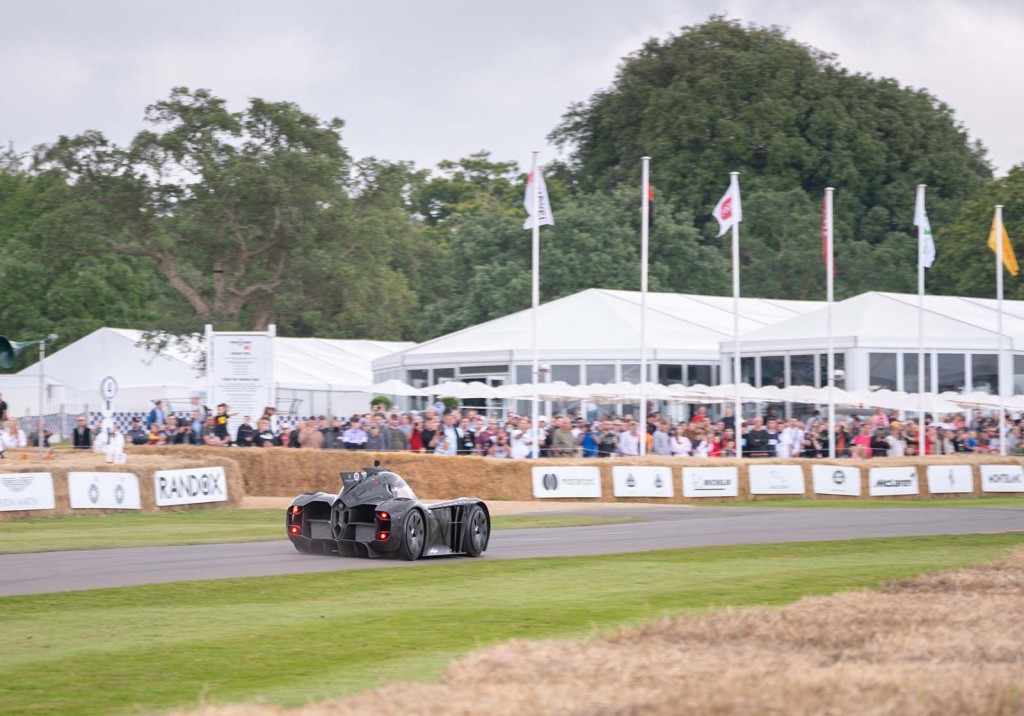 READ MORE
Subscribe to the Move Electric newsletter
e-CARS
New electric cars for 2022 and beyond: what's coming when
New BMW i7 unveiled as luxury electric saloon
e-BIKES
Best e-bikes for every category 2022
Moustache Samedi 28.7 e-bike review
e-MOTORBIKES
Yamaha Neo's electric scooter review
Cake launches new global electric motorbike race series 
e-SCOOTERS
Government set to announce plans to legalise private e-scooter use
New study finds e-scooters are five times safer than bikes
e-WORLD
World's first airport for flying taxis opens in UK