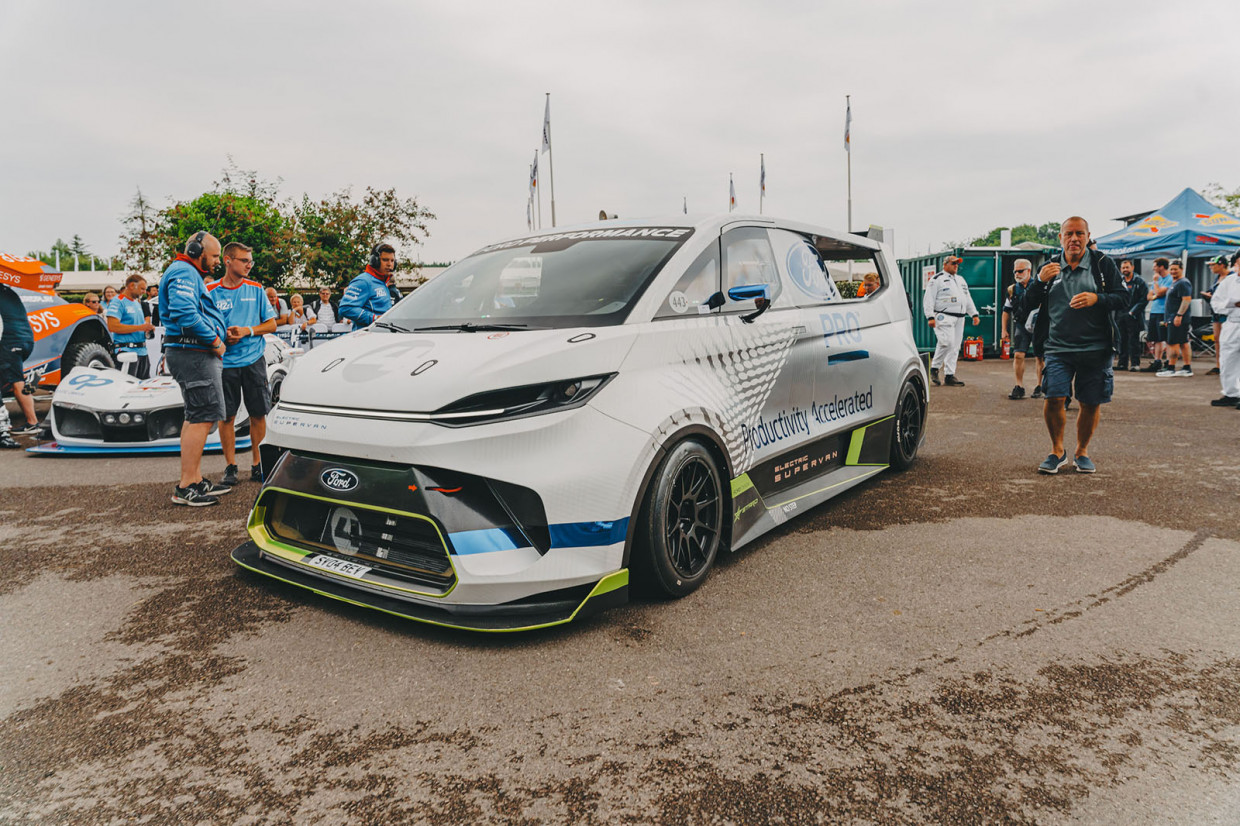 Ford has revived its SuperVan concept for a new generation – with a bonkers reworking of the Ford E-Transit Custom powered by a wild 1741kw (1973bhp) electric powertrain that uses four electric motors. Yes, it's a big van with more power than an electric hypercar.
Now, while this might sound like the ultimate weapon for Amazon drivers looking to speed up their emission-free deliveries, the new Ford Pro Electric SuperVan is a one-off demonstrator out to showcase the firm's electric technology. Fittingly for a machine with a 0-62mph time of under two seconds, it's first appearance is at this weekend's Goodwood Festival of Speed.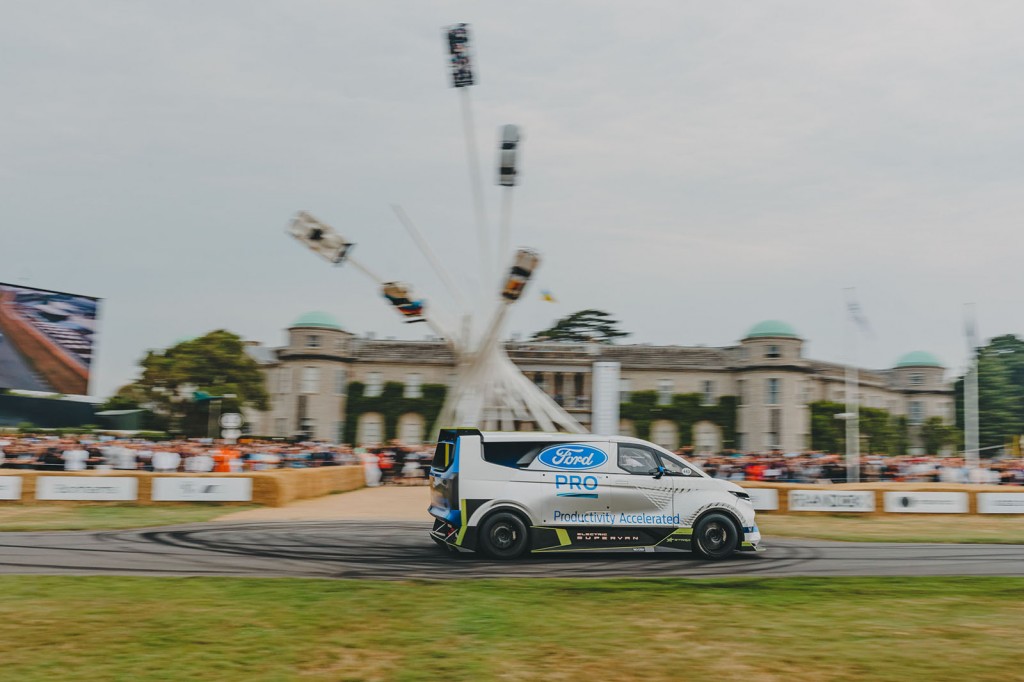 The new Ford SuperVan has been developed by Stard, an Austrian electric rally specialist, with the exterior design work done by Ford's design team in Cologne, Germany.
Ford's designers set out to create a "wild-looking vehicle", with Ford of Europe design chief Amko Leenarts saying that the machine is "the absolutely pinnacle of Transit design language".
The bodywork has been honed for aerodynamics, with a dramatic front splitter, side skirts and a motorsport-style rear diffuser, along with an enlarged cutaway in the rear section and a rear wing to generate more downforce.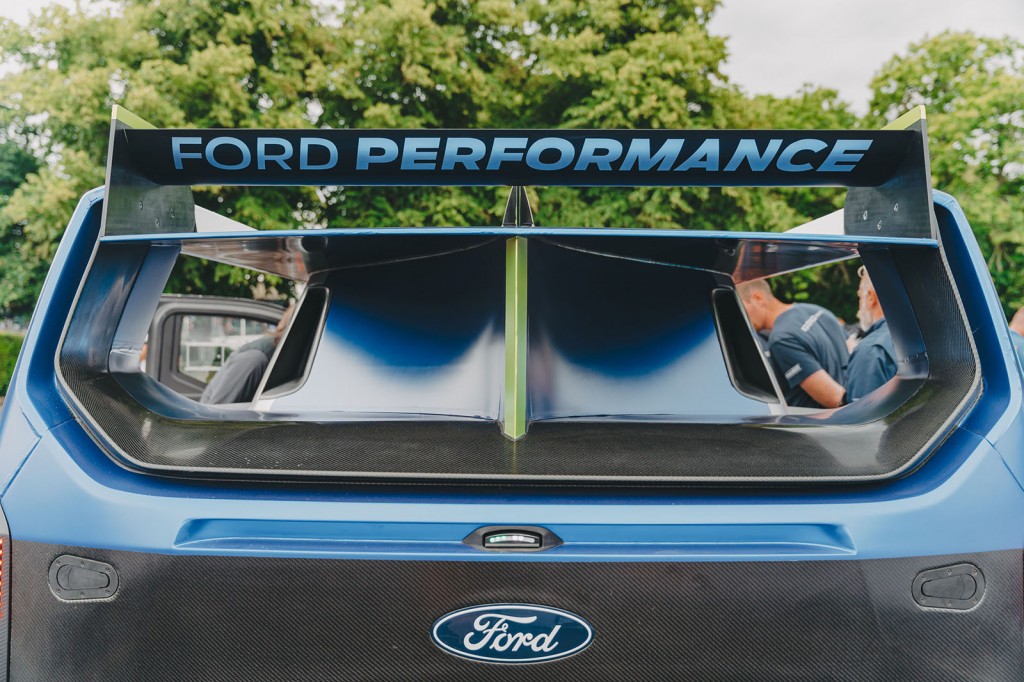 The machine is based on the floorpan of an E-Transit Custom, but with a new steel space frame and lightweight composite body panels.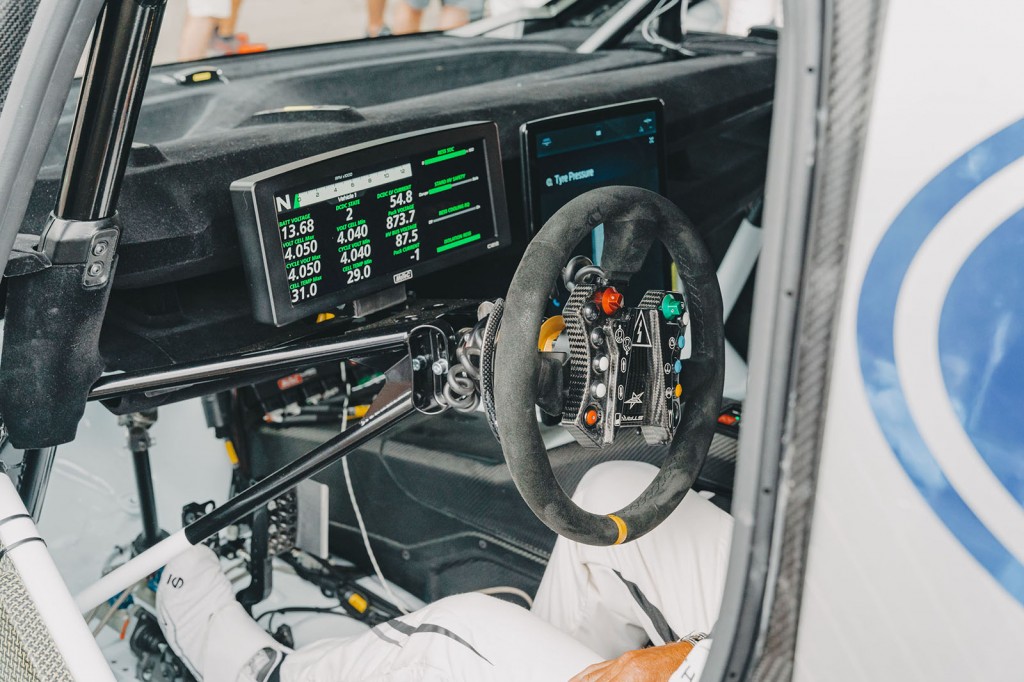 Power for the four electric motors comes from a 50kWh bespoke liquid-cooler battery pack, which the firm says has been mounted for optimum weight distribution. Ford hasn't given any efficiency figures, although you can imagine how quickly it will drain that battery if you decide to use all 1741kW. Thankfully, Ford says that a full charge takes just 45 minutes on a standard electric vehicle fast-charger.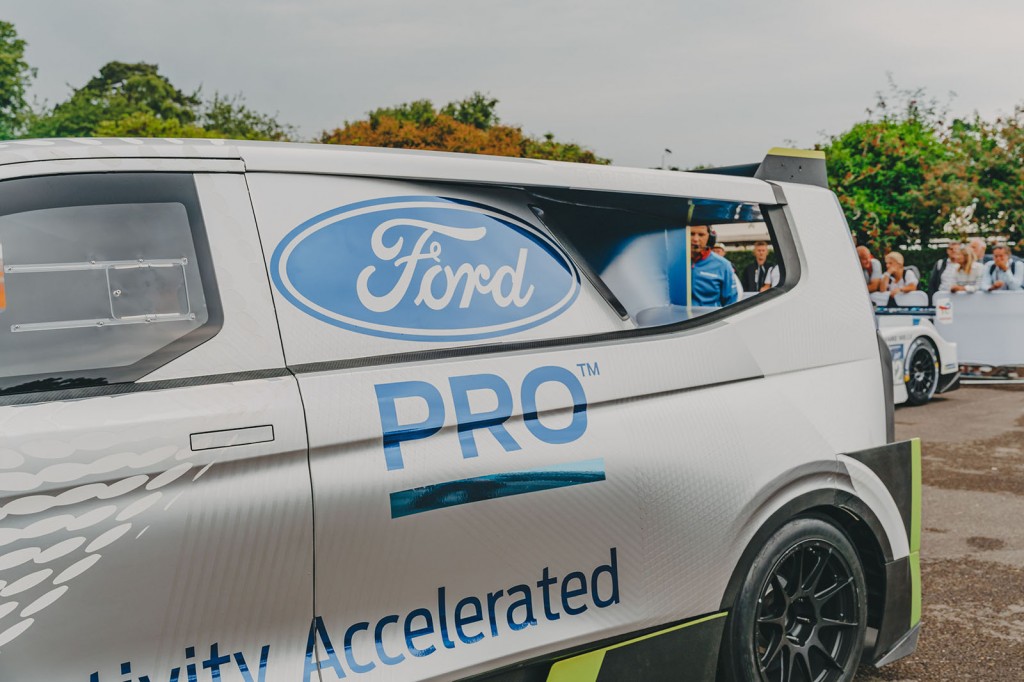 The four electric motors mean the machine offers all-wheel-drive and traction control. Five drive models – Road, Track, Drag, Drift and Rally – can be selected via the infotainment touchscreen, and adjust the torque maps, regenerative braking and control responses for different conditions.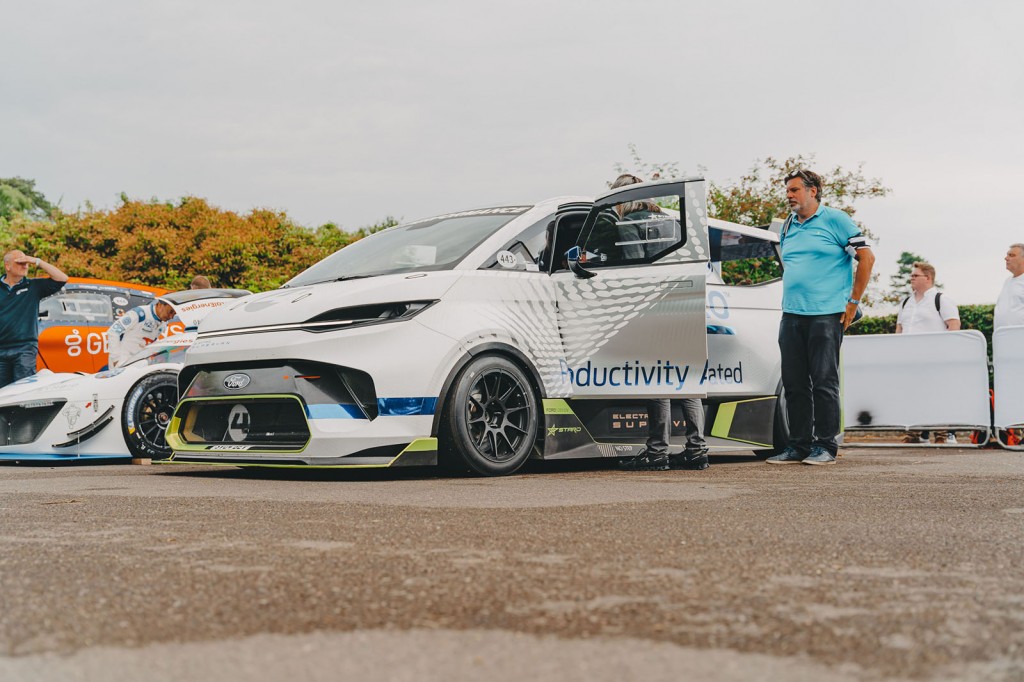 There's also a low-speed Eco mode, a pit lane speed limiter and three levels of regenerative braking. There's even a special Tyre Cleaning Mode, which effectively brakes one axle while spinning the other, which helps clean and wam tyres before runs. And, as an added bonus, makes it easy to do burnouts.
For safety, the SuperVan has a full FIA motorsport-spec roll cage built into it, and it also has real-time data software so that engineers can monitor and control settings remotely. And for fun, there are a range of cameras built into the bodywork so that action from it can be recorded for videos.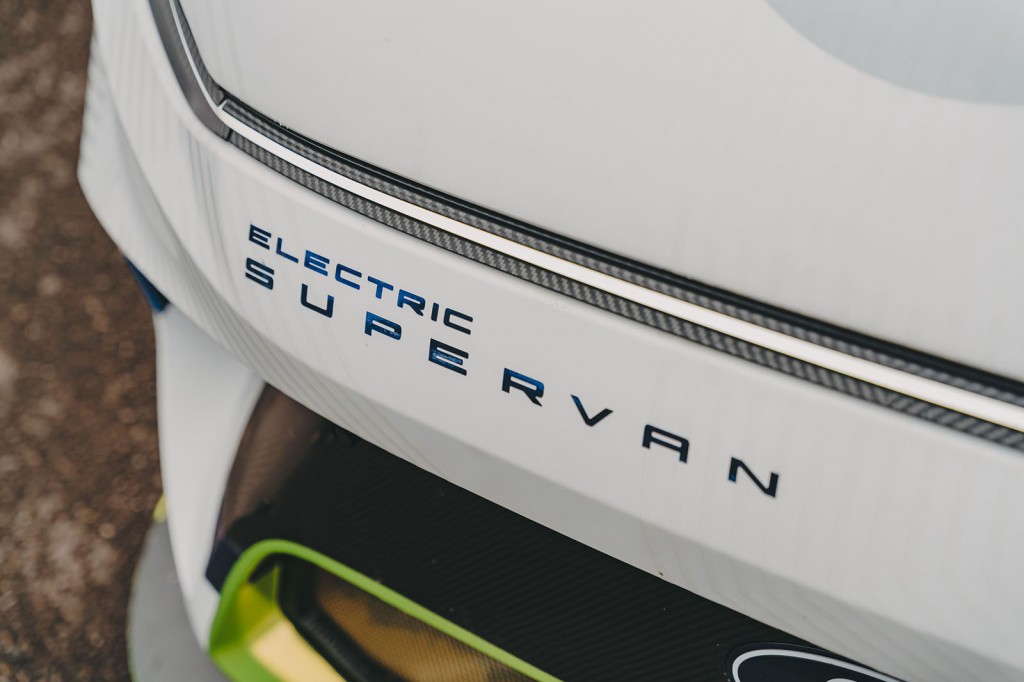 While the SuperVan is a largely bespoke one-off creation, there are some elements carried over from the E-Transit Custom, including the in-cab Sync touchscreen.
The first electric SuperVan follows three earlier high-performance Ford vans that have drawn on Ford's motorsport heritage. The original SuperVan was launched in 1971 with a mid-mounted engine from the Le Mans 24 Hours-winning Ford GT40. SuperVan 2 used a glass fibre body and a Cosworth V8 taken from Ford's C100 endurance racer. Then the SuperVan 3 used a Cosworth HB Formula 1 engine.
One major advantage the SuperVan 4 has over its predecessors: while the mid-mounted performance engines in those cars filled up much of the van's rear, the new Electric SuperVan still features a loadspace behind the driver.
Frenchman Roman Dumas will drive the SuperVan at Goodwood this weekend. He's no stranger to going fast in electric cars, thanks to his efforts in the Volkswagen ID R: he holds the outright course records on the Pikes Peak International Hill Climb and the Goodwood hill.
READ MORE
Subscribe to the Move Electric newsletter
e-CARS
New electric cars for 2022 and beyond: what's coming when
New BMW i7 unveiled as luxury electric saloon
e-BIKES
Best e-bikes for every category 2022
Moustache Samedi 28.7 e-bike review
e-MOTORBIKES
Yamaha Neo's electric scooter review
Cake launches new global electric motorbike race series 
e-SCOOTERS
Government set to announce plans to legalise private e-scooter use
New study finds e-scooters are five times safer than bikes
e-WORLD
World's first airport for flying taxis opens in UK