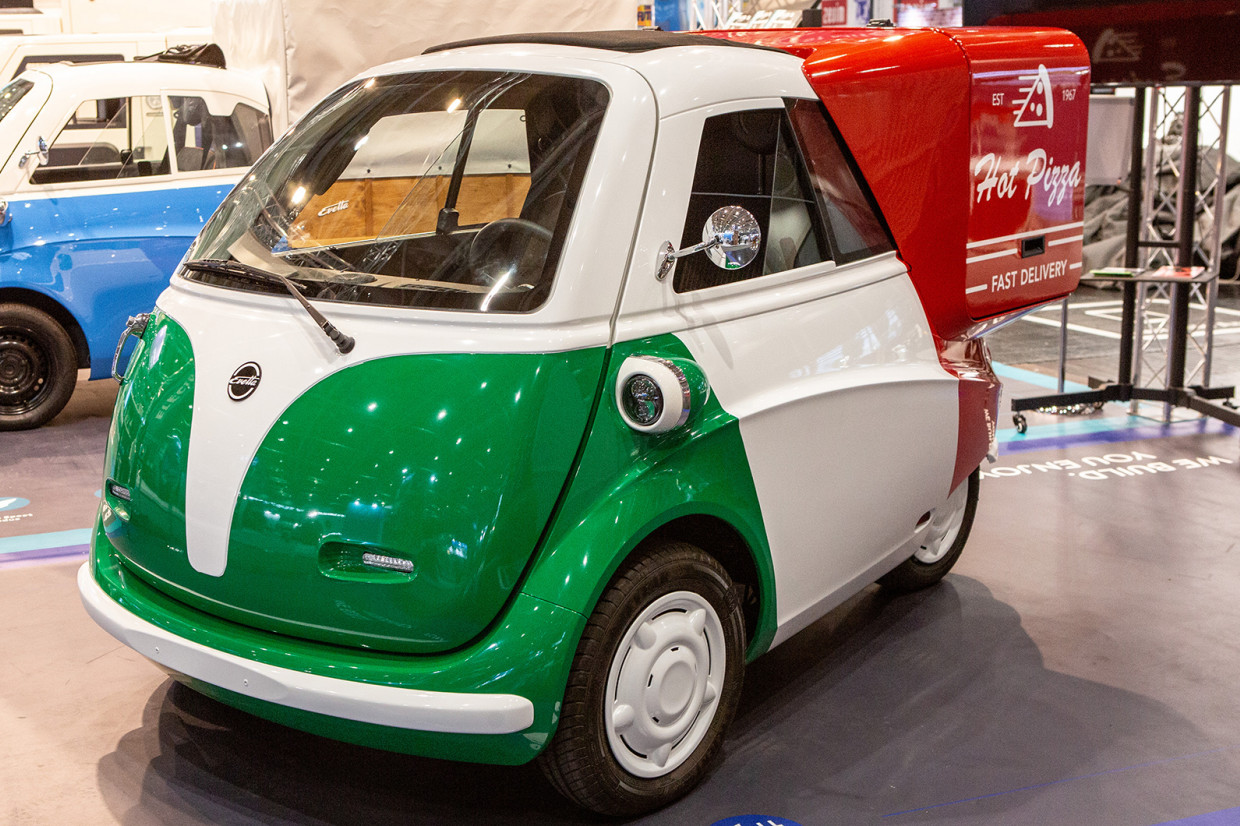 The new Isetta-inspired Evetta microcar will be offered in a cargo version – which the firm says will be perfect for use as both a last-mile delivery vehicle or a food truck.
The new Evetta Cargo was revealed at the IAA Transportation show in Germany, and is set to go into limited production next year, priced from around £17,350. Developed by German firm ElectricBrands, it effectively takes the standard front of the passenger version that was shown earlier this, including the signature front door, but adds a lightweight cargo and versatile cargo box on the back.
Electric news delivered to your inbox: get out FREE newsletter
That cargo space has a total capacity of 1950 litres and measures 1500x1300x1000mm. It can carry a payload of up to 600kg. Notably, the versatile space can be used for different purposes: it was show at the IAA show with a heated pizza box, but the firm says it can also be used for espresso cars, or urban deliver businesses.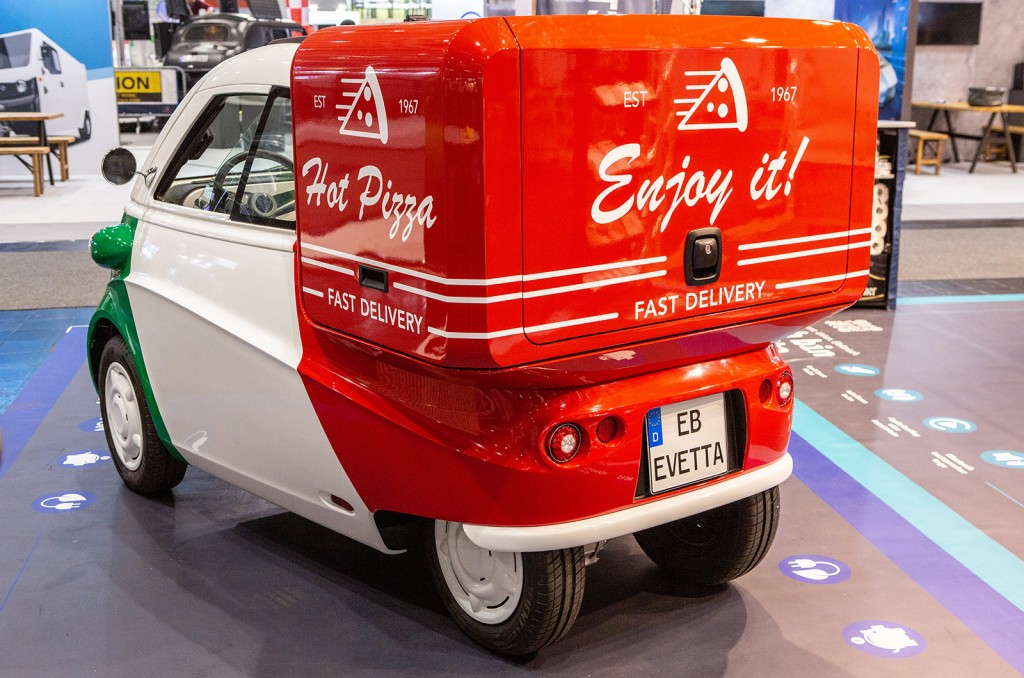 The addition of the cargo box means the machine has grown slightly: at 3500mm long it is around 1000mm longer than the standard passenger car, but it retains a short 2000mm wheelbase and width of 1500mm. Those small dimensions give it a turning circle of around nine metres.
As with the passenger version, the Evetta Cargo has a top speed of 56mph, although the extra mass – it weights around 800kg – means that the range offered by the 14kWh battery is 93 miles, rather than 124 miles for the regular car. It can be charged in around three to five hours via a 230V household socket.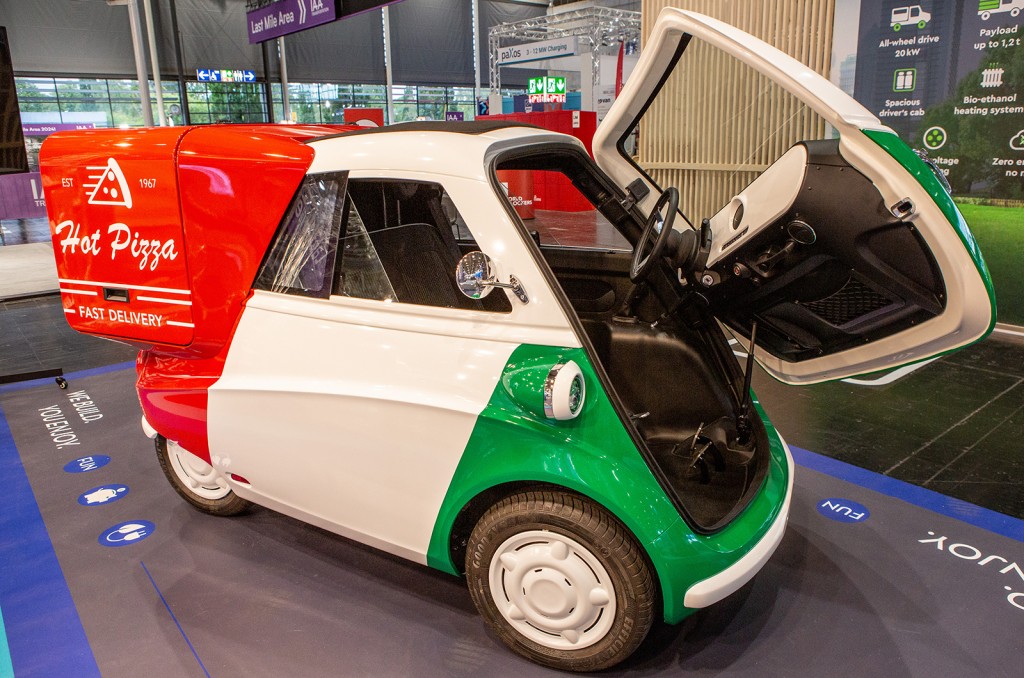 The machine will also be designed to work with a smartphone app than can open the cargo bay, and will feature a USB-C charging port and a range of driving modes. It will also be offered with infotainment, a wireless smartphone charging pad, air conditioning and a "creative" engine sound.
Initially, ElectricBrands says that it will build 5000 Evetta units next year, but anticipates that figure rising to around 30,000 to 40,000 per year from 2024. As well as the passenger and cargo versions, the firm has already revealed an Evetta Opener drop-top.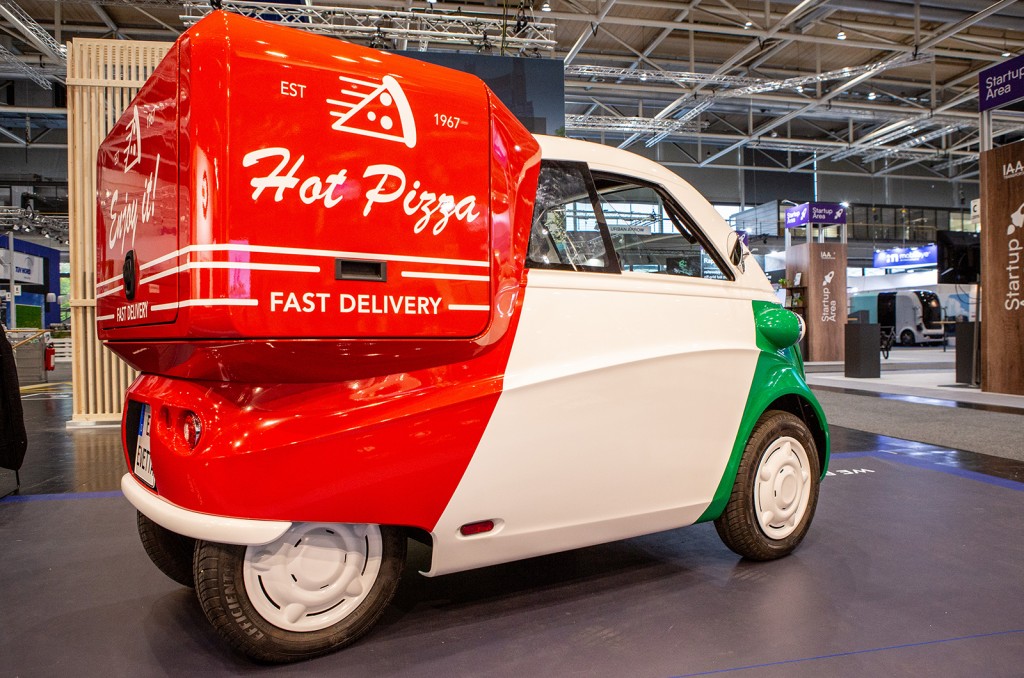 READ MORE
Subscribe to the Move Electric newsletter
e-CARS
Video: Can the National Grid cope with a surge in electric vehicles?
e-BIKES
What to look for when buying an e-bike: Move Electric's top tipsx
The rise of Volt Bikes: 'when we launched, people thought we were mad'
e-MOTORBIKES
Maeving RM1 electric motorbike review
Q&A: Zapp founder on why electric mopeds are the future
Government plans 2035 ban on new non-zero emission motorbike sales
e-SCOOTERS
Tier to upgrade e-scooter fleet with a smart 'Parrot'
Q&A: Neuron Mobility's UK boss on e-scooters, safety and helmet selfies
e-WORLD
Polestar to supply battery tech to electric boat firm Candela
Engineering giant ABB working on electric Dover-Calais ferry