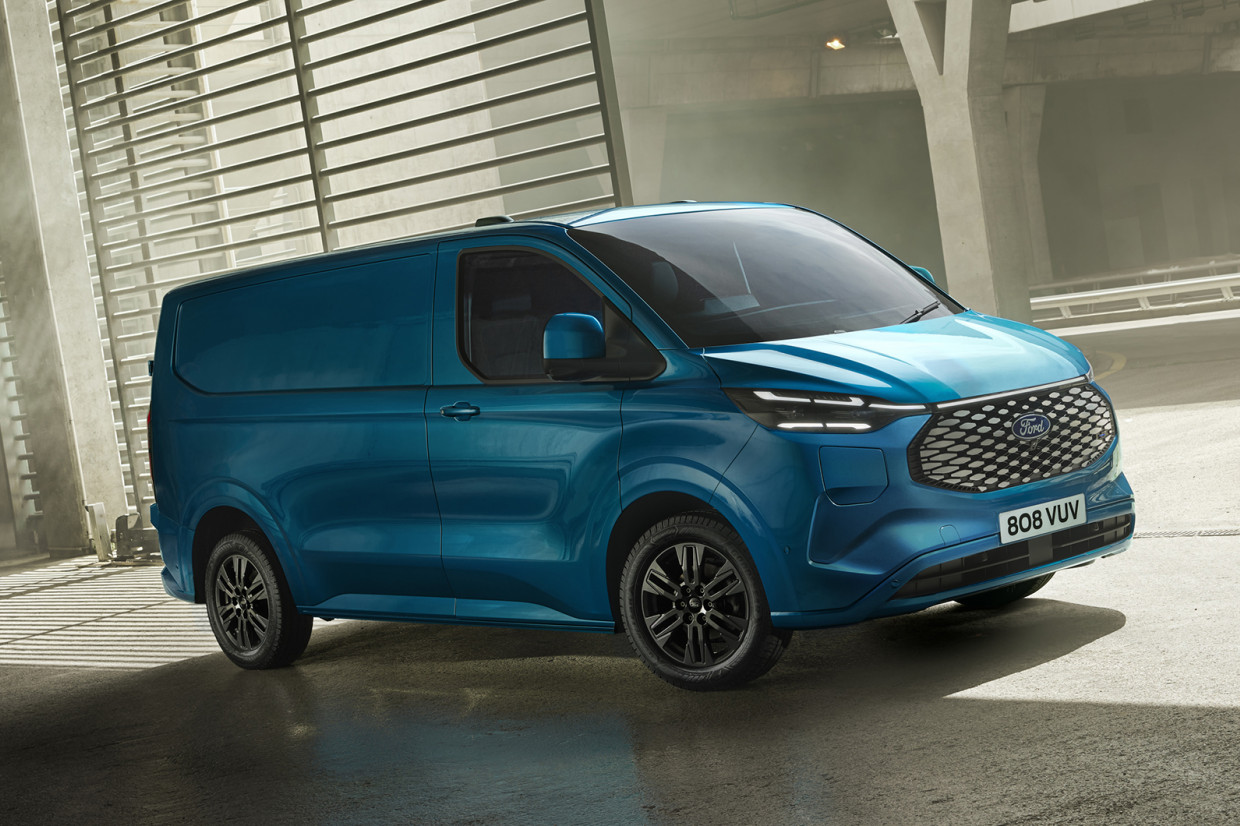 The Ford Transit Custom mid-size van is a big deal: it was Britain's best-selling vehicle in 2021 - yes, outselling every car on the market. So here's an even bigger deal: the new full-electric E-Transit Custom, which is due to go into production next year.
The new version of the mid-size, one-tonne van will be the second model in Ford Pro's van line up to go electric, following the larger Ford E-Transit. While Ford released the first pictures and some details of the E-Transit Custom in May, it has now revealed much more information about the van.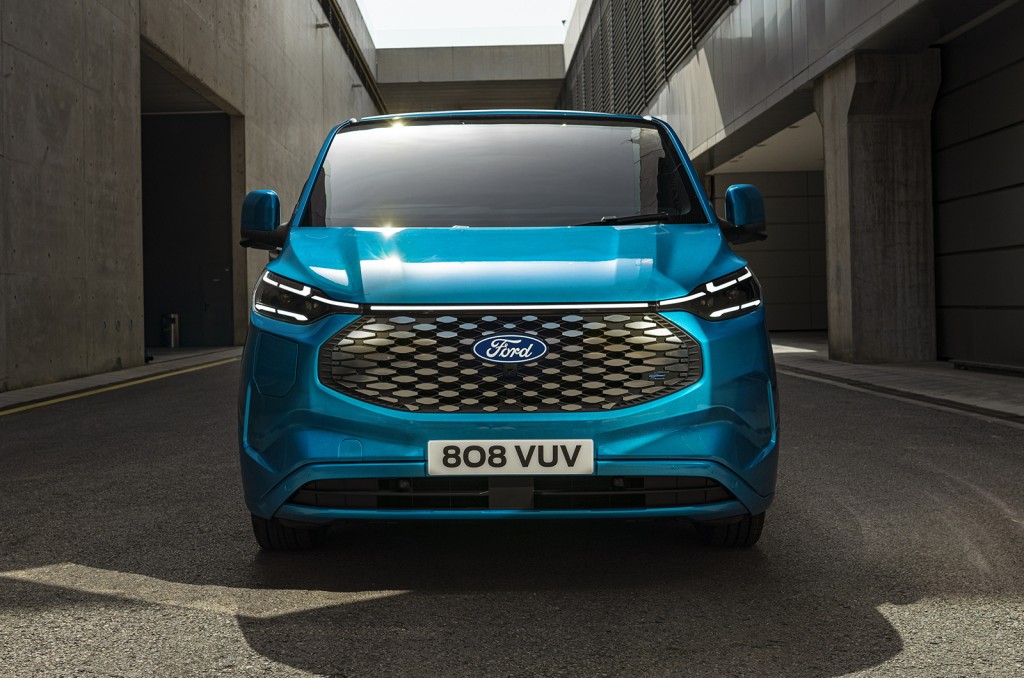 The E-Transit Custom will be powered by what Ford calls "next-generation battery technology", using a 400-volt, 74kWh usable battery pack that features 82Ah pouch cells. Ford says that means it has 12 per cent more energy density than the batteries in the larger Ford E-Transit.
The large battery means the E-Transit Custom has a 'targeted range' of up to 236 miles, which Ford Pro's data suggests is more than four times the average one-tonne van driver's daily mileage. It can be fast-charged at speeds of up to 125kW, which allows for a 15-80 per cent charge in 41 minutes. Ford says it has reworked the change profile to allow for quick top-ups, claiming that lab tests show it can accept 24 miles of range in five minutes.
There will be two powertrain options, with customers able to choose from a 100kW or 160kW output. Both options offer an identical 306lb ft of torque. The motor is mounted to the rear floor of the vehicle, which removes the need for a dedicated subframe. As with the Ford Mustang Mach-E, the E-Transit Custom will features regenerative braking that includes a one-pedal driving mode.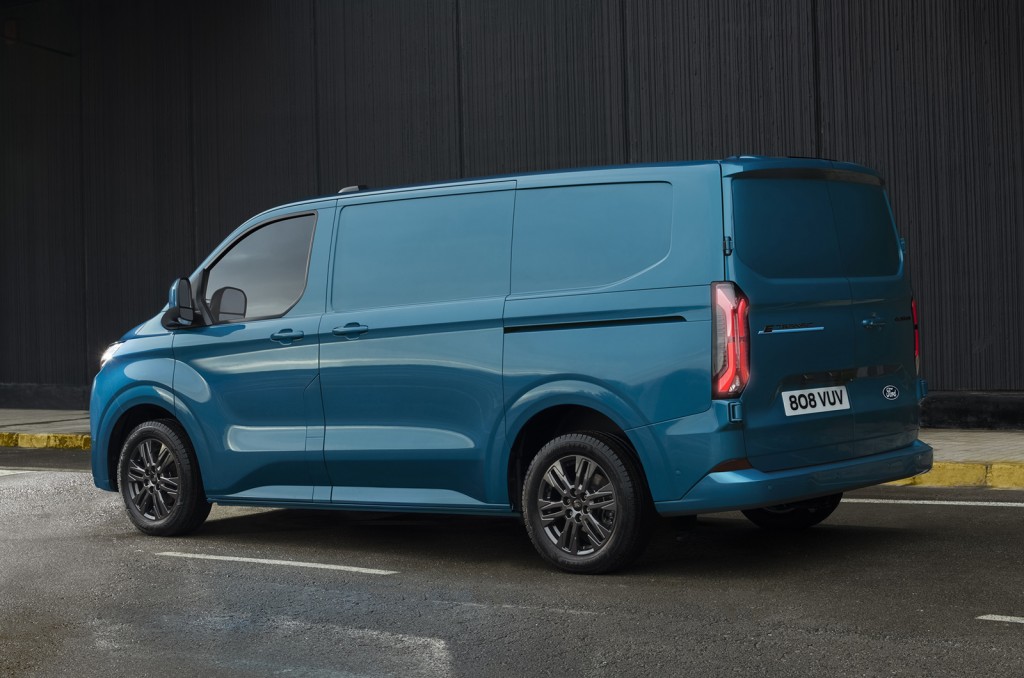 As with the E-Transit on-board power sockets allow the machine to output 2.5kW to run tools, lights or other electrical equipment.
As standard, the E-Transit Custom features a vapour-injected heat pump to control the cabin temperature, which has been designed to maximise efficiency.
Styling and aerodynamic efficiency might not be the first things you think of when it comes to vans, but Ford has put considerable effort into both on the E-Transit Custom. The LED lighting includes a new light bar, while there's also a new honeycomb grille and' wind-cheating' wheel designed. Ford claims that even the rear light clusters have been honed for aerodynamic efficiency, with their final shape the result of more than 800 different simulations.
The load floor of the vehicle has been lowered compared to the previous non-electric Transit Custom, with the intent of making loading cargo easier. The overall height has also been reduced to just under two metres, allowing it to enter more multi-storey car parks and low-roofed areas. Load volumes range from 5.8 to 9.0m3, with a maximum load length of 3450mm. 
Buyers can choose between double-cab-in-van and comb body styles, a short or long wheelbase and a high or low roof. There's a new five-seat option that includes two second-row seats to allow for five passenger and longer load items to be carried.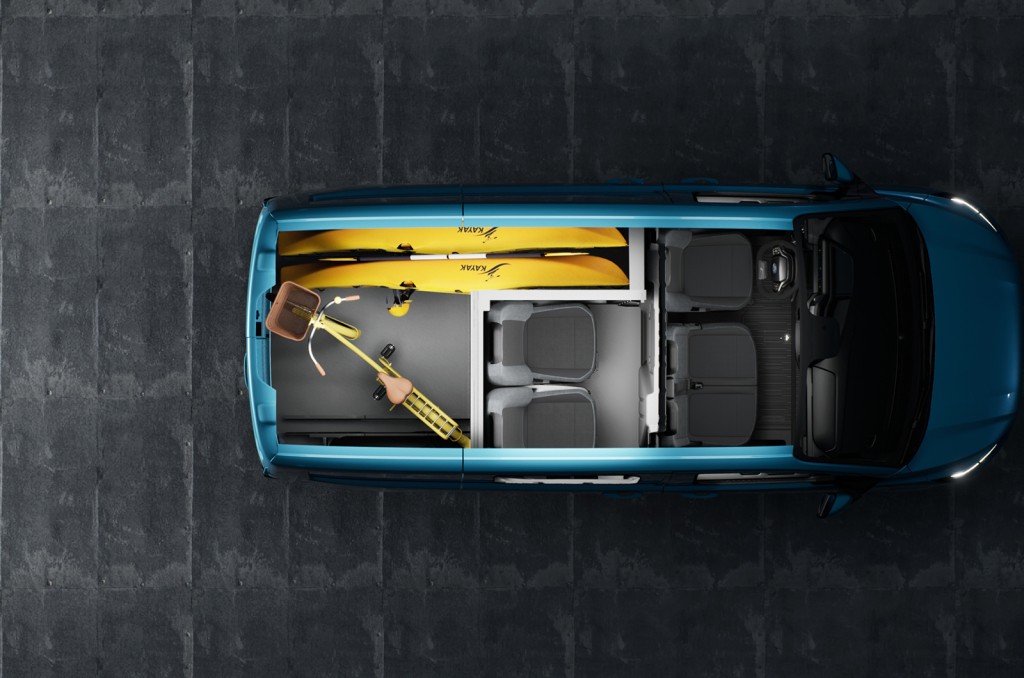 The interesting technology in the machine isn't just confined to the powertrain: Ford describes the cab as being a "business hub", with 5G connectivity and a flexible workspace.
The dashboard is built around a 13in touchscreen, which uses Ford's Sync 4 communication system. The firm also claims that the materials used in the cabin and load area have been designed to avoid textures that will trap dirt or water in, helping enhance their longevity.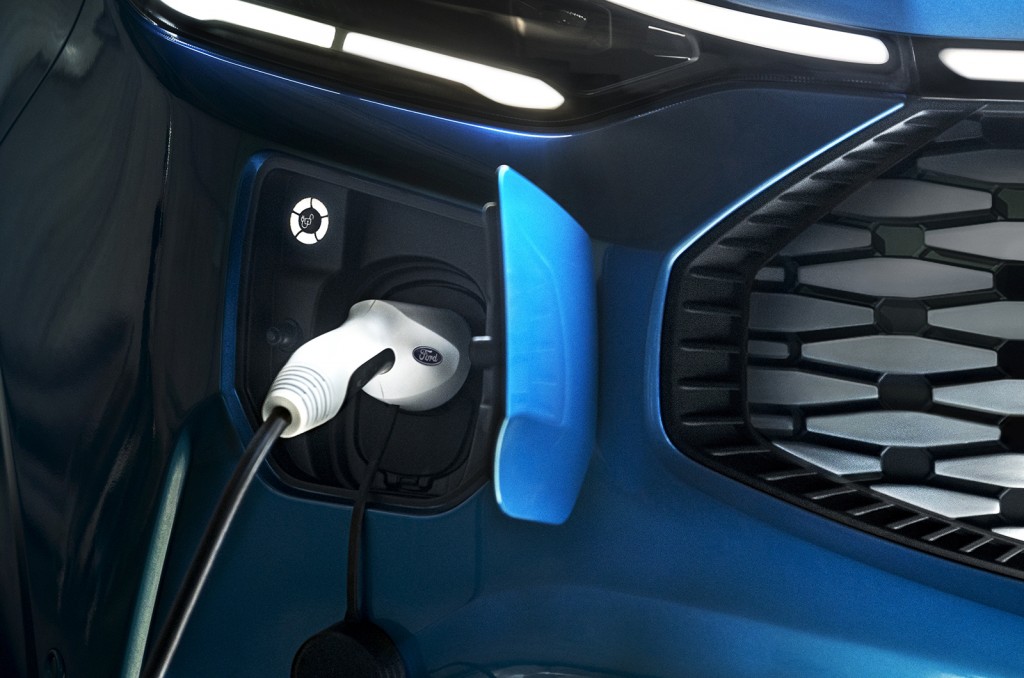 The optional Mobile Office pack includes a tilting steering wheel can be folded to become a laptop and tablet holder or a flat table to eat your lunch on – although not, we should add, when you're driving.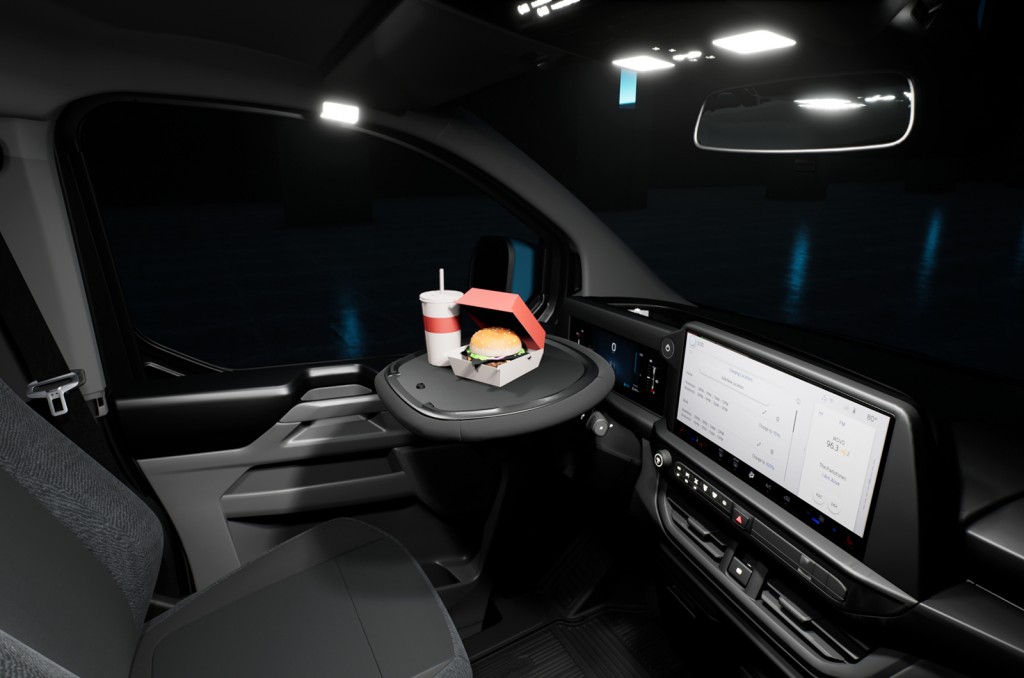 There are also 'digital solutions' to enable multi-drop deliveries, and easy access from the cab to the load compartment. With the new Delivery Assist mode is enabled, when the E-Transit Custom's drivetrain is put into park the hazard warning lights will turn on, any open windows will be closed and the door will be locked when the driver leaves.
Buyers will also be given one year of free access to the Ford Pro E-Telematics system, which uses live data to monitor the location, efficiency and health of each vehicle, and offers optimised charging strategies for the battery.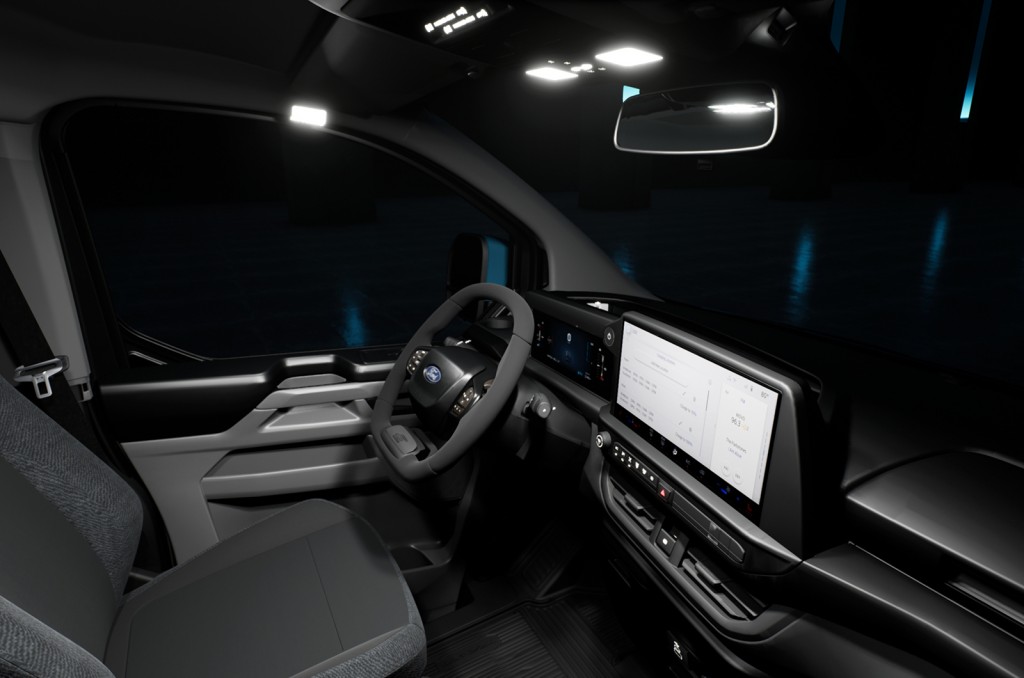 It can also accept over-the-air updates, with more than 30 separate modules capable of receiving remote updates so that new features and functions can be added.
The E-Transit Custom can carry payloads of up to 1100kg and has a maximum towing capacity of 2000kg, aided by independent rear suspension that's designed to aid the driving experience even when the van is fully loaded.
Production is due to begin at the Ford Otosan factory in Turkey in Autumn 2023. The new E-Transit Custom is the first of four all-electric commercials vehicles due from the Ford Pro division by 2024, which will include a Transit Courier, and Tourneo Custom and Tourneo Courier MPVs.
The first glimpse of the E-Transit Custom isn't just a significant step for fans of electric Ford models: thanks to a partnership between the two brands, the model will share much of its technology with the forthcoming next-generation of electric Volkswagen Transporter.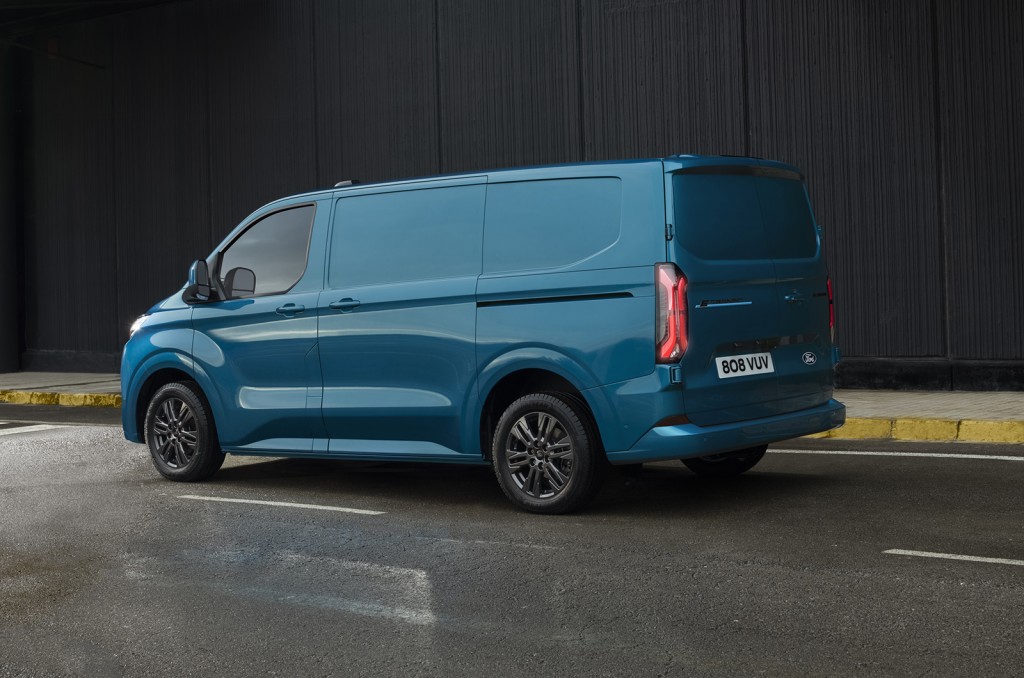 READ MORE
Subscribe to the Move Electric newsletter
e-CARS
New electric cars for 2022 and beyond: what's coming when
New BMW i7 unveiled as luxury electric saloon
e-BIKES
Best e-bikes for every category 2022
Moustache Samedi 28.7 e-bike review
e-MOTORBIKES
Yamaha Neo's electric scooter review
Cake launches new global electric motorbike race series 
e-SCOOTERS
Government set to announce plans to legalise private e-scooter use
New study finds e-scooters are five times safer than bikes
e-WORLD
World's first airport for flying taxis opens in UK