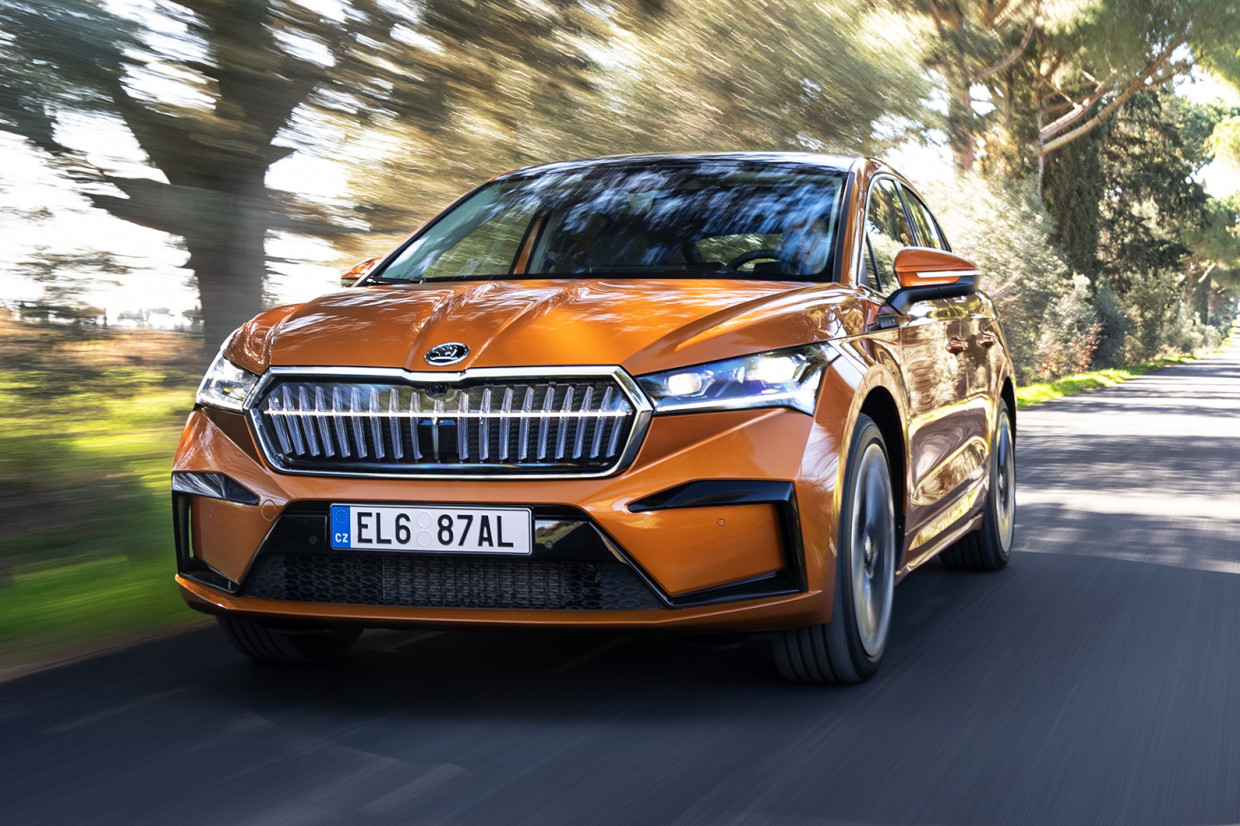 Move Electric verdict: four stars out of five
Sell it to me in a sentence…
It's a variant of the hugely accomplished Skoda Enyaq iV family SUV that adds a dash of dynamism and style at the expense of a bit of practicality.
What does that mean, exactly?
Basically, the Enyaq Coupe iV shares the excellent underpinnings of its SUV siblings but, as the name suggests, adds a swooping coupe-style roofline. It's also the first electric Skoda model to get a performance version that carries Skoda's vRS badge (pictured below).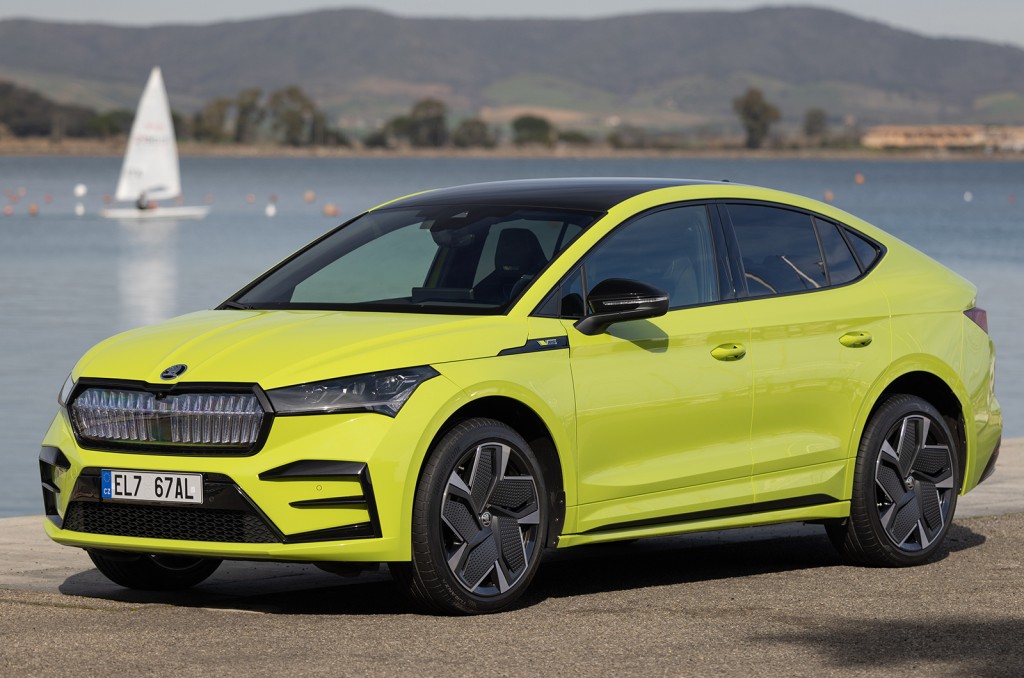 That while coupe roofline formula sounds a bit familiar…
Well, plenty of car firms now offer style-led 'coupe' versions of their electric SUV models, in order to reach the widest possible audience. It's certainly a common feature in electric SUVs that use the Volkswagen Group's MEB platform: just look at the Volkswagen ID 4 and ID 5, for example. 
As we noted in our Volkswagen ID 5 review, it's relatively easy for car firms to add a different body variant for an electric car, and if people are prepared to pay extra for something that feel looks bit more stylish, what's the problem?
Besides, the Enyaq Coupe's swooping makeover actually does give it a different look to the chunkier SUV version; they look more distinct, to our eyes, than the ID4 and ID 5. Park the two Enyaq variants next to each other, and the differences are notable: to our eyes the Enyaq Coupe cuts a bit of chunky muscle car dash – an effect heightened on the vRS models.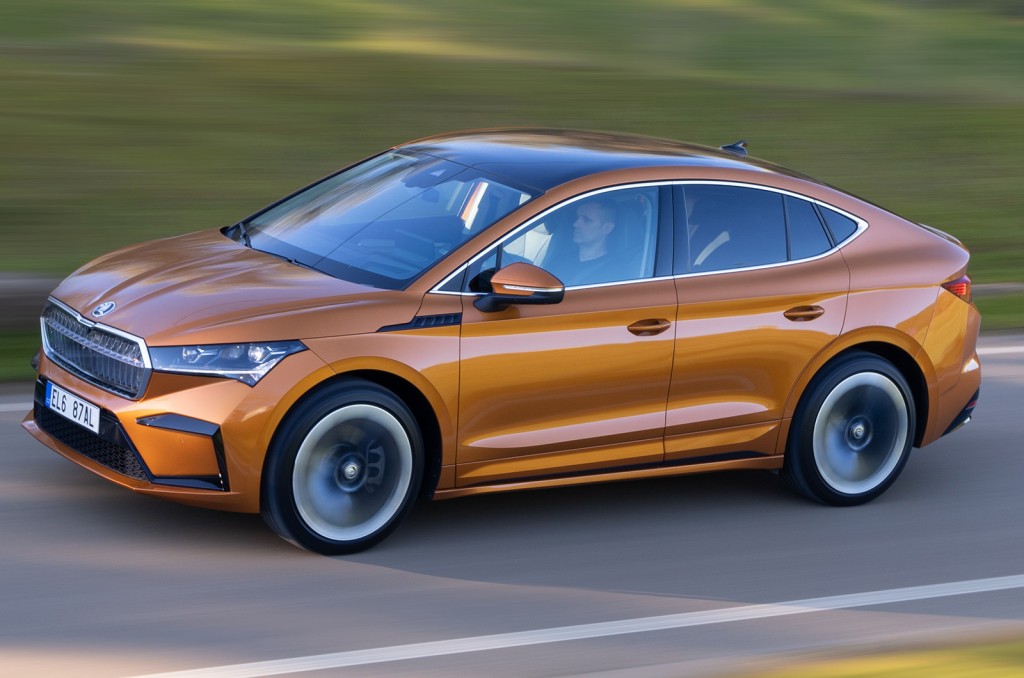 That's in part because the style makeover for the Coupe isn't limited to the roof: Skoda has also given the car a redesigned front apron and body-coloured side skirts (as opposed to the black ones on the SUV). The SportLine trim and vRS models also use a sports chassis that has the ride height lowered by 15mm at the front and 10mm at the back. Wheel sizes range from 19 to 21in.
But the most dramatic piece of the Enyaq Coupe's design is the black panoramic glass roof, which runs the entire length of the roof and really shines light into the cabin. It's standard on all Coupe models – and is the largest panoramic roof ever offered on a Skoda model.
Another notable design feature is Skoda's 'Crystal Face', which is standard on the vRS and an optional extra on other models. It's a special version of the car's front 'grille' that is illuminated with 131 LEDs, and is sure to get you noted on a dark night.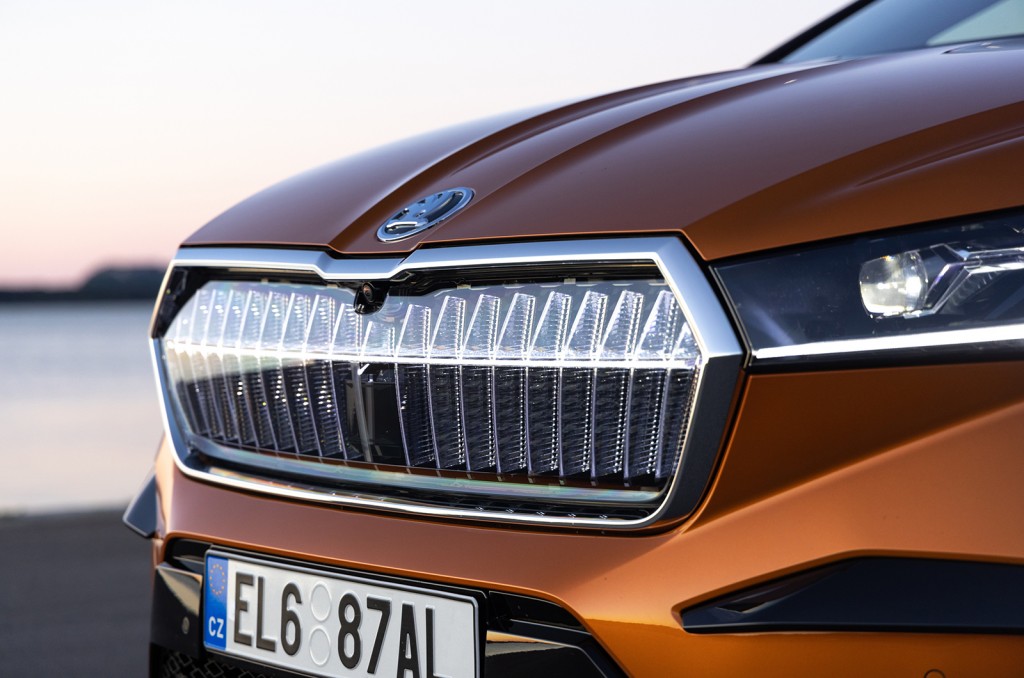 What's it like inside?
The interior is closer in styling to the Enyaq SUV, which isn't a bad thing at all: it's really quite classy. As is the trend the dashboard is touchscreen dominated, with a 13in central infotainment screen and a 5.3in digital cockpit display. The screen is well-placed and easy to use, with a useful shelf and none of the 'sliders' that can annoy on sister firm Volkswagen's EV infotainment systems.
The materials inside all feel classy, with certain trim levels featuring seat covers made from a blend of wool and recycled PET bottles, and leather on higher-spec models.
While even entry level models are well-equipped, there are a range of optional packs for various elements. Higher-spec models such as the vRS get features such as climate controlled seats with a massage function. Oh, and vRs models get lots of specific fabric and trim that's bedecked in vRS logos. 
It's all very pleasant, really. Everything feels of good quality – it's hard to square this machine with those Skoda jokes of old – and is comfortable and spacious. While the rear head room is a little reduced with the sloping roofline, by no means does it feel cramped.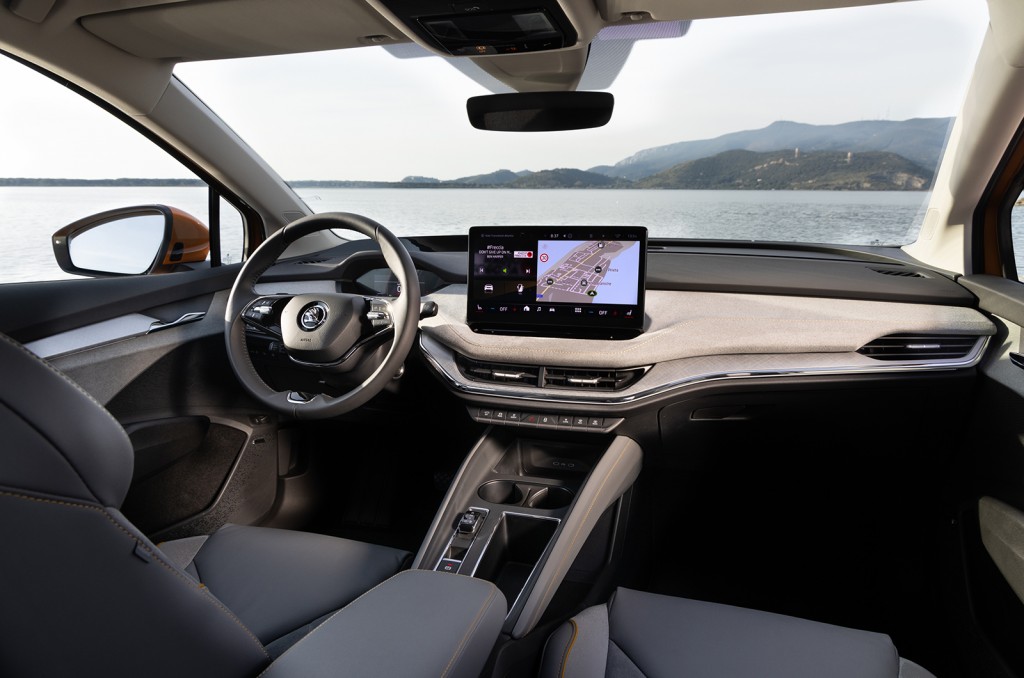 So what about the boot?
Predictably, the Enyaq Coupe's boot is smaller than its SUV sibling – although it's still not exactly small. While the SUV has a capacity of 585 litres, the lower roof of the Enyaq Coupe means capacity is reduced to 570 litres.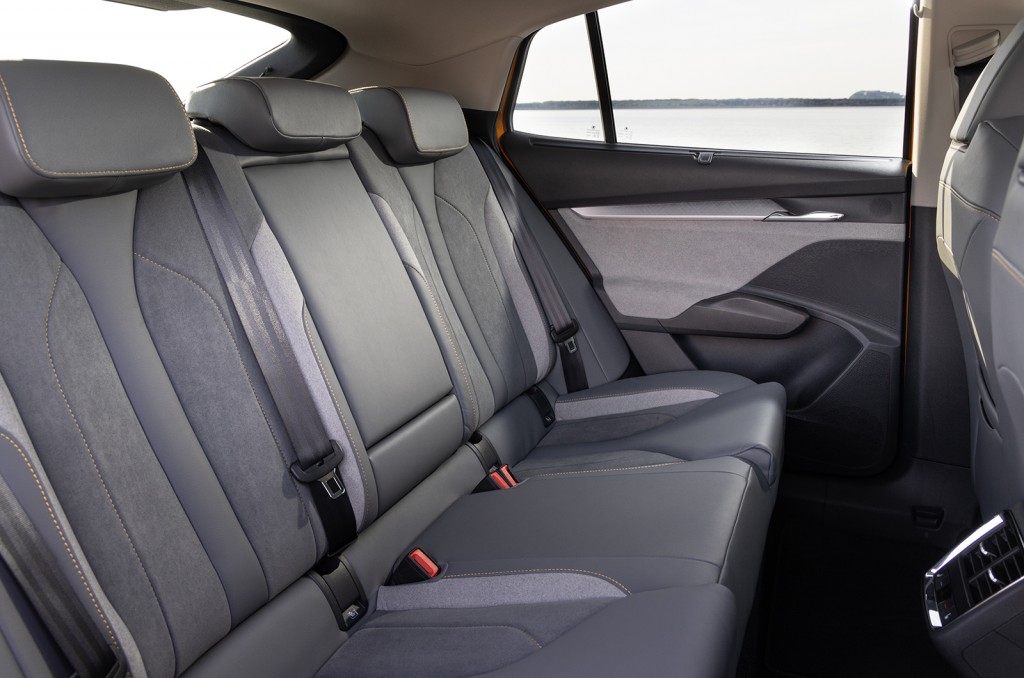 Some context, though: that's 21 litres more than the Volkswagen ID 5, and is still one of the biggest you'll find in an electric SUV of this size. Skoda might be adding the style with this coupe, but practicality is still a key priority for the firm.
While we're talking practicality, if you add the optional tow hook, the Enyaq Coupe has a towing capacity of up to 1400kg.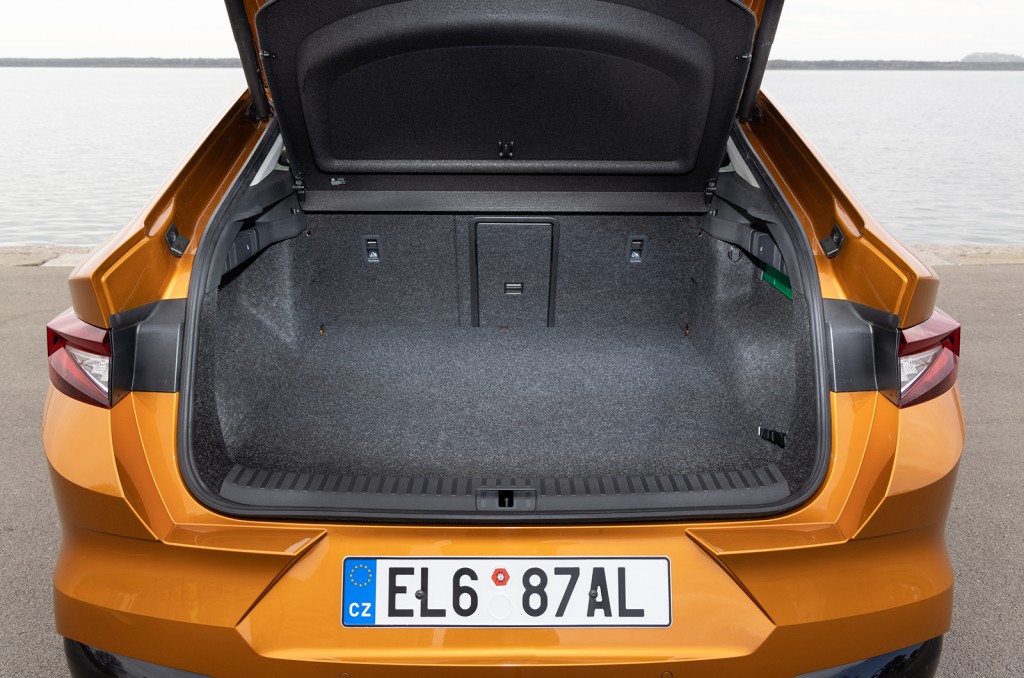 Right, enough boot and towing specs – what about the tech specs?
While the Enyaq SUV is offered with a choice of 62kWh and 82kWh batteries, the Coupe version is only offered with the larger option. That's similar to the Volkswagen ID 5, and likely because of the higher price point Skoda is reaching for from people prepared to pay for a bit of style.
As with the Volkswagen ID 5 there will be a choice of two powertrain options. The entry-level version will be the 80 model, which features a single 150kW motor that drives the rear wheels. It can do 0-62mph in 8.7 seconds and has a top speed of 99mph.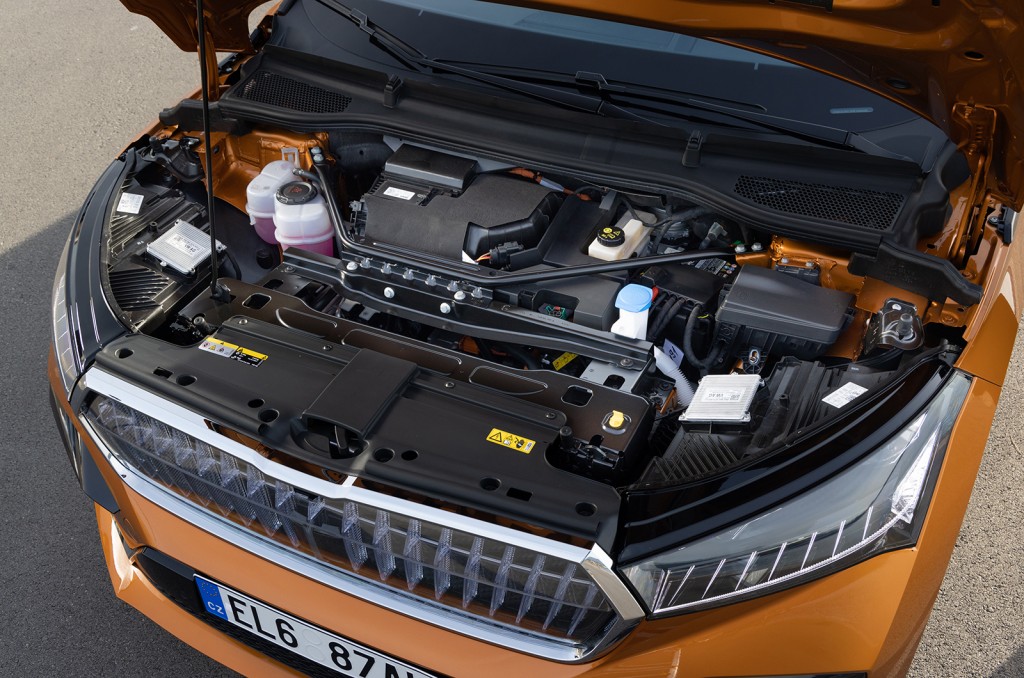 That's the same as the 80 version of the regular Enyaq, although the Coupe does have one party trick: it can travel up to 339 miles on a charge, which is eight miles more than the SUV version, largely because the sloping roof makes it more aerodynamic. Eight miles isn't exactly enough to transform the usability of the car, but every little helps and all that.
In certain markets, Skoda will offer an 80x model that uses a twin-motor set-up with 195kW, but that won't be coming to the UK.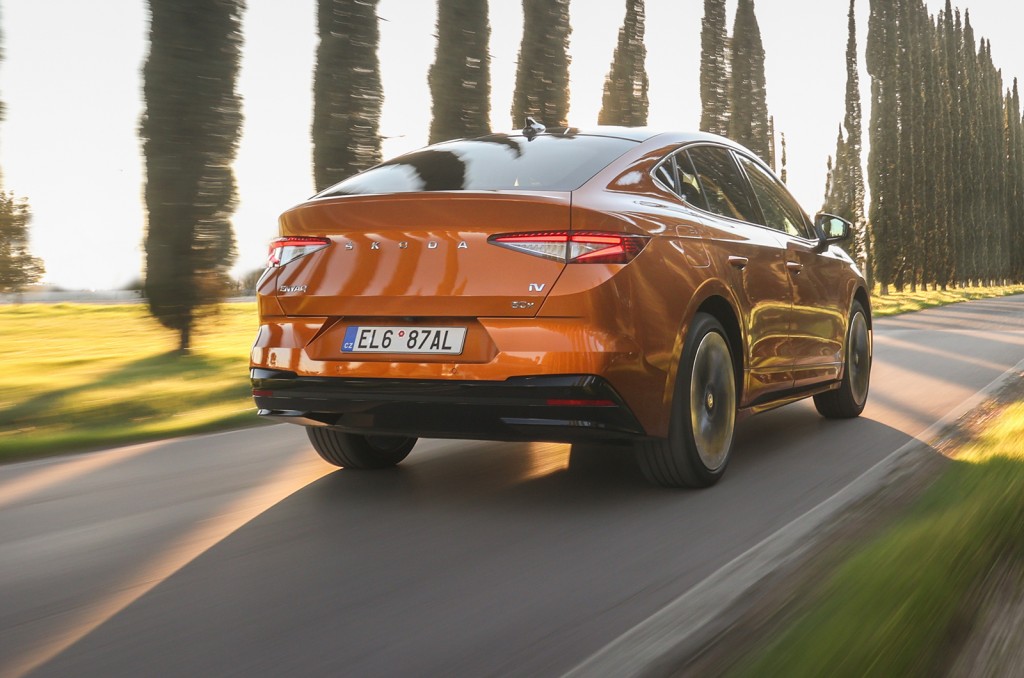 So what's the other powertrain option?
That would be the top-spec vRS model – which, it's worth noting, will be the only Enyaq Coupe you're currently able to order in the UK. Deliveries of the vRS will begin in the UK in July, and the 80 will go on sale shortly after that.
In case you're not aware, vRS is Skoda's performance badge and has featured on a range of 'hot' versions of various production cars – but this is the first time it's been used for an electric model.
Effectively, vRS is Skoda's version of Volkswagen's GTX performance badge – which explains why the powertrain is basically identical to the one offered in the Volkswagen ID 5 GTX. It uses a pair of electric motors to offer all-wheel-drive and a total system output of 220kW and 338lb ft of torque. That gives is a 0-62mph time of 6.5 seconds, with a limited top speed of 111mph. The range is still a respectable 309 miles.
Charging-wise, both the 80 and vRS Enyaq Coupe models can fast-charge at speeds of up to 135kW, allowing for a 10% to 80% fill in 29 minutes.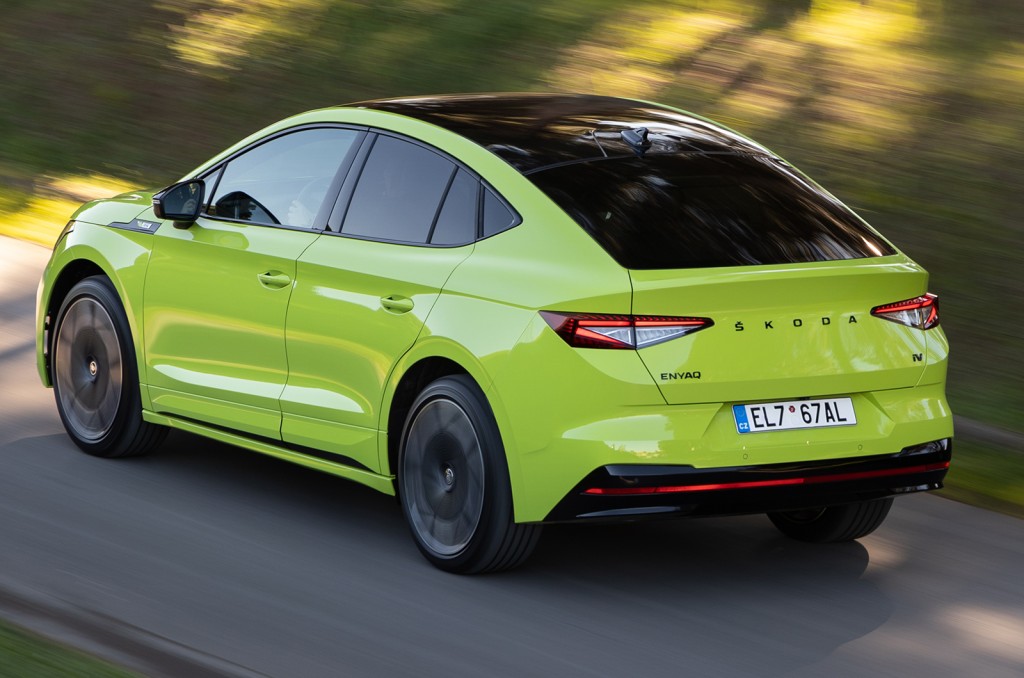 Okay, so what's it like to drive?
In entry-level 80 form, there's probably not too much suspense here, because you can probably guess that reworking the roofline a bit doesn't exactly transform the handling of the Enyaq Coupe. It's basically identical to the SUV version – which isn't a bad thing at all, in our view.
The high seating position gives a good view of the road and the ride quality is generally decent, if slightly compromised by the big batteries. It can be a little unsettled around town, but it's remarkably well-balanced and happy to cruise on faster roads.
It's relaxing rather than engaging, and while it might lack a bit of connection and feel in terms of steering that's easily compensated by how precise and controllable it is. And the powertrain is super-smooth, with sufficient power readily on tap for all situations.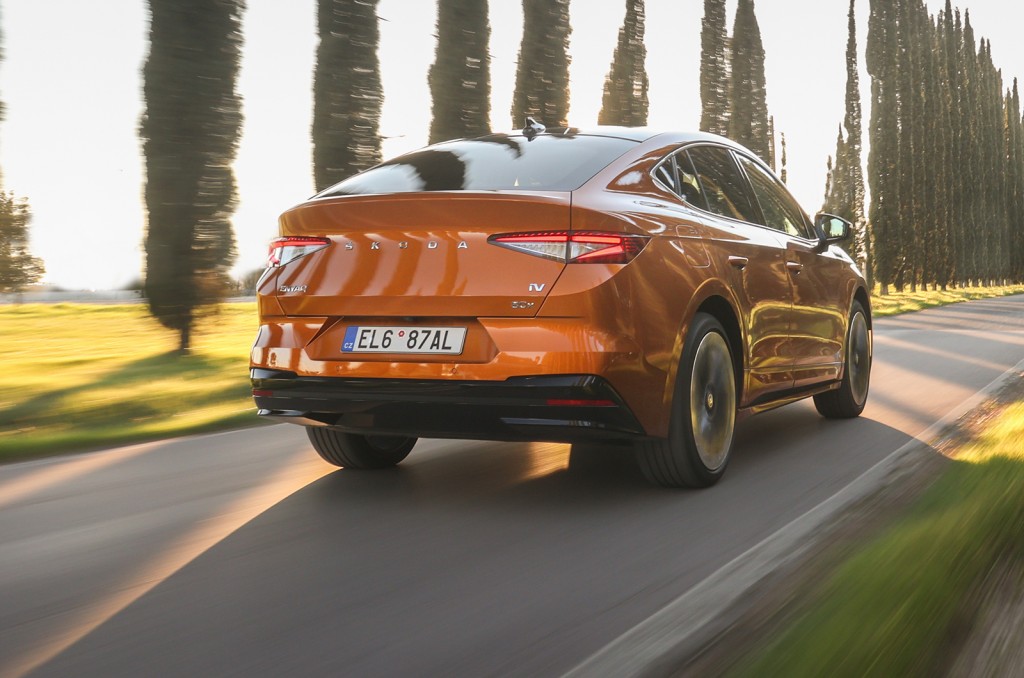 What about the vRS version then?
In truth, that's a bit less convincing. It's not bad, by any means: the whack of acceleration from the extra motor is notable, and having all-wheel-drive gives you extra confidence when cornering, especially in the firmed-up Sport mode.
But it isn't as engaging or exciting to drive as you might hope from a car bearing a badge such as vRS, and feels more like a trim level than a full performance model.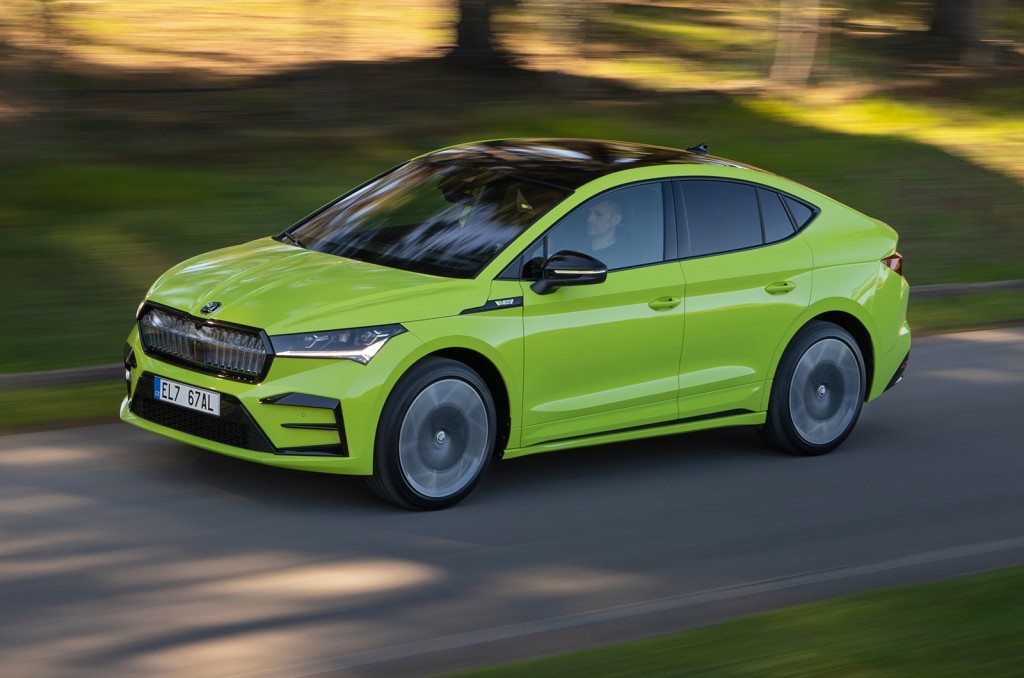 What rivals should I consider?
Well, in a way the Enyaq Coupe's closest direct rival is the SUV version. The vRS is the only version of the Coupe you can currently order in the UK, and priced from £51,885 it's more than £4000 more expensive than the top-spec Enyaq SUV, the slightly less powerful 80X Sportline. 
The entry-level single motor Enyaq 80 SUV is priced at £40,870, and while Skoda hasn't yet set the price of the equivalent Enyaq Coupe 80, expect it to cost a few thousand pounds extra in like-for-like trim. Effectively, you'll need to work out how much you're prepared to pay for a dash of style and a few miles of extra range.
Outside of the Volkswagen Group, the Hyundai Ioniq 5 – the winner of our 2022 Best Electric Car award – and Kia EV6 are both worth considering. The EV6 is offered with a twin motor set-up similar in power to the Enyaq Coupe vRS, but which is more engaging to drive. The Ford Mustang Mach-E is also worth considering if you want a dash of electric performance style.
Verdict
There is a lot to like about the Skoda Enyaq Coupe, which perhaps won't be a surprise given how much we like the SUV version. It doesn't lose much in practicality to that model, and does have a different character in terms of style.
That said, the vRS version isn't as compelling or engaging as we'd hoped, and we reckon the rear-drive 80 version is the sweet spot of the range: it's still got plenty of power and performance, but is cheaper and has a bigger range.
Our only pause is that because the 80 has yet to go on sale in the UK we don't know exactly how much cheaper it is – or, in turn, how much more expensive it will be than the equivalent Enyaq SUV model. We'll revisit and update this review once we know for sure.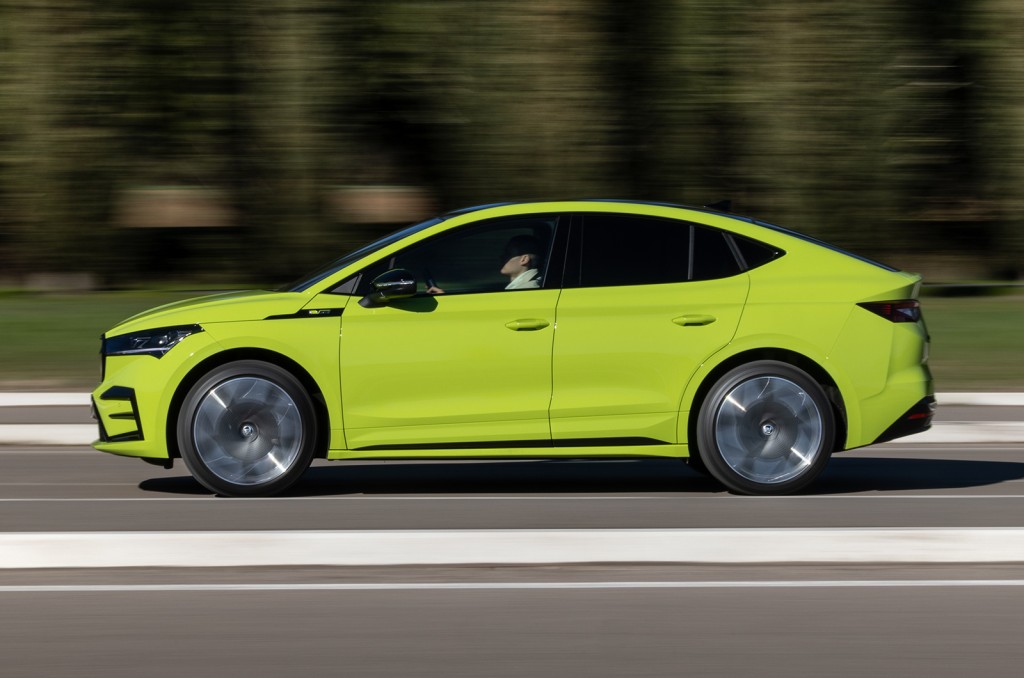 Skoda Enyaq specifications
Price from: from £51,885 (for vRS version; pricing for other versions TBC) 

Motor: Electric synchronous with rotor coil

Gearbox: Automatic

Driven wheels: Rear-wheel-drive and four-wheel-drive

Maximum power: 150kW-220kW

Maximum speed: 99mph-111mph

0-62mph from: 8.7 secs (6.2secs for vRS)

Electric range (official): 339 miles (309 miles for vRS)

CO2 emissions: 0 g/km

Kerb weight excluding driver: 1927kg

Gross vehicle weight: TBC

Height: 1622mm

Length: 4653mm

Wheelbase: 2764mm

Rivals