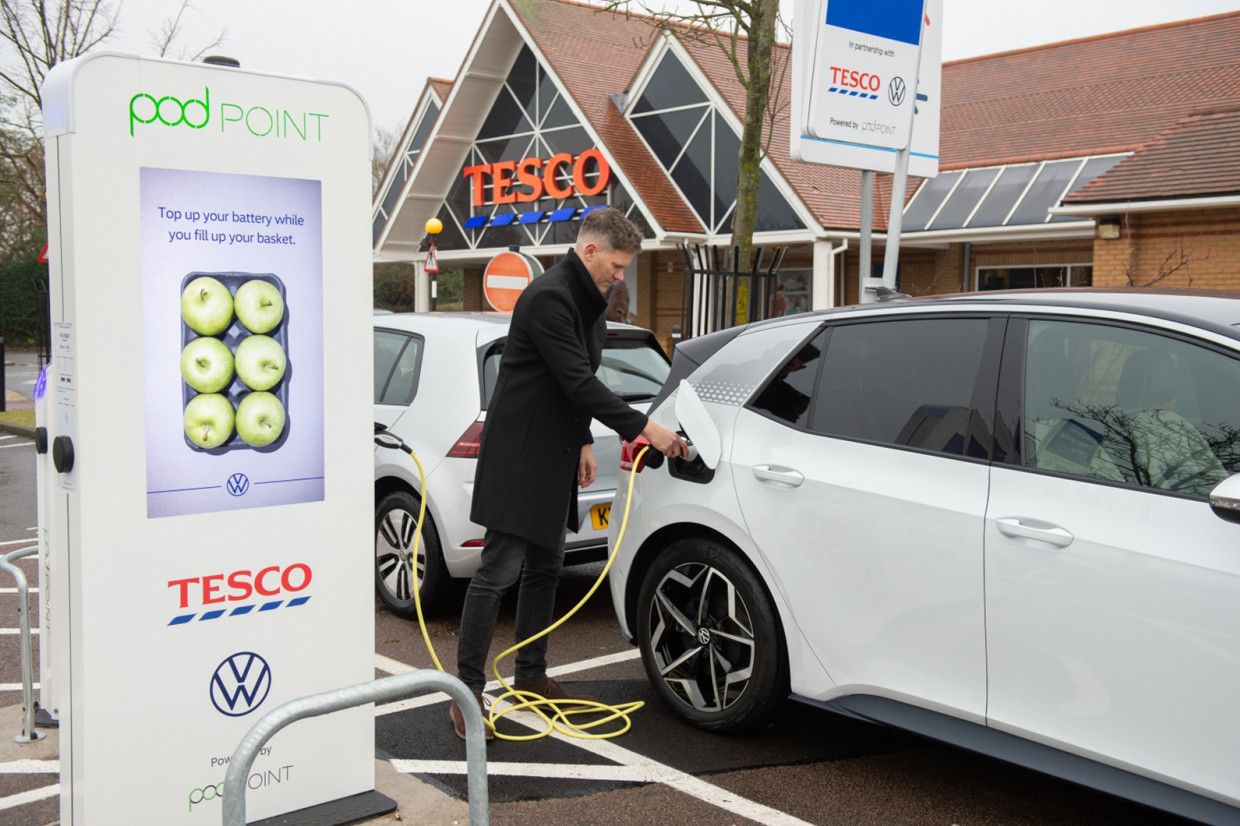 Supermarket giant Tesco and Pod Point will further expand their partnership with the addition of a number of 75kW electric vehicles chargers at 12 stores this year – but have also increased the price for charging up.
Tesco, Pod Point and car giant Volkswagen have teamed up since 2019, with electric vehicle chargers now installed in the car park of 600 stores. Originally, the 7kW chargers at those locations were free to use, but the firm's introduced a 29p/kWh charge for them last November.
But Tesco and Pod Point have now announced that the price of charging up will rise again from Monday April 3, with the 7kW chargers now costing 44p/kWh (up from 40p/kWh). The  faster 22kW chargers will cost 49p/kWh, with 50kW units priced at 62p/kWh (up from 50p/kWh).
The latest EV news in your inbox: get our FREE newsletter
The new 75kW Pod Points units will be in addition to the 7kW, 22kW and 50kW chargers that are currently offered in Tesco supermarket car parts. As part of a trial to gauge customer demand, the new units will go live at six stores this month, with a further six stores to follow later this year.
They will cost 69p per kWh to use. That is more expensive than some 75kW chargers you'll find, although the trade-off is that with the units in Tesco car parks they're super-convenient to use while you're buying your weekly shop.
Pod Point and Tesco introduce charges for using EV chargers
The first six stores to get the 75kW chargers will be the Tesco Extra stores at Ashby De La Zouch, Cheshunt, Osterley, Shrewsbury and York, and the Superstore at Newark New Ollerton. Tesco has yet to name the six stores that will gain the new chargers later this year.
Meanwhile, Tesco's Kirkwall store on the Scottish island of Orkney was the 600th in the UK to have Volkswagen-backed Pod Point EV charging points installed. That makes the supermarket's network the largest retail charging network in the UK, with more than 2500 individual charging units - including 129 classed as rapid chargers.
To date, Tesco and Pod Point claim the chargers have been used more than six million times in total, using a total of 43,218.36kWh of electricity – enough to power 4300 homes for a day, and saving the equivalent of more than 24,000 tonnes of CO2.
When the network first launched, the support of Volkswagen enabled Pod Point to offer free charging for drivers using the 7kW chargers, but that ended last year. 
READ MORE
Subscribe to the Move Electric newsletter
e-CARS
What is a heat pump and how do they benefit electric cars?
Bold new Volkswagen ID 2all previews sub-£22,000 electric car
e-BIKES
Ten electric bikes we're excited for in 2023
Nine ways to keep your e-bike safe
E-bike theft: how common is it and what can you do to protect your e-bike?
Haibike AllMtn CF 6 e-bike review
e-MOTORBIKES
10 electric motorbike start-ups you should watch out for
Energica e-motorbike to take on all-comers in US racing series
Ducati: How the Italian motorbike brand is gearing up for the electric era
e-SCOOTERS
Planned laws to legalise private e-scooters face delay
Leading e-scooter firms team up on best-practice guide for cities
Ambiguity over e-scooter legality causing 'confusion', says police chief
e-WORLD
Solar panels: 8 ways the sun can power your electric life
First ride: Lunaz Upcycled Electric Vehicle bin lorry
AutoFlight secures huge order for Prosperity 1 eVTOL craft