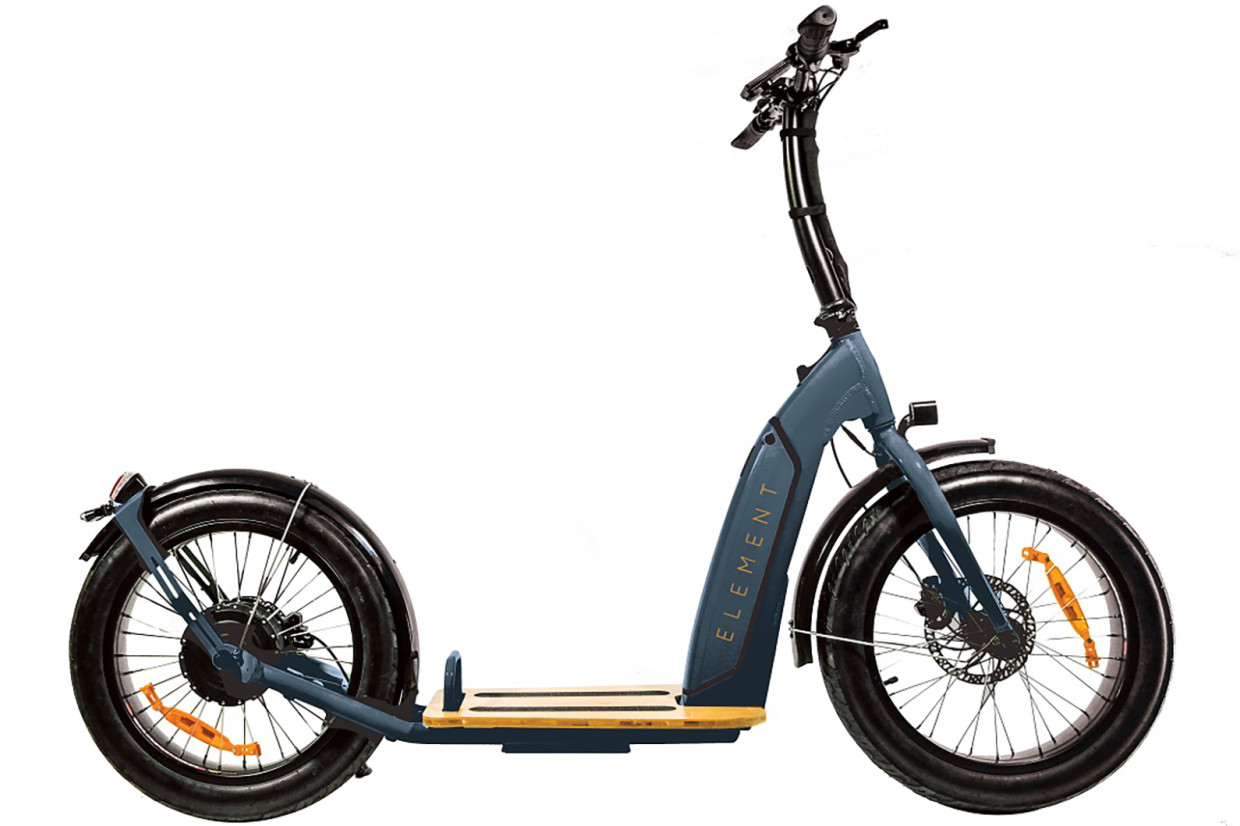 This is the new Element Bondi, a British-designed electric scooter that features distinct large wheels intended to improve both ride comfort and safety.
The new machine, which is available to pre-order before deliveries begin in April, has been developed in collaboration with 'independent engineers' and UK e-mobility specialist retailer Ride + Glide. It will rival the likes of the Pure Advance, Bo M and Lavoie Series 1 in the burgeoning premium e-scooter market.
The latest e-mobility news in your inbox: get our FREE newsletter
At present, it is illegal to use a private e-scooter on public roads in the UK. The government has been working on plans to fully legalise the machines, although there is currently no timeline when laws for that might be put to parliament. Element says that the Bondi has been developed to meet the anticipated regulations.
Are e-scooters legal in the UK? Move Electric's definitive guide
The Element Bondi's key differentiator is its wheels, which are wrapped in 20x3in pneumatic tyres and notably bigger than on most existing e-scooters. Element claims they give the Bondi a smoother ride on rough surfaces, and also reduce the risk of accidents because the wheels can absorb larger impacts.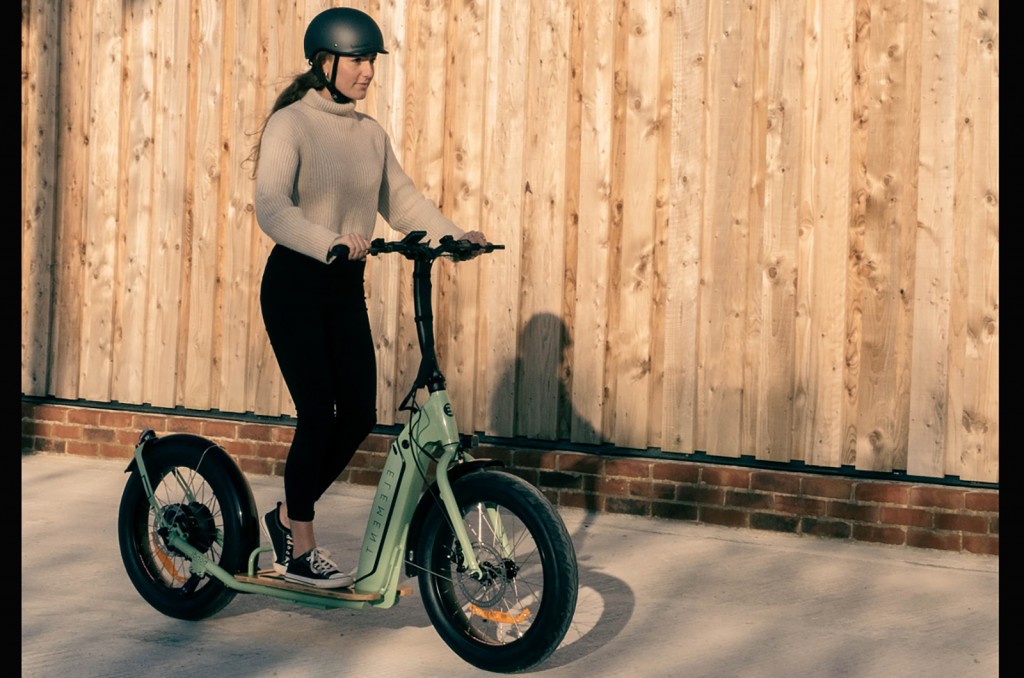 The Bondi is powered by a rear-mounted motor that offers 500W nominal power – or 800W at peak – and draws energy from a 14Ah Bak Cell battery. That gives the machine a top speed of 22mph (although there is an optional speed limiter) and a range of hip to 30 miles. The battery is both removable and lockable, and can be charged in around seven hours.
Pascal Capon, Ride + Glide's co-founder, noted that "the e-scooter market is currently flooded with compact, small-wheeled scooters, which are appealing to customers due to their size and price point." But he added: "Many e-scooter accidents are the result of riders losing control and falling off – often because small wheels can't withstand impacts on uneven roads or over potholes.
"With the launch of Bondi we want to address the misperception of what an e-scooter should look like and offer a safer, more comfortable ride at a competitive price."
The Element Bondi is offered in four colours and is priced at £1669. That includes a two-year warranty on the frame and a one-year warranty on the other components.
READ MORE
Subscribe to the Move Electric newsletter
e-CARS
Ten electric cars we're excited for in 2023
Getting an EV sideways: how easy is it to drift a Kia EV6 GT?
Q&A: Jaguar Racing's Sam Bird and Mitch Evans on Formula E's new era
e-BIKES
Ten electric bikes we're excited for in 2023
Can you get fit using an electric bike?
e-MOTORBIKES
Ten electric motorbikes we're excited for in 2023
Super Soco TC Max electric motorbike review
Cake and Polestar team up for new special edition Makka e-motorbike
e-SCOOTERS
Planned laws to legalise private e-scooters face delay
Five key takeaways from the rental e-scooter trials report
Which train firms have banned e-scooters from their services?
e-WORLD
Move Electric's best features of 2022: lap records, tuk-tuks… and sausage rolls
Volvo Trucks keeps on electric trucking with three new models