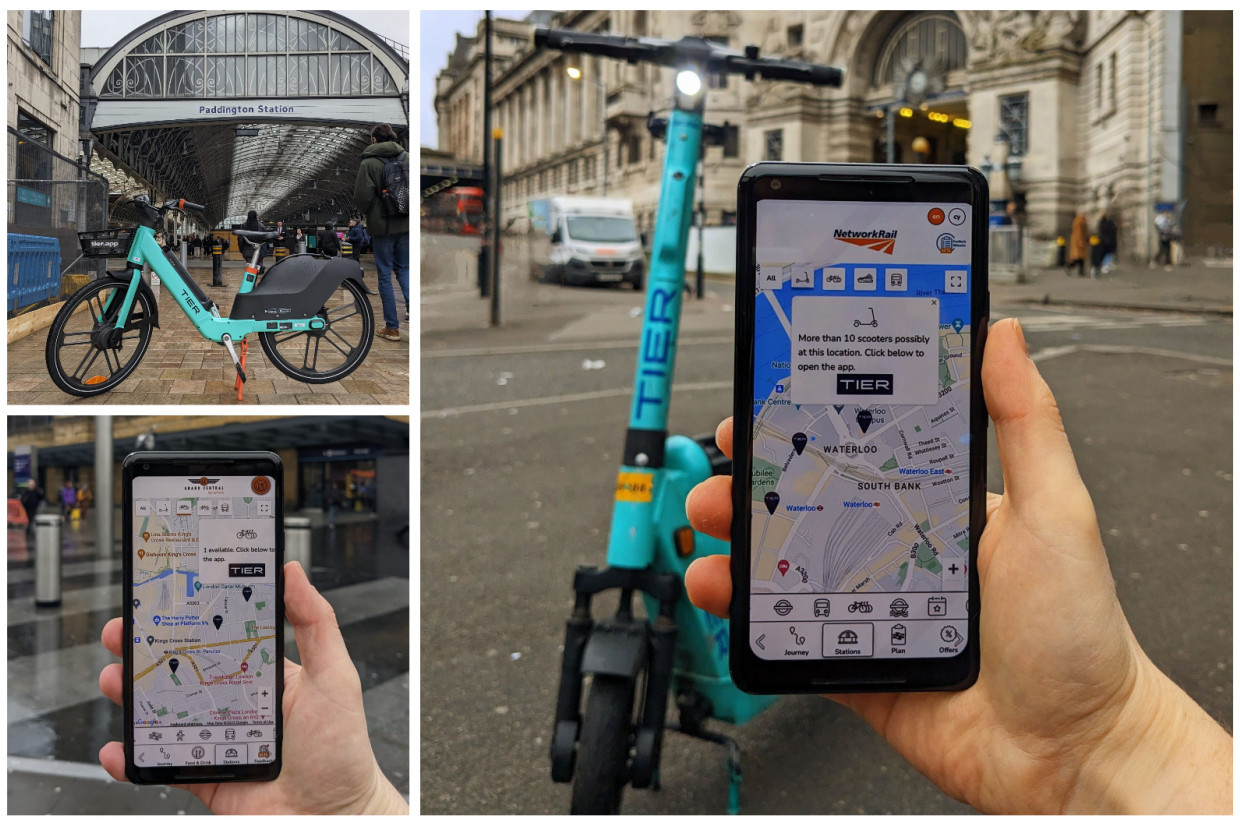 Micromobility firm Tier has teamed up with transport tech app Whoosh and a number of UK train operators to make it easier for rail passengers to find and book its rental e-scooter and e-bikes.
The Whoosh app began by offering streaming on-board entertainment and information to passengers, and has expanded to include real-time travel information and an onward journey planner on their smartphones – and that service now includes Tier's machines.
The latest e-scooter news: sign up for our FREE newsletter
Customers travelling on a GWR, Northern, Grand Central or South Western Railways service can access the travel information by scanning a QR code on board the train or at a station. They can then see live vehicle locations for Tier e-scooters and e-bikes close to their destination station, and be guided to the machines. They will be routed in to the tier app to unlock the vehicle.
The service will work for customers arriving anywhere Tier offers services. In the UK, the firm currently has rental e-scooter or e-bike operations in London, Basildon, Chelmsford, Colchester and York.
Jessica Hall, Tier's head of pubic policy for the UK, said: "We are always looking for ways to make it easier for people to make their journeys without needing to use a car. We know that the combination of public transport and shared micro-mobility can be particularly effective, and through our partnership with Whoosh it is now that much easier to plan a trip between UK cities using rail, book-ended with active mobility options."
Whoosh boss Edmund Caldecott added: "We know that when someone travels by train, their journey doesn't end at the station. We want planning your onward journey to be as straightforward as possible, and the more climate-friendly the solution, the better."
READ MORE
Subscribe to the Move Electric newsletter
e-CARS
What is a heat pump and how do they benefit electric cars?
Bold new Volkswagen ID 2all previews sub-£22,000 electric car
e-BIKES
Ten electric bikes we're excited for in 2023
Nine ways to keep your e-bike safe
E-bike theft: how common is it and what can you do to protect your e-bike?
Haibike AllMtn CF 6 e-bike review
e-MOTORBIKES
10 electric motorbike start-ups you should watch out for
Energica e-motorbike to take on all-comers in US racing series
Ducati: How the Italian motorbike brand is gearing up for the electric era
e-SCOOTERS
Planned laws to legalise private e-scooters face delay
Leading e-scooter firms team up on best-practice guide for cities
Ambiguity over e-scooter legality causing 'confusion', says police chief
e-WORLD
Solar panels: 8 ways the sun can power your electric life
First ride: Lunaz Upcycled Electric Vehicle bin lorry
AutoFlight secures huge order for Prosperity 1 eVTOL craft