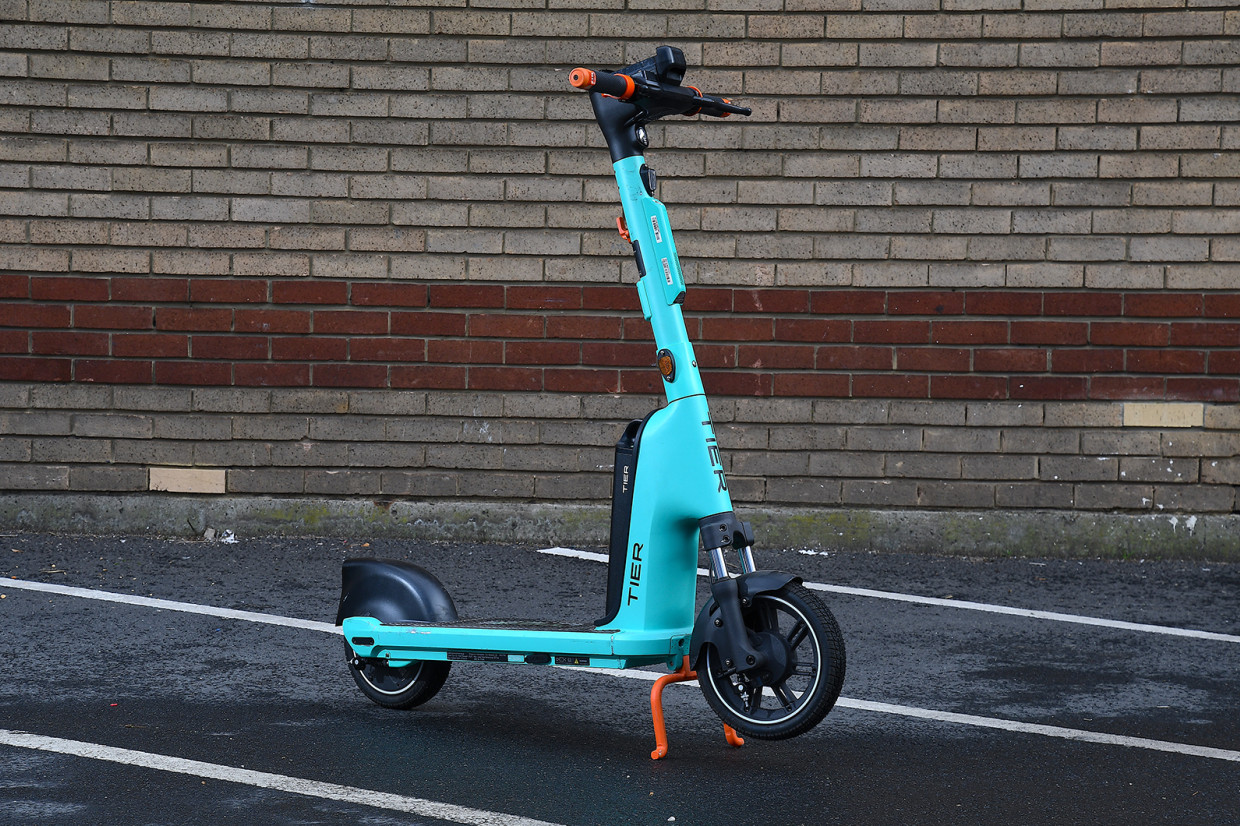 Sell it to me in a sentence…
Sell? You can't buy this electric scooter: it's the newest machine from shared mobility operator Tier, which operates rental fleets in Essex, London, Milton Keynes and York. 
Erm, okay then… rent it to me in a sentence?
Tier's newest rental e-scooter features a number of small but substantial changes designed to make it easier to use – and having launched in several European markets it could come to London and other UK cities at some point in 2023.
Did you go to Germany and rent one?
There was no need. Move Electric was invited for a UK first ride at Tier's glamorous operations centre in Deptford, London. Because the facility is located in a borough that isn't part of the London e-scooter trial scheme, we tested it on the private roads of the industrial estate.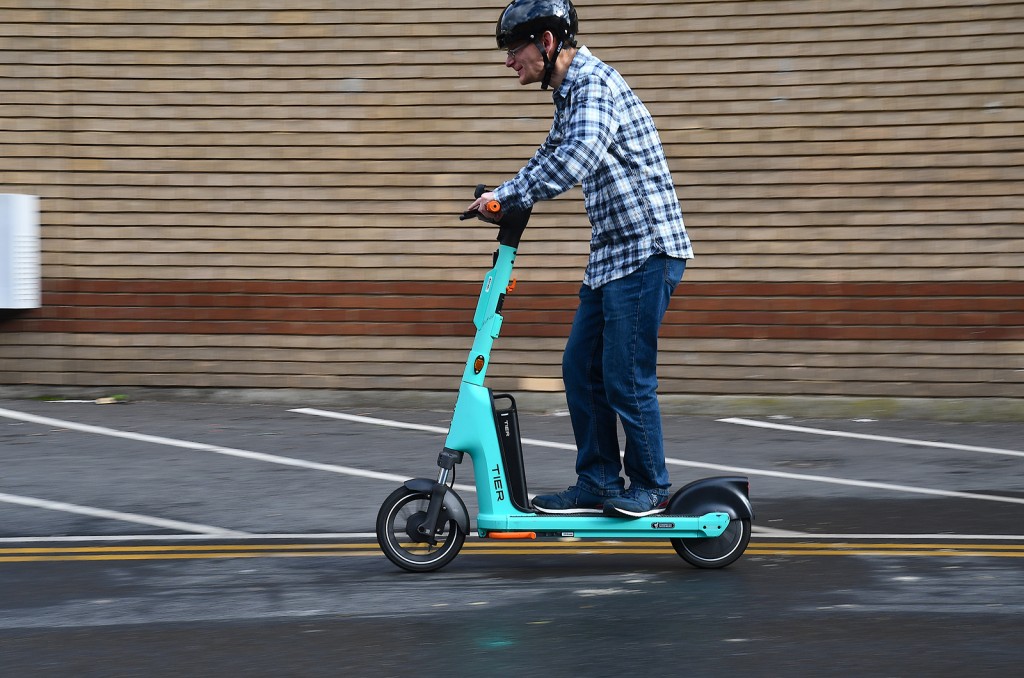 It doesn't look that different to the old one…
The Tier 6 – or C1, as it's referred to within the company – doesn't reinvent the e-scooter wheel. But that's not the intention: rental e-scooters have to meet tight and tough regulations that means there isn't that much room for radical design leaps. 
But don't think progress isn't being made: if you line up every generation of e-scooter from any long-standing shared mobility company you'd easily spot steady, deliberate progress in terms of design, form and features.
The Tier 6 is the latest step in refining the firm's offerings, with a number of changes based on customer feedback and ongoing development.
Are e-scooters legal in the UK? Move Electric's definitive guide
As with many other shared mobility firms, Tier doesn't actually make its own e-scooters. With a number of proven, credible manufacturers in the market, the firm chooses to buy in the machines with a number of customisations to its own requirements. Tier believes doing that allows it to focus its efforts on where it feels it can make a difference, such as customer service, its app and operations.
Currently, the fifth-generation Tier machine you'll find on the streets of the UK is an Okai-produced model, but the new Tier 6 is produced by Segway (yes, the firm best known for those wobbly two-wheelers is now one of the world's leading e-scooter makers).
Why the switch from Okai to Segway?
Tier certainly isn't abandoning Okai e-scooters: it will likely be using its fifth-generation machines in certain markets worldwide for years to come. But one of the key reasons for switching to Segway is about making its logistics easier: Tier also uses Segway e-bikes.
While you'll currently find the A200 e-bike available to hire in various regions of the UK, Tier will eventually upgrade to a new A300 machine – which has been designed to use the same batteries as the Tier 6 C1 e-scooter. Those swappable batteries means Tier will be greatly able to simplify its operations in markets such as London where it offers both e-scooters and e-bikes.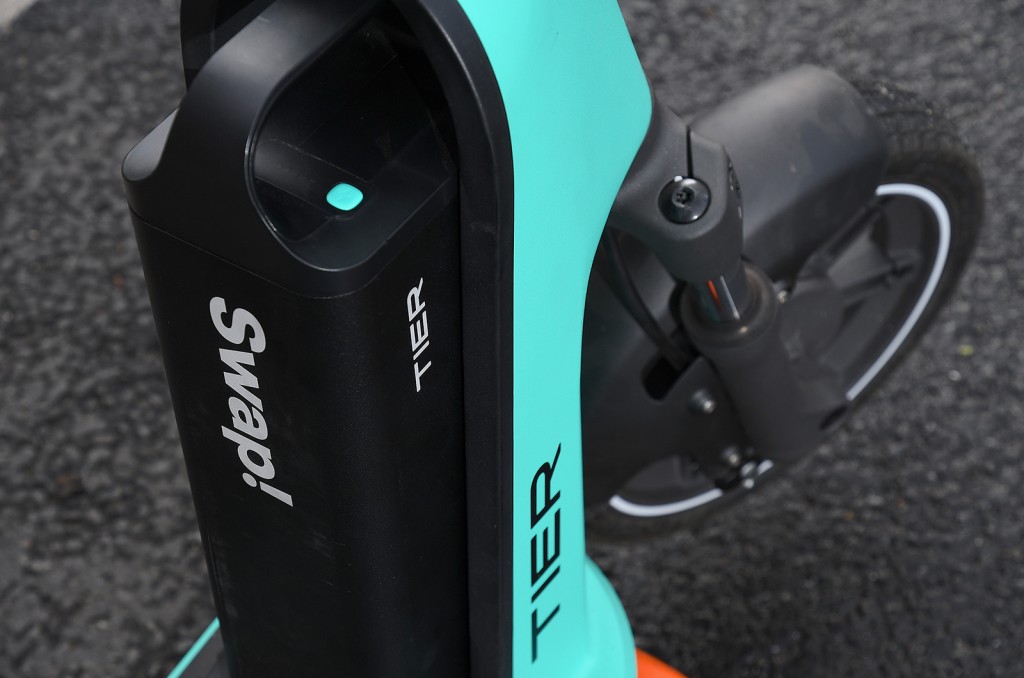 Tier has yet to finalise a timeline for when the Tier 6 e-scooter or the A300 e-bike might arrive in the UK – but when that happens the current Okai e-scooters will be serviced, spruced up and redistributed to a different market. The aim is that Tier will eventually have Segway and Okai markets.
But riders won't really notice such streamlining efforts: if you're a regular shared e-scooter user you're probably more concerned with what the Tier 6 is like to ride. And on that count, the C1 features some notable updates.
Does it offer any more power?
Absolutely not: the Department for Transport rules on rental e-scooters are very tight, so the Tier 6  has the same 350W maximum output as its predecessor. The top speed is also limited depending on local rules, so in the that would mean an absolute maximum of 15.5mph but less in some markets. Transport for London, for example, limits rental scooter to 12.5mph.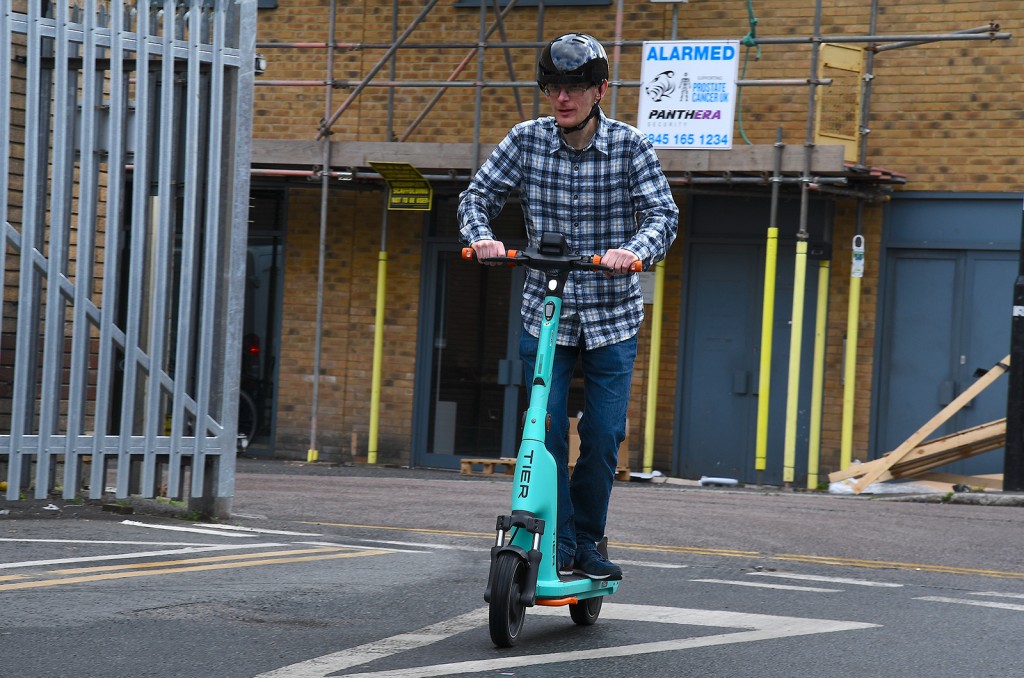 Perhaps the most easily notable upgrader to the Tier 6 are slightly larger wheels, designed to offer greater stability over rough surfaces and bumps. The base of the machine is also wider, lowering the centre of gravity, while Tier has reworked the hydraulic suspension to offer further improvements over uneven surfaces.
Our brief outing revealed a distinct improvement from the current Tier machine you'll find on the streets of the UK. It's no reinvention, and as with any e-scooter we'd suggest trying to ride around bumps rather than over them, but certainly the new machine is offers a smoother, more confidence-inspiring ride.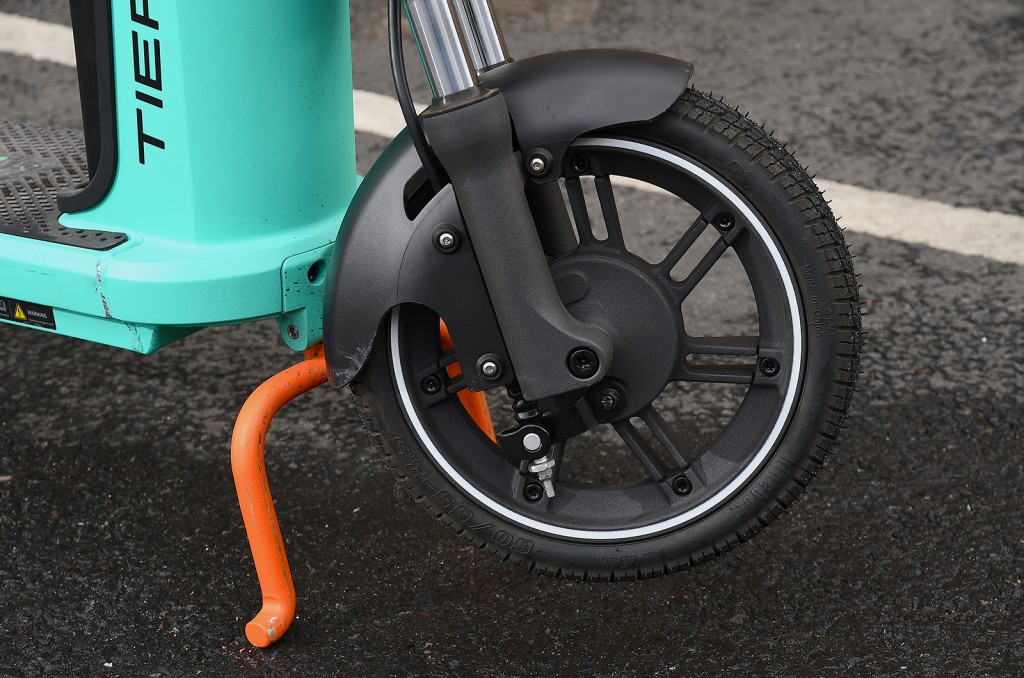 What other changes are there?
The other difference riders will notice are the key controls and the user interface. There's now a display screen that gives 'visual feedback' to users, including information about restrictions to the operating area and so on. That means it a light will illuminate when you enter a slow-zone, easing any confusion about why the machine suddenly slows down, and another symbol will flash if you're in a no-parking zone, so you know not to try and end a trip there.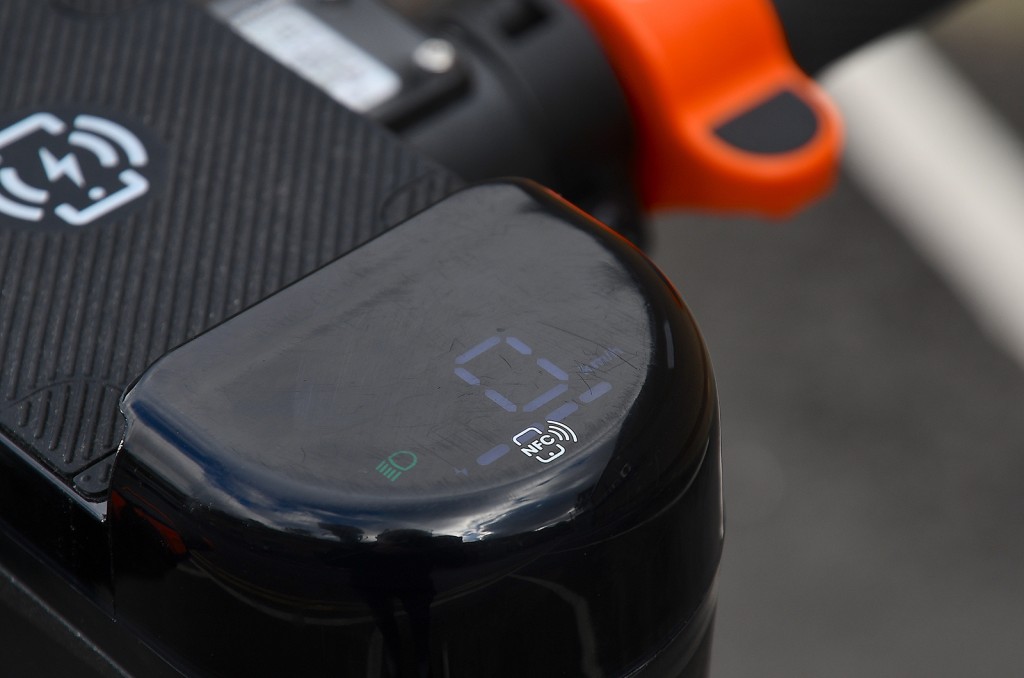 It's not a full digital display, but it's not meant to be: Tier didn't want riders to be distracted looking down for too much information, so instead it uses bright visuals to quickly alert riders. We were unable to test the system fully, but it was easy to see and intuitive.
That display combines with a new, toughened smartphone holder, which has been placed right in the middle of the handlebars and reworked so the phone clips into in it vertically. That make using the phone to display direction on Tier's app or a mapping service far easier, and feels like it will reduce the likelihood of wayward smartphones escaping the holder.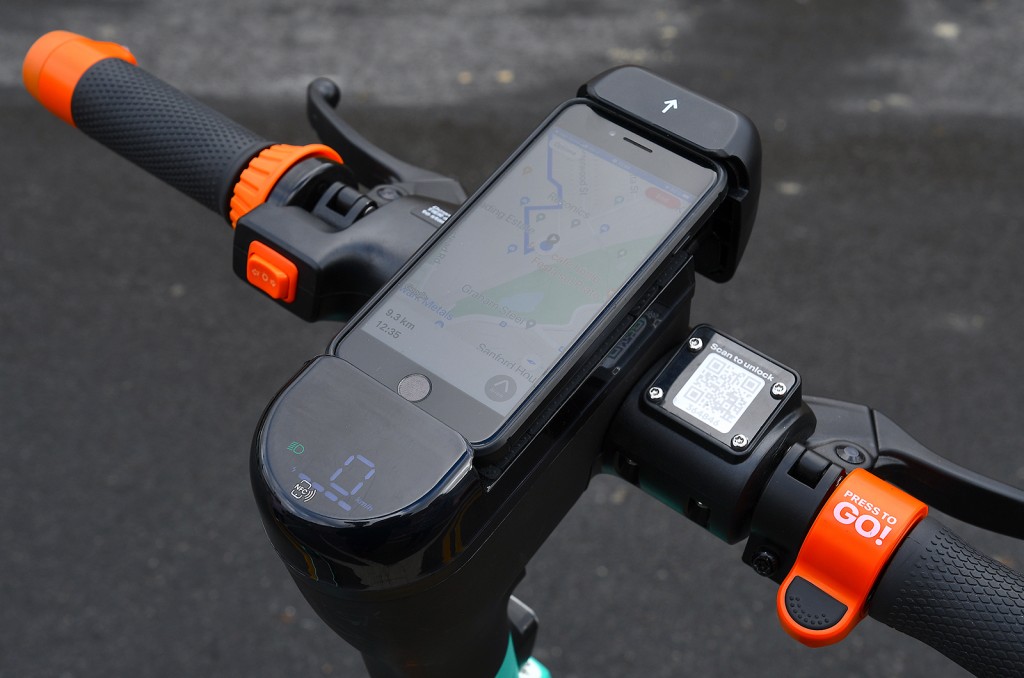 There's also a new toggle control for the indicator, which replaces the two buttons featured on the pervious machine. That might sound an incredible minor change, but it is far more intuitive to use, both in terms of easily selecting which indicator you want to activate, and in making it easy to turn them off. 
In response to rider feedback, Tier has also added a very car-like indicator klacking noise, so you'll definitely know if you've got a turn signal turned on or not. With many rental e-scooter riders still relatively new, being able to offer visual signals to other road users more easily is a very welcome addition.
There's also a new bag hook, which is a minor addition but will make it easier to take an e-scooter back from the shops if you've popped out for supplies. 
The other notable change is that all the key touchpoints – the throttle, indicators, kick stand and so on – are all finished in bright orange, making them really easy to spot on the green Tier machines.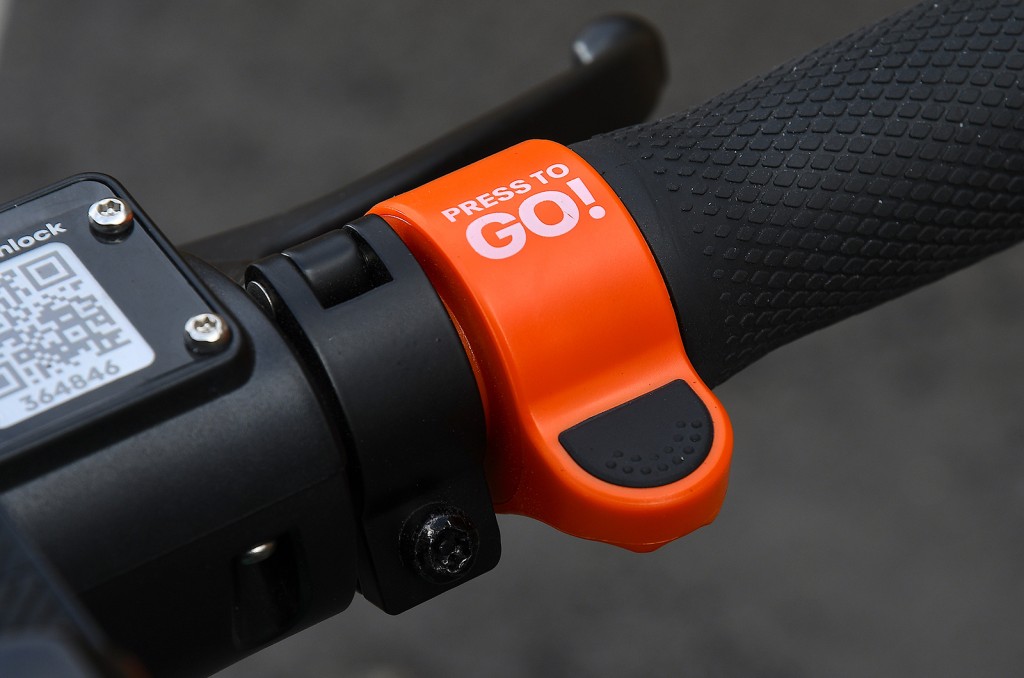 Where can I buy, sorry, rent one?
You can't in the UK just yet. But should you find yourself in a city in Austria, Germany, Hungary or Sweden with the Tier 6 currently in operation we'd certainly recommend an outing. As noted, we're waiting to hear exactly when Tier might roll out the new machine here, and in which cities. 
Verdict
The Tier 6 is a good example of how mobility firms such as Tier are rapidly improving their products and services, with a series of regular small but significant steps.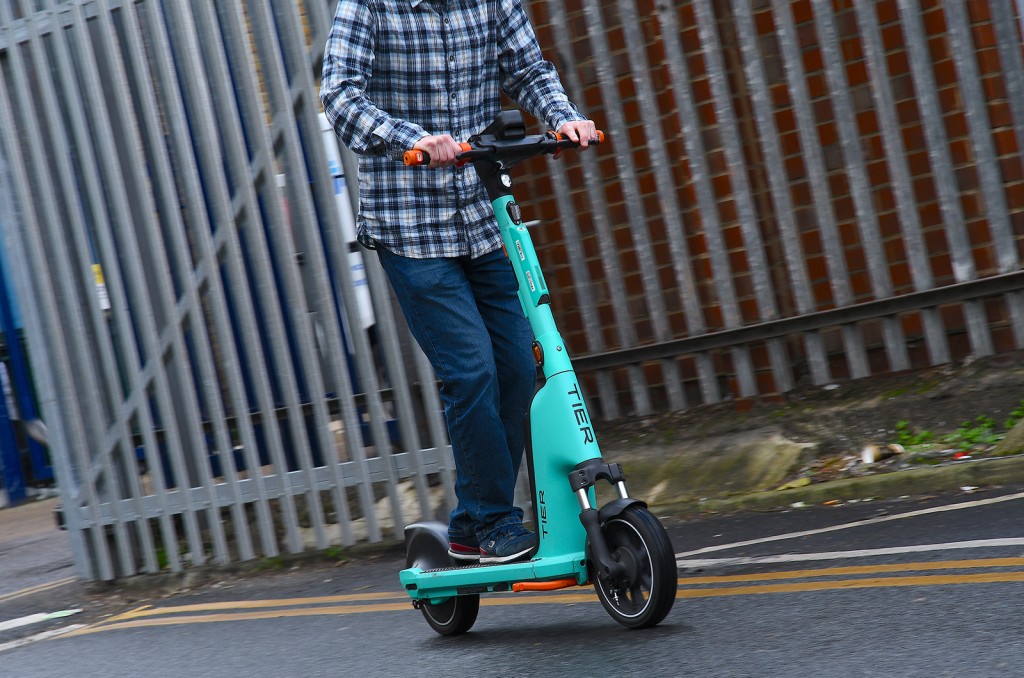 Let's be honest: if you're going to rent an e-scooter, you'll like take whichever machine you can find nearby. But from our brief outing, the Tier 6 will be a welcome upgrade when it arrives here. While it doesn't reinvent the e-scooter, it feels more stable and confidence-inspiring to ride, and is also easier and more intuitive to use.
READ MORE
Subscribe to the Move Electric newsletter
e-CARS
Chinese car brand Nio to expand into UK by end of 2023
Driving a Citroën Ami around London: five things we learned 
New Polestar 3: 380kW performance EV aims to 'redefine' the electric SUV
e-BIKES
Seven essential accessories to improve your e-bike life
The Lake District village that's pioneering community e-bike schemes
e-MOTORBIKES
Honda to launch more than 10 electric motorbikes by 2030
New Zero DSR/X launched as electric adventure motorbike
Stilride: the brand reinventing electric motorbike production
e-SCOOTERS
8Tev B12 Roam e-scooter review
Pure Electric launches two new machines that 'reinvent' the e-scooter
Rise in e-scooter accidents prompts call for 'urgent' government action
e-WORLD
Artemis electric ferry revealed for Bangor to Belfast service
New Mobilize Solo Concept is a safety-conscious e-scooter rival
Volta Zero: the electric truck tearing up the rule book for the electric age