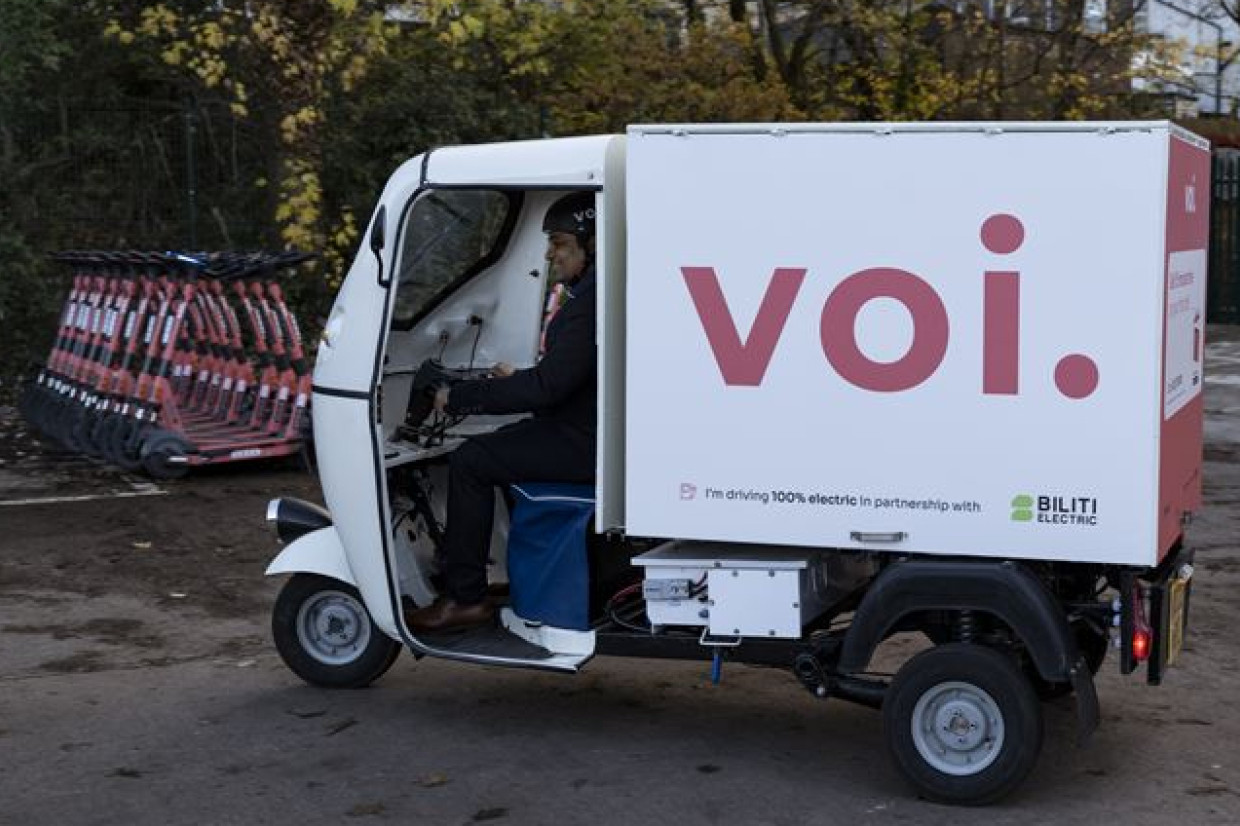 Rental e-scooter firm Voi Technology is trialling a new zero-emission way to service its machines in Bristol – an electric tuk-tuk.
The Swedish firm will use the three-wheel Biliti Taskman EV to carry out service tasks, including swapping batteries and general maintenance, on its e-scooters in the city. The machine will be integrated with Voi's existing fleet of support vehicles at its Bristol warehouse.
The Move Electric newsletter: sign up to get the latest e-mobility news
The tuk-tuk will initially be used for a four-month trial as a partnership between Voi and Biliti Electric, and will be focused on operations in the centre of Bristol where a Clean Air Zone recently came info force. The machine is claimed to save ten times the carbon emissions as a diesel van.
The Taskman EV tuk-tuk has a 7kW motor that gives it a top speed of 25mph, while a battery of 9.2kWh gives a range of around 75 miles. The machine also features swappable batteries, so it can be kept on the road with minimal downtime. It takes around 3.5 hours to charge the battery.
Are e-scooters legal in the UK? Move Electric's definitive guide
The machine has has a 2.8 cubic metre cargo box, and offers a payload of 680kg.  Voi claims that its small size and soft ride makes it ideal for navigating the steep streets and cobbled roads in Bristol. Oh, and if you spot the machine apparently there's a special offer shown on the back so you can get some e-scooter discounts.
Bristol is Voi's largest and most popular e-scooter scheme in the UK, with riders completing close to eight million journeys since it launched in 2020.
Emma Hughnes, Voi's UK partnerships manager, said: "While this is an unusual sight on the streets of the UK, we will be putting the Biliti Taskman tuk-tuk through its paces as part of our commitment to continually innovating and finding new solutions to improve our service without harming the environment."


READ MORE
Subscribe to the Move Electric newsletter
e-CARS
Ten electric cars we're excited for in 2023
Getting an EV sideways: how easy is it to drift a Kia EV6 GT?
Q&A: Jaguar Racing's Sam Bird and Mitch Evans on Formula E's new era
e-BIKES
Ten electric bikes we're excited for in 2023
Can you get fit using an electric bike?
e-MOTORBIKES
Ten electric motorbikes we're excited for in 2023
Super Soco TC Max electric motorbike review
Cake and Polestar team up for new special edition Makka e-motorbike
e-SCOOTERS
Planned laws to legalise private e-scooters face delay
Five key takeaways from the rental e-scooter trials report
Which train firms have banned e-scooters from their services?
e-WORLD
Move Electric's best features of 2022: lap records, tuk-tuks… and sausage rolls
Volvo Trucks keeps on electric trucking with three new models