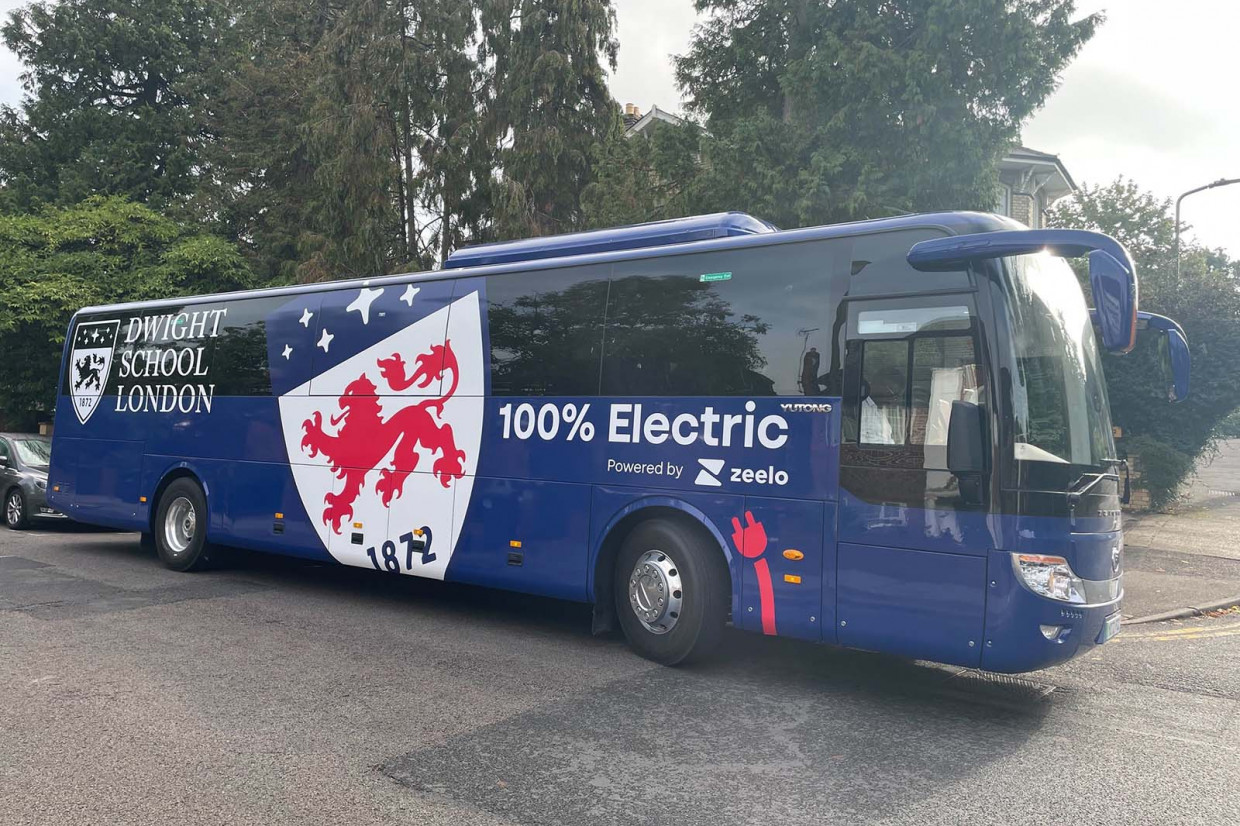 A school in London has launched a new electric bus service after partnering with global bus firm Zeelo - and it's already helped reduce CO2 emissions. 
Dwight School London will run an electric bus service for one of three routes serviced by Zeelo, to transport its pupils from home to school. 
Zeelo provides transportation services for over 1.8 million passengers per year on their daily commute to work and school across the UK, North America and South Africa. 
The north London-based school says it has opted to switch from petrol to electric buses to help reduce its annual carbon emissions from school transport by as much as 33%. 
Subscribe to the Move Electric newsletter
Zeelo has been providing smart bus services to Dwight School London since 2021 and claims to be the only transport company to offer 100% carbon neutral bus rides. 
The bus firm currently offsets the entirety of its CO2 emissions of all its bus services, with an average saving of more than 12,000 tonnes of CO2 per year. 
Dwight School London says that by switching to an 100% electric bus, it can save an extra three cubic tonnes of C02 emissions. 
How Alexander Dennis is leading the UK's electric bus charge
"As a school who takes pride in taking action for the betterment of the world, the electric bus will help make the world a greener place and signify to our students that the climate is something that is hugely important to us as a school," said Chris Beddows, head of Dwight School London.
Sam Ryan, CEO of Zeelo added, "We're delighted to support Dwight School London with their CO2 reduction plans by enabling the transition of their school transport services from diesel to electric vehicles and help pave the way for all our education customers to switch to a net-zero transport service."
READ MORE
Subscribe to the Move Electric newsletter
e-CARS
Video: Can the National Grid cope with a surge in electric vehicles?
e-BIKES
What to look for when buying an e-bike: Move Electric's top tips
The rise of Volt Bikes: 'when we launched, people thought we were mad'
e-MOTORBIKES
Maeving RM1 electric motorbike review
Q&A: Zapp founder on why electric mopeds are the future
Government plans 2035 ban on new non-zero emission motorbike sales
e-SCOOTERS
Tier to upgrade e-scooter fleet with a smart 'Parrot'
Q&A: Neuron Mobility's UK boss on e-scooters, safety and helmet selfies
e-WORLD
Polestar to supply battery tech to electric boat firm Candela
Engineering giant ABB working on electric Dover-Calais ferry