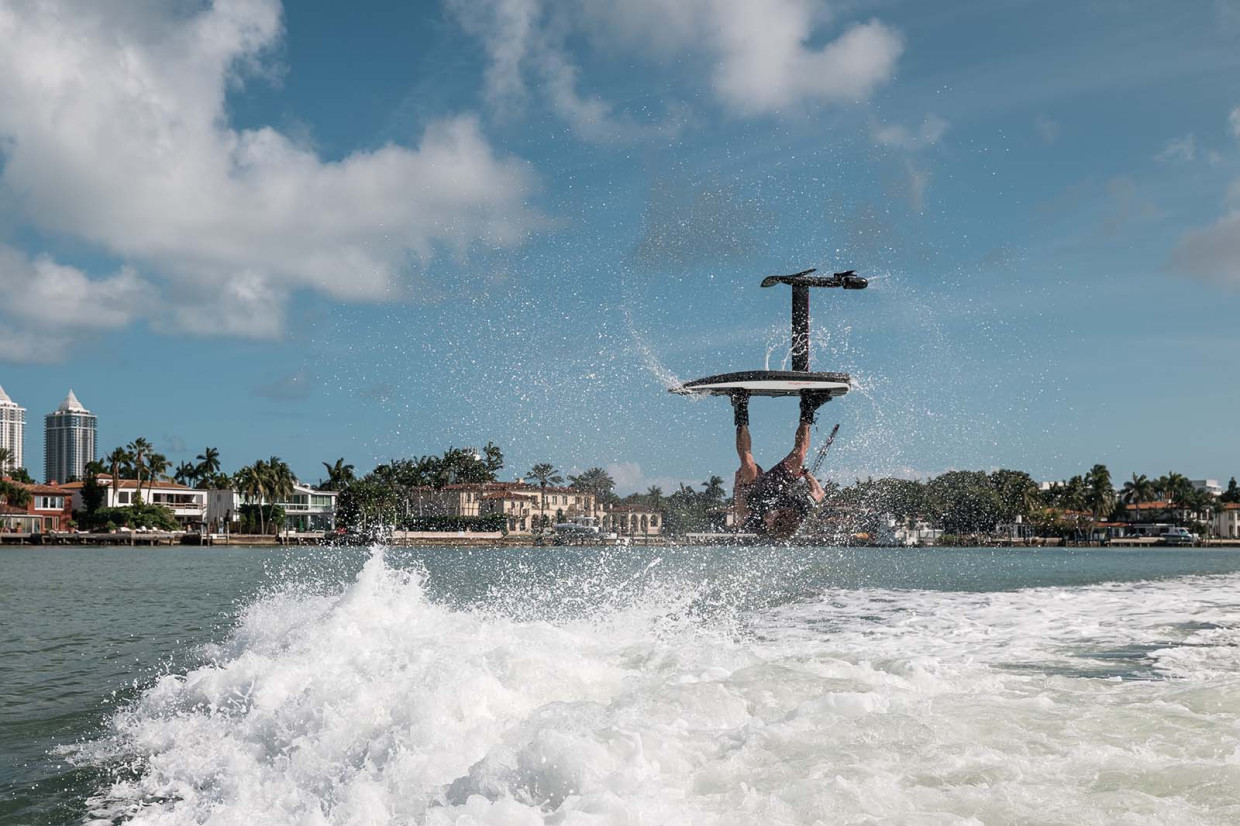 Electric mobility has provided us with some pretty cool stunts and record attempts over the years. 
But none of them are quite as cool as the feat pulled off by pro surfer Flo Garbaccio, who successfully landed the world's first electric hydrofoil surfboard backflip. And the good news is it was all caught on camera. 
Using an Awake Vinga S eFoil, the pro surfer was able to complete a full back-rotation while the board was foiling above the water. 
The Awake team filmed the stunt for the brand's next 'S movie' in Miami: the film features extreme athletes pushing surfing to the limit. 
Commenting on the stunt, Garbaccion said: " "I took slightly too much speed before the jump, so I was late sending the rotation, so I tried to spin fast.
"When I felt the board passing over my head with lots of motion, I kept my body fully compressed until I could see the landing point."
The Vinga S eFoil is short and compact which allows for maximum freedom on water, with efficient linear jet propulsion providing "unmatched power", according to Awake.
"This is a big step for eFoiling as a sport, the backflip is one the most iconic manoeuvres in any extreme sport, and it opens the door for many other air tricks," said Awake co-founder, Mikael Kajbring. 
"Both the sport and the machines have now reached such a level of performance that it triggers the most skilled riders around the globe." 
READ MORE
Subscribe to the Move Electric newsletter
e-CARS
What is a heat pump and how do they benefit electric cars?
Bold new Volkswagen ID 2all previews sub-£22,000 electric car
e-BIKES
Ten electric bikes we're excited for in 2023
Nine ways to keep your e-bike safe
E-bike theft: how common is it and what can you do to protect your e-bike?
Haibike AllMtn CF 6 e-bike review
e-MOTORBIKES
10 electric motorbike start-ups you should watch out for
Energica e-motorbike to take on all-comers in US racing series
Ducati: How the Italian motorbike brand is gearing up for the electric era
e-SCOOTERS
Planned laws to legalise private e-scooters face delay
Leading e-scooter firms team up on best-practice guide for cities
Ambiguity over e-scooter legality causing 'confusion', says police chief
e-WORLD
Solar panels: 8 ways the sun can power your electric life
First ride: Lunaz Upcycled Electric Vehicle bin lorry
AutoFlight secures huge order for Prosperity 1 eVTOL craft