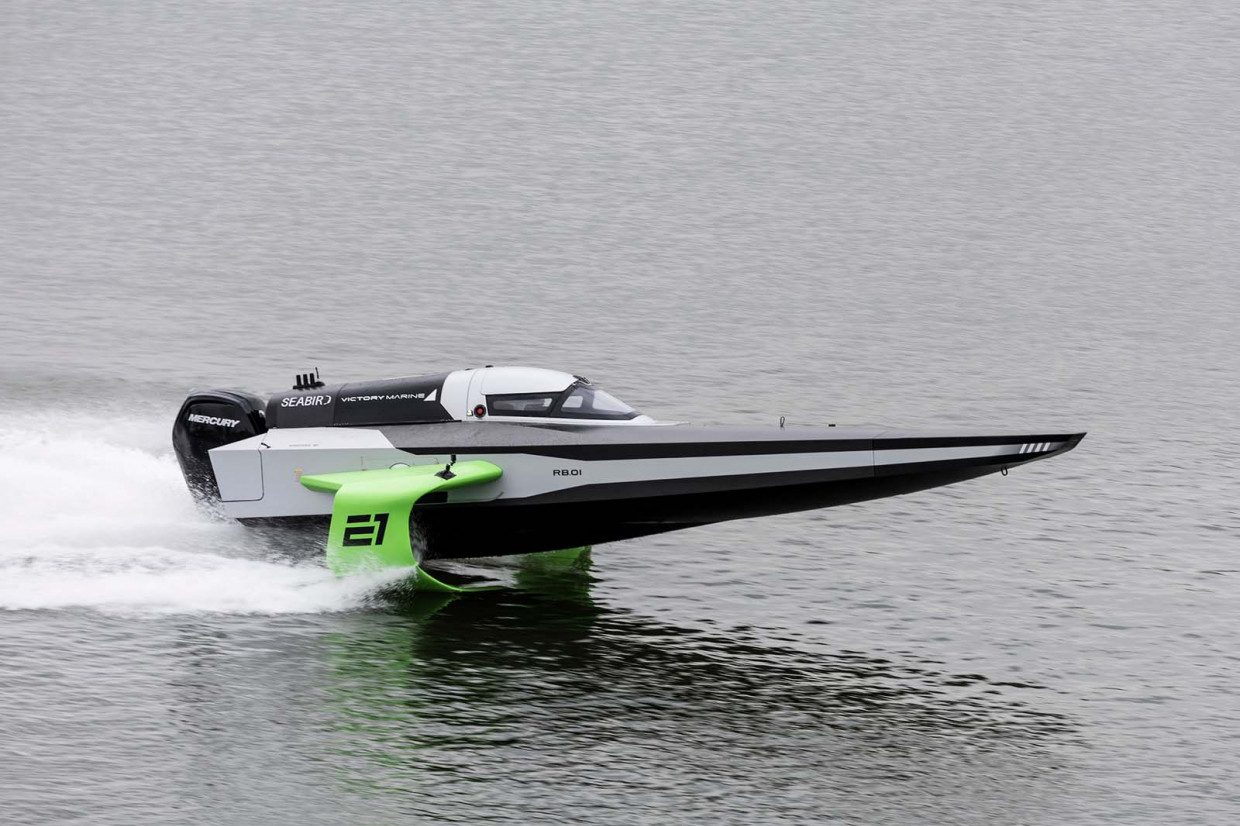 Automotive technology firm McLaren Applied has teamed up with the E1 Series to supply teams with telemetry and data viewing software for electric Racebird boats.
McLaren Applied's data analysis tools will allow engineers from E1 and Seabird Technologies to view and analyse live and recorded data from the raceboats. 
The data analysis tools, which include ATLAS, System Monitor and McLaren Control Toolbox, will all be supplied by the British firm and will be available to all teams in the championship. 
The E1 series features 12 teams all running the striking new RaceBird, a hydrofoil electric boat featuring a Kreisel Electric-built 150kW powertrain that is paired with a 35kWh battery. 
The RaceBird can achieve a top speed of 50 knots and thanks to its hydrofoil design, it is able to rise above the water to boost efficiency. 
McLaren Applied says the E1 teams will utilise the data viewing software at test sessions and race events to better understand the performance of their racing boat. 
The firm will also supply teams with a tool that will allow them to have influence on specific elements of the boat, such as throttle mapping. 
McLaren Applied uses technology from F1 and the car makers Racing and Automotive divisions and applies them to new areas. 
By partnering with E1, McLaren Applied has expanded its portfolio into the marine sector for the first time. 
"Having worked as Motorsport Business Director at McLaren Applied in the past, I know the tools and software they provide will be to the highest standard and will offer teams valuable insight," said Rodi Basso, co-founder and CEO of E1. 
"The data will not only be used to extract the maximum performance and monitor safety, but it will also be used to show real-time information to fans trackside or watching at home."
The inaugural season of the E1 series is set to commence later this year, with tennis legend Rafael Nadal and Formula 1 star Sergio Perez both entering teams into the championship. 
READ MORE
Subscribe to the Move Electric newsletter
e-CARS
Ten electric cars we're excited for in 2023
Getting an EV sideways: how easy is it to drift a Kia EV6 GT?
Q&A: Jaguar Racing's Sam Bird and Mitch Evans on Formula E's new era
e-BIKES
Ten electric bikes we're excited for in 2023
Can you get fit using an electric bike?
e-MOTORBIKES
Ten electric motorbikes we're excited for in 2023
Super Soco TC Max electric motorbike review
Cake and Polestar team up for new special edition Makka e-motorbike
e-SCOOTERS
Planned laws to legalise private e-scooters face delay
Five key takeaways from the rental e-scooter trials report
Which train firms have banned e-scooters from their services?
e-WORLD
Move Electric's best features of 2022: lap records, tuk-tuks… and sausage rolls
Volvo Trucks keeps on electric trucking with three new models