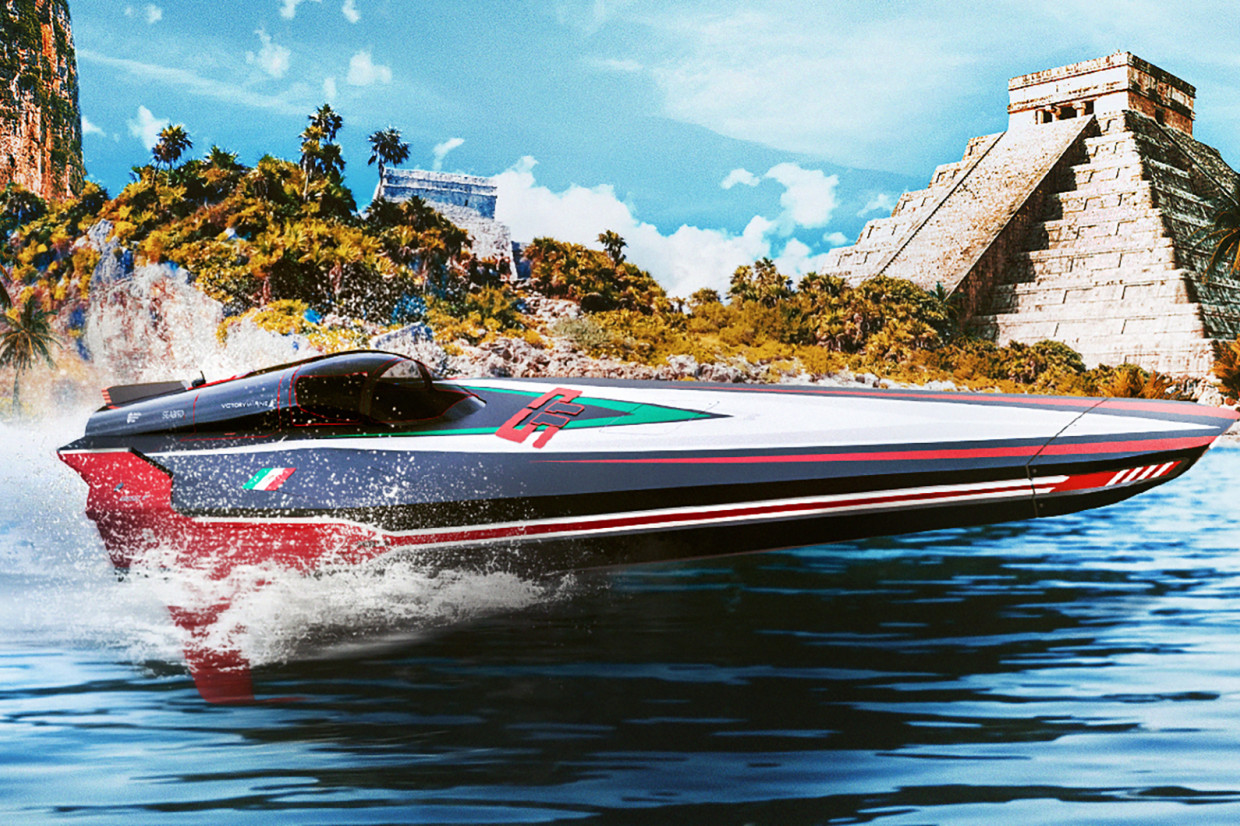 Formula 1 race winner Sergio Perez is turning to electric motorsport – but not on dry land. Instead, the Mexican will enter a team in the new UIM E1 World Championship, the world's first series for electric racing boats.
The Red Bull driver, who has taken three career victories in F1, will enter a squad under the banner of Team Mexico in the inaugural season of the series next year.
The E1 series will feature 12 teams all running the new RaceBird, a hydrofoil electric boat featuring a Kreisel Electric-built powertrain offering 150kW from a 35kWh battery. The machine is seven metres long and will have a speed of 50 knots – equivalent to around 57mph. The hydrofoil design means it will lift out of the water to boost efficiency.
Perez is the latest in a string of current and former Formula 1 drivers to turn to team management in an all-electric series: world champions Lewis Hamilton, Jenson Button and Nico Rosberg all field teams in the Extreme E off-road SUV championship.
Alejandro Agag, who developed both Formula E and Extreme E, is one of the brains behind the E1 World Championship, and all has a link to Perez: the Mexican drove for Agag's Barwa Addax dream in the 2010 GP2 Series. 
"Seeing a racing team flying the flag for Mexico on a global stage will be amazing and I cannot wait to watch the RaceBird in action for the first time," said Perez.
Team Mexico will join Team Venice on the grid for 2023. Rodi Basso, who founded E1 along with Agag, said they were holding "conversations with multiple other prospective teams looking to enter E1."
He added: "Given we'll have a team on the grid affiliated to Mexico, we're also going to explore the possibility of bringing an E1 event to Mexico in the near future."
READ MORE
Subscribe to the Move Electric newsletter
e-CARS
UK charging networks: complete guide to every provider
New Cupra UrbanRebel is a bold EV supermini with 273-mile range
e-BIKES
10 fun things to try on an electric bike
Living with a Gocycle G4: how easy is it to adjust to?
e-MOTORBIKES
Seat Mó eScooter 125 UK review
How to do a CBT on an electric motorbike
Energica unveils new Experia electric tourer motorbike
e-SCOOTERS
Are e-scooters legal in the UK?
Private e-scooter rules 'cannot simply copy' rental regulations
Superpedestrian's European boss on why e-scooters are for everyone
e-WORLD
New Candela P-12 Shuttle to arrive as first electric 'flying' ferry
Pipistrel Velis Electro: meet the first certified electric plane