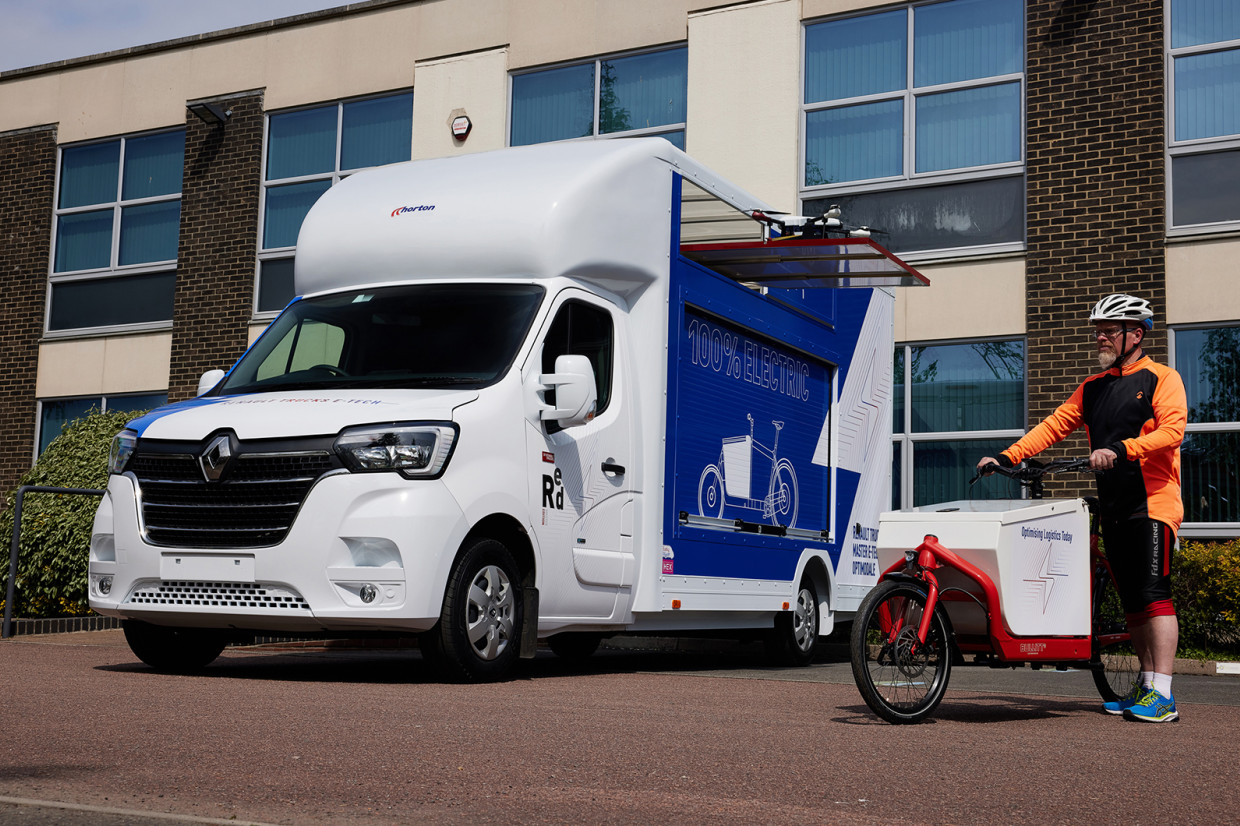 Renault Trucks has unveiled a new E-Tech Master OptiModale machine concept that offers a triple-header of electric delivery delights – it combines a van, a cargo e-bike and a parcel-carrying drone.
Yes, it's basically The Avengers of the delivery world, aiming to combine the strengths of three disparate transport forms into one compelling package.
The machine has been produced by Renault Trucks (which is owned by Volvo Group and no longer linked to the Renault car brand) to showcase a 'multimodal' solution for last-mile deliveries that could help to reduce congestion and pollution in urban areas. It features an eBullitt cargo e-bike and a Uvatek drone.
The 'mothership' of the E-Tech Master OptiModale is a 3.5-tonne long wheelbase L3H1 E-Tech Master van, fitted with a Low Loader Luton body produced by Horton Commercials. Based on the platform cab version of the truck, it is powered by a 33kWh battery – a 52kWh version is also available – for a range of around 80 miles.
The E-Tech Master is powered by the 57kW R75 electric motor that's also used in the Renault Zoe. The 4100mm low loader body has been honed for parcel delivery, with folding shelving – and storage compartments for both the bike and drone.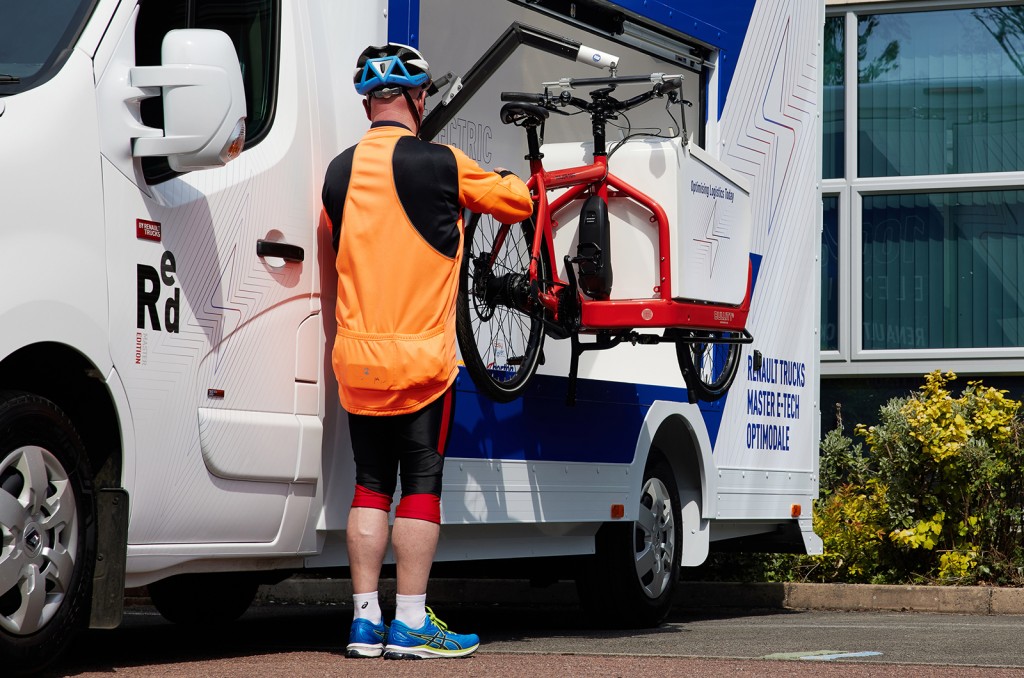 The eBullitt bike can carry up to 100kg of parcels, and is equipped with a Shimano e-system which can offer electrical pedal assist for a range of 31 miles. The battery can be removed and charged in the van, with a full charge from empty taking four hours.
Stored above the bike, the Uvatek heli-drone can carry loads up to 2kg in weight. Renault Trucks does not that drone flying is restricted in certain areas, but says the machine could be used for time-sensitive deliveries in countryside or across water.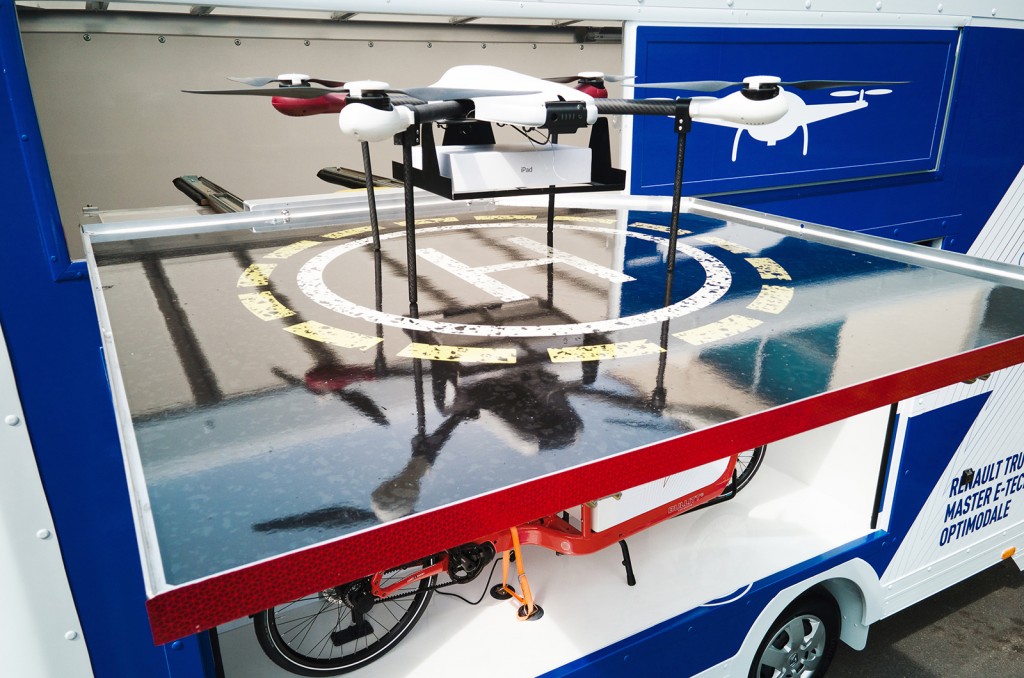 The E-Tech Master OptiModale is conceived as a two-person vehicle, allowing for one to make deliveries via a van, with the second making deliveries using the cargo bike in congested areas.
Graeme Neagus, Renault Trucks UK's head of LCV, said: "By harnessing multiple modes of electric transport, this is an all-in-one sustainable solution that is set to transform the rapidly growing parcel market, and can be replicated anywhere in the world.
"Optimodale delivers an innovative "last mile" solution and is a clear illustration of the breadth and depth of our thinking, providing Renault Trucks logistics customers with a sustainable solution from 2kg all the way up to 44 tonne."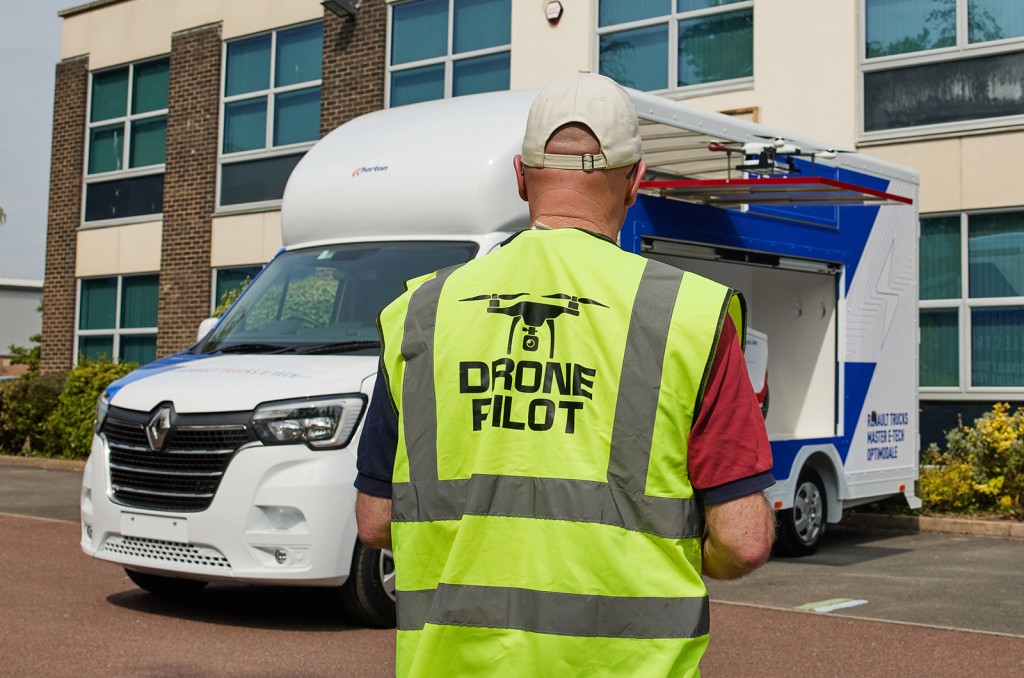 READ MORE
Subscribe to the Move Electric newsletter
e-CARS
New electric cars for 2022 and beyond: what's coming when
New BMW i7 unveiled as luxury electric saloon
e-BIKES
Best e-bikes for every category 2022
Moustache Samedi 28.7 e-bike review
e-MOTORBIKES
Yamaha Neo's electric scooter review
Cake launches new global electric motorbike race series 
e-SCOOTERS
Government set to announce plans to legalise private e-scooter use
New study finds e-scooters are five times safer than bikes
e-WORLD
World's first airport for flying taxis opens in UK