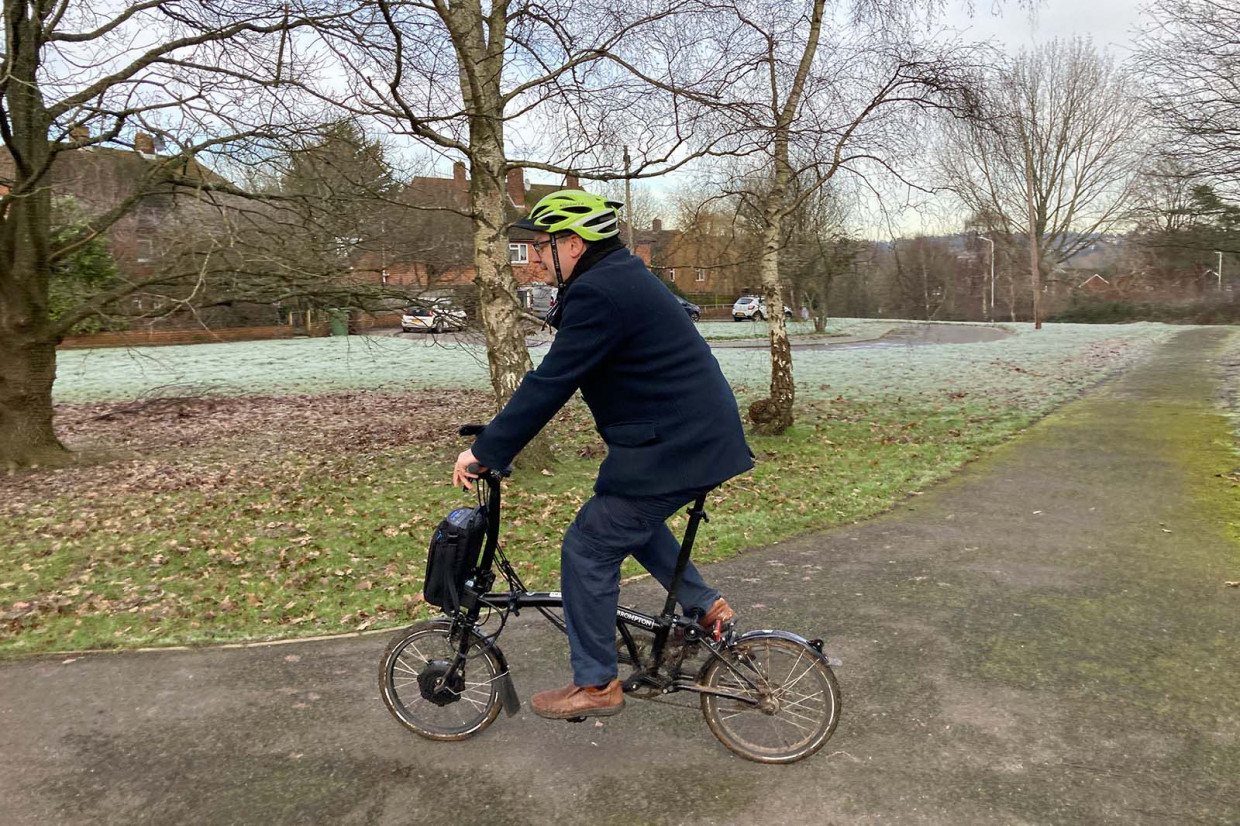 Move Electric rating: three-and-a-half stars out of five
What does it cost?
£2995 as tested
What is it? 
On paper, a steel-frame bike with a front wheel motor and rim brakes doesn't sound very premium, but there's no doubt that the Brompton Electric is aimed at a market that wants something more than an entry-level folding bike.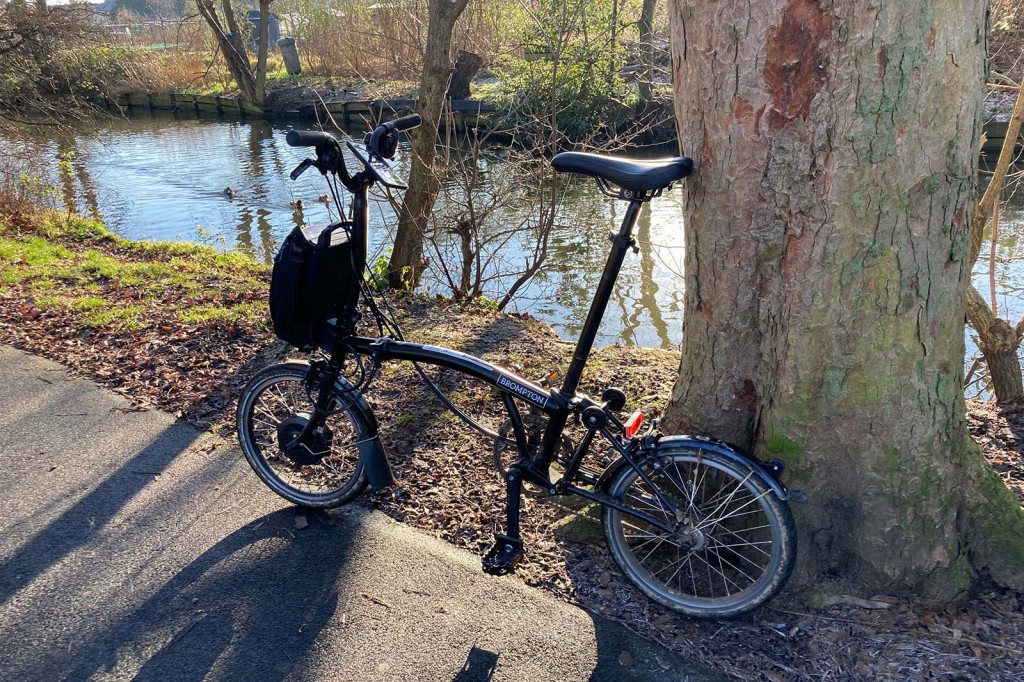 The bike we tested was a C-Line with the 'Explore' specification, which includes mudguards, pump and six gears. The gearing is achieved by coupling a Sturmey-Archer three speed hub to a double rear chainwheel and proprietary derailleur mechanism. It's an unconventional design, but it works well. 
In fact all of the non-electric parts of the bike worked well despite the lack of exotic materials, with the party piece being the folding mechanism. Unlike most machines of this type which are hinged to fold in half horizontally, the Brompton folds both horizontally and vertically with the rear wheel tucking under the bike in an arrangement known as the 'Di Blasi fold'. This makes for a much smaller package which can be stowed on trains without the other commuters hating you.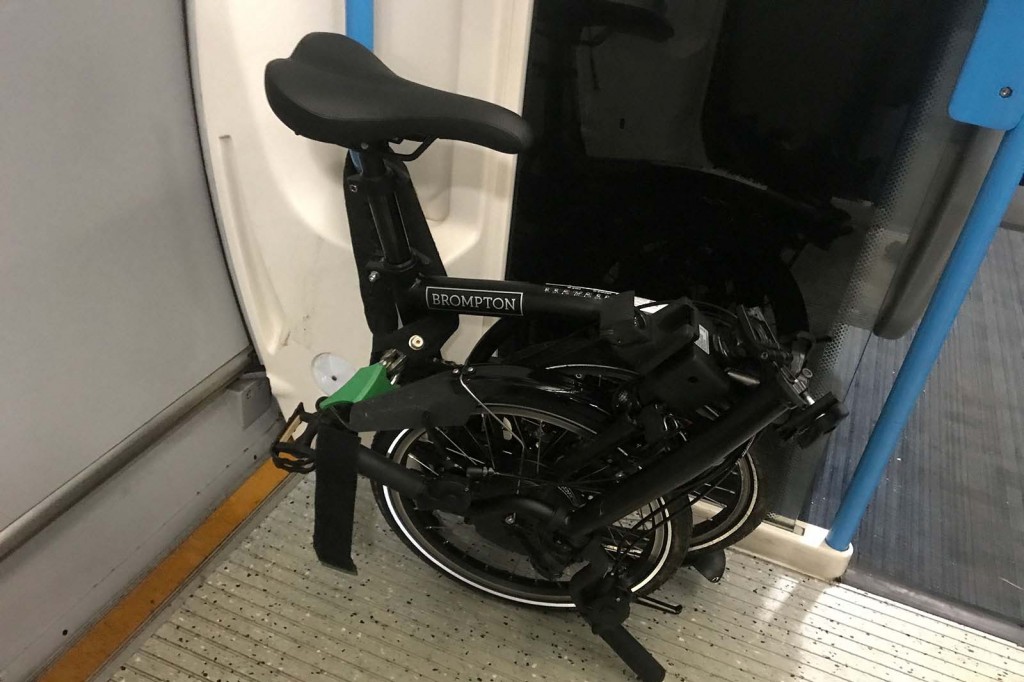 Once folded, the bike can be carried around with minimal hassle. Unlike many of its competitors, the various hinges and catches have been well thought out and the machine doesn't try to unfurl on you as you move it. Our test bike has been fitted with 'Eazy Wheels', which are a pair of casters on the rear frame that allow it to be trundled about while folded. These work well enough although if you need to go more than a couple of metres you'll find it easier just to unfold and wheel the machine. 
The cable-operated brakes are probably the weakest point of the Brompton, with the performance being best described as 'adequate' on the single-wall rims in the freezing perma-drizzle which was a feature throughout our testing period.  Nonetheless, they did stop the bike without making too much noise and they did not need any adjustment during our test. Also, if I was ordering this bike I'd probably upgrade to a Brooks saddle and matching leather grips as I didn't find the stock items very comfortable, although that is a personal preference.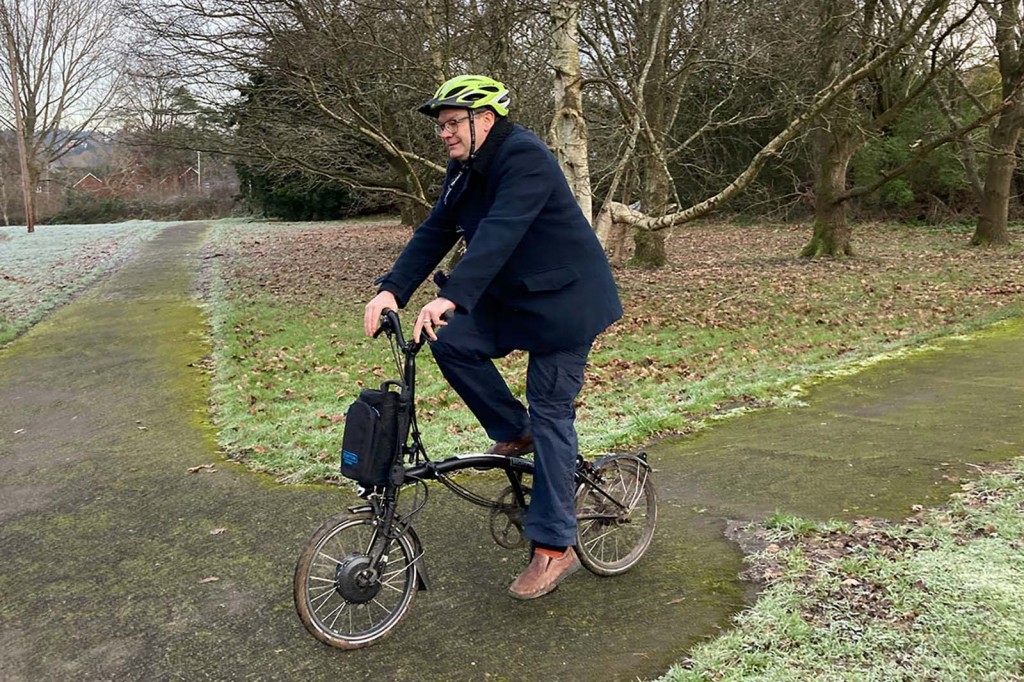 Other Brompton owners will tell you that you don't need to lock the bike up as it can be taken with you wherever you go. We think this is a bit of a stretch as the package weighs around 17.4kg and with the battery pack detached, both of your hands are busy. 
Another USP is something we don't normally talk about in relation to bikes – depreciation. Most bikes have very little value after a few years, but Bromptons of all types have much better residuals. Indeed, it is not uncommon to see non-electric Bromptons of all ages listed for sale close to what they would have originally cost new.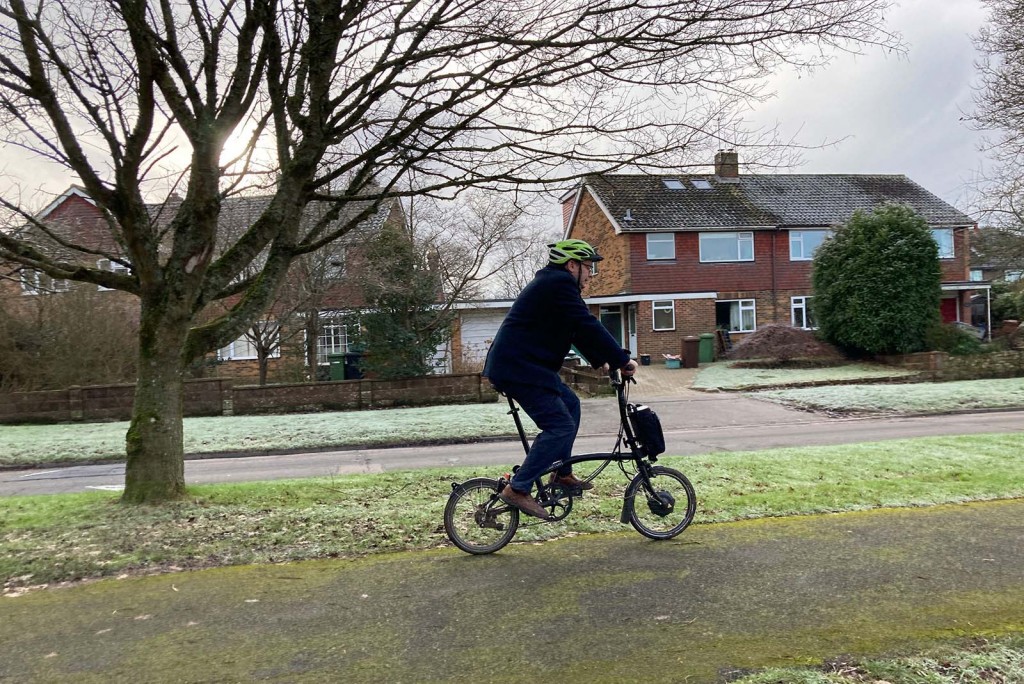 So far, so good, but the Brompton Electric isn't perfect. The main problem is the design of the battery. Uniquely, the power pack on this bike mounts on a bracket on the headtube which apart from looking inelegant and tying up the bracket from carrying anything else, meant that the bike can't be folded without removing it.
This means you then have two bulky objects to lug around with you rather than one. The battery itself is housed in a black nylon bag, with the control panel sticking out of the top, reminiscent of a military field radio. The mounting bracket itself is made of a hard plastic and if using the bike without the battery, it is important to slide a waterproof cover over the upward-facing electrical contacts.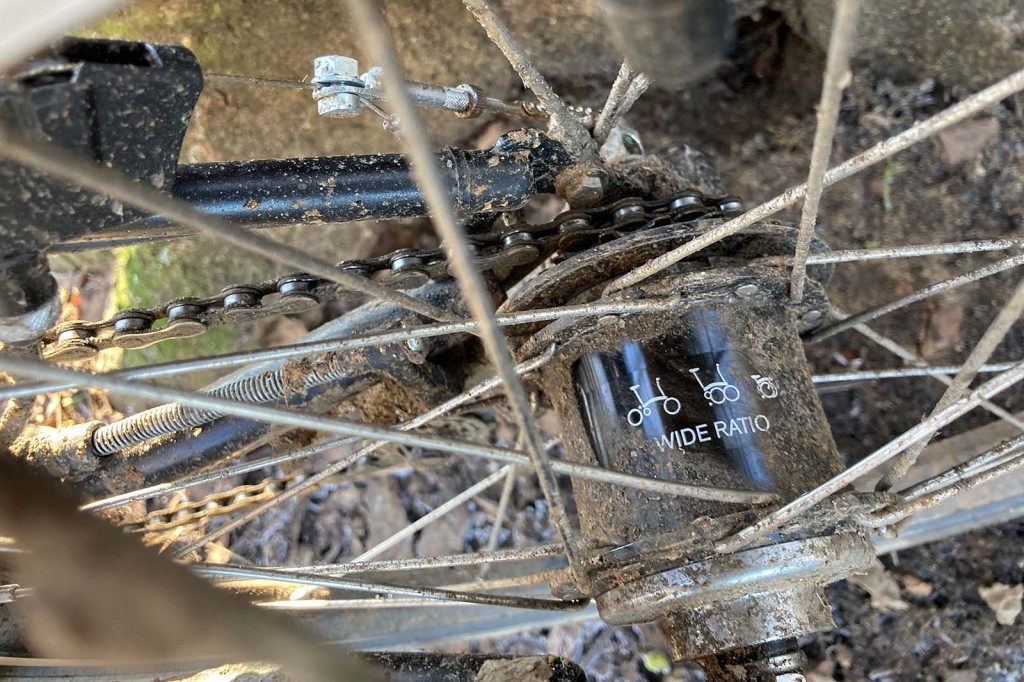 While it does work, it isn't the sort of solution we'd expect from a company famed for its clever engineering, and certainly not on a bike priced at a whisker under £3,000 in base spec. 
What is it like to ride? 
On the road, the bike feels pleasant to ride and I could certainly appreciate why so many commuters love the brand. It rained pretty much every day that we had the machine in for the test, but it felt more composed than you might expect from the small 16" wheels.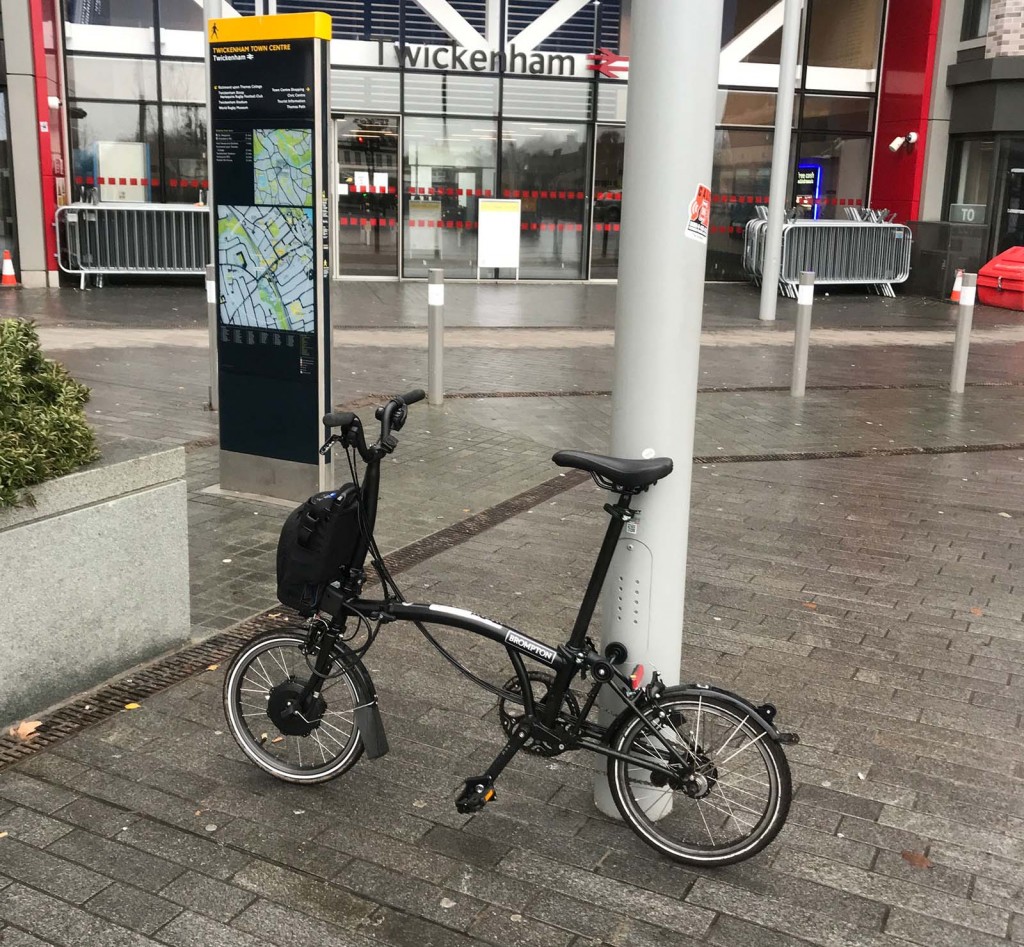 A lot of electric bikes use a cadence sensor to determine if the cranks are turning and therefore if any drive should be sent to the motor. Brompton Electric uses a more expensive torque sensor in the bottom bracket to work out not only if the cranks are turning but how hard the rider is pedalling before engaging the motor.
This is wise; If you have ever ridden a front-motor e-bike you'll probably know how easy it is to provoke wheelspin, but on the Brompton the torque sensor all but eliminates this and delivered the power so smoothly while riding, you could be forgiven for thinking that you had somehow grown longer legs . The motor itself is of Brompton's own design and specification and while not silent, is quiet and not 'whiney'. In fact, I noticed the various clicks and ticks from the gear pawls in the Sturmey hub far more than the motor.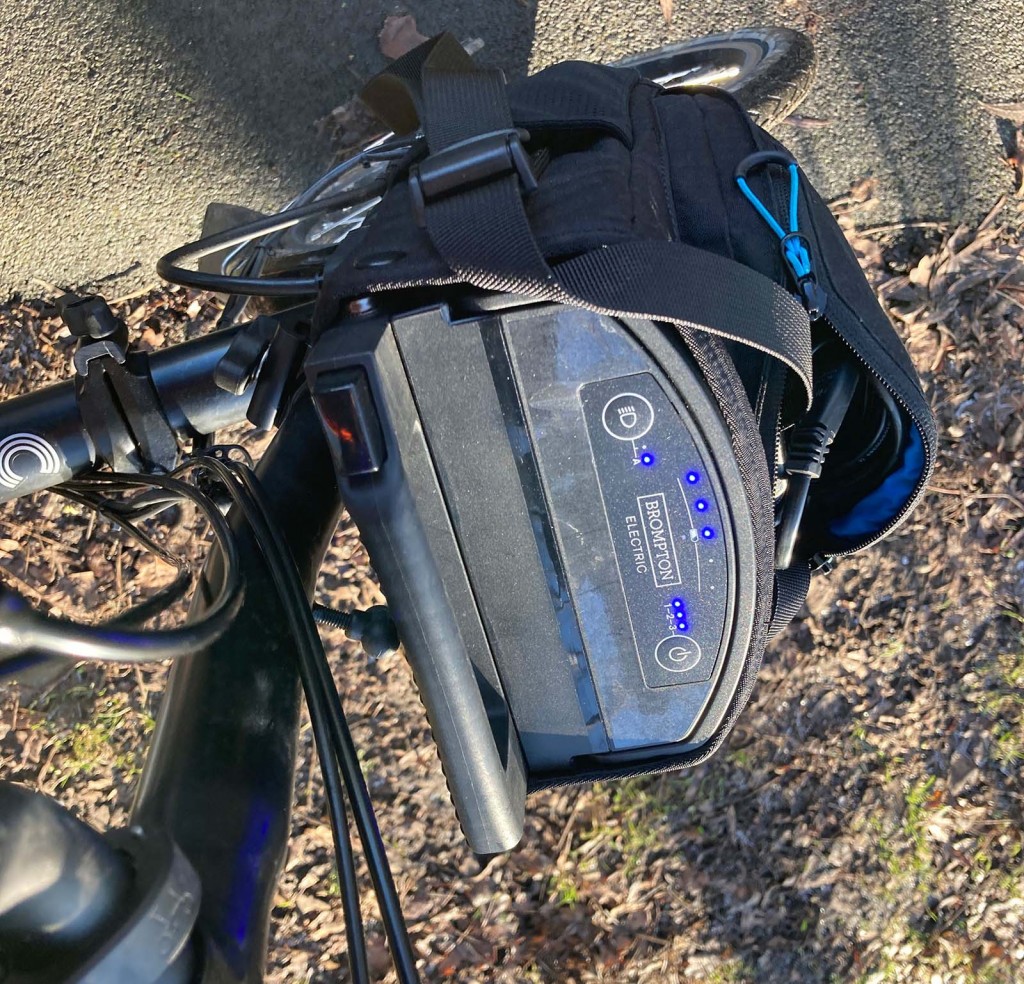 The bike has just three power settings, but this never seemed inadequate. Unlike most e-bikes which have a controller on the handlebars, the Brompton has its power, mode and light switch mounted on the top of the battery, although you can also control the settings on the phone app (when not riding of course). 
On that, you don't need the app to ride the bike, but it is useful as there is no physical display beyond the battery, power and 'lights on' indicators on the battery. The app 'dashboard' includes a speedometer, trip stats and an odometer (which is gamified in that it gives you 'trophies' for completing certain distances). There's a Quad Lock on the handlebar stem to keep your handset secured, which works very well, although I couldn't help thinking that a smartphone mounted in full view on an already expensive bike could make riding the backstreets at night more of a risk.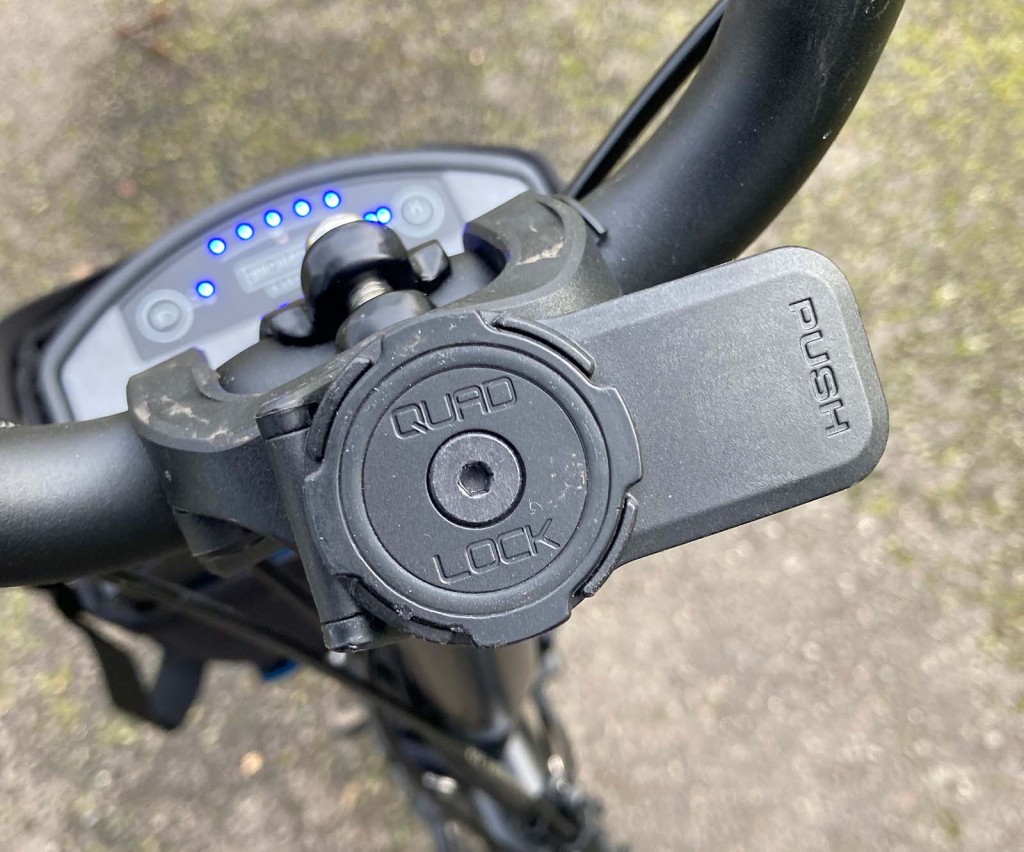 Verdict
As a regular push bike, the Brompton is king of the folders. The neatness of the compacted machine coupled with a pleasant ride when unfurled justifies its premium price tag. The issue really comes with the way in which the bike has been 'electrified'.
While putting the motor in the front wheel is less of an issue than you might expect, the inelegant battery design and lack of bike-mounted controls makes the whole package feel more like a conversion kit rather than a purpose-built e-bike. It's a shame, because if the main frame had been redesigned slightly to accommodate the power pack then the Brompton electric would have been a winner. 
Greg Whitaker
Bromton Electric C-Line
Cost
£2995
Frame size tested
One size
Weight of bike
14.5 kg (17.4 kg total with battery) 
Groupset
Brompton Six-speed (2 x 3 speed) derailleur/hub gear combination, 300% range
Brompton 2 and 3 speed Trigger shifters
Wheels/tyres
349 x 35C Schwalbe Marathon Racer. Puncture resistant, reflective sidewall
Motor
250W Brushless DC motor 
Battery
300Wh 36V with LED display. 5V 1.5A USB port to charge portable devices. 2A charger
Mileage range
Around 40 miles (70km)
Assistance levels
Three
Charge time
Four hours
Included extras
Lights`
Pannier
Mud guards
READ MORE
Subscribe to the Move Electric newsletter
e-CARS
Ten electric cars we're excited for in 2023
Getting an EV sideways: how easy is it to drift a Kia EV6 GT?
Q&A: Jaguar Racing's Sam Bird and Mitch Evans on Formula E's new era
e-BIKES
Ten electric bikes we're excited for in 2023
Can you get fit using an electric bike?
e-MOTORBIKES
Ten electric motorbikes we're excited for in 2023
Super Soco TC Max electric motorbike review
Cake and Polestar team up for new special edition Makka e-motorbike
e-SCOOTERS
Planned laws to legalise private e-scooters face delay
Five key takeaways from the rental e-scooter trials report
Which train firms have banned e-scooters from their services?
e-WORLD
Move Electric's best features of 2022: lap records, tuk-tuks… and sausage rolls
Volvo Trucks keeps on electric trucking with three new models