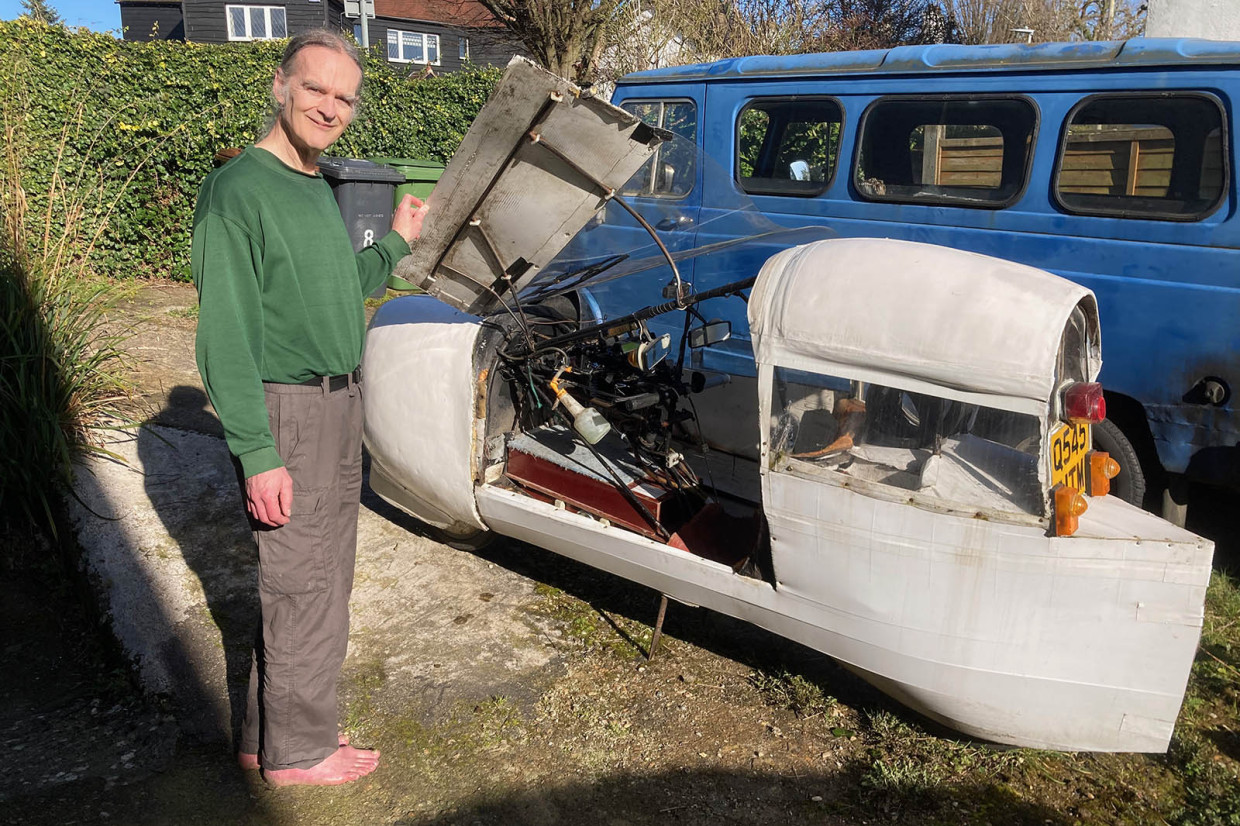 "I worry that as EV batteries become better at storing energy, manufacturers will devote less time to making electric motors more efficient and designers to making their cars more aerodynamic."
Cedric Lynch, inventor of the Lynch Motor, a highly efficient axial flux electric motor, is as engaged by the challenges and opportunities of electric mobility today as he was when, as a boy, he built simple electric motors with the help of a Ladybird book on the subject.
I've met him at his home in Hertfordshire where, with his quiet intensity, ponytail, loose attire and bare feet he seems every inch the inventor from central casting, an impression confirmed when I set eyes on his daily transport: an enclosed electric motorcycle.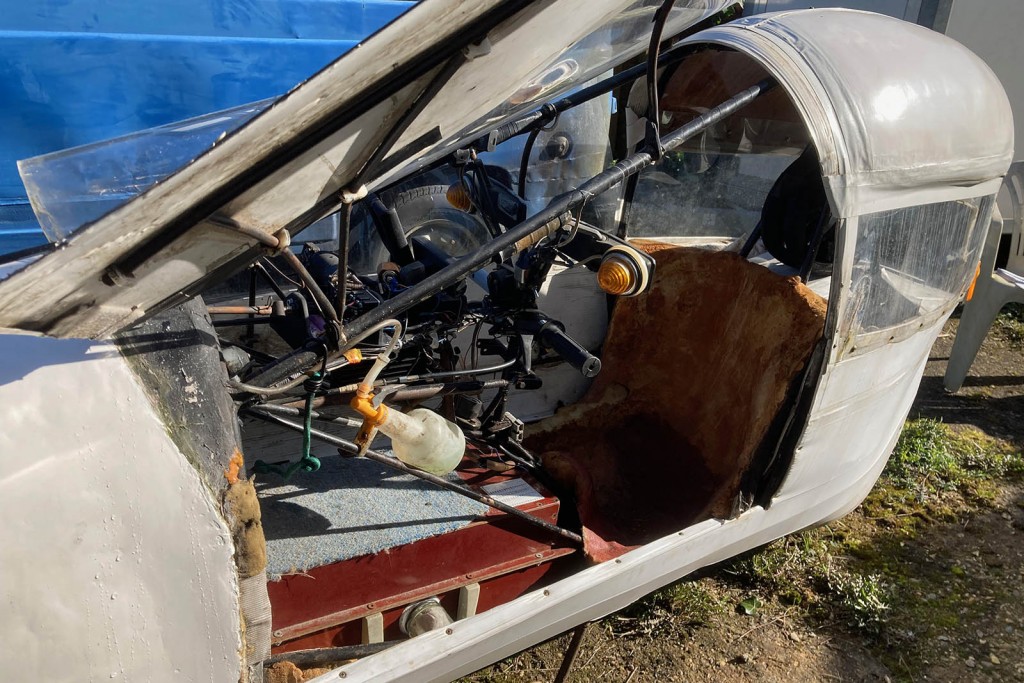 Cedric designed and built it in 1991 for a competition and has covered 100,000 miles in it. It's sculpted from hand-painted laminate sheeting folded over a tubular-steel spaceframe. The nose, which features a central headlight and is removable, rises to a hinged, Perspex canopy swept by a single wiperblade. This extends over the rider to a stubby rear section with a boat-like lower half. The wheels, which are shod with narrow tyres and fitted with covers to reduce drag, are not visible, giving the bike the appearance of a sleek, if crudely fashioned, projectile.
"The bike requires only 2hp to do 60mph, precisely because it is so streamlined," says Cedric. "Of today's electric car makers only Tesla appears to appreciate the benefits of streamlining in terms of improving range and efficiency."
The bike's complex power electronics feature a tightly wrapped bundle of 58 capacitors looking for all the world like AA batteries. At the base of the bike is a toughened case containing the bike's 13kWh battery, comprising 742 lithium-ion cells. On one side of the case are 14 red lights that glow red when the groups of cells connected to each one are at four volts. The bike has a range of 500 miles. 
It's powered by an Agni Motor, in reality a version of the revolutionary axial flux motor that Cedric designed and built almost 40 years ago and which is now produced by the India-based company of the same name owned by his long-time friend Arvind Rabadia. It's mounted on the bike's rear swingarm and turns the road wheel via a toothed rubber belt.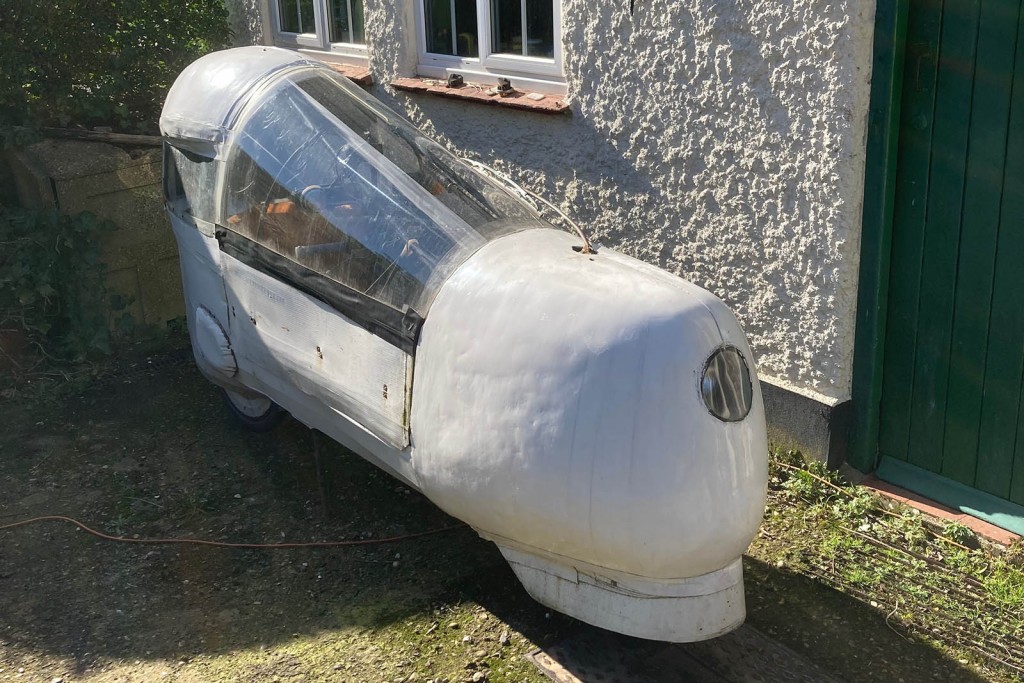 In an axial flux motor the magnetism flows in a direction parallel to the rotating shaft. It's one of the earliest known designs of electric motor but by the 1960s development had stalled until in 1983 Cedric decided to make his own. In so doing he made a couple of key breakthroughs. 
The first was when he realised he could make copper the structure of the armature and second, when he discovered that having identical magnets on each side of the armature would allow the magnetism to pass through uninterrupted rather than, in the case of dissimilar magnets, being turned back and retarding the rotation.
Another big step forward was when he acquired some grain-oriented steel for use in the armature that resulted in less energy being lost during the rapid cycles of magnetism and demagnetism. The result of these breakthroughs was a more powerful electric motor with reduced friction losses and offering a lower rotational speed for a given winding – in short, one offering twice the torque but at half the speed.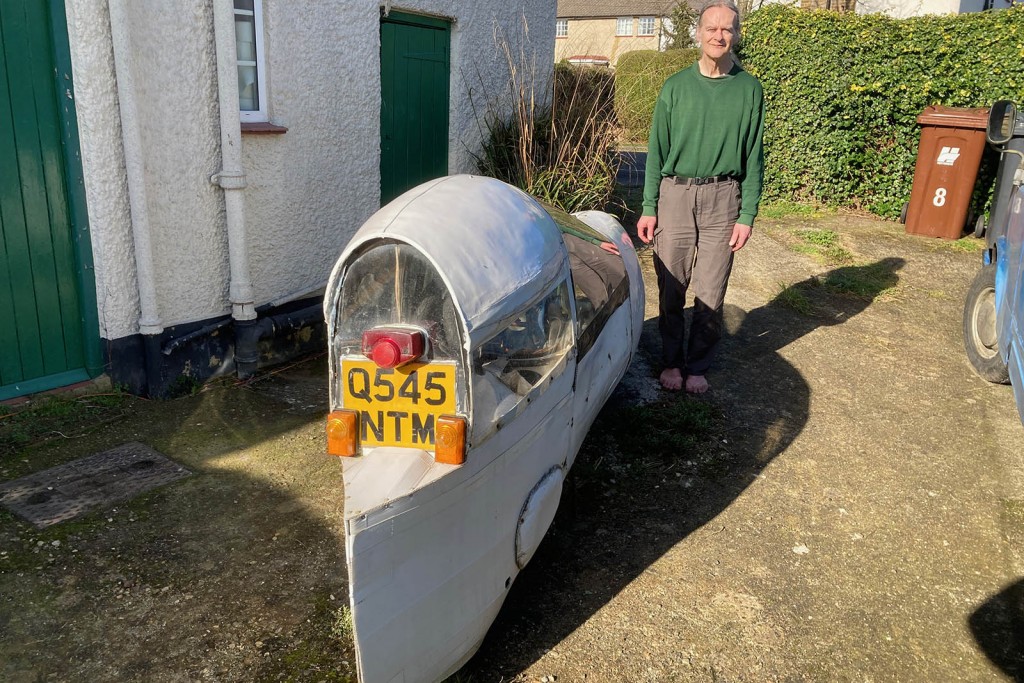 It's an amazing story which is why I'm astonished when Cedric drops the bombshell that he is entirely self-taught. He walked out of school at the age of 12, he says, after a teacher disciplined him for picking up an empty milk bottle from the playground and returning it to the crate. "It was against school rules. One blow on the whistle and you had to stop whatever you were doing and fall in line. I saw the bottle and thought it sensible to pick it up."  
His parents (during the Second World War, his father helped to build Colossus, the world's first electronic, programmable computer that was invaluable to the code breakers at Bletchley Park) vainly tried to persuade Cedric to return but he was having too much fun making electric motors.
Aged 19 he enrolled on a mechanical engineering crafts course at Welwyn Garden City College where he learned to use lathes and to machine parts. Three years later he spotted an appeal for young engineers to compete in electrical parts company Lucas's 'How far can you go' competition for battery-powered vehicles.
"I designed and built an electric motor out of the metal from baked bean tins," recalls Cedric. "I travelled just over 50 miles in it and finished second out of 50 competitors."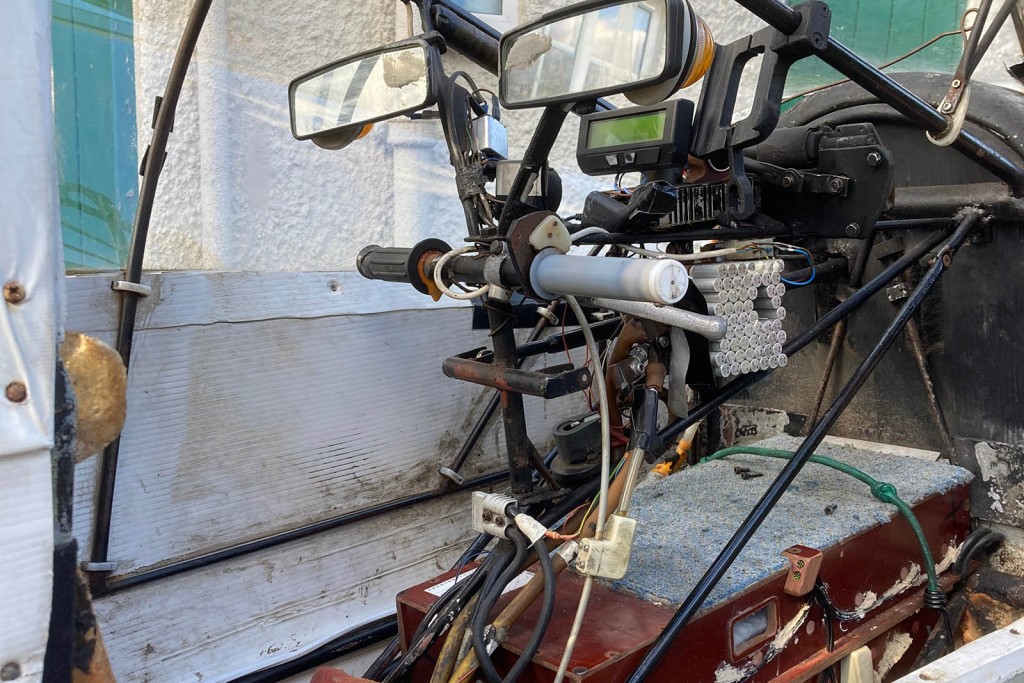 Soon after, he joined the Battery Vehicle Society, whose races he would win multiple times in the 1980s and 90s, while earning money repairing motorcycles and domestic appliances. He also worked part-time in a newsagents where, in one of life's quirks of fate, one of the newspaper delivery boys was a 10-year-old Arvind Rabadia, later to become a close friend and pivotal figure in his life. 
In 1984, after Cedric finished designing and creating his axial flux motor – what he called the Lynch Motor – he approached the London Innovation Network for development support. It accepted his proposal and also arranged small-scale production. An early triumph was the use of Cedric's motors in a successful record attempt by the Countess of Arran who, piloting her boat, a 15ft hydroplane called The Spark, achieved a maximum speed of 50.825mph.
Following LIN's eventual abolition, Cedric helped form a company to build his motor but after a dispute, in 2002 left to work with his old newsagent co-worker Arvind Rabadia, now a budding entrepreneur with an interest in electronics. With Arvind's new company, Agni Motors, the pair began developing and manufacturing Cedric's motor for multiple applications ranging from student projects to auto rickshaws, karts to golf buggies, solar energy to agriculture.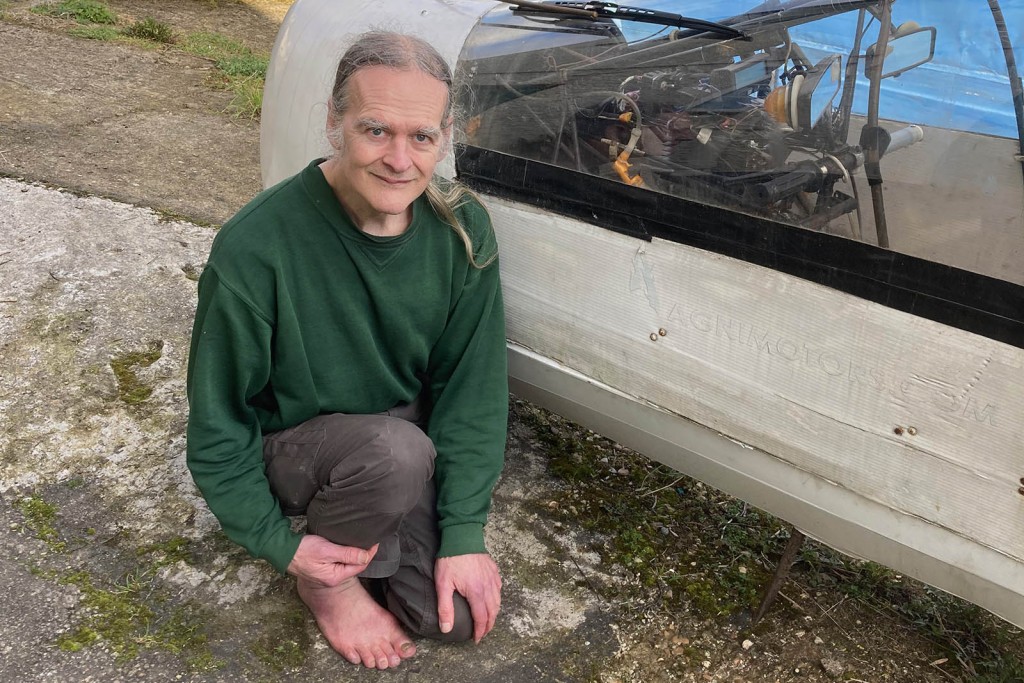 In 2009, the two friends enjoyed further success when they entered no less a competition than the Isle of Man TT; specifically, a new class for zero-emissions motorcycles called the Tourist Trophy eXtreme Grand Prix. Against 21 competitors from around the world, many of them motorcycle manufacturers, Team Agni, fielding a Suzuki GSX-R powered by two of Cedric's motors and ridden by Robert Barber, won hands down with a lap time of 25 minutes, 53.5 seconds and an average speed of 87.43mph.
Staying with motorcycles, the following year found them supplying many hundreds of motors to Zero Motorcycles while the US electric bike company developed its own motor.  
Forward to today and Cedric is looking forward to returning to India and resuming work with Arvind on developing plans to design and produce a new range of both smaller and larger motors as well as a new multi-phase motor.
Their customers include Formula Student race teams around the world, while in South Korea demand from students involved in research projects is strong and growing.
As we say our goodbyes and Cedric follows me back to my car, carefully picking his way over the gravel in his bare feet, I have nothing but admiration for this pioneer of electric mobility. It takes courage, intelligence and resilience to forge new paths but as Cedric proves, not necessarily a formal education.
John Evans
READ MORE
Subscribe to the Move Electric newsletter
e-CARS
New Volkswagen ID Buzz: everything you need to know
How efficient are electric cars?
e-BIKES
Ducati expands e-bike range with first racing machine
e-MOTORBIKES
New Yamaha Neo is Europe-bound '50cc equivalent' electric moped
Electric Motion Epure Race e-motorbike review
e-SCOOTERS
Eskuta KS-450 e-scooter review
Taito unveils innovative new three-wheeled electric scooter
e-WORLD
Electric surfboard firm Awake aims to make waves with first e-foil
Volta Zero electric truck can 'dramatically improve' inner-city road safety