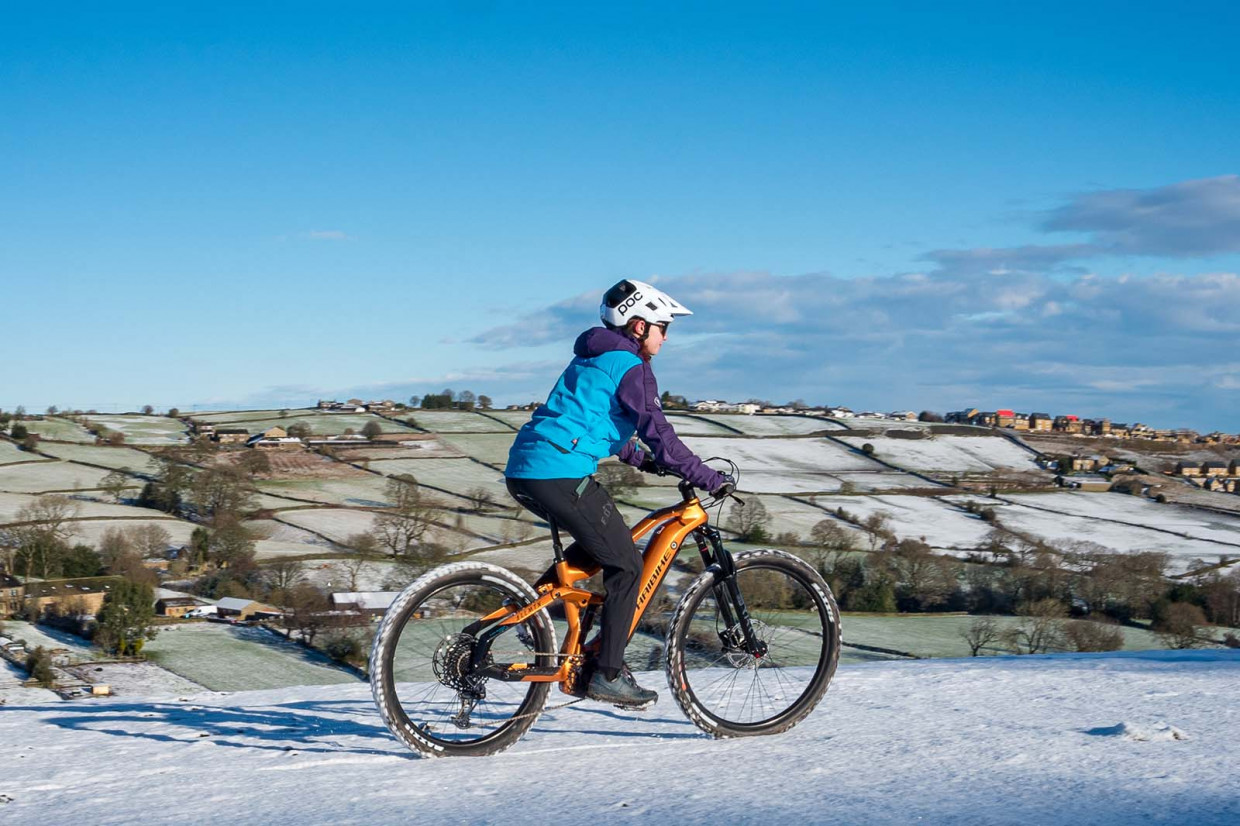 The temperatures have plummeted over recent weeks, with some of us even experiencing snow. While cold and wet conditions aren't ideal, it doesn't mean you have to stop riding – unless of course it's very cold and icy and the gritters haven't been out so the chances of sliding around are high (not that we're speaking from experience). 
We've put together some tips to help you keep your e-bike in top shape over the cold season, as well as yourself, the rider. It's not easy trying to convince yourself riding your bike is the best use of your time at this time of year, so we asked Jamie Burrow, head of product at Ribble Cycles and former professional cyclist, for his tips on how to keep your motivation high when the days are short. 
1. Look after your batteries
It's not quite the old, 'if you're cold, they're cold', saying, but in the cooler months it is a good idea to bring your bike indoors. Or if it has a detachable battery, bring that in on its own to take up less space, as Burrow explains.
"If you get to a period where you might use your e-bike less because of short days, bad weather etc., make sure that it is kept periodically charged. The battery will not die, but it will lose capacity if it's not used. You might go from using it a few times a week, to going to once every few times a week, and if that is the case, then just keep it topped up every so often."
Experts suggest keeping the batteries charged to around 50% if you're not planning on using them for a few weeks, and don't try to charge them if they've just been in a temperature of 0°C or lower. Wait until they're at room temperature to plug them in. 
2. Maintain your bike
It's easier said than done, particularly if you're absolutely freezing and just want to get inside to warm up, but taking a few minutes at the end of every ride to give your bike a quick clean will pay dividends in the long run. 
"If you come home from a wet ride, I'd always wash it down with clean water because you get so much salt and dirt that sprays up off the road," continues Burrow. "Any moving metallic parts that see water and that don't get dried will be more prone to rust and seizure. So make sure it's rinsed, dried, and lubricated before putting it away. Then you know that next time you pick it up, it's going to be in working condition."
We recommend giving your bike a quick wash either with a hose or bucket of water, (but not a pressure washer) and if it requires it, some bike detergent before drying the bike off with a towel. Then, make sure your chain is wiped clean, and you dry it before applying some lubricant so that it's ready to go for your next ride.
If your e-bike has a charge port in a more vulnerable area, then you may find after riding in wet conditions water has collected inside of it. Dab with a paper towel to remove any water and allow to fully dry before charging.
3. Dress to the temperature
Winter isn't really the time to be a fashion victim, so worry less about how you look and more about whether your kit is actually doing its job and keeping you warm and dry. Base layers are a great option, and merino wool does a wonderful job with its antibacterial properties of keeping you smelling nicer when you get to the office. 
Burrow recommends packing a gilet – preferably something hi-viz, and extra clothing like waterproofs to keep you warm and dry. Decent gloves are also something people often overlook, but you want a pair that will keep your digits toasty but without losing dexterity so you can continue to shift and brake safely. If you really struggle in the cold, consider trying bar mitts. 
4. Prep your bike for winter
Making sure your bike is as ready as it can be for the cooler temperatures can look different depending on the type of bike you have, but in general, consider lowering your tyre pressures to provide more grip, as a starting point. Everyone will use a tyre pressure personal to them, depending on their weight, the tyres, and the terrain you ride, but don't go beyond the recommended settings on the tyre wall. 
"From a safety aspect, attach some lights and mudguards," continues Burrow. "All of our Ribble bikes have discreet mudguard mounts, so even the race bikes can be donned with mudguards in the off-season."
Many e-bikes now come with built-in lights, but they're not generally powerful enough to allow you to see much if you're riding on dark country lanes. Consider installing your own to fill the gap between being seen and being able to see. 
5. Look after your well-being
It's well known that getting outside in the winter months can help reduce things like Seasonal Affective Disorder (SAD), and the reduction in Vitamin D many of us see through the winter months when the sun disappears for days on end. So riding your e-bike outside is a great way to help combat things like SAD, as well as making you feel healthier and like you've accomplished something, as Burrow tells us.
"Seeing the changing day and the seasons is fantastic for your mental health and it gets you outside. Getting off an inside trainer and riding outside, you feel more alive. It's great for mental health and well-being."
Whether you use your e-bike as a commuting tool or for leisure, having the extra assist undoubtedly helps with motivation when the weather turns. Speaking from our own experience, the right bike can flatten a big hill and help headwinds feel less powerful, and thus, increasing our motivation to ride. 
READ MORE
Subscribe to the Move Electric newsletter
e-CARS
Ten electric cars we're excited for in 2023
Getting an EV sideways: how easy is it to drift a Kia EV6 GT?
Q&A: Jaguar Racing's Sam Bird and Mitch Evans on Formula E's new era
e-BIKES
Ten electric bikes we're excited for in 2023
Can you get fit using an electric bike?
e-MOTORBIKES
Ten electric motorbikes we're excited for in 2023
Super Soco TC Max electric motorbike review
Cake and Polestar team up for new special edition Makka e-motorbike
e-SCOOTERS
Planned laws to legalise private e-scooters face delay
Five key takeaways from the rental e-scooter trials report
Which train firms have banned e-scooters from their services?
e-WORLD
Move Electric's best features of 2022: lap records, tuk-tuks… and sausage rolls
Volvo Trucks keeps on electric trucking with three new models