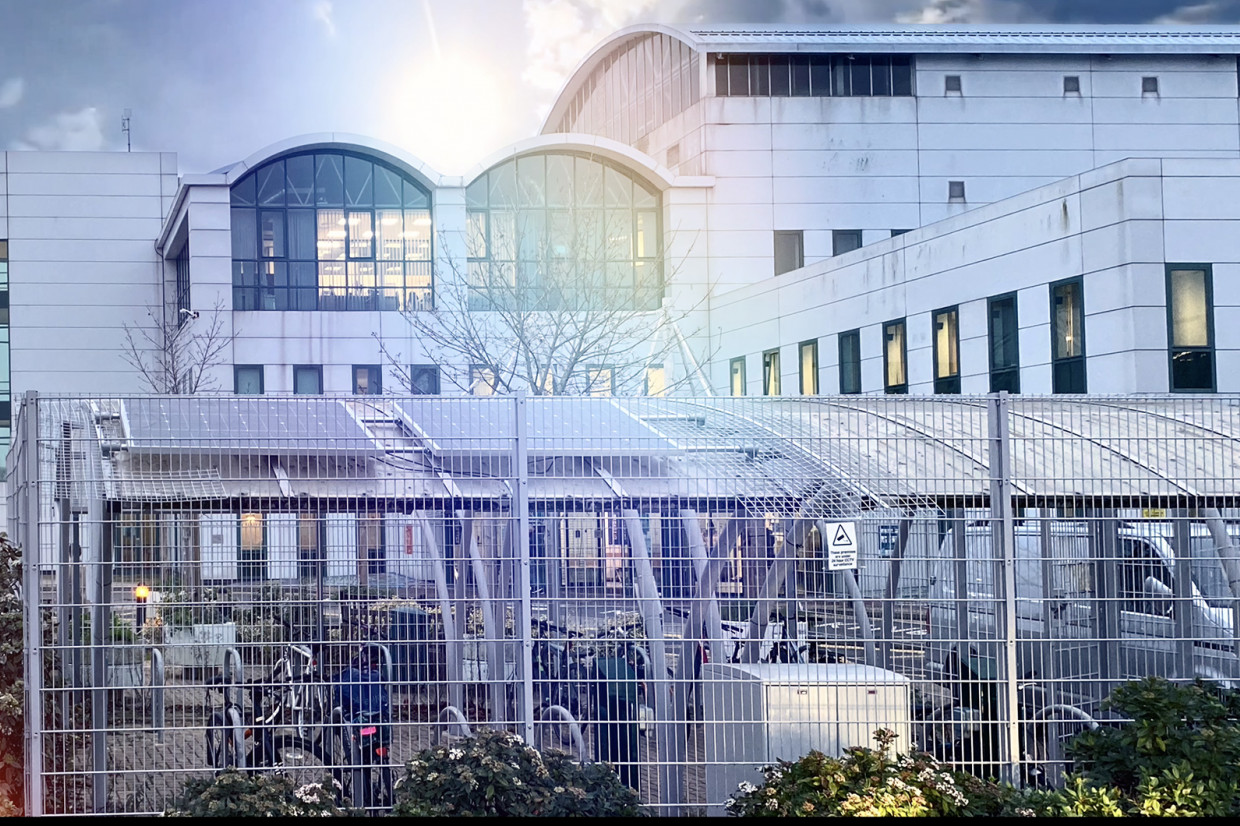 Staff at two hospitals in Surrey run by Ashford and St Peter's Hospitals NHS Foundation Trust will be able to charge their electric bikes for free, thanks to the installation of new Solarcycle UK off-grid charging units.
The new units at Ashford Hospital and St Peter's Hospital in Chertsey are claimed to be the first solar e-bike chargers to be installed at any NHS Foundation Trust facility in the country.
Move Electric's FREE newsletter: sign up for the latest e-bike news in your inbox
The Solarcycle chargers have been developed as solar 'in a box' units that can work without a mains connection to the grid, which means that there is no ongoing costs for the hospitals. It is part of a move to boost staff wellbeing and reduce pressure on car parking at the sites.
 
The chargers feature PV solar panels and will be open to all e-bike users among the trust's 4500-plus staff, and feature UK three-pin plug sockets. Each pillar can charge up to two e-bikes simultaneously, attached via lockable IP-66 rated sockets. Because the electricity is generated via solar panels rather than the grid, they will be free for users.
Solarcycle UK focused on developing and installing scalable and low-cost charging for e-bikes and e-scooters. Because the units installed at the two hospitals are 'in a box' solutions that require no groundwork, the firm claims they are up to 60 power cent cheaper than installed an EV charger.
There are two installations at each hospital site, allowing four e-bikes to be charged simultaneously at each. Because it is scalable, more can easily be added if required.
Ashford and St Peter's Hospitals NHS Foundation Trust (ASPH) also claims to offer the highest number of EV chargers of any NHS Trust, including four charge points at each hospital that are available to the public at a rate of 35p/kWh. The trust also offers two Cycle to Work schemes for staff than include e-bikes.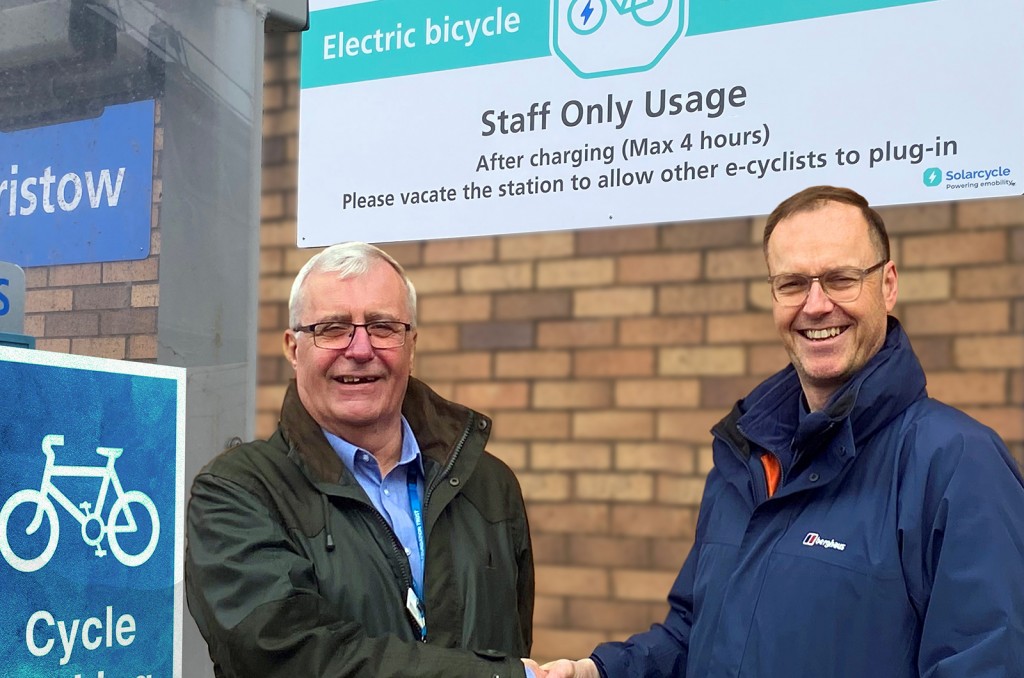 Andy Hyatt (pictured above left), Facilities Support Services Manager at ASPH, said "We are the only Trust in the country with solar powered e-bike points. We have installed many e-car chargers at our sites so it's great to now have some cycle ones."
 
Tom Smerdon, ASPH's strategy and sustainability chief, said: "Getting about by e-bike is a great way to get out of the car and avoid the traffic and parking charges.
"It's very exciting to see the e-bike charging points being installed here at the Trust, helping us reduce our carbon impact, improve our wellbeing and support local enterprise and innovation."
Paul Stratford (above right), the founder of Solarcycle UK, added: "The Trust is a pioneer and shining example in EV-charging, so Solarcycle is a natural addition to this effort with our seamless solution that brings immediate benefits with future scalability."
READ MORE
Subscribe to the Move Electric newsletter
e-CARS
Ten electric cars we're excited for in 2023
Getting an EV sideways: how easy is it to drift a Kia EV6 GT?
Q&A: Jaguar Racing's Sam Bird and Mitch Evans on Formula E's new era
e-BIKES
Ten electric bikes we're excited for in 2023
Can you get fit using an electric bike?
e-MOTORBIKES
Ten electric motorbikes we're excited for in 2023
Super Soco TC Max electric motorbike review
Cake and Polestar team up for new special edition Makka e-motorbike
e-SCOOTERS
Planned laws to legalise private e-scooters face delay
Five key takeaways from the rental e-scooter trials report
Which train firms have banned e-scooters from their services?
e-WORLD
Move Electric's best features of 2022: lap records, tuk-tuks… and sausage rolls
Volvo Trucks keeps on electric trucking with three new models