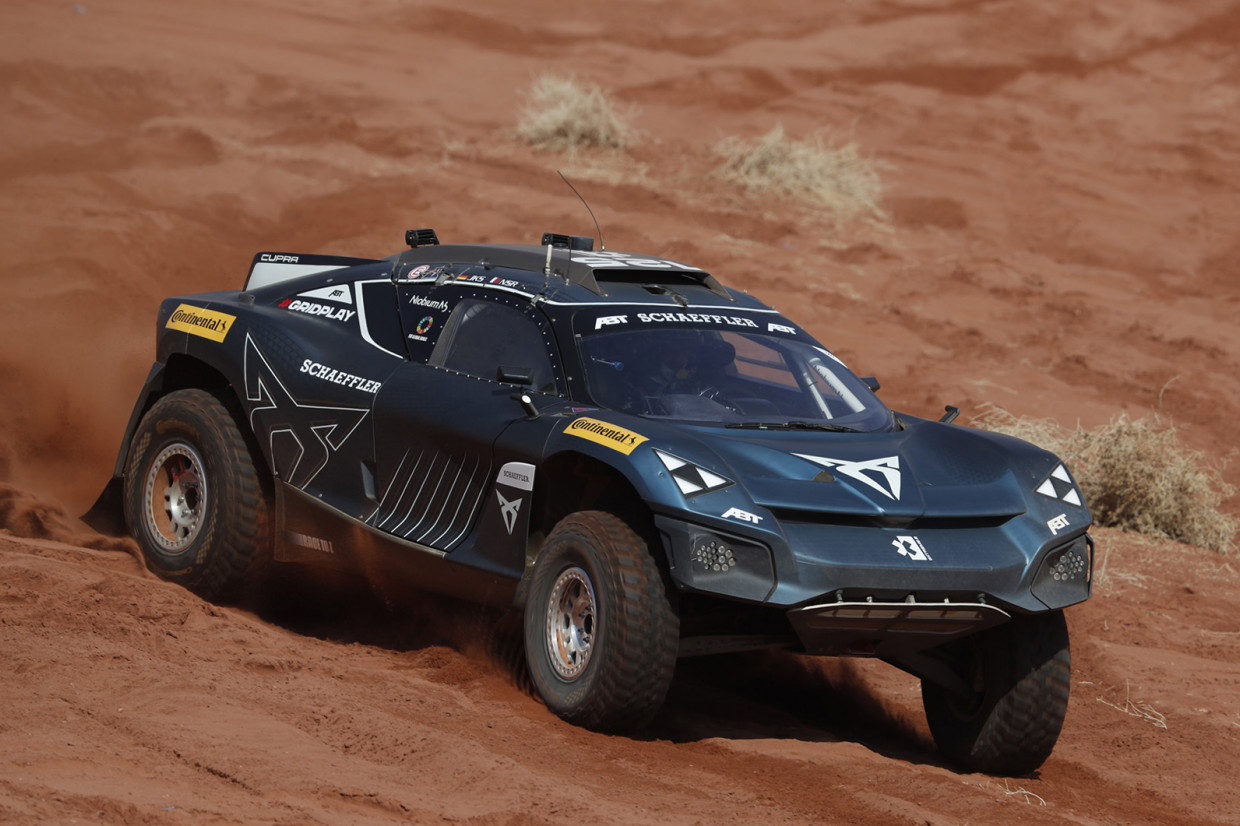 You won't find many cars carrying the Cupra badge in Saudi Arabia. It won't surprise you to learn that you won't find many electric cars in this vast country either. Which means the electric Cupra Born I'm currently driving through the stunning desert landscape of Tabuk Province in the north-west corner of Saudi Arabia should be the automotive unicorn to end all automotive unicorns.
Except it's not: because there are two electric Cupra machines here. One is this Born, the Spanish firm's fine new electric hatch that you can go down to your local Cupra dealership in the UK and place an order for. It's a fine, well-sized and comfortable hatch that's enjoyable to drive, although it does feel slightly incongruous in a country where the roads are dominated by dusty, battered Toyota Land Cruisers and Hilux pickups.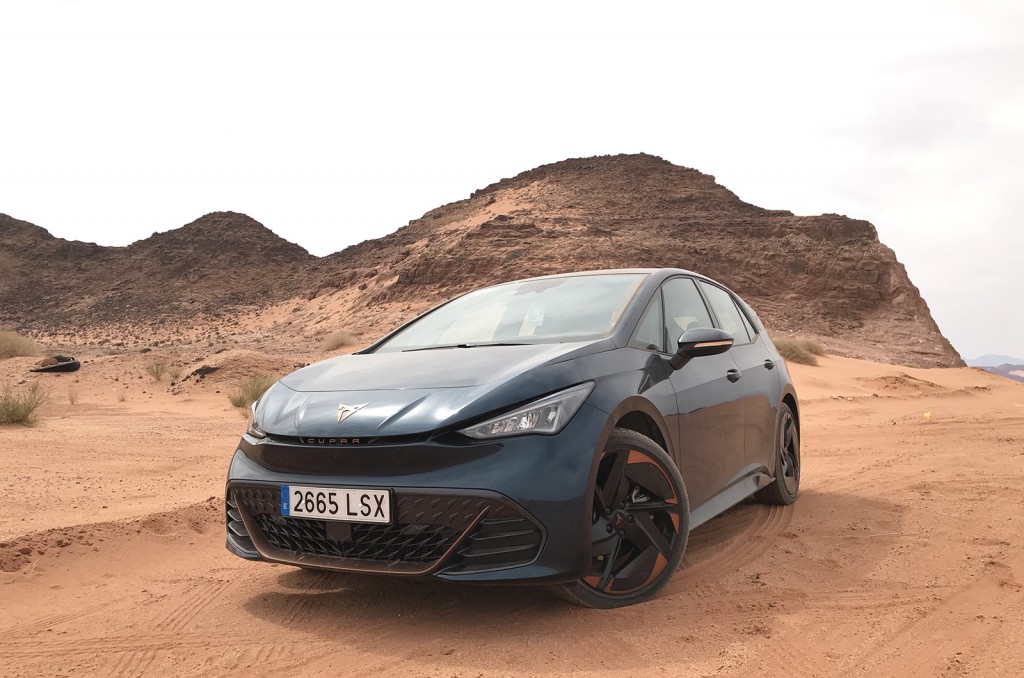 Thankfully, the other electric Cupra is far more at home: in fact, it's in its element. That would be the Tavascan XE, an electric off-road buggy that the Abt Cupra squad runs in the Extreme E Championship.
That bold, ever-so-slightly bonkers championship – offering fast-paced off-road racing while highlighting sustainability and climate change – is the reason both Cupras are here. And while having a quick spin in the Born was fun, the real interest lies in seeing how the Tavascan XE fares in the Desert X Prix, the first event of the 2022 Extreme E season.
Abt Cupra: a works team without the full works
Cupra is one of two manufacturers represented on the Extreme E grid, alongside American brand GMC Hummer (the new McLaren XE squad is run by the firm's racing team, and technically has no links to its road car arm). But you wouldn't really know it from a quick walk around the temporary, tented Extreme E paddock.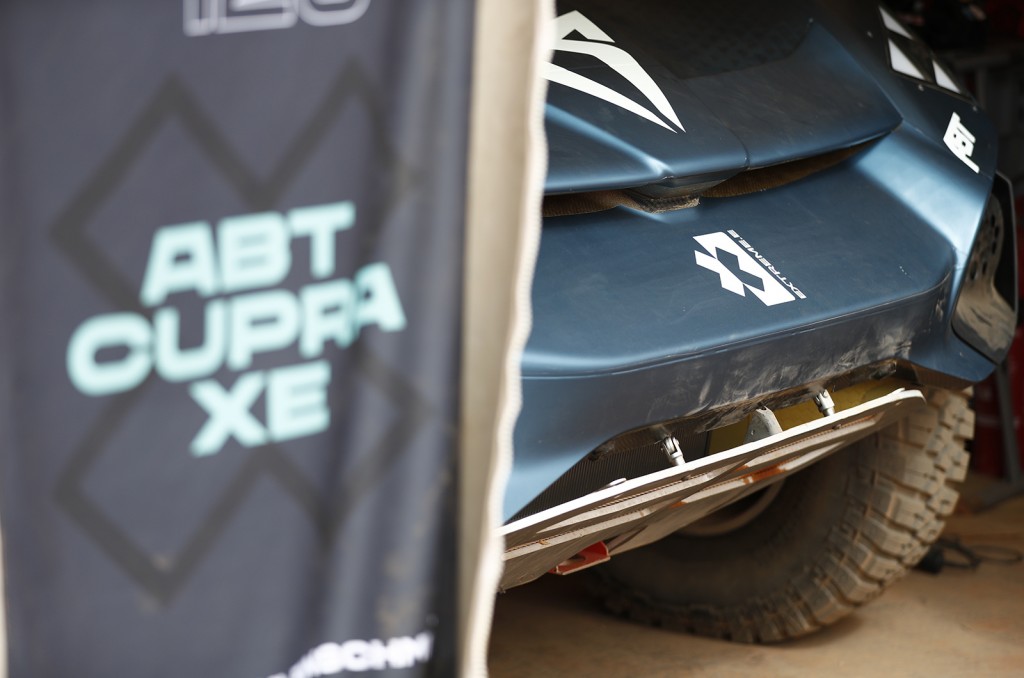 That's by design: Extreme E's focus on sustainability means there are strict limits on the amount of freight and the number of staff each team can bring to an event. So every team gets an identical tent to service its car in, and is limited to eight on-site staff: two drivers (one male, one female), one engineer and five mechanics. There's a central dining tent that caters for all the crews at each event, while during events teams run their cars from the central Command Centre tent (it's basically like an F1 pitwall, but in a tent and with dramatic lighting).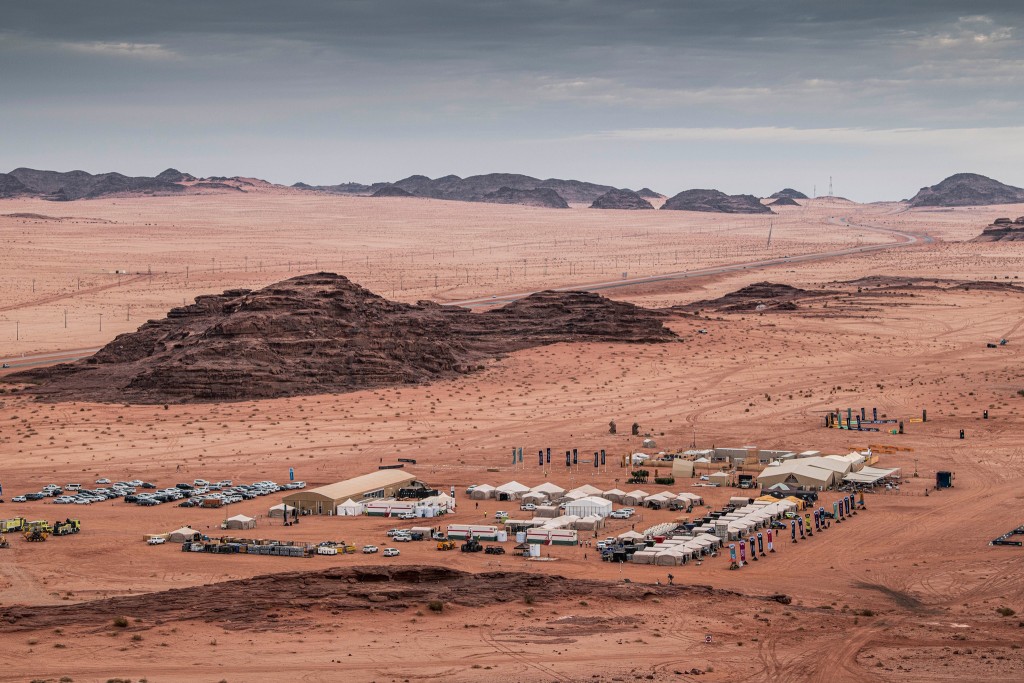 And while the Cupra and Hummer machines might look different, underneath their bespoke bodywork they're the same 400kW 9536bhp) Spark Odyssey 21 buggies that every other team uses, with the same Williams Advanced Engineering-built 54kWh battery and sitting on the same chunky off-road Continental tyres.
In other words: there really isn't any way a manufacturer like Cupra can flex its muscles and buy an advantage in a way that happens in some other motorsport championships. That was apparent in Extreme E's first season: the Abt Cupra squad showed plenty of pace, but wasn't a consistent match for Rosberg Xtreme Racing (RXR) or Lewis Hamilton's X44 squad.
Electric news, reviews and features in your inbox: subscribe to the Move Electric newsletter
But while understandably keen to start winning, the fact it can't really leverage its manufacturer status is actually just fine by Cupra. That's in part because those limitations make Extreme E cost-effective, but also because Cupra is competing in the series because of its increasing focus on sustainability. The idea is to show help show how motorsport, electric cars and Cupra can all be environmentally responsible.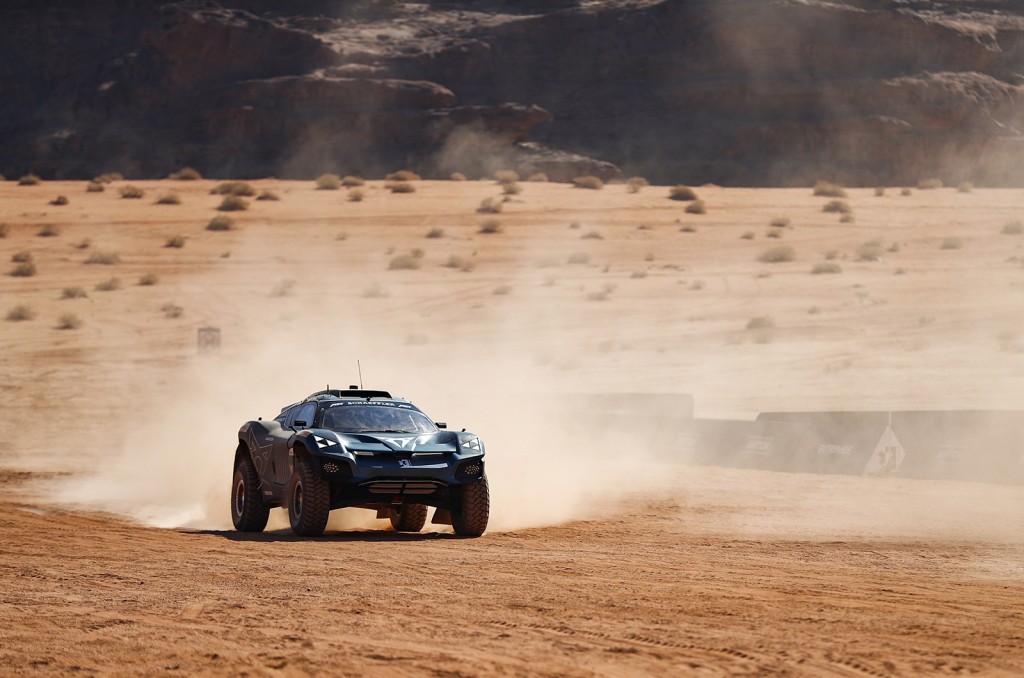 The key is helping to build awareness of Cupra, which was created four years ago as a new sister brand to Seat. The name was originally used for Seat's hot performance models, but as a standalone brand Cupra is tased with appealing to a more style-focused, upmarket customer. But performance and motorsport is still key: after all, Cupra is a portmanteau of Cup Racing.
And if you want a sign of how seriously Cupra is taking Extreme E, just look at the bodywork on the firm's Odyssey buggy. It's been designed by Cupra's road car design team, and is designed to preview the styling of the Tavascan, the firm's boldly styled electric SUV that's due in 2024. 
How Abt Cupra approaches an Extreme E event
Cupra's Extreme E team isn't run directly by the firm: it's a partnership with German tuning firm Abt, which has also run fellow Volkswagen Group brand Audi's works effort in the Formula E electric single-seater series. That means if you poke your head inside the Abt Cupra tent at an event, you won't hear much Spanish: the mechanics are mostly German.
Cupra is involved though: there are regular meetings between Abt and Cupra Racing – which builds the firm's Cupra Leon machines that are used in the TCR touring car championship and the electric Pure ETCR version – which involved swapping notes and knowledge. The idea is that learning how to run an electric buggy – even a spec one Cupra hasn't designed – in the varying tough environments Extreme E competes in can genuinely provide useful knowledge that can be fed into the development of future electric performance cars, for both road and track.
The squad began its first season with a driver line-up of Matthias Ekstrom and Claudia Hurtgen. The latter had a massive accident in qualifying for the 2021 season-opener, and then fell ill early in the second event, being replaced by Jutta Kleinschmidy, Extreme E's reserve female driver. The 2001 Dakar Rally winner quickly impressed Abt Cupra with her pace, and retained her seat for this year.
Ekstrom had a busy time last year: as well as Extreme E, he also won the inaugural Pure ETCR electric tin-top title for Cupra, and raced elsewhere. He's concentrating on retaining his Pure ETCR title in 2022, so Abt Cupra has recruited a more-than-qualified replacement: four-time Dakar Rally winner Nasser Al-Attiyah.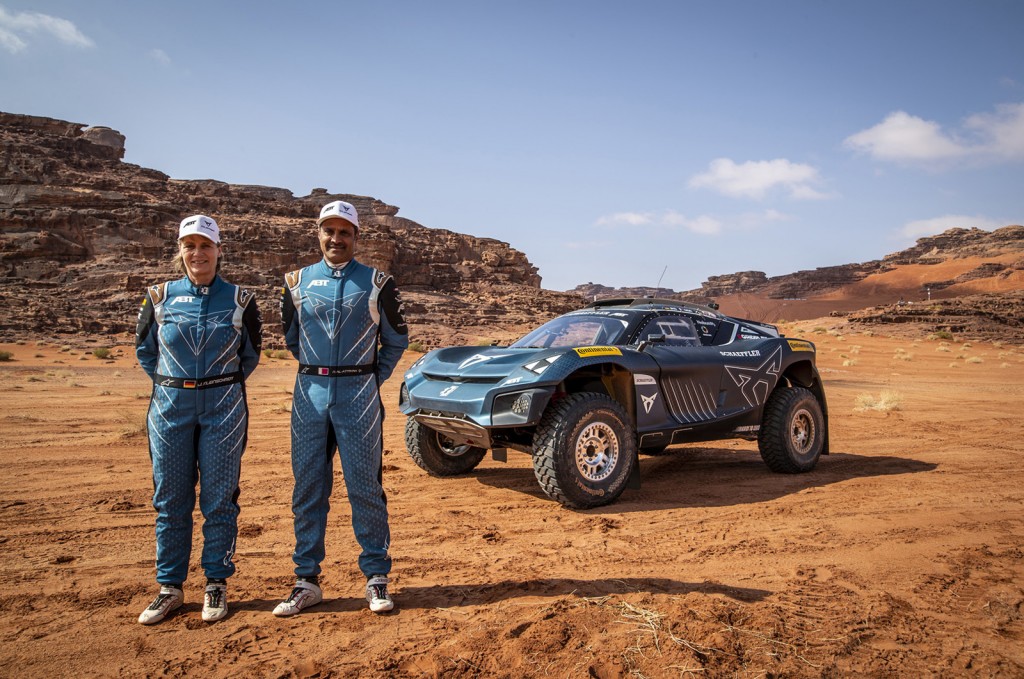 The Qatari's most recent victory in the Dakar – which, contrary to its name, currently runs in Saudi Arabia – came in January, so he at least knows the terrain for the 2021 season-opener. Thanks to both Dakar success and an incredible run of Middle East Rally Championship titles, Al-Attiyah is something of a rock star in Saudi Arabia: even in Extreme E's relatively quiet paddock he seemingly can't go far without someone wanting to chat, take a photo or grab an autograph.
Abt Cupra's season-opener: drama in the desert
Extreme E races comprise a series of two-lap races, with teams required to swap drivers at the halfway point. There are a series of single-car timed qualifying runs, before a pair of five-car qualifying races. The top six drivers from qualifying progress to the two semi-finals: the top two from each go onto the final. The bottom four drivers in qualifying take part in the Crazy Race, with the winner getting a spot in the five-car final.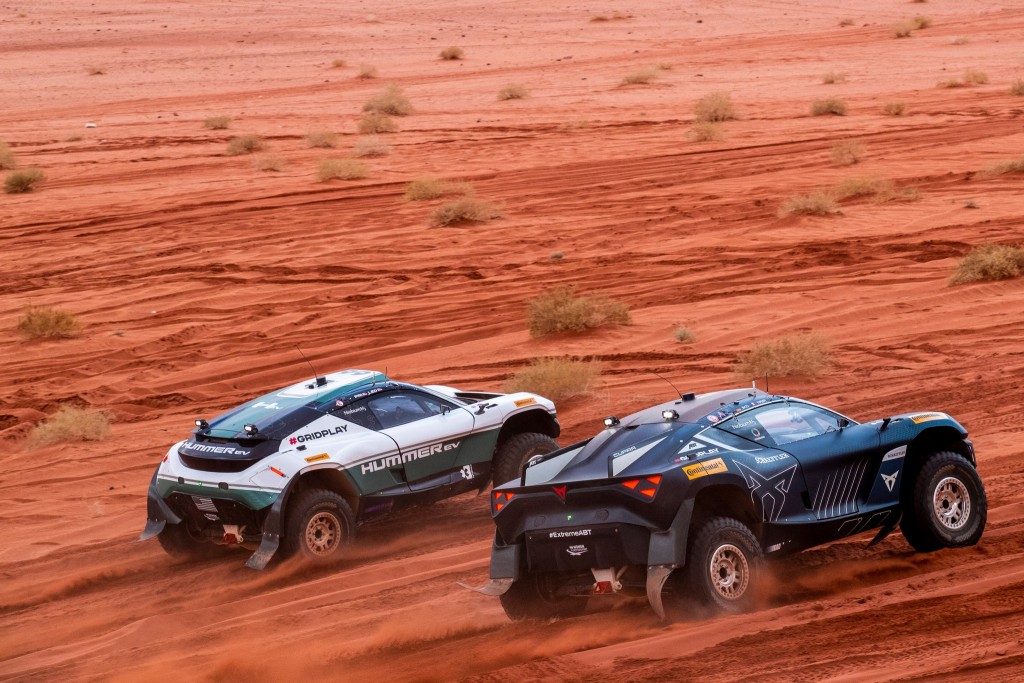 It's unlike any other motorsport category, and adapting to all the sporting differences is arguably a bigger adjustment for drivers than switching to an electric powertrain. That's certainly the case for Al-Attiyah: he's predictably right at home hustling an off-road buggy across the Saudi desert, less so with Extreme E's foibles.
There's not exactly much track time to learn, either: teams get to walk the track (no easy feat given its length and surface), and then have a single practice run on Friday. 
In the single-car qualifying, Kleinschmidt is entrusted to the first lap, before handing over to Al-Attiyah in the Switch Zone. Al-Attiyah then completes his lap in attacking style, but approaching the finish he make the mistake of heading to the Switch Zone pits, rather than crossing the finish line. He quickly realises his mistake, and loops back – a move that costs him more time than simply taking the penalty for missing the finish gate.
Something else Al-Attiyah doesn't experience much in the Dakar Rally: side-by-side racing. But he finds himself right in the thick of things in Abt Cupra's five-car qualifying race, which culminates in a controversial clash with his long-time Dakar sparring partner Carlos Sainz. Al-Attiyah insists the contact was caused by steering damage to his car; Sainz and - crucially - the race stewards disagree. Abt Cupra is handed another penalty. Instead of the semi-finals, the team is heading to the Crazy Race.
A crazy ending to a tough weekend
The qualifying rounds take place on Saturday, with the semi-finals, Crazy Race and final taking place on Sunday. The schedule is somewhat drawn out to account for charging. Extreme E machines are charged on site using a system developed by AFC Energy, which uses water solar polar captured on site to create hydrogen, which is then used to power a generator. The cars only need to be charged once per day, and can go flat-out during the event. More running would require more charging.
That limited running also helps when it comes to creating Extreme E's TV package. With no spectators at events, television and online streaming are the only way for fans to keep in touch with the action. The two-hour live TV show on Sunday is packed with action and slick - but for those at the track, there's a lot more downtime.
In fact, Abt Cupra enters Sunday knowing that it has to win the Crazy Race to avoid its day amounting to just one two-lap race. Kleinschmidt keeps the team in contention for the first lap, before handing over to Al-Attiyah. He goes on a charge, but the new McLaren XE team managed to make a break on the first lap, and while Al-Attiyah closes down the gap he has to settle for second place. Abt Cupra's day – and event – is over.
Normally, a motorsport team eliminated from competition early would pack up its transporter and begin the drive home, but that's not an option in Extreme E: all the freight is transported on the championship's own ship, the Saint Helena. So Al-Attiyah, Kleinschmidt and the Abt Cupra team can only stay and watch.
There is one bit of good news: thanks to Al-Attiyah's popularity, the team won a record share of the fan vote for the 'Gridplay' contest. That would give them first pick of a starting spot in the final - except, of course, they're not in the final…
But while Abt Cupra's weekend finished early, the team is still in and committed to Extreme E. It might be a works motorsport campaign as unusual as the sight of a Cupra Born on Saudi roads, but it's one that works for Cupra - and which the firm is committed to.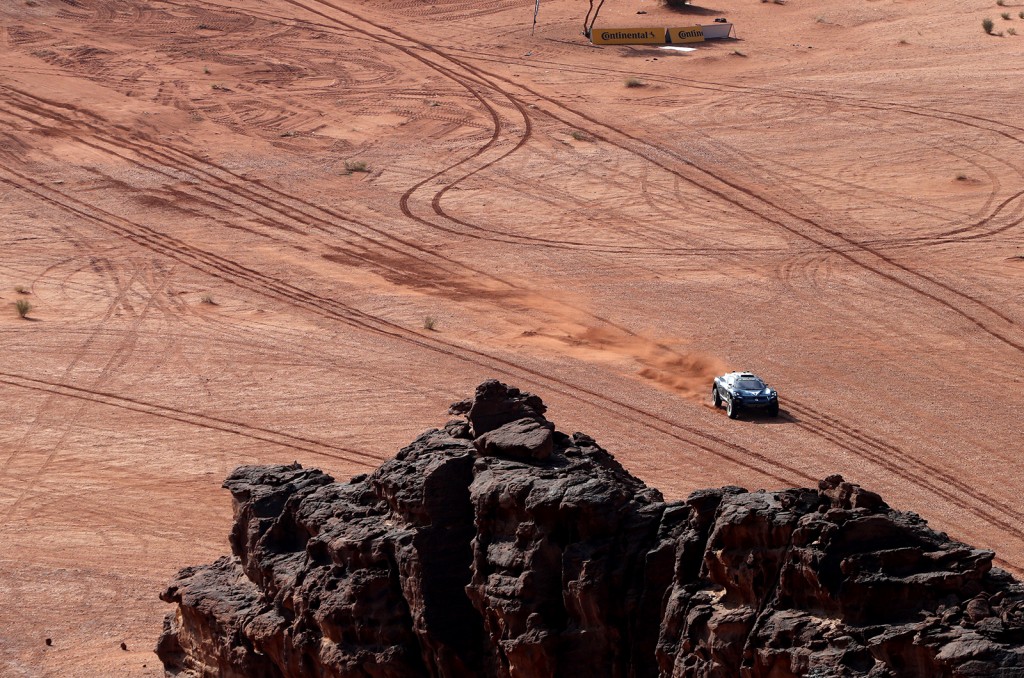 READ MORE
e-CARS
The 10 electric cars with the longest range
e-BIKES
Desiknio Pinion C1.9 Classic e-bike review
Ride for a worthy cause: Big Issue eBikes launches in Bristol
e-MOTORBIKES
Triumph reveals first electric TE-1 motorbike
BMW CE 04 electric scooter review
e-SCOOTERS
Superpedestrian Link e-scooter: first ride
The new battery tech designed to make e-scooters more sustainable
e-WORLD
New Candela C-8 electric hydrofoil has first 'flight'
Awake Ravik S 22 aims to take electric surfboards to the extreme