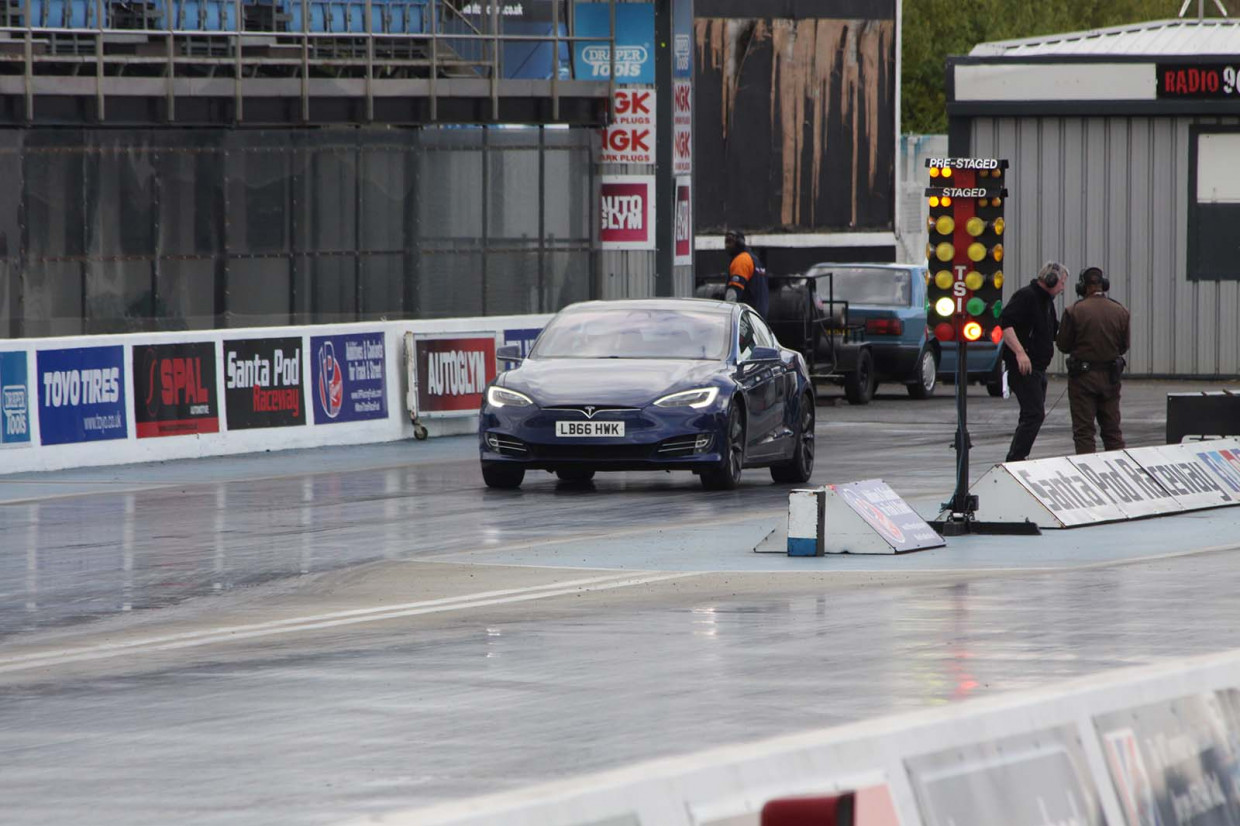 With its sleek styling, impressive range and strong image, the Tesla Model S has quickly established itself as the go-to electric executive car but for one owner, it's establishing itself as the drag racer to beat, too.
Last year, in only his first season competing at the wheel of his Tesla Model S P100D in drag racing's Sportsman ET class, contested mostly by American V8 muscle cars, Andrew Garnett finished around mid-table (27th out of 49 competitors).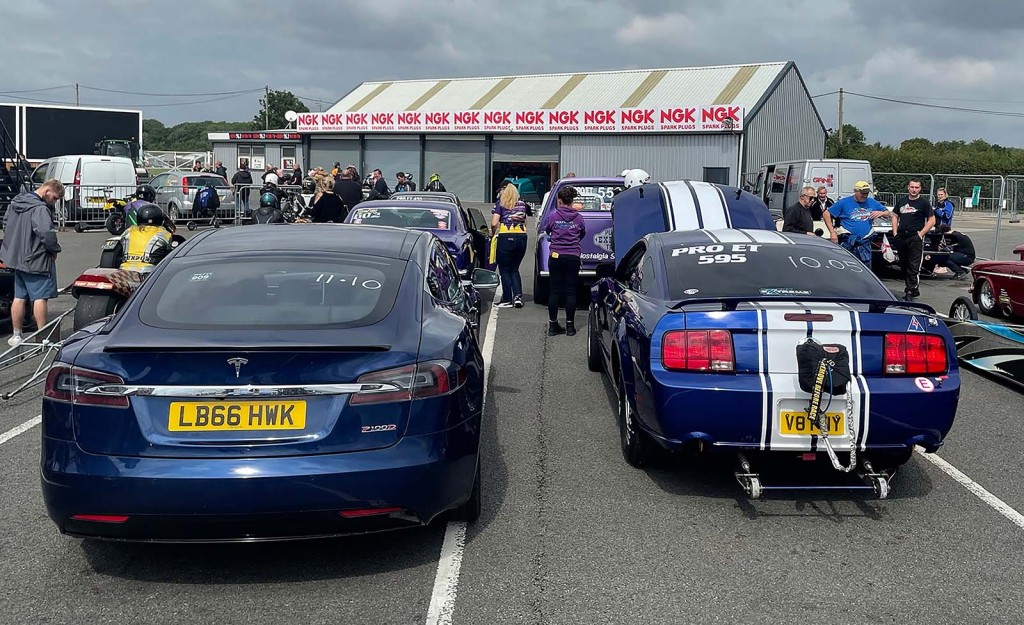 Remarkably, he did so having contested only three of the season's six rounds. In the last round at Santa Pod Raceway, he actually qualified for the STP National Finals. In the end, however, Andrew's Tesla was no match for the modified Jaguar E-type that won, in his words, 'fair and square'. 
Even so, it was an impressive performance by the class rookie. "To be fair, I wasn't a total novice in drag racing," admits Andrew. "Years ago I drag raced a Ford Escort Mk1 and a Kawasaki motorcycle.
The idea to return to the sport with a Tesla came to me when, fascinated by electric car technology, I decided to part-exchange my Audi A5 for a 2014-reg Model S P85 that had done 35,000 miles. Some months later I read about a guy in the US who was drag racing his Tesla every week, competitively and without any problems.
I'd been wondering how to fill my weekends and drag racing mine at Santa Pod seemed like an interesting idea."
A courageous one, too.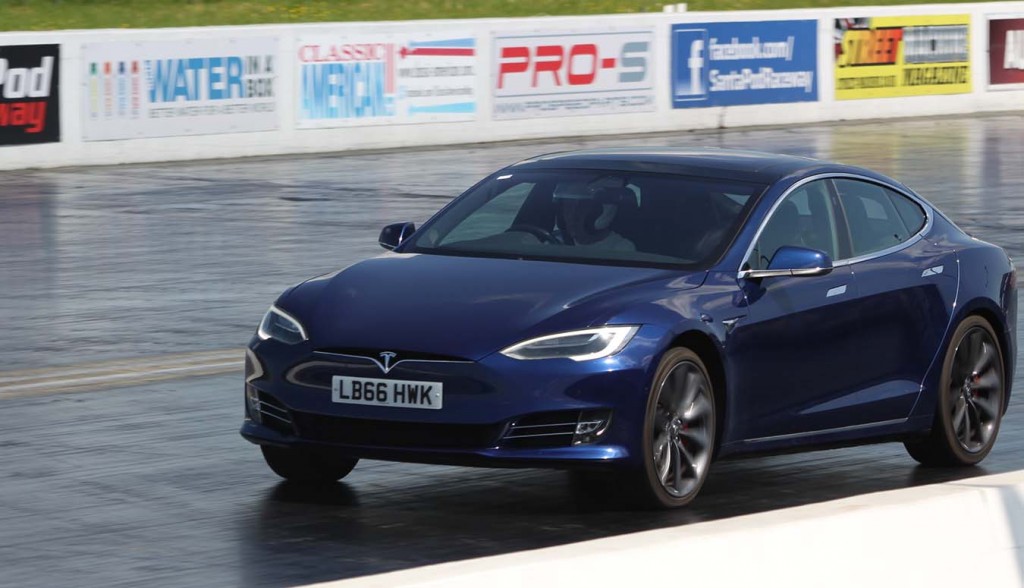 Drag racing is as old as the motorcar but took off in the 1940s when enthusiasts discovered the deserted runways of de-commissioned air force bases were perfect for flat-out acceleration runs between two cars over measured distances. In time, the dragsters became more powerful and extreme while at least in the UK, a quarter of a mile became the accepted distance.
Meanwhile, a culture developed around the sport that persists to this day. Racers and spectators are passionate about the cars and the spectacle of drag racing with its clouds of smoke and stench of burning rubber and fuel, and the howl of engines at full chat.  
It was into this febrile world that Andrew arrived with his smokeless, odourless and whisper-quiet Model S. At first he kept his head down, racing in Santa Pod's Run What Ya Brung series, a regular event for anyone who wants to stretch their car's legs on the famous quarter-mile strip in a safe and legal environment.
"I did it for several months," recalls Andrew. "It was great fun and everyone was very welcoming, although some people did occasionally decline to race me in favour of more conventional competition. However, I found that while the Tesla could easily beat most cars off the line, it was overhauled by more powerful ones as the end of the quarter-mile approached."
If it had been a petrol car, Andrew would have been able to tune his Tesla to deliver more performance but being an electric one, any modifications would have needed to be substantial and expensive. He was wondering what to do when someone asked him if his Tesla had Ludicrous mode.
This feature boosts performance by drawing additional current from the battery. Until 2019, the mode was only available as option on dual-motor, performance versions of the Model S.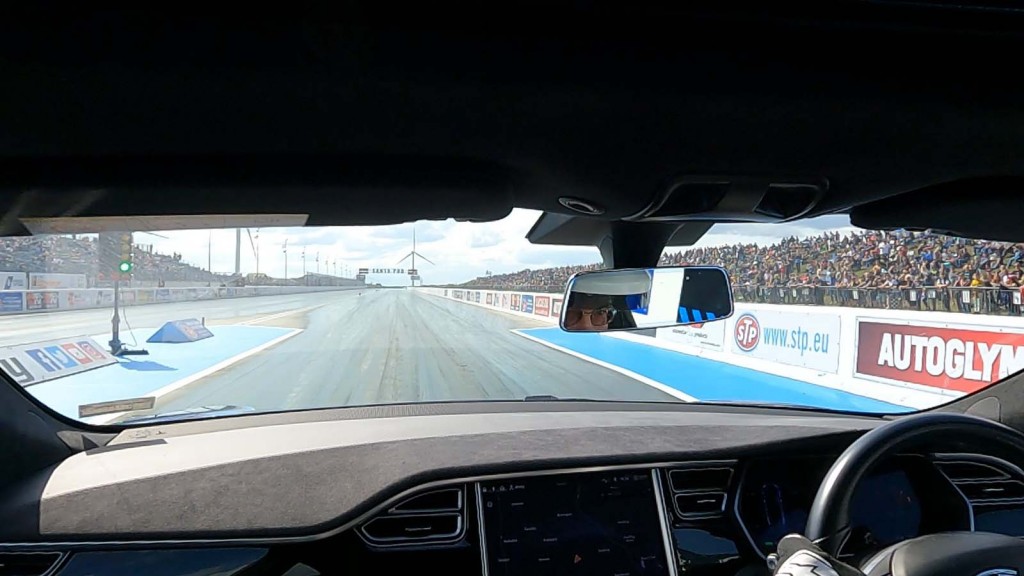 In no time Andrew had part-exchanged his Model S P85 for a 2017-reg Model S P100D with Ludicrous mode that had done 28,000 miles. With 0-62mph possible in just 2.5 seconds, compared with the P85's 4.4 seconds, he reckoned he'd have a much more competitive car.
He decided to chance his luck in the more serious Sportsman ET class, the grassroots of national drag racing where cars are, typically, modified American V8s. For this class of drag racing, two cars don't just come together at random, since doing so could mean one having an unfair advantage in terms of power and performance over the other.
Instead, driver skill, consistency and reaction time are what matters, so each driver has to predict how long it will take them to cover the quarter-mile. The difference between the two times generates a handicap with the quicker car given the green go-light later than the slower one by the margin separating their predicted times.
Ideally, both cars should cross the finish line at the same time. A driver who completes the distance in a shorter time than predicted, is disqualified.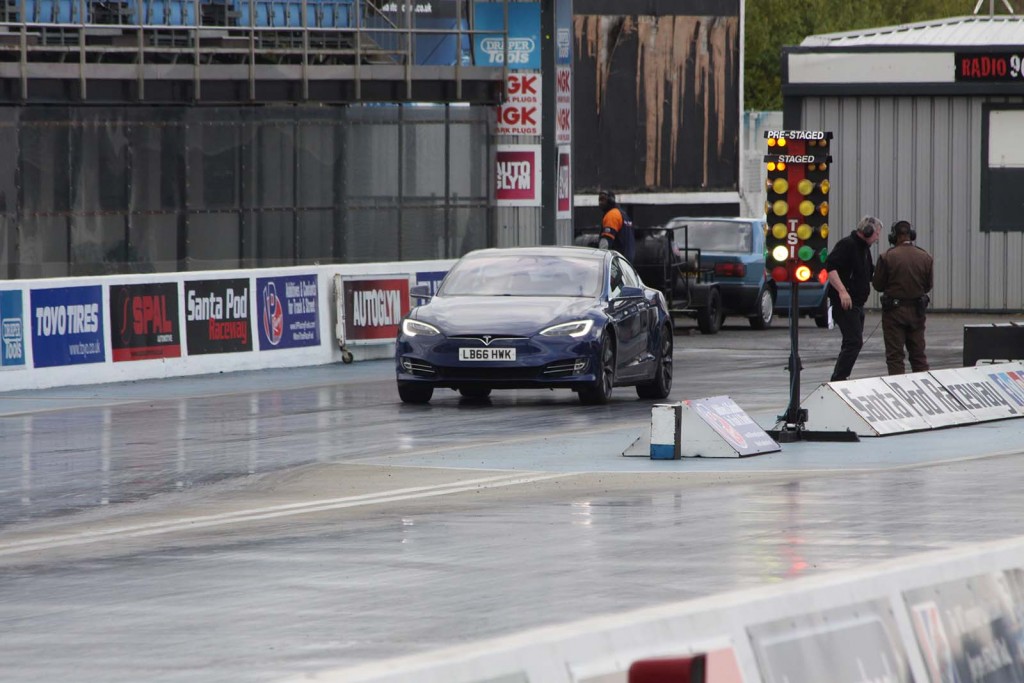 "Reaction time and consistency of start are critical," says Andrew. "The difference between winning or losing can come down to thousandths of a second. Getting away within .0005sec of the green light is what a drag racer is trying to achieve." In this regard he's helped by his Tesla's ease of driving.
"It's like throwing a switch. Modified cars are very sophisticated with pushbutton controls but they can be troublesome. Sometimes it's as if my opponent is going in reverse!"
Andrew's typical quarter-mile time is 11.0 seconds but he's aiming for 10.45sec. Despite his car's ferocious acceleration, the battery drain per run is just 2.5% and the car has never missed a beat. "Early Teslas especially get a lot of stick for being poorly built but in my experience their electrical and mechanical quality is excellent," says Andrew. As he looks forward to the new season this year he expects to have to compete with more EVs. Time to invest in Ludicrous Plus mode?
Words by John Evans
 
READ MORE
e-CARS
The ten best-selling electric cars in the UK
e-BIKES
Cairn Cycles E-Adventure 1.0 e-bike review
Ten e-bikes we're looking forward to in 2022
e-MOTORBIKES
Ten electric motorbikes to look forward to in 2022
Art, sustainability and choppers - the wonderful world of Stirling Eco
e-SCOOTERS
Hypercar firm Bugatti's first electric vehicle is an 18mph e-scooter
Ride-hailing firm Bolt set for UK expansion after big investment
e-WORLD
Veolia to open first UK plant for recycling EV batteries
The new Bobcat T7X is a truly groundbreaking electric digger