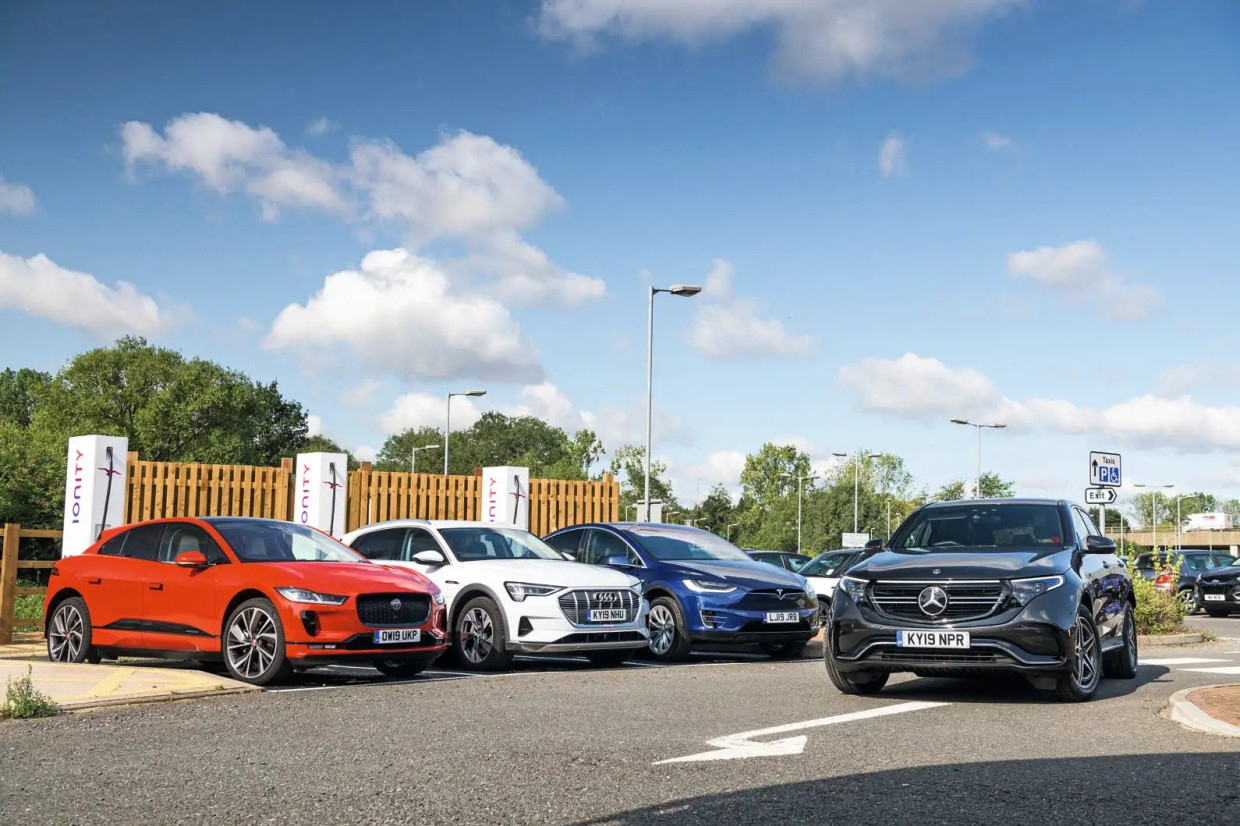 There are now more than 650,000 battery electric cars on the roads of the UK, according to the latest, while the takep-up of electric vans, trucks, buses and coaches is also soaring, according to latest industry data.
According to figures from the Society of Motor Manufacturers and Traders (SMMT), there are now 40.7 million vehicles on the roads of the UK, including around 1.1 million cars that can be plugged in – that's either a full electric or plug-in hybrid (PHEV).
The latest EV news in your inbox: sign up for our FREE newsletter
That 1.1 million cars represents 3.1 per cent of the UK's total car parc in 2022, and has played a key role in helping reduce average car and van CO2 emissions by 1.6 per cent year-on-year. The figure includes 652,341 full battery electric cars and 436,900 PHEV machines.
The uptake is set to continue rising sharply in the approach to the planned 2030 ban on most non-zero emission cars. A total of 76,233 BEVs were sold in the first three months of 2023, representing 15.4 per cent of all car sales so far this year.
The ten best-selling electric cars in the UK
While the growth in electric vehicles is a positive, the SMMT did note that the public EV charging network is lagging behind. There was one standard public charger for every 36 plug-in vehicles (EVs and PHEVs) on the road in 2022, which was down from 31 the previous year.
SMMT chief executive Mike Hawes, said: "We are driving Britain towards a net zero future with more than a million zero emission vehicles now on the road and cutting carbon." 
He added that "now is the time to commit to greater investment in infrastructure and incentives, to speed up a switch to carbon-free mobility that is accessible to all."
The SMMT figures also show a rise in ownership of electric commercial vehicles: the total number of electric vans on UK roads was up 67.3 per cent year-on-year in 2022, while electric buses and coaches rose 34.9 per cent. The number of zero-emission trucks nearly trebled, although that was from a low base and they still account for fewer than one in 600 trucks in use.
Noting that the UK currently lacks a dedicated charging infrastructure, the SMMT has also called for the government to invest in that, in order to speed the uptake of electric trucks. The government has said that it will ban the sale of non-zero emission new HGVs weighing under 26 tonnes sold from 2035 onwards.
Hawes added: "Manufacturers are investing billions in electric and hydrogen vehicles that will deliver massive CO2 savings, and it is vital that operators making long-term decisions today have full confidence in these technologies, that they will be commercially viable and allow them to keep costs down for consumers.
"A successful transition requires a long-term plan to drive the rollout of a dedicated UK-wide HGV charging and fuelling network, combined with world-leading incentives to encourage uptake and attract model allocation – a plan that will keep a greener Britain on the move and globally competitive."
READ MORE
Subscribe to the Move Electric newsletter
e-CARS
What is a heat pump and how do they benefit electric cars?
Bold new Volkswagen ID 2all previews sub-£22,000 electric car
e-BIKES
Ten electric bikes we're excited for in 2023
Nine ways to keep your e-bike safe
E-bike theft: how common is it and what can you do to protect your e-bike?
Haibike AllMtn CF 6 e-bike review
e-MOTORBIKES
10 electric motorbike start-ups you should watch out for
Energica e-motorbike to take on all-comers in US racing series
Ducati: How the Italian motorbike brand is gearing up for the electric era
e-SCOOTERS
Planned laws to legalise private e-scooters face delay
Leading e-scooter firms team up on best-practice guide for cities
Ambiguity over e-scooter legality causing 'confusion', says police chief
e-WORLD
Solar panels: 8 ways the sun can power your electric life
First ride: Lunaz Upcycled Electric Vehicle bin lorry
AutoFlight secures huge order for Prosperity 1 eVTOL craft