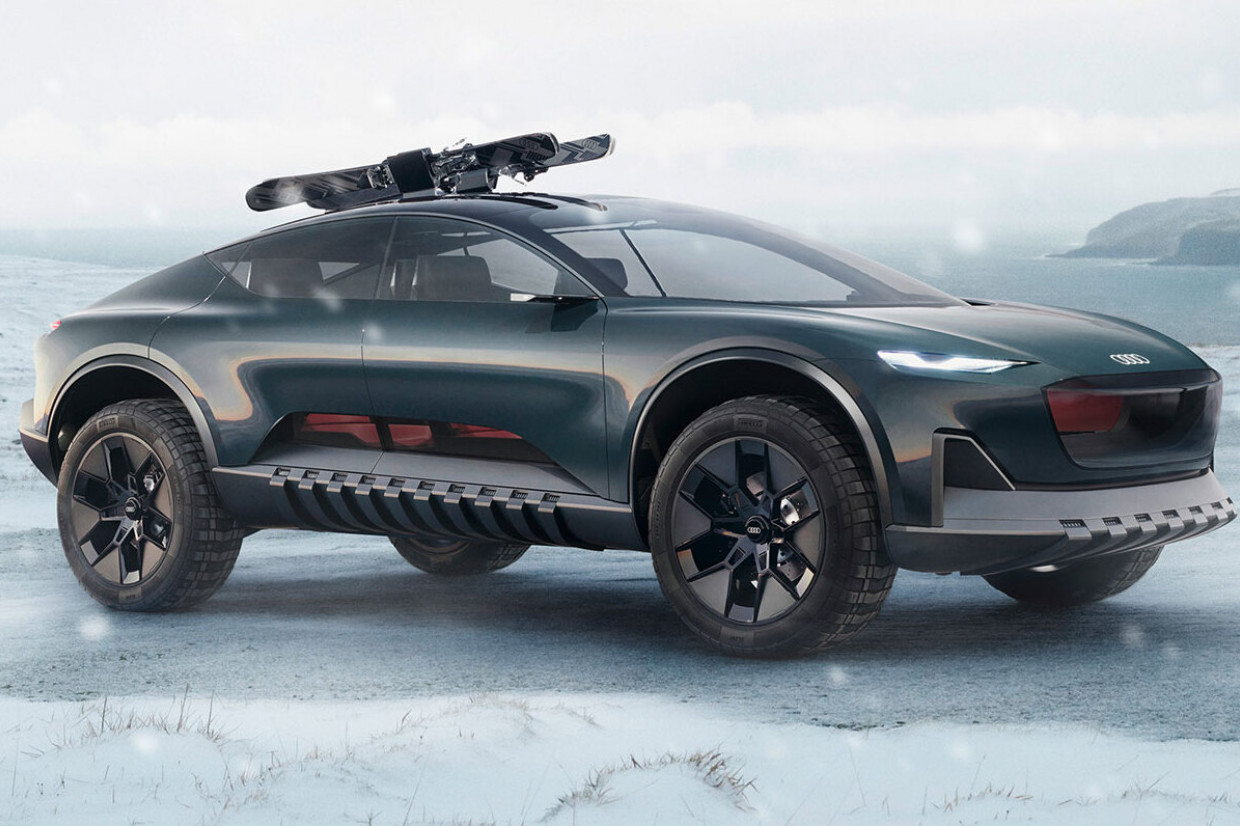 Can't decide whether your next electric vehicle should be a sports car or an off-road ready pick-up? Well, we have some good news: check out the slightly bonkers new Audi Activesphere concept.
The new machine looks at first glance like a stretched, low-slung 325kW electric sports car – but it also sits on big 22in wheels and offers all-wheel-drive. And, most notably, it features an 'active back', which can lower the rear screen from the car and turn it into a flat cargo bed reminiscent of a pick-up – complete with integrated bike stands.
The latest electric news in your inbox: get our FREE newsletter
Now, bad news for fans of sports car pick-up mash-ups: the Audi Activesphere is strictly a concept car. It's the third in the German firm's 'sphere' line-up of future-gazing autonomous-ready EVs after the Skysphere (a two-door drop-top roadster), Grandsphere (a big saloon) and Urbansphere (a coupe-SUV).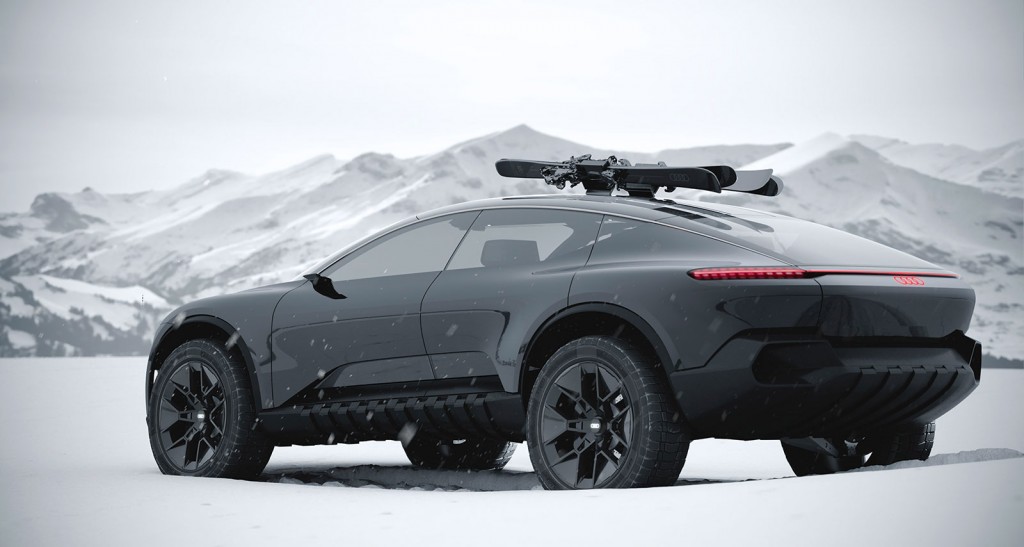 While some of the sphere concepts do offer a glimpse future models that will succeed existing machines – the Grandsphere previews of the next-gen electric A8, for example – the Activesphere showcases a new form of car.
Our colleagues at Autocar suggest that any production version wouldn't arrive until at least 2026, and could take the form of a spiritual successor to the rugged and higher-riding Audi A6 Allroad. And it probably wouldn't have the unusual transforming flat-bed.
Even if any production version of the Activesphere is some way off, there's plenty of very interesting styling and technical details involved.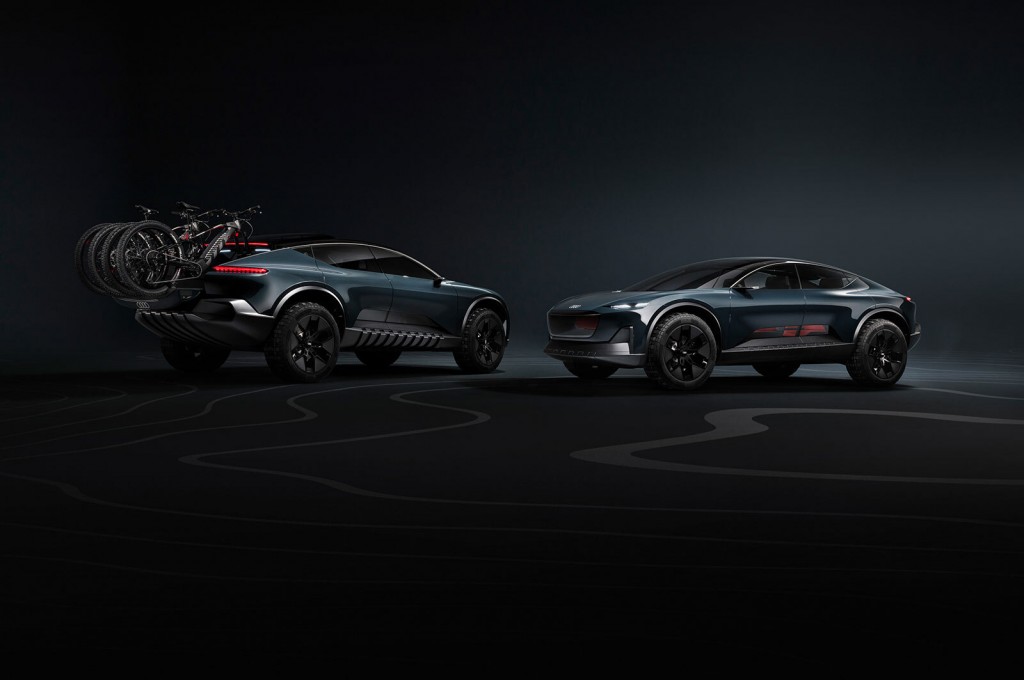 Exterior design: an off-road ready coupe
Designed at the Audi Design Studio in Malibu, California, the Activesphere takes the form of a stretched and sleek coupe. It's certainly not a small machine: it's 4980mm long and 2070mm wide, allowing for a wheelbase of 2970mm to allow for a bigger interior.
There's plenty of glass surfaces on the car, and not just for the windows: the 'Singleframe' front panel that is located where the grille would sit on an ICE car is made of glass to give the drive a view of the road through the "large frunk". We do love a good frunk (or froot, if you'd rather), but a see-through one is new to us.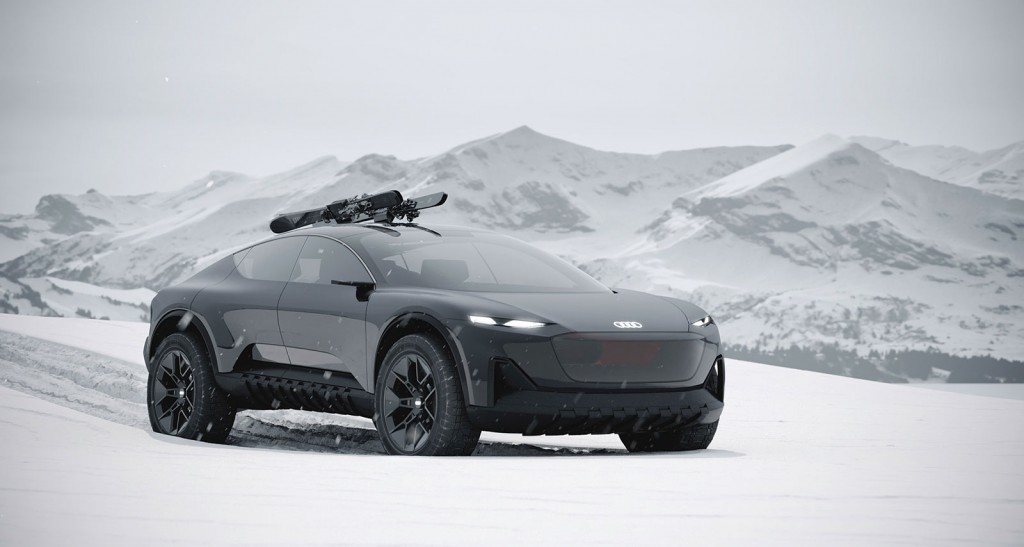 The concept sits on 22in wheels, with 285/55 tyres that are designed for use on all types of terrain, hinting at the versatile use envisaged for the machine.
The car has a higher ground clearance than many sports cars do, with a base height of 208mm. But adjustable suspension means the ground clearance is variable, and can be raised or lowered by 40mm each way depending on whether you want extreme room for bouncing over rocks, or to hug the road for improved handling.
That isn't the only variable – or 'active', given the name of the car – element on the machine. There are also movable aerodynamic elements which close when on-road to improve efficiency and open off-road to add ventilation.
And then there's the entire rear body section. It takes the basic form of what Audi calls a Sportback – which means it's a sloping, coupe-esque roof. The party trick is that the large rear boot area can essentially transform: the rear windows can slide right down and the large rear panel will lift and slide out, creating a rear cargo bed.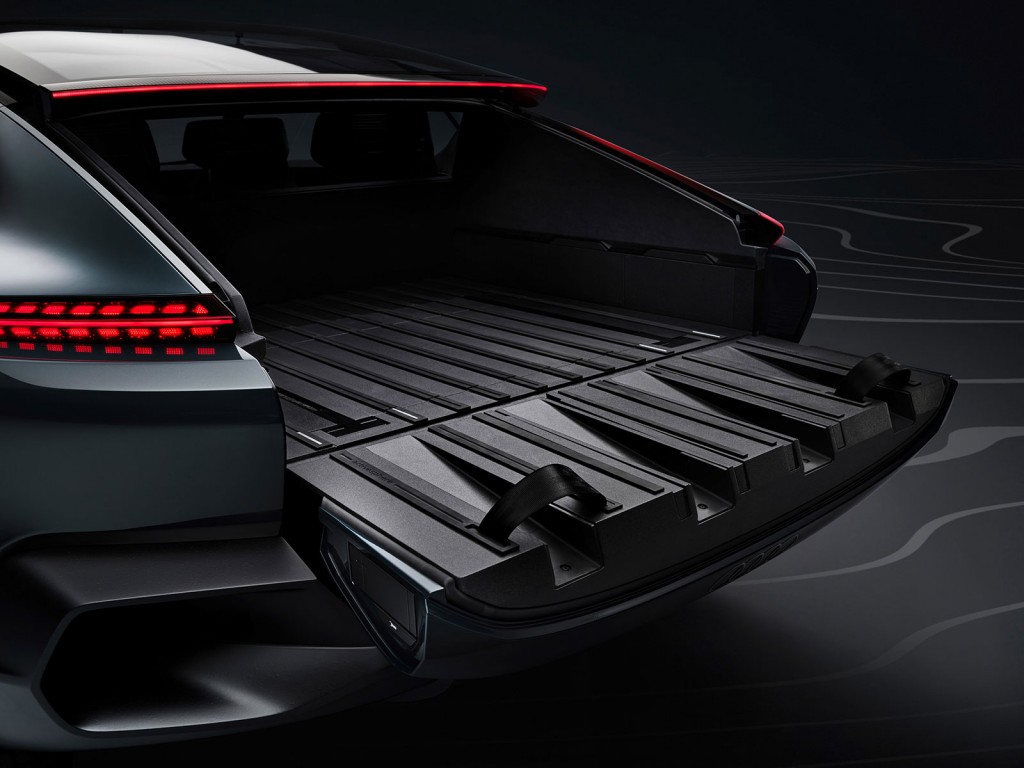 That means the Activesphere can be used to transport bikes – there are even built in holders for them – without you having to stick an ungainly roof rack onto your shiny machine. While is just as well, because there's a ski rack built into the roof arch.
And don't fret: Audi says that the C-pillar surfaces remain in place to ensure the aerodynamics remain intact while a bulkhead extends from behind the rear seats to ensure the occupants still travel in isolated comfort.
Interior: a 'people-ready' design
As with the earlier Grandsphere concept, there are no B-pillars and the rear doors of the Activesphere open backwards, making for a really large opening area. The interior showcases the 'sphere' part of the concept: it's all about offering maximum space to occupants.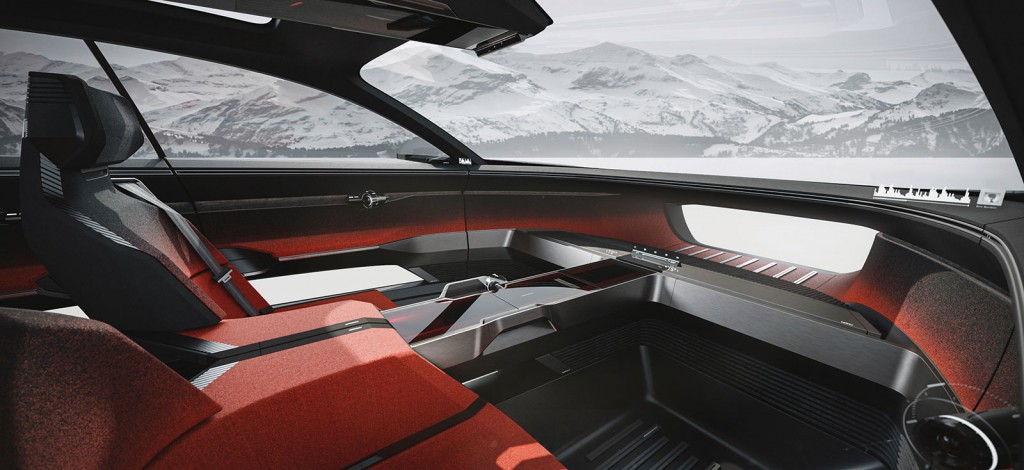 There's a minimalist design with four individual seats and a sparse dashboard with few physical controls. The starting wheel is designed to be autonomous-ready, and in self-driving mode the steering wheel and pedals will retract into the dashboard itself. 
There's also a full-length centre console that runs throughout the car and features built-in cooled and heated storage. Oh, and there are four AR headsets so you can access the metaverse while on the move, should you so want to.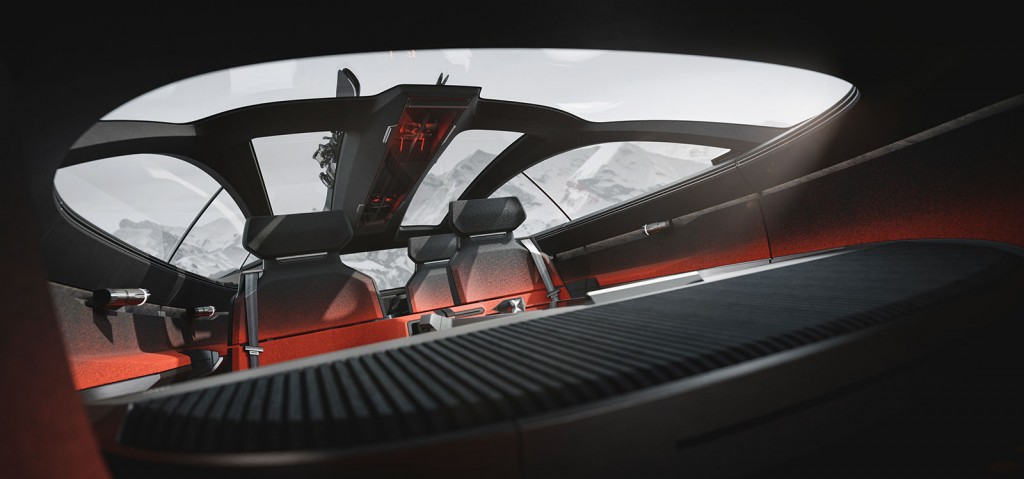 Audi says that the Activesphere is designed to 'cross boundaries' between physical reality and the digital space, using the AR headsets to offer augmented reality that can add extra 'virtual' information for both driver and passengers. That could include 3D topography maps in off-road mode, or safety alerts when on the road, for example.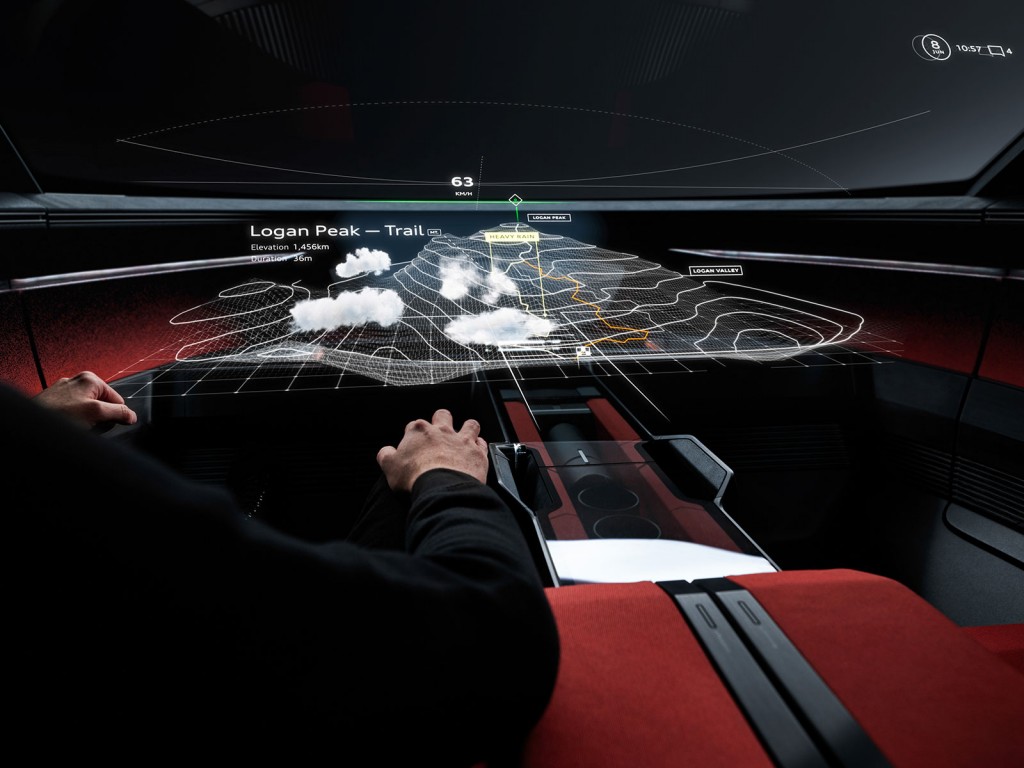 Technology: Activesphere previews PPE platform
The Activesphere might be a concept, but it's built on a very real new bespoke electric platform that Audi is developing alongside sister firm Porsche. That architecture is called Premium Platform Electric (PPE), and the first Audi production models to use it will be revealed later this year.
The PPE architecture is designed purely for battery electric cars, and is claimed to allow greater economies of scale for luxury models by enabling them to share an increased amount of parts. It will be used for crossovers and SUVs, along with more traditional saloon models.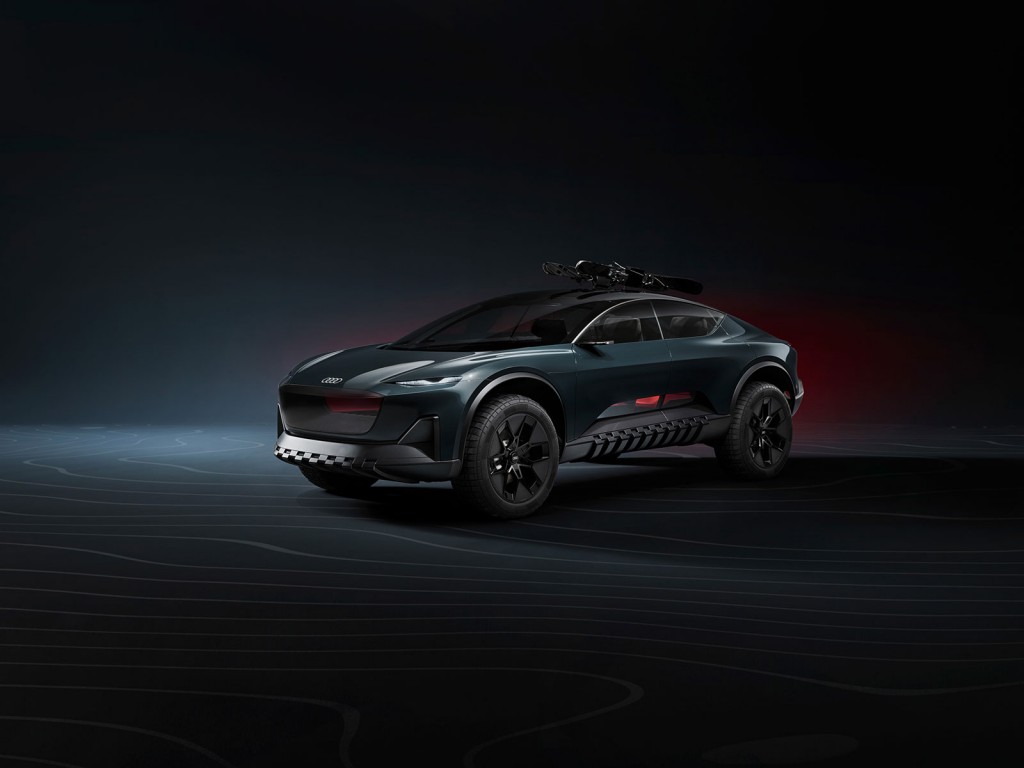 The battery is mounted underneath the floor, and Audi says will hold around 100kWh of energy. That will allow for a range of "well over" 373 miles, while the 800V system means charging can be done at speeds up to 270kW.
The Activesphere uses two electric motors mounted on each axle to offer a total of 325kW and 531lb ft of torque. That allows for a 0-62mph time of less than five seconds. 
READ MORE
Subscribe to the Move Electric newsletter
e-CARS
Ten electric cars we're excited for in 2023
Getting an EV sideways: how easy is it to drift a Kia EV6 GT?
Q&A: Jaguar Racing's Sam Bird and Mitch Evans on Formula E's new era
e-BIKES
Ten electric bikes we're excited for in 2023
Can you get fit using an electric bike?
e-MOTORBIKES
Ten electric motorbikes we're excited for in 2023
Super Soco TC Max electric motorbike review
Cake and Polestar team up for new special edition Makka e-motorbike
e-SCOOTERS
Planned laws to legalise private e-scooters face delay
Five key takeaways from the rental e-scooter trials report
Which train firms have banned e-scooters from their services?
e-WORLD
Move Electric's best features of 2022: lap records, tuk-tuks… and sausage rolls
Volvo Trucks keeps on electric trucking with three new models