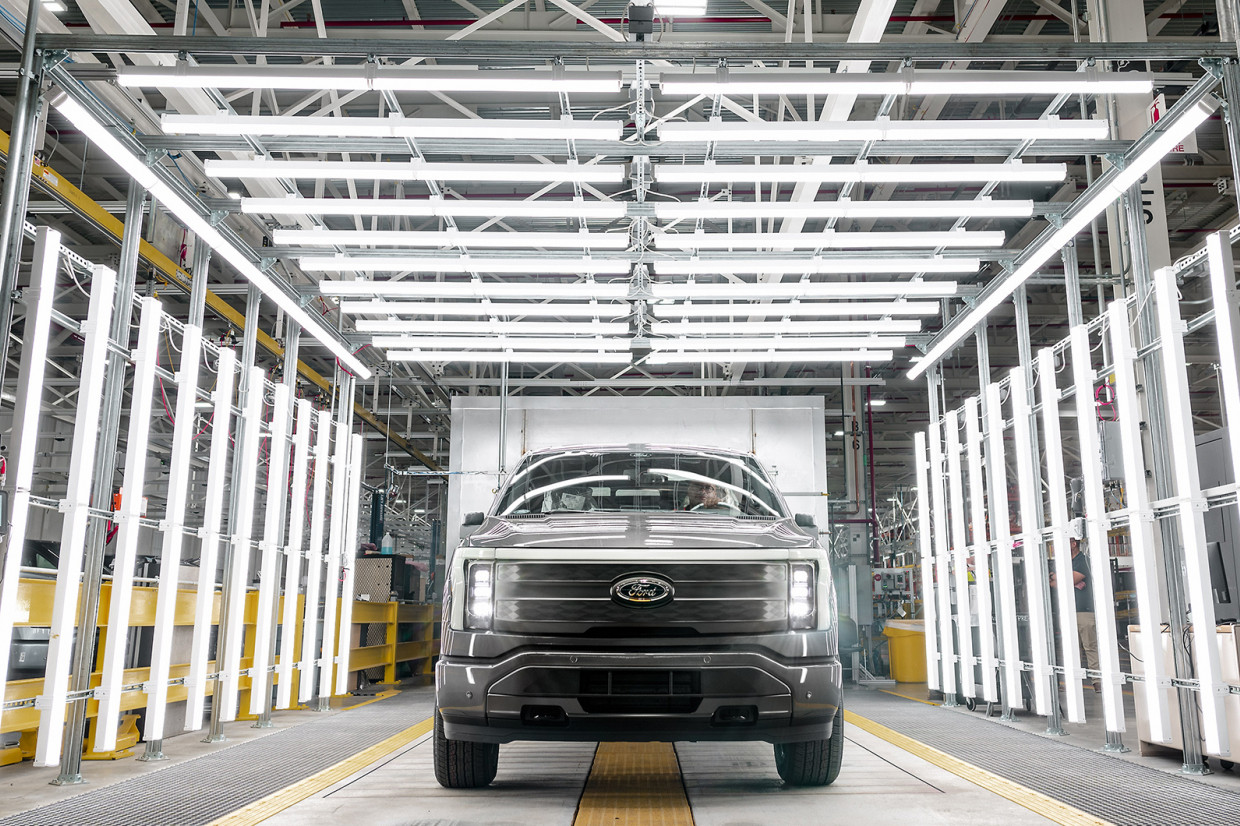 Here's a big moment for a big pick-up that sells in big numbers: Ford has now begun full production of the F-150 Lightning pick-up truck, the electric version of its best-selling vehicle in the USA.
The new battery electric version of the F-150 will be built at the Rouge Electric Vehicle Center in Dearborn, Michigan – and around 200,000 customers have already reserved one of the vehicles. 
First drive: Ford E-Transit electric van
Ford executive chairman Bill Ford called the start of F-150 Lightning production as "the Model T moment for the 21st Century", referencing the 1908 machine that was the first truly affordable car and kickstarted Ford's rise to become one of the the world's biggest car firms.
That comparison isn't really hyperbole, because the F-150 Lightning is set to become a key vehicle in driving EV uptake in the USA. The regular F-150 pick-up was launched in 1948, and has been the best-selling truck in America for 45 years in a row – and also dominates the overall vehicle sales charts. More than 40 million examples have been sold, including more than 700,000 last year.
It will take the electric F-150 Lightning some time to match those numbers, of course, not least because Ford will initially only produce 150,000 a year at the Rouge plant from 2023 onwards. But that is significantly up on the initial planned annual production of 40,000, which has been adjusted twice to try and match demand.
The F-150 Lightning will also face stiff competition in the electric pick-up ranks, including the Chevrolet Silverado EV, Rivian R1T and, eventually, the long-awaited Tesla Cybertruck.
The F-150 has a starting price in the US of less than $40,000 (£31,700). All models will feature a twin-motor, all-wheel-drive set-up, with power outputs ranging from 318 to 420kW and two battery sizes offering 230 or 300 miles (on the American EPA test cycle).
It also packs a range of features to make it a truly rugged American pick-up workhorse: it has 400 litres of lockable storage, can tow up to 4500kg and can be used as a vehicle-to-grid power device that can, Ford claims, power a typical American home for three days. 
Oh, and it also has a front trunk that is brilliantly called a Mega Power Frunk, and which can serve as a cooler, has build-in lighting and features a 2.4kW power outlet. Rugged.
Ford CEO Jim Farley claimed that "America's real transition to electric vehicles starts now." The firm claims it will see more than two millions EVs, a third of its volume, per year by 2026.
Farley added added: "F-150 Lightning is just the beginning of our ambitions for growth and leadership in digital, electric vehicles."
Ford has invested more than $1 billion (£790 million) to upgrade its Michigan operations for F-150 Lightning production, and added 1700 jobs. Ironically, given that the site was where Ford pioneered the automotive production line with the Model T, the F-150 production line is Ford's first facility without in-floor conveyor lines. Instead, robotics autonomous vehicles move each truck between workstations.
The facility is also a 'zero-waste-to-landfill' site, and Ford claims that its operations will be fully carbon neutral by 2050.
Sadly, the Ford F-150 Lightning won't be offered in the UK, because it's basically way too big for the roads over here. Still, Britain's favourite Ford workhorse is now offered in electric form as the Ford E-Transit.
READ MORE
Subscribe to the Move Electric newsletter
e-CARS
New Volkswagen ID Buzz: everything you need to know
How efficient are electric cars?
e-BIKES
Ducati expands e-bike range with first racing machine
e-MOTORBIKES
New Yamaha Neo is Europe-bound '50cc equivalent' electric moped
Electric Motion Epure Race e-motorbike review
e-SCOOTERS
Eskuta KS-450 e-scooter review
Taito unveils innovative new three-wheeled electric scooter
e-WORLD
Electric surfboard firm Awake aims to make waves with first e-foil
Volta Zero electric truck can 'dramatically improve' inner-city road safety