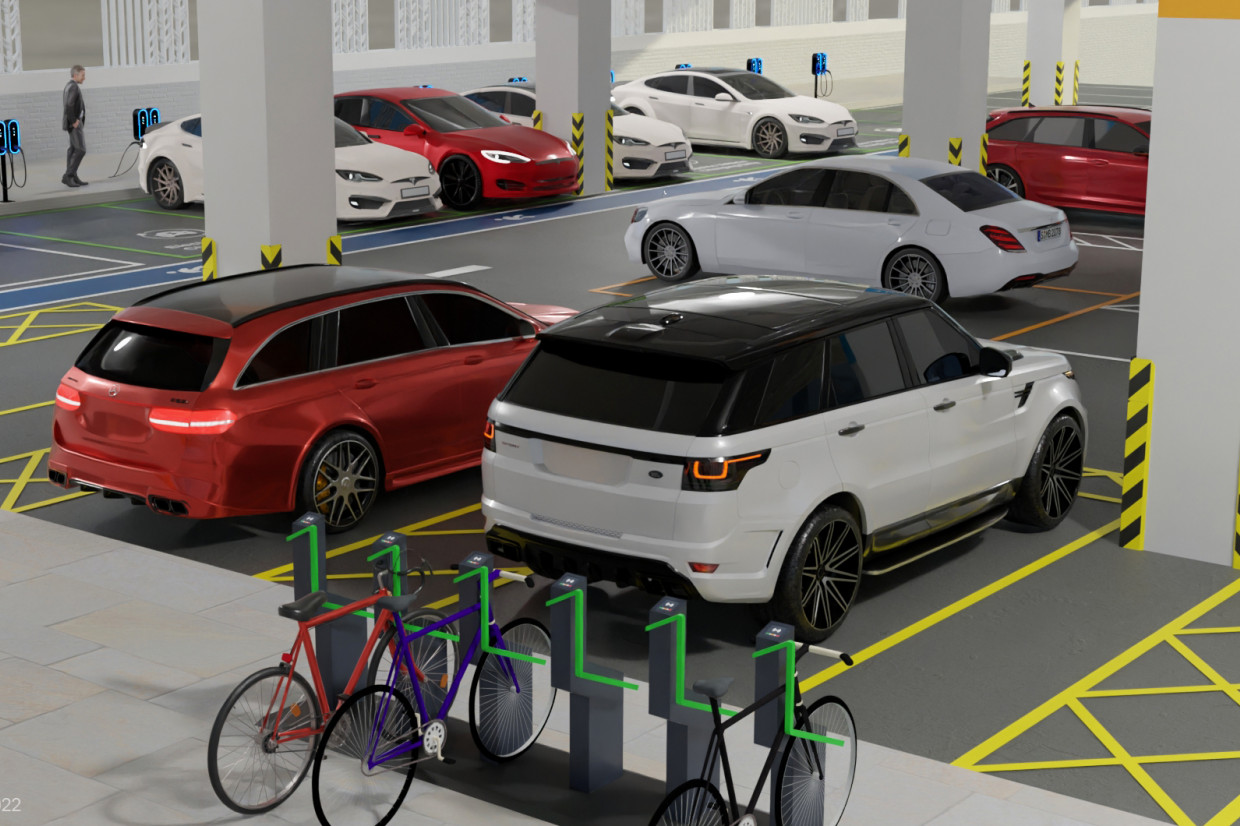 Parking giant Apcoa is planning to open 10 Urban Mobility Hubs, which will include charging for electric cars and bikes and services such as delivery lockers and office pods, in the UK.
The first of the new hubs, which the German-owned firm describes as "the future of car parks", will open in St Catherine's Walk in Carmarthen in February, with sites in Manchester and Sheffield set to follow. The other seven locations have yet to be confirmed.
Get the latest e-mobility news in your inbox: it's the FREE Move Electric newsletter
Apcoa operates a range of car parks across the UK, with locations in city centres, train stations and airports. Apcoa already has around 450 EV chargers in car parks at National Rail sites, and has installed e-bike chargers at two locations.
The new hubs will build on the services it offers, with Apcoa claiming they are "focused on the needs of the local community". The exact facilities at each hub will vary by location, but include fast and rapid charging for both electric cars and bikes. 
The charging for EVs will be enabled by Automatic Number Plate Recognition software, which will allow for a range of payment options – which could include pre-booking, potentially enabling drivers to be sure they are able to charge before they visit the hub.
The hubs will also feature 'vendor lockers', where items ordered online can be collected from to buy down on courier deliveries. And Apcoa says that the hubs will also feature Wi-Fi-enabled office pods and remote working spaces, and vending machines for drinks and snacks.
Additional services at certain sites could include car hire, emissions-based tariffs and screens displaying local train and bus data. The firm says it could also invite local businesses to create pop-up shops or kiosks at the hubs.
Apcoa says that it is working on roof-based solar panel systems that can help power each site.
READ MORE
Subscribe to the Move Electric newsletter
e-CARS
Ten electric cars we're excited for in 2023
Getting an EV sideways: how easy is it to drift a Kia EV6 GT?
Q&A: Jaguar Racing's Sam Bird and Mitch Evans on Formula E's new era
e-BIKES
Ten electric bikes we're excited for in 2023
Can you get fit using an electric bike?
e-MOTORBIKES
Ten electric motorbikes we're excited for in 2023
Super Soco TC Max electric motorbike review
Cake and Polestar team up for new special edition Makka e-motorbike
e-SCOOTERS
Planned laws to legalise private e-scooters face delay
Five key takeaways from the rental e-scooter trials report
Which train firms have banned e-scooters from their services?
e-WORLD
Move Electric's best features of 2022: lap records, tuk-tuks… and sausage rolls
Volvo Trucks keeps on electric trucking with three new models