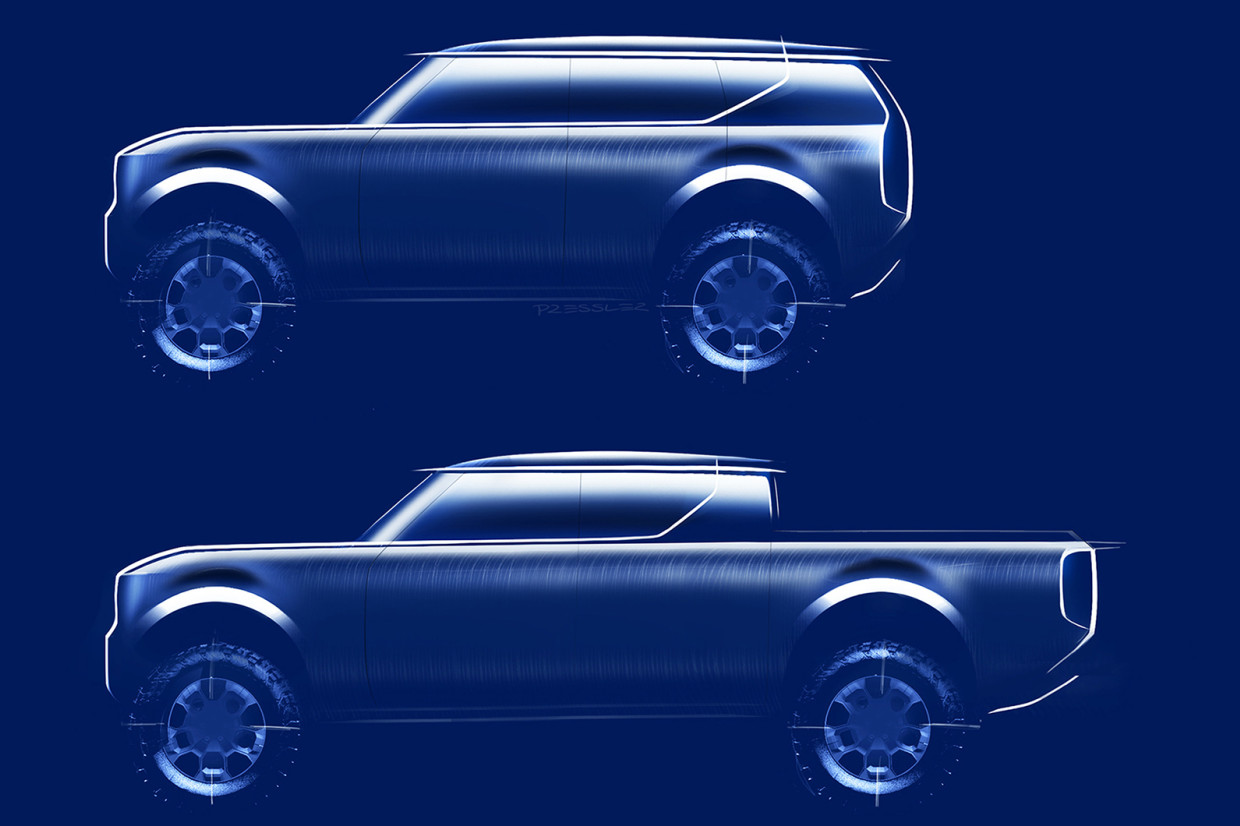 The Volkswagen Group will revive the long-running Scout brand in the USA with an all-electric line-up that will start with a pick-up and SUV off-roader.
The Scout name was used for a series of rugged off-roaders designed to rival Jeep that were produced by International Harvester from 1961 until 1980. The Volkswagen Group bought the rights to the brand last year, and will now use it to create an entirely new brand for the USA.
While Volkswagen currently produces the Amarok pick-up, that is considered a small machine, leaving the VW Group without representation in the key US markets for 'full-size' pick-ups and rugged off-road SUVs.
The VW Group will establish Scout as a separate, independent company, and the vehicles will be designed, engineered and manufacturers in the USA. It will effectively rival the likes of Jeep, the Ford F-150 Lightning and EV-only pick-up and SUV firm Rivian.
Initially, the Scout line-up will comprise an electric pick-up and rugged SUV. The VW Group says the machines will be built on a "new technical platform concept", rather than an existing electric-only architecture such as the MEB platform used by the Volkswagen ID range. 
Volkswagen had at one stage planned a rugged off-road SUV using the MEB platform that would be part of the ID range, but did not pursue the project.
VW Group boss Herbert Diess said: "Electrification provides a historic opportunity to now enter the highly attractive pick-up and R-SUV segment as a Group, underscoring our ambition to become a relevant player in the US market."
The Scout brand will become a key part of Volkswagen's push to boost its fortunes in the US. The main Volkswagen brand struggled there for years, but has recently found success with the US-only Atlas SUV.
Volkswagen financial boss Arno Antlitz added: "The company we will establish this year will be a separate unit and brand within the Volkswagen Group to be managed independently. This aligns with the new Group steering model - small units that act agilely and have access to our tech platforms to leverage synergies."
READ MORE
Subscribe to the Move Electric newsletter
e-CARS
New electric cars for 2022 and beyond: what's coming when
New BMW i7 unveiled as luxury electric saloon
e-BIKES
Best e-bikes for every category 2022
Moustache Samedi 28.7 e-bike review
e-MOTORBIKES
Yamaha Neo's electric scooter review
Cake launches new global electric motorbike race series 
e-SCOOTERS
Government set to announce plans to legalise private e-scooter use
New study finds e-scooters are five times safer than bikes
e-WORLD
World's first airport for flying taxis opens in UK