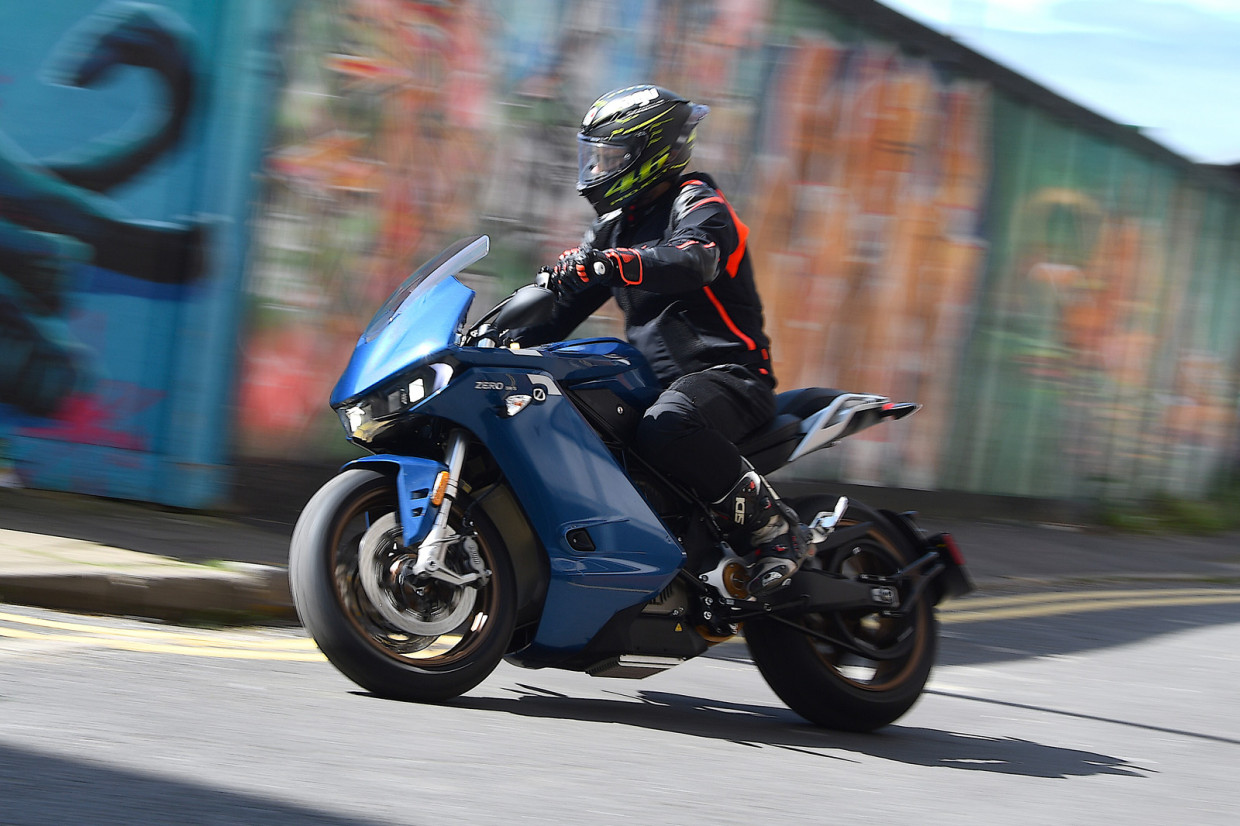 Move Electric rating: four stars out of five
What does it cost?
The Zero Motorcycles SR/S costs £19,590 for the Standard model and £21,590 for the Premium model. That's an awful lot of money compared with regular sport touring motorcycles, such as the Ducati Supersport 950 and Honda VFR800F, but in the world of electric motorcycles, it's competitively priced. The Harley-Davidson Livewire, for example, is a whopping £7405 more expensive than the range-topping SR/S. 
What is it?
You might not think that drawing a comparison between electric motorcycle manufacturer Zero Motorcycles and EV powerhouse Tesla is a particularly inventive way to kick off a review, but bear with us, because the two have a lot in common. Consider this: both were founded in the mid-2000s, both are based in sunny California and both consider themselves to be the market-leaders in their respective fields.
And while electric motorcycles haven't quite taken off in the same way electric cars have (only 4000 Zero bikes were sold globally in 2020), we suspect the market for two-wheeled EVs is going to grow – rapidly. With urban clean-air zone restrictions becoming increasingly widespread and the UK government recently announcing that all new motorcycles will have to be zero-emission compliant by 2035, all the big names in motorcycling (BMW, Ducati, Honda, Triumph and so on) are scrambling to develop battery-powered bikes.
That leaves Zero in an enviable position. The American manufacturer already offers buyers a comprehensive range of electrified two-wheelers, including everything from beginner bikes and dual sport off-roaders to performance-focused street bikes.
To get acquainted with the brand, we decided to jump right in and test its halo model, the SR/S. We're looking forward to testing a number of more entry-level models in the future.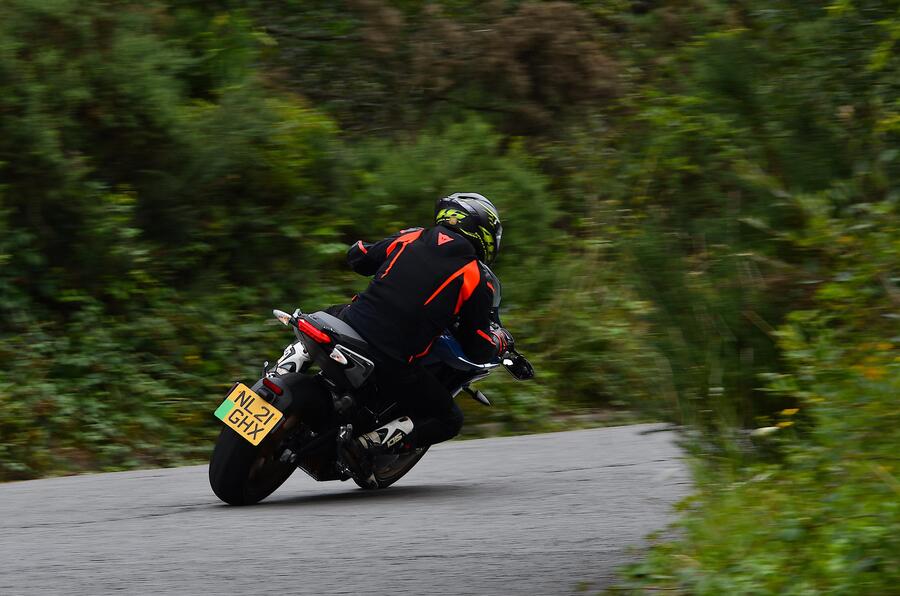 The SR/S might look like a full-on superbike with its sleek, aerodynamic bodywork, but it's actually more of a relaxed sport tourer (a GT in the bike world) courtesy of its high bars, low foot pegs, beefy pillion grab-handles and optional luggage space. If its frame housed a petrol engine rather than an electric battery and motor, it would be a Ducati Supersport or Honda VFR800F rival, rather than a Ducati Panigale or Honda Fireblade rival. 
Speaking of propulsion, the SR/S features a sizeable 14.4kWh lithium-ion battery paired with a compact electric motor. We will get to acceleration later, but in terms of range, Zero claims the SR/S should be able to cover around 161 miles in the city, while a constant cruise at 70mph will return an 82-mile range. Combine the two and you get a 109-mile real-world range, which is roughly on a par with the significantly more expensive Livewire. 
In terms of charging speed, the Standard model (£19,590) gets a 3kW on-board charger, while the Premium model (£21,590) gets a 6kW rapid-charger. When plugged into a 3kW dedicated single-phase EV charger, the former will take around four hours to reach 95% charge from flat, while the latter cuts that down to two hours. That makes commuting realistic if you can plug the bike in at home and at work.
If you want to be able to cover longer distances without having to stop for hours to charge up, we would seriously consider the optional 6kW Power Tank accessory, which increases total charging capacity to 12kW. On Premium bikes, that cuts charging times down to just under an hour if you can find a sufficiently quick charger. 
What's it like?
With it having a colossal 140lb ft of torque on tap (almost double that of the Fireblade), you would be forgiven for thinking that the SR/S would be intimidating to ride. It takes only a spin around the block to realise that the SR/S is actually no scarier to ride than a large scooter. With no clutch or gears to worry about and a silky smooth throttle response, it makes low-speed manoeuvres such as filtering through stationary traffic or making feet-up U-turns an absolute breeze.
Unsurprisingly, a great deal of its user-friendliness comes down to the way it has been programmed. There are four different riding modes (Eco, Rain, Street and Sport), and each controls a host of riding parameters.
Selecting Eco, for example, sofens off the throttle response, limits the top speed to 75mph and ramps up the engine braking (or regenerative braking) to the point that you need to touch the brakes only occasionally. Around town, Eco feels ideal and still leaves you with enough punch to out-drag Uber drivers away from the lights. Neat.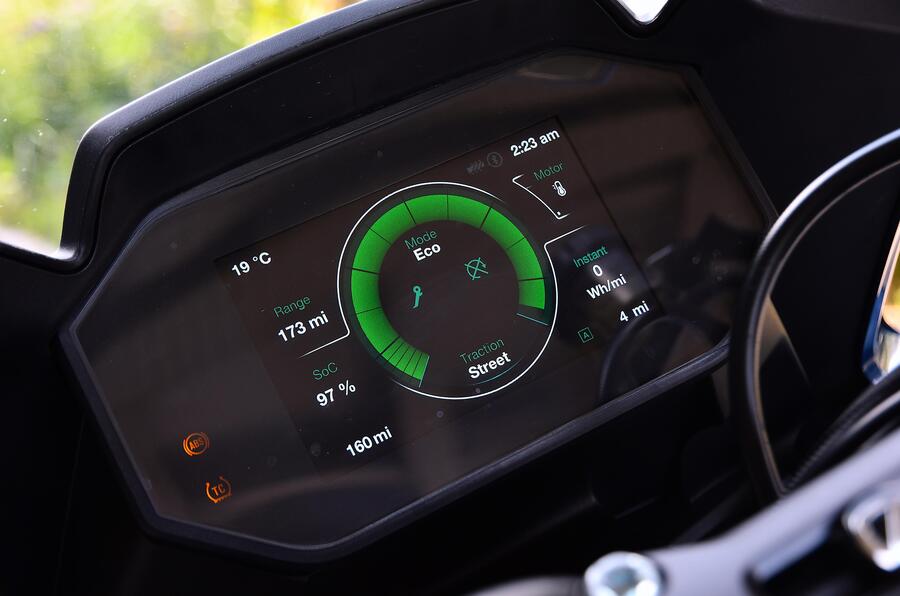 Street and Sport modes reduce engine braking, remove the top speed and ramp up the power. For most UK B-roads, Street is the Goldilocks mode: there's enough punch for easy overtaking and you never find yourself craving more power.
But I simply couldn't resist selecting Sport whenever the opportunity arose. In that mode, there's simply no slack in the drivetrain: you twist the accelerator and you're thrown towards the horizon on a wave of instant torque. The performance simply doesn't drop off, and even on the motorway, its roll-on acceleration is simply mind-bending. 
Of course, all that performance does mean you often end up arriving at corners a little quicker than you might have expected, which is where I would personally like a little more engine braking. Zero has thought of that, though. If you download the Zero Next Gen smartphone app, you can create a Custom ride mode which allows you to alter every riding parameter individually. My ideal set-up for country roads was full power and full engine braking.
Like all electric bikes, the SR/S suffers from a fairly hefty kerb weight (234kg to be exact), but it feels perfectly manageable on the move. Through quick direction changes, you do have to put a bit of effort in through the bars; but once the SR/S is settled into the corner, it feels composed and stable, and the Pirelli tyres provide you with plenty of feedback.
Gripes? Well, for a sports tourer, the ride is a little on the firm side and the seat is rather stiff, making it uncomfortable to spend more than an hour in the saddle. Plus, if you decide to ride everywhere in Sport mode, you're going to flatten the battery fairly quickly – and that could be a problem if you live for a Sunday-morning thrash. 
Should I buy one?
Yes, the SR/S is expensive compared with a regular petrol bike and, yes, with an 80-100 mile real-world range, it's unlikely that you will be buying one to take on a European touring holiday. But if you're looking for the ultimate commuter bike and can stomach the initial outlay, the SR/S should be towards the top of your list.
Without a clutch and a gearbox, the SR/S is an absolute breeze to ride around town, and we personally love the idea of never having to stop at a garage for petrol. When you factor in significantly reduced running costs over a regular bike, the SR/S is a seriously compelling proposition.
Where can I buy it?
Visit www.zeromotorcycles.com for a full list of dealer locations.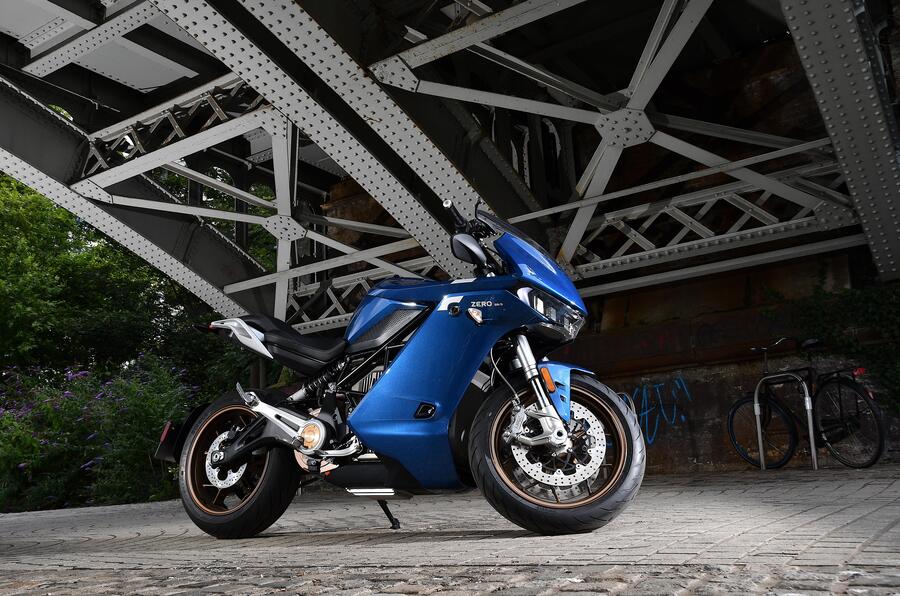 Zero Motorcycles SR/S
Technical specs: 
Model tested: Zero SR/S Premium
Price: £21,590 (less £1500 Government grant)
Engine: Z-Force 75-10 AC electric motor
Battery: 14.4kWh, lithium-ion
Power: 110bhp @5000rpm
Torque: 140lb ft 
Top speed: 124mph
Range: 109 miles (50% stop-and-go and 50% at steady-state speed of 70mph)
0-62mph: na
Kerb weight: 234kg
Battery size: 14.4kWh
READ MORE
Subscribe to the Move Electric newsletter
e-CARS
New Volkswagen ID Buzz: everything you need to know
How efficient are electric cars?
e-BIKES
Ducati expands e-bike range with first racing machine
e-MOTORBIKES
New Yamaha Neo is Europe-bound '50cc equivalent' electric moped
Electric Motion Epure Race e-motorbike review
e-SCOOTERS
Eskuta KS-450 e-scooter review
Taito unveils innovative new three-wheeled electric scooter
e-WORLD
Electric surfboard firm Awake aims to make waves with first e-foil
Volta Zero electric truck can 'dramatically improve' inner-city road safet