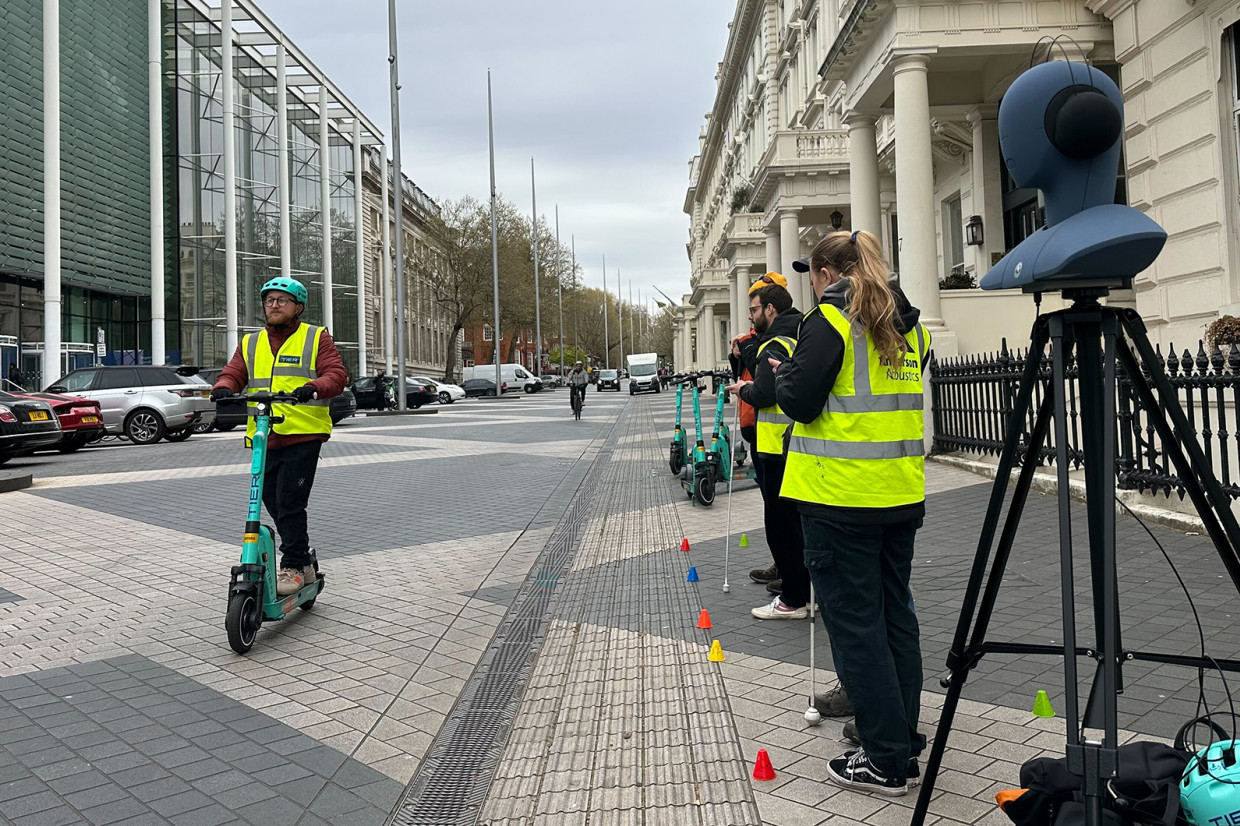 The three rental e-scooter firms that operate in London have begun on-street testing of a universal warning sound to alert pedestrians and other road users.
Tier, Dott and Lime have all combined to develop an acoustic vehicle alert that is designed to help improve the safety of rental e-scooters by warning others, particularly partially signed and blind people, to their approach.
The latest e-scooter news in your inbox: sign up for our FREE newsletter
The research is being conducted by Anderson Acoustics, which worked with Transport for London (TfL) on the development on acoustic warning sound for urban buses. It follows a series of experiments by the UCL Person-Environment-Activity Research Laboratory (PEARL) to develop a sound. TfL and charities including the Thomas Pocklington Trust.
While work has been ongoing in laboratories on a range of sounds, the tests will be the first time they have been deployed in the real-world, with researchers aiming to determine how pedestrians will react to a range of acoustic alerts. Volunteers from the Sight Loss Council, which is funded by the Thomas Pocklington Trust, are helping to advise development of the noise.
The goal is to develop a noise that will allow people to easily identify an e-scooter, regardless of operator. That means the sound has to be easily heard, and different from the warning noises already required for electric cars and other vehicles.
The plan is for Tier to conduct a broader pilot of the universal sound in London, York and Essex later this year.
Fred Jones, Tier's Northern Europe general manager, said: "The depth and quality of research undertaken so far by the team at UCL and Anderson Acoustics is truly staggering, and it is great that testing is now moving into the real world. We are proud that this industry-leading work is taking place in the UK, with the technology ultimately being offered around the world. 
"At the heart of this collaborative project is our desire to ensure micromobility is as safe as possible, both for users and the wider public. We take the responsibility of introducing a new form of transport to our streets seriously and this is part of our broader push to make our cities safer, cleaner and better places to live."
Helen Sharp, who heads up TfL's e-scooter trial lead, said: "Our trial is the only legal way to ride an e-scooter on public roads in London and we want it to work for everybody. We're really pleased to see the e-scooter operators working with UCL on the next stage of testing for a sound for rental e-scooters to alert people of their approach."
Sharp said that the trial would take "everyone's accessibility needs into account", adding: "This testing moves us closer to finding a solution that would make it easier for people to know that an e-scooter is near them, in particular people who are visually impaired. We will continue to engage with people with accessibility needs and keep safety our number one priority".
Harry Meade, a member of the Sight Loss Council, said it was important for visually impaired people to be involved in the tests "because it means the input of people with lived experience of sight loss informs this work." He added: "We really want to contribute to the right kind of sound being utilised so that e-scooters can be as safe as possible for blind and partially sighted pedestrians."
READ MORE
Subscribe to the Move Electric newsletter
e-CARS
What is a heat pump and how do they benefit electric cars?
Bold new Volkswagen ID 2all previews sub-£22,000 electric car
e-BIKES
Ten electric bikes we're excited for in 2023
Nine ways to keep your e-bike safe
E-bike theft: how common is it and what can you do to protect your e-bike?
Haibike AllMtn CF 6 e-bike review
e-MOTORBIKES
10 electric motorbike start-ups you should watch out for
Energica e-motorbike to take on all-comers in US racing series
Ducati: How the Italian motorbike brand is gearing up for the electric era
e-SCOOTERS
Planned laws to legalise private e-scooters face delay
Leading e-scooter firms team up on best-practice guide for cities
Ambiguity over e-scooter legality causing 'confusion', says police chief
e-WORLD
Solar panels: 8 ways the sun can power your electric life
First ride: Lunaz Upcycled Electric Vehicle bin lorry
AutoFlight secures huge order for Prosperity 1 eVTOL craft