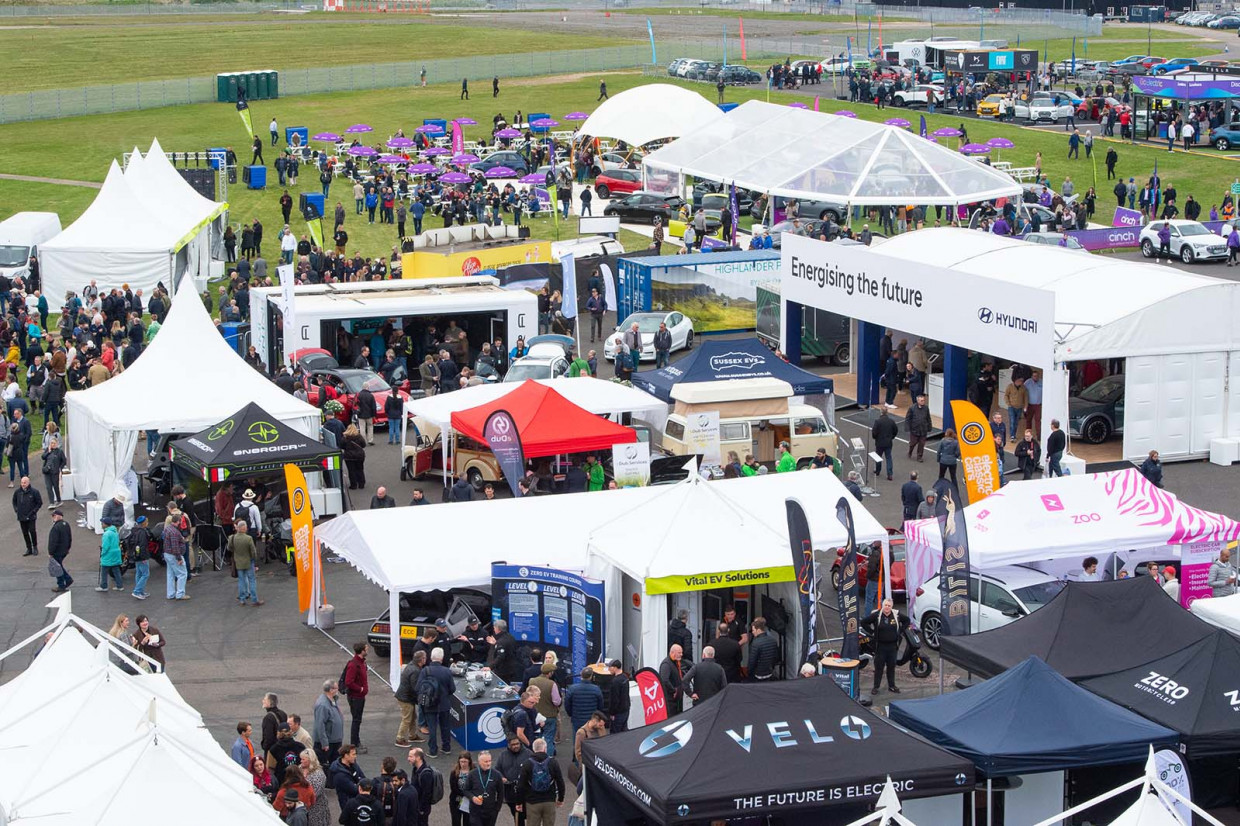 This year's Fully Charged Live was another hit, with thousands of visitors flocking to the Farnborough show to try the newest EVs and scooters, enjoy the conference events and immerse themselves in the trade stands.
Move Electric was there, too, seeking out the biggest stories but away from the headlines. We scoured the show for the products, services and innovations that may have slipped your notice.
Here's what we found.
The quadricyle delivering your parcels
The Paxster, a last-mile electric delivery vehicle, has been busy distributing packages in London and Oxford since 2018. Delivery giant DPD runs a fleet of 25 of the one-seater quadricyles, each making around 60 deliveries a day on just one charge of the 9.2kWh battery.
Subscribe to the Move Electric newsletter
Designed and built in Norway, the Paxster has a 200kg payload and a one cubic-metre storage box capable of holding around 140 small parcels. Its top speed is 30mph. The Paxsters bring DPD's electric fleet to 1500 vehicles but by the end of the 2023 the company aims to have 5000 electric vehicles delivering parcels across the UK.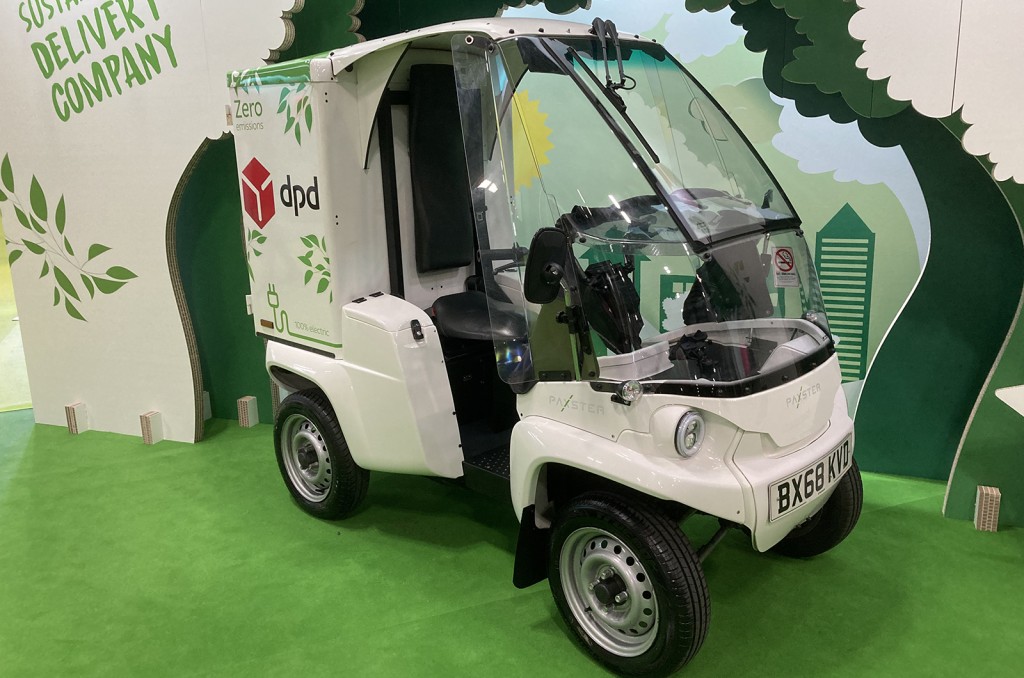 Lithium – from Cornwall!
Once famous for its tin mines, Cornwall could be about to become a centre for lithium mining. The key ingredient of batteries was first discovered in the region in 1864; specifically in hot springs fed by geothermal waters. Now a British company called Cornish Lithium is planning to access Cornwall's lithium-rich water via boreholes and is building a plant to extract the element. The company is also planning to extract lithium from the region's granite rock.
It has been estimated that the UK's annual demand for lithium with be at least 75,000 tonnes by 2035. Cornish Lithium, which plans to start production in 2026, hopes to contribute around 10,000 tonnes. 
The Greenman charger
The Greenman charger is based on a traditional fertility mask – no, we didn't make that up – with the charge point where the mouth would be. Flexible Energy, the Yorkshire-based company that designed it, says it would be perfect for period buildings where a conventional charger would look out of place.
Another product Flexible makes is the Bendy Bedale Bollard public charger. Made of a flexible, impact-absorbent material, it's meant to withstand careless parkers. The company also showed off its planter-based charger designed to blend into a traditional townscape. Made of galvanised steel, it supports a large plant on the top but lower down, features an integrated charger that can be used by EV drivers or market stallholders.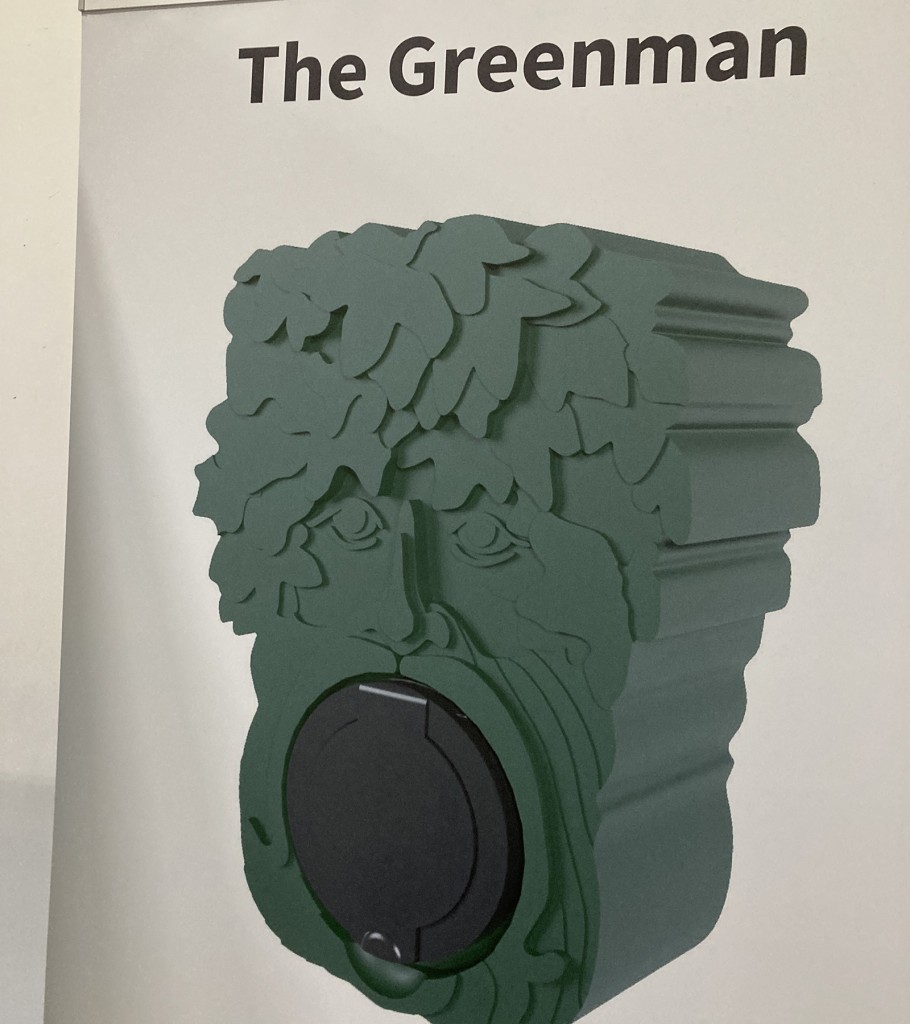 Phwoar, it's an electric tractor
The compact Farmtrac FT25G electric tractor is intended for sports pitches, yards and paddocks. It can run for up to six hours on its 72-volt battery, which takes eight hours to recharge on a domestic socket. Apart from its rotary drive selector it looks identical to the regular diesel equivalent but, thanks to its instant torque from low revs, it can outperform it in heavy-duty flail mowing and tilling.
Lower operating costs, quieter running and the ability to operate in-doors are its other attractions. Prices start at £22,500 plus VAT and Reesink Agriculture, the UK distributor, has sold 30.
And obviously, we suggest you be very careful looking up further details on the internet.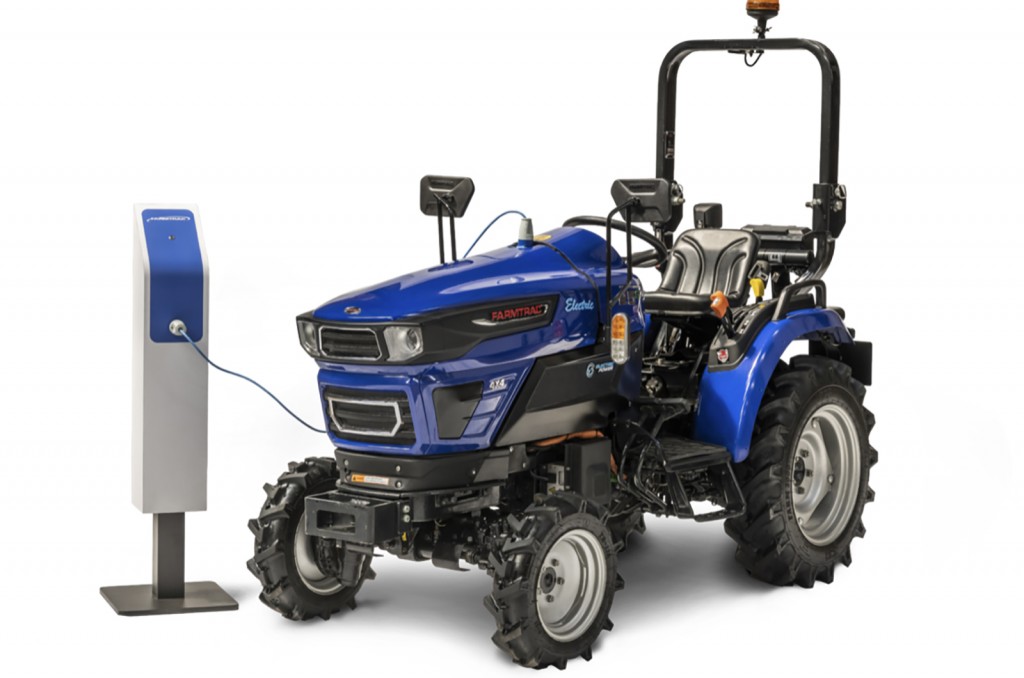 The trendiest charger in the world?
The Zaptec Go may just be the trendiest 22kW charger on the market. Available in six colours including Asphalt Black and Moss Green, its charging socket also lights up helpfully when you raise the flap. Surprisingly compact, it can also be used as a 7kW home charger (which costs £1000 including installation). It looks very Scandi, so you won't be surprised to learn that it was designed in Norway. The Zaptec Go is covered by a five-year guarantee and since launch in 2021, the company has sold more than 100,000.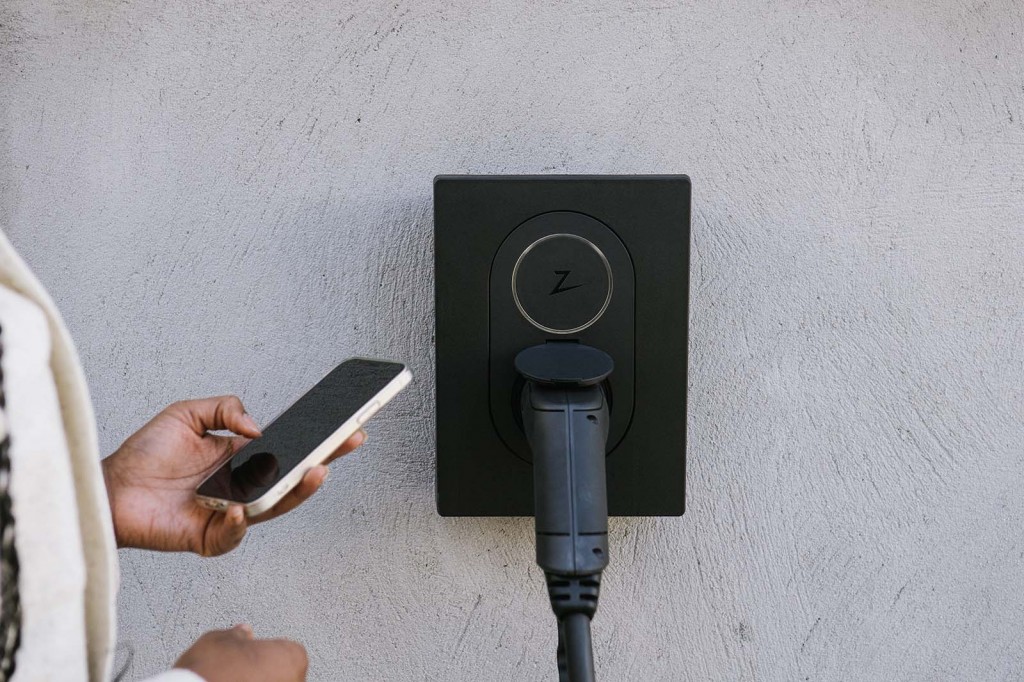 You can own a wind farm
That's what it said on Ripple Energy's poster and the message really caught our eye, although 'part-own' is nearer the truth. The idea is that you pay from as little as £25 to buy a share in a wind turbine and reap the rewards in the form of savings on your electricity bill. Ripple Energy reckons it takes 12 years to get your money back.
The company launched its first turbine in 2020. It cost £4.2 million, a sum it raised through selling shares, grants from the Welsh Government and business investment. As you read this, Ripple has just closed its latest share offer on eight new wind turbines in Scotland, which should be operational in 18 months' time.
EV selector
Helping businesses make the switch to electric by letting them see how their drivers' normal driving patterns would translate to the EV world, is the aim of Go For Zero. Using the company's smartphone app, customers can get a personalised, day-to-day simulation of driving a selected electric car or van and compare total cost of ownership figures based on their actual journeys and likely charging patterns. Adapting the simulation to a typical payload and seeing the effect of seasonal temperature changes on real-world range is also possible. 
EV out of warranty? Try this…
If your EV is out of warranty and you can't afford to continue paying main dealer garage rates, consider having it serviced by a member of the Hybrid and Electric Vehicle Repair Alliance (Hevra). The organisation acts like a support hub for independent garages – training technicians, providing valuable repair information and enabling them to share knowledge with fellow members, of whom there are 200.
Meanwhile, Hevra itself has a good overview of the situation regarding EV spares availability and the willingness, or otherwise, of manufacturers to provide support to independent garages. It's a mixed picture…
Charging to the rescue for charger issues
If you've ever had an unhappy experience with a charger installer or installation, you'll probably have wished there'd been someone to turn to who could fight your corner. Fortunately, since 2019 there has been exactly that consumer champion in the form of the Electric Vehicle Consumer Code; a kind of ombudsman with the power to mediate in disputes between customers and suppliers. Developed by the Renewable Energy Association, membership is open to installers who abide by the Institute of Engineering and Technology's code of practice concerning electric vehicle charging equipment installation. Check if your charger installer is a member.
The remote electric laboratory
Remote and with its own plentiful source of wind and wave power, Orkney is the perfect place to test new ways of generating and distributing energy. Reflex Orkney, a government-backed organisation, is working with islanders to decarbonise the archipelago using wind and wave turbines and by installing solar panels and micro generators in each home, controlled by smart chargers.
The plan is to integrate all the energy assets into a flexible power grid that can manage individual power requirements and allow energy to flow from and to consumers, and for elements of this system to, one day, be adopted across the UK.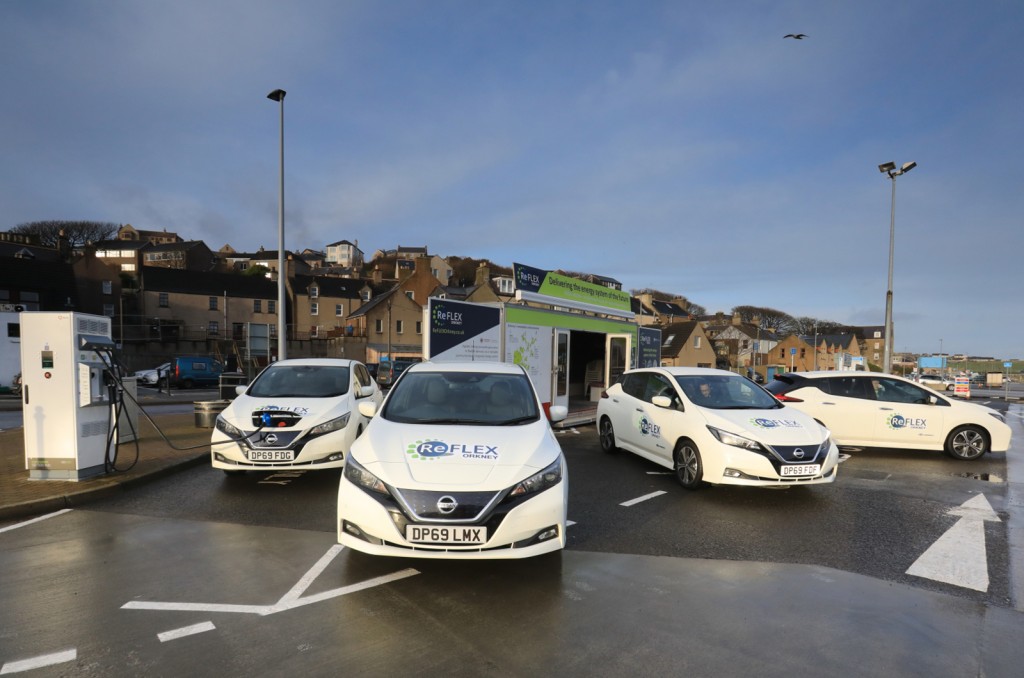 JOHN EVANS