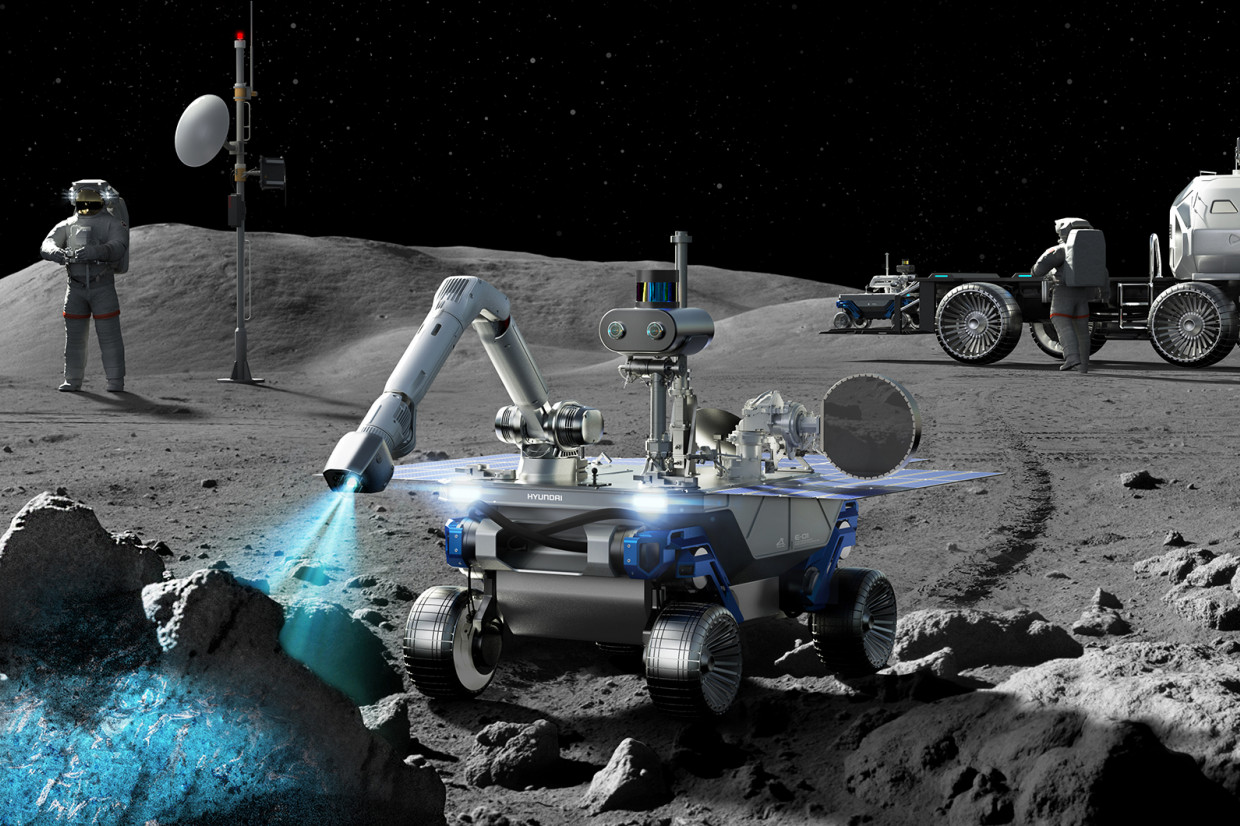 Thanks to excellent machines such as the Hyundai Ioniq 6, the Hyundai Motor Group has firmly established itself as one of the world's top electric car brands. And it's now set its sights on conquering space. Well, why not?
The Korean giant, which owns Hyundai, Kia and Genesis, is working with six aerospace research institutes in its home country to develop a lunar rover that could explore the surface of the moon, with the idea to have one ready to launch by 2027.
Electric news that's out of this world: it's the Move Electric newsletter
Hyundai Motor Group has now started work on an initial development model, which is set to be completely in the second half of next year as the project ramps up.
Yong Wha Kim, the head of Hyundai Motor and Kia's R&D and coordination centre, said that the goal was to expand "the score of human mobility experiences." He added: "With the rover's development, we are moving beyond land, sea and air mobility to expand into space mobility."
Of course, taking on the final frontier presents Hyundai with a host of new challenges, and the brief for the lunar rover is an exacting one. The machine will be autonomous, so as well as the drive system (the motor, wheels and suspension) it will need a suite of camera and LiDar systems. 
Given the electric vehicle charging infrastructure network on the moon is best described as patchy at best, Hyundai will also equipment the lunar rover with a battery and solar panels to charge it. Oh, and the machine will also need a thermal management function and radiation shielding to cope with the heat of the moon's surface.
While Hyundai will be in charge of the bottom half of the rover, the upper session will be reserved for scientific instruments and payloads developed by the boffins from the various institutes. The aim is that the rover can eventually be used for a variety of payloads, making it more versatile and cost-effective.
So there's a lot to pack in, and the mobility unit can only weight around 70kg, making Hyundai's task even tougher. 
Hyundai Motor Group isn't the only car giant looking to the moon's surface: Toyota is also involved in a Japanese group that is developing a lunar rover. And there's a chance that if either is selected to go to the moon, it could be powered into space by a rocket built by SpaceX, which is headed by Tesla boss Elon Musk.
READ MORE
Subscribe to the Move Electric newsletter
e-CARS
What is a heat pump and how do they benefit electric cars?
Bold new Volkswagen ID 2all previews sub-£22,000 electric car
e-BIKES
Ten electric bikes we're excited for in 2023
Nine ways to keep your e-bike safe
E-bike theft: how common is it and what can you do to protect your e-bike?
Haibike AllMtn CF 6 e-bike review
e-MOTORBIKES
10 electric motorbike start-ups you should watch out for
Energica e-motorbike to take on all-comers in US racing series
Ducati: How the Italian motorbike brand is gearing up for the electric era
e-SCOOTERS
Planned laws to legalise private e-scooters face delay
Leading e-scooter firms team up on best-practice guide for cities
Ambiguity over e-scooter legality causing 'confusion', says police chief
e-WORLD
Solar panels: 8 ways the sun can power your electric life
First ride: Lunaz Upcycled Electric Vehicle bin lorry
AutoFlight secures huge order for Prosperity 1 eVTOL craft