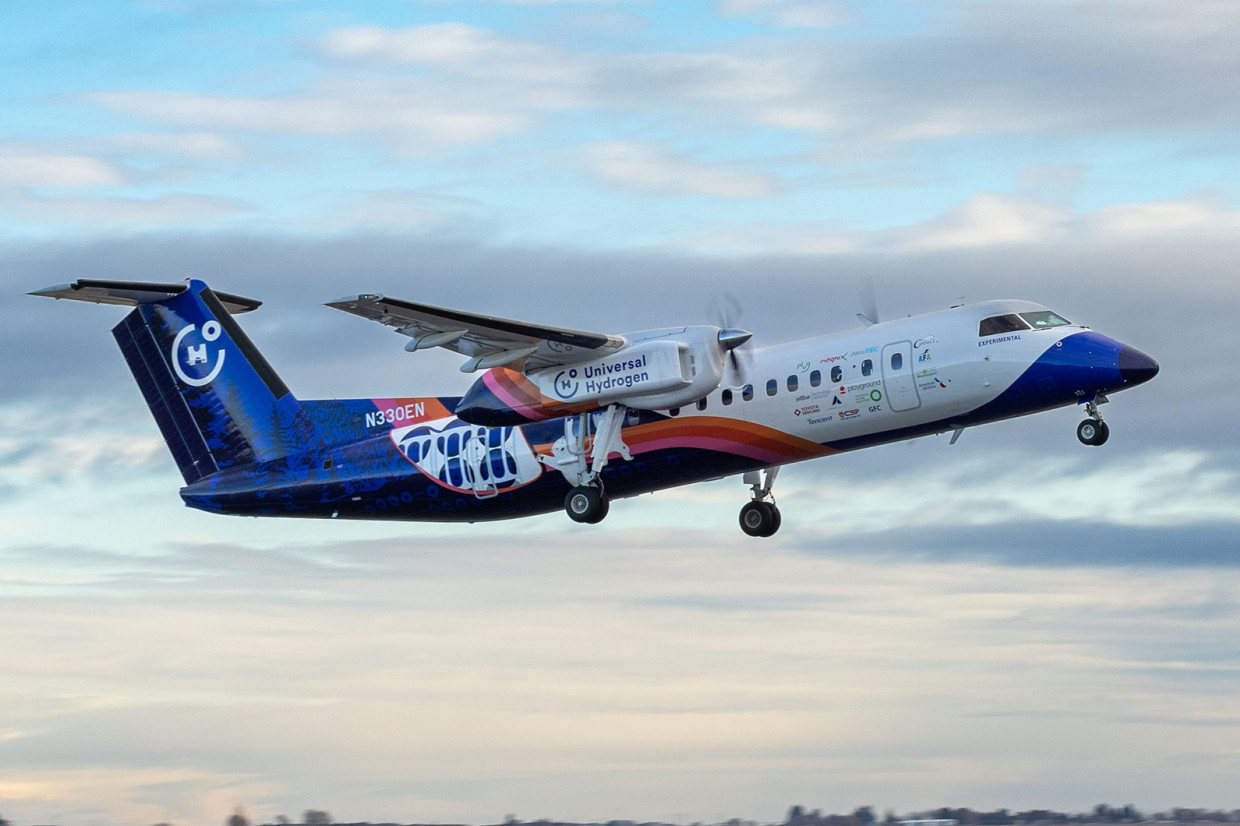 Californian firm Universal Hydrogen has completed the first test of a 40-passenger regional plane powered in part by a hydrogen fuel cell – setting a new record for the largest machine flown using the fuel.
The firm an an ATR 72 aircraft – nicknamed Lightning McClean – that had been specially converted with one of its turboprop engines swapped for a hydrogen fuel cell powertrain. Universal Hydrogen was founded in 2020 with the aim of developing fuel cell systems that could be retrofitted to existing planes.
Electric news flying into your inbox: get our FREE newsletter
The ATR 72 used featured 40 seats, and is the largest plane to be flown using hydrogen power, eclipsing the 19-seat Dornier 228 that British firm ZeroAvia successfully flew using a similar FCEV system in January.
Lightning McClean's test flight took place at Grand County International Airport in Washington State, and lasted for 15 minutes. Taking place with special permission os US flight officials, the flight lasted 15 minutes and reached a height of 3500 feet MSL (Mean Sea Level). 
Universal Hydrogen's fuel cell-electric megawatt-class powertrain is based on Plug Power's ProGen fuel cells, which have been specially modified for aviation use. Notably, the system does not require a battery, with the fuel cells instead driving the electric motor directly, which the firm claims reduces both weight and cost. The motor itself is a modified Magni650 unit suppled by MagniX.
For the first test, the plane was piloted by chief test pilot Alex Kroll. He said: "During the second circuit over the airport, we were comfortable with the performance of the hydrogen powertrain, so we were able to throttle back the fossil fuel turbine engine to demonstrate cruise principally on hydrogen power.
"The airplane handled beautifully, and the noise and vibrations from the fuel cell powertrain are significantly lower than from the conventional turbine engine."
Universal Hydrogen has a two-year test programme for the system planned, and is aiming to secure full certification so that deliveries of retrofitted can start in 2025. The firm claims it already had more than £830 million in orders, with 16 customers ordering a total of 247 planes. Connect Airlines and Amelia are the firm's US and European partners respectively.
The company has attracted investment from key players in the aviation industry including GE Aviation, Airbus Ventures, Toyota Ventures and American Airlines.
Universal Hydrogen boss Paul Eremenko said that the ultimate goal was to eventually scale the modular hydrogen system to be fitted in larger planes.
"Our business model resolves the chicken-and-egg problem between hydrogen airplanes and hydrogen infrastructure by developing both in parallel and with a uniquely low-cost approach," said Eremenko.
"The airplanes are converted to hydrogen using an aftermarket retrofit conversion kit, tackling the existing fleet rather than developing a brand new airplane. And hydrogen fueling uses modular capsules compatible with existing freight networks and airport cargo handling equipment, making every airport in the world hydrogen-ready."
"More than half of aviation CO2 emissions today come from the [Airbus] A320 and [Boeing] 737 family of aircraft. "Both Airbus and Boeing will need to replace these venerable airplanes with a new design starting development in the late-2020s and entering passenger service in the mid-2030s.
"Making their successors hydrogen airplanes is a golden opportunity—perhaps the only opportunity—for aviation to get anywhere near meeting Paris Agreement emissions targets without having to curb aviation traffic volumes."
READ MORE
Subscribe to the Move Electric newsletter
e-CARS
Ten electric cars we're excited for in 2023
Getting an EV sideways: how easy is it to drift a Kia EV6 GT?
Q&A: Jaguar Racing's Sam Bird and Mitch Evans on Formula E's new era
e-BIKES
Ten electric bikes we're excited for in 2023
Can you get fit using an electric bike?
e-MOTORBIKES
Ten electric motorbikes we're excited for in 2023
Super Soco TC Max electric motorbike review
Cake and Polestar team up for new special edition Makka e-motorbike
e-SCOOTERS
Planned laws to legalise private e-scooters face delay
Five key takeaways from the rental e-scooter trials report
Which train firms have banned e-scooters from their services?
e-WORLD
Move Electric's best features of 2022: lap records, tuk-tuks… and sausage rolls
Volvo Trucks keeps on electric trucking with three new models