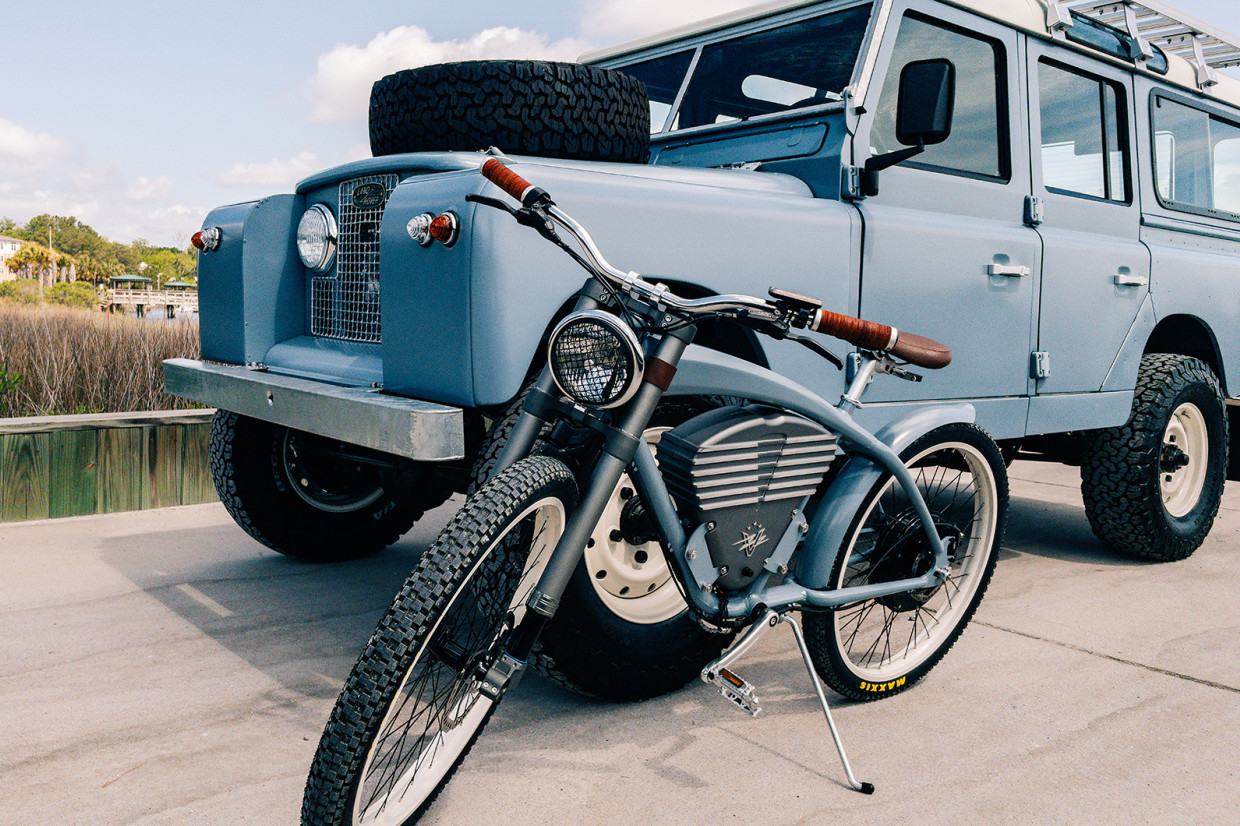 American Land Rover restoration specialist Himalaya 4x4 has partnered with retro-themed electric bike firm Vintage Electric to produce a new throttle e-bike inspired by the original Land Rover Series models.
The new Himalaya 4x4 Special Edition Vintage Electric bike features a number of bespoke styling features based on classic Land Rover models that have been restored by the South Carolina firm.
The latest EV news in your inbox: get our FREE newsletter
Now, some bad news for UK readers: the special edition machines are US market throttle e-bikes, which means that don't fit UK e-bike rules that only allow for pedal-assist e-bikes which give electric boost up to 15.5mph. And there's another catch: you can only get one of the new bikes as an option when you commission a new Land Rover Series from Himalaya 4x4. But it will be customised to match your new Land Rover, at least.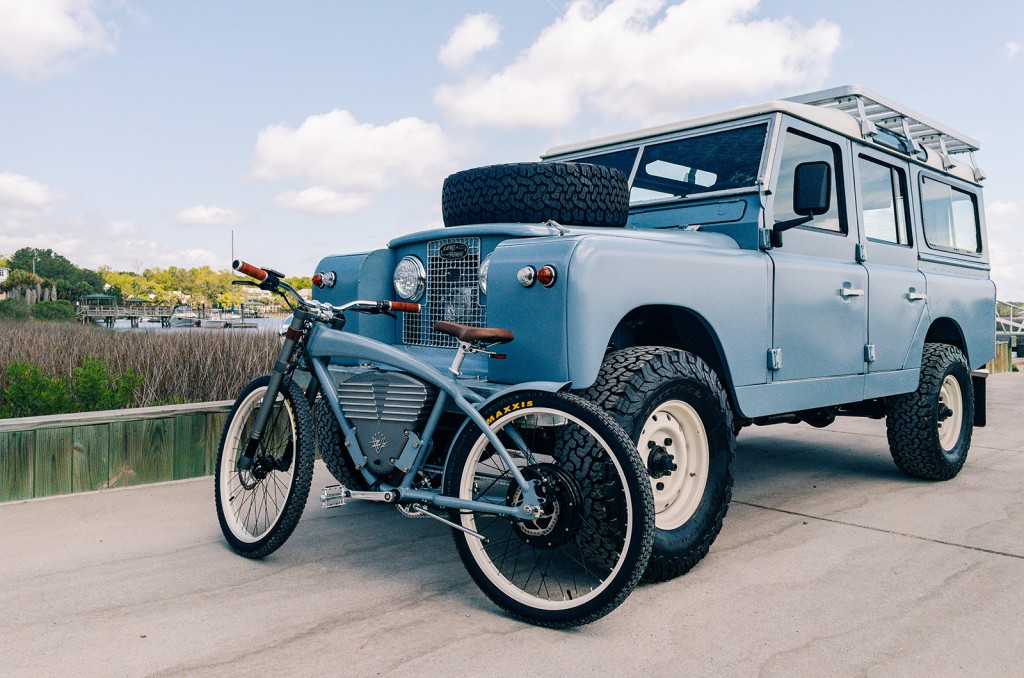 While Himalaya 4x4 restored a range of Land Rover models, it wanted the e-bike to focus on the military-derived Series models that served as the precursor to the current Defender line, and which were produced from 1948 to 1985.
"Each Series truck features a classic design that runs in beautiful parallel with what Vintage Electric captures in their own bike designs," said Himalaya 4x4 boss Greg Shondel. "Now when our clients commission a Series build, they can add in a special edition e-bike from Vintage Electric that can be racked and accessible in the back of our trucks."
The e-bike will be based on Vintage Electric's mode powerful throttle model, which is styled after a classic board track racer bike. Using a 72-volt electric motor system, the machine offer a 4000-watt drivetrain, giving it a 40mph top speed. Five power modes are offered, with the battery giving a maximum range of 75 miles.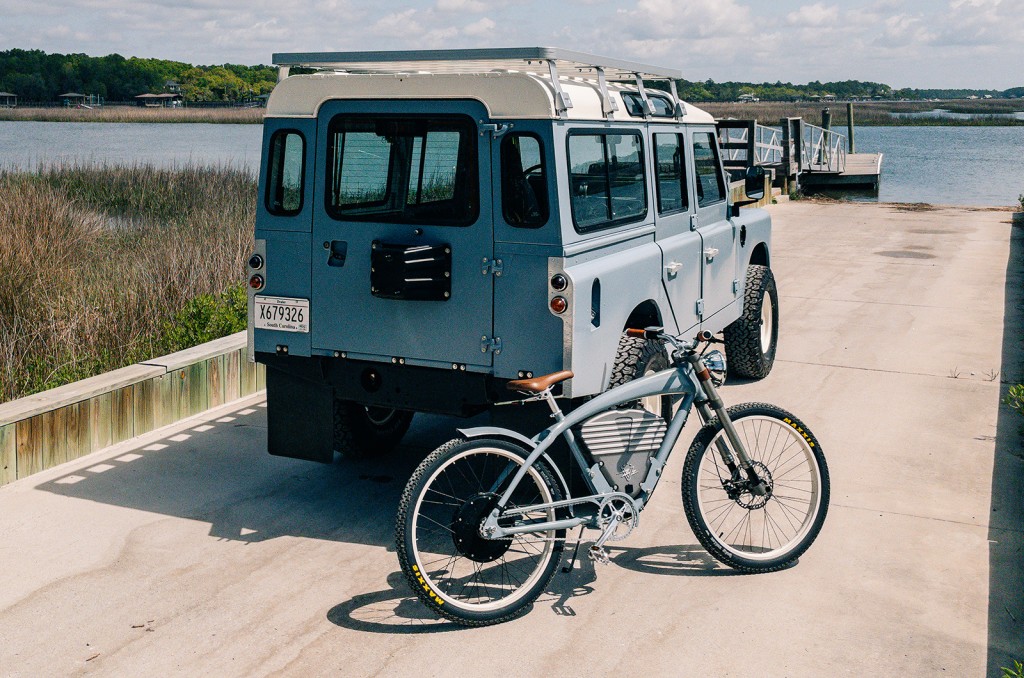 The bike is built around a hydroformed aluminium frame, that will be custom-painted to match the Land Rover it is paired with. Each bike will also get a custom saddle and grips that will match the Land Rover's interior fabric, along with exclusive badging and Maxxis tyres.
Meanwhile, Himalaya 4x4 will fit the Land Rover with a Saris 2 bike rack that can be used to transport the bike. The first Land Rover that will be offered with the matching e-bike is a Series 2A, which will be fitted with a 300bhp GM V6 engine.
Pricing Is available upon request. For reference, Vintage Electric's current throttle line-up starts from $6995 (£5600), although you do, of course, have to buy a restored classic Land Rover to get your hands on one off the special edition e-bikes, presumably pushing the price up somewhat.
Vintage Electric also offers a line of pedal assist e-bikes, which are offered in the UK both online and in select Fully Charged stores.
READ MORE
Subscribe to the Move Electric newsletter
e-CARS
What is a heat pump and how do they benefit electric cars?
Bold new Volkswagen ID 2all previews sub-£22,000 electric car
e-BIKES
Ten electric bikes we're excited for in 2023
Nine ways to keep your e-bike safe
E-bike theft: how common is it and what can you do to protect your e-bike?
Haibike AllMtn CF 6 e-bike review
e-MOTORBIKES
10 electric motorbike start-ups you should watch out for
Energica e-motorbike to take on all-comers in US racing series
Ducati: How the Italian motorbike brand is gearing up for the electric era
e-SCOOTERS
Planned laws to legalise private e-scooters face delay
Leading e-scooter firms team up on best-practice guide for cities
Ambiguity over e-scooter legality causing 'confusion', says police chief
e-WORLD
Solar panels: 8 ways the sun can power your electric life
First ride: Lunaz Upcycled Electric Vehicle bin lorry
AutoFlight secures huge order for Prosperity 1 eVTOL craft