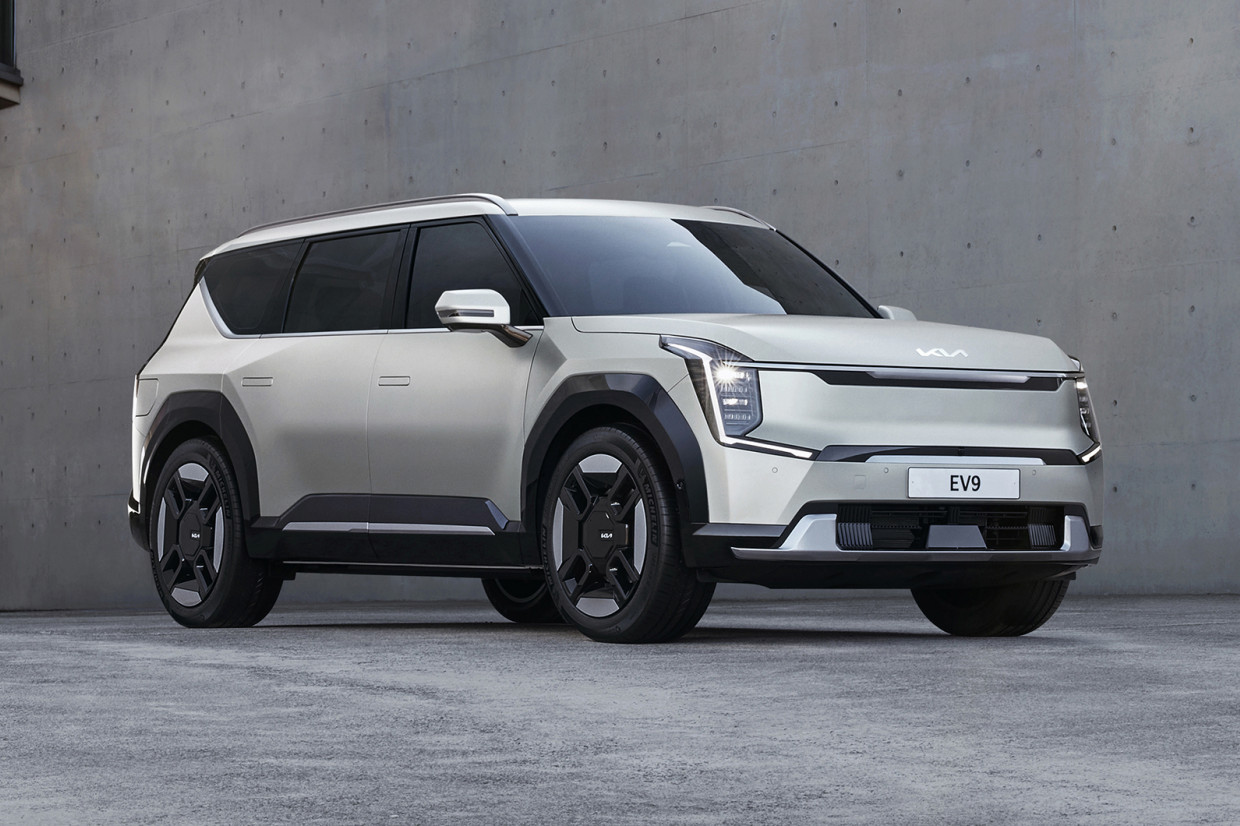 The new Kia EV9 is the brand's largest and most upmarket model yet – with the big SUV set to rival the likes of BMW and Mercedes-Benz.
The machine is the follow-up to the Kia EV6 as the firm's second bespoke electric vehicle, and will use the same advanced Hyundai Motor Group E-GMP platform as that machine. And like all good sequels, the EV9 is even bigger and more outlandish than its hugely successful predecessor.
The latest EV news in your inbox: get our FREE newsletter
Initially developed for the US and Chinese markets, Kia will launch the EV9 in the UK and Europe, where it will be one of the biggest electric SUVs on the road – and one of very few true zero-emission seven seaters.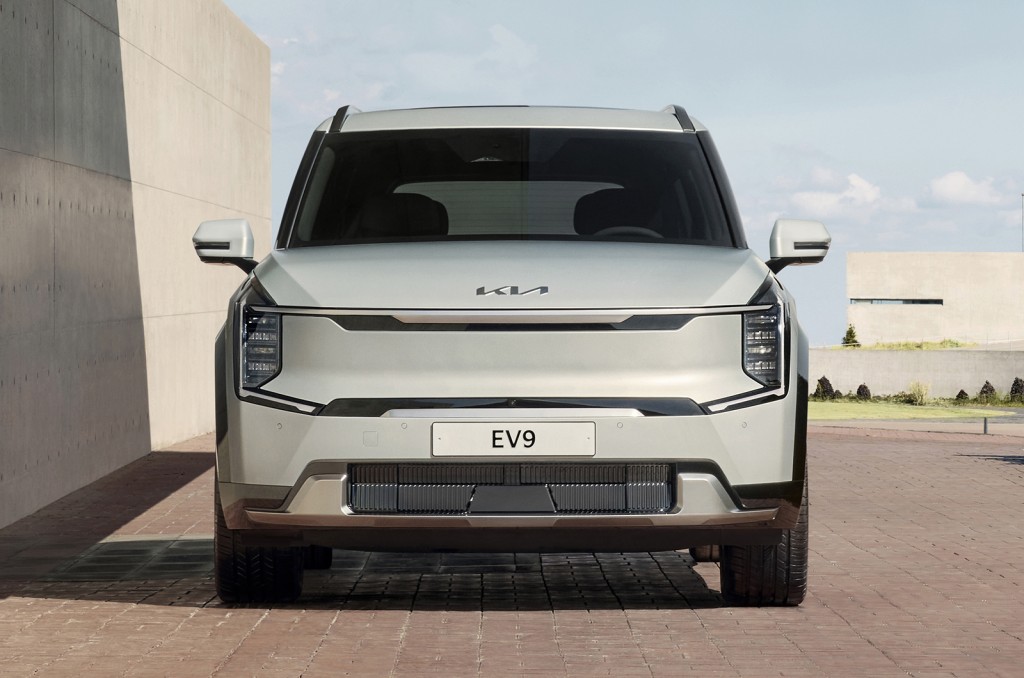 The machine will launch later this month, although it won't go on sale in the UK until near the end of this year. Pricing and specifications have yet to be set, although it is thought that entry level models could be priced around £60,000, with top-end versions stretching to beyond £80,000.
Those prices would once have seemed unthinkable for a Kia model, but the success of the EV6 and the brand's continued push upmarket in terms of design and material quality is helping to open the brand to new audiences.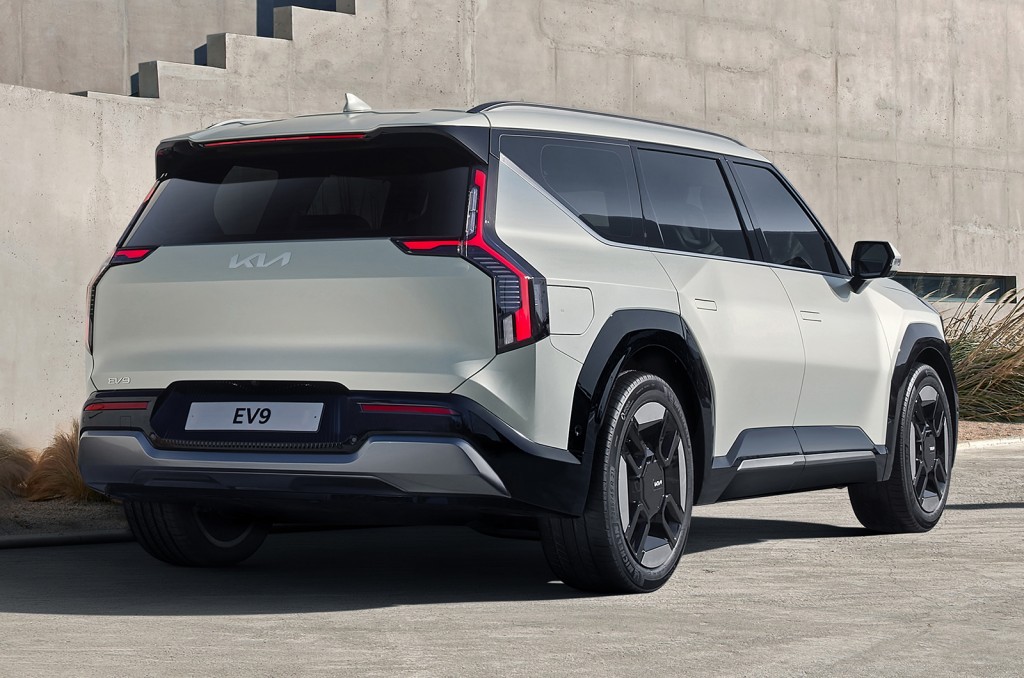 Kia's design philosophy is labelled 'Opposites United', which apparent means it mixed qualities of nature with modernity. Notably, as with sister firm Hyundai, Kia is intent on giving each of its new models its own character, so the EV9 is notably different from the EV6.
Kia design chief Karim Habib says that the mode "breaks new ground, aiming to redefine standards for design, connectivity, usability and environmental responsibility."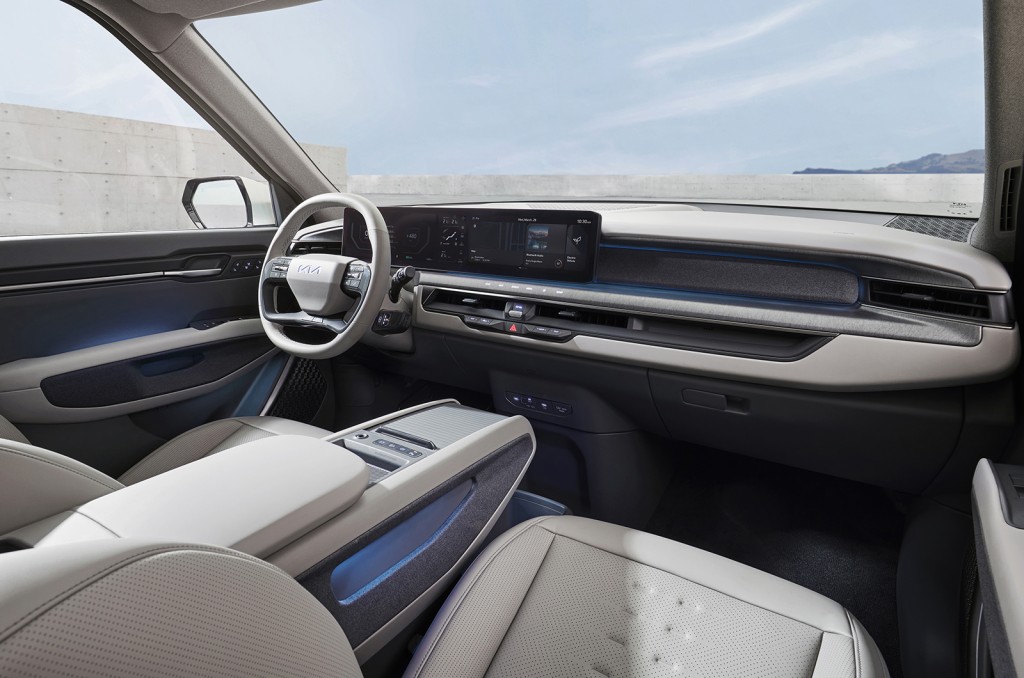 The big machine features angular, boxy styling and an imposing front end, which features a digital lighting pattern, vertical headlights and Kia's new 'digital tiger face' made up of clusters of cube lights mounted in the bodywork. There's also an LED 'star map' that can function as daytime running lights, but also allows for animated lighting patterns.
The side profiles features several sharp lines and creases, which have been honed to maximise the aerodynamic efficiency. There is also a tapered rear roof line, while the rear lights also use a horizontal design.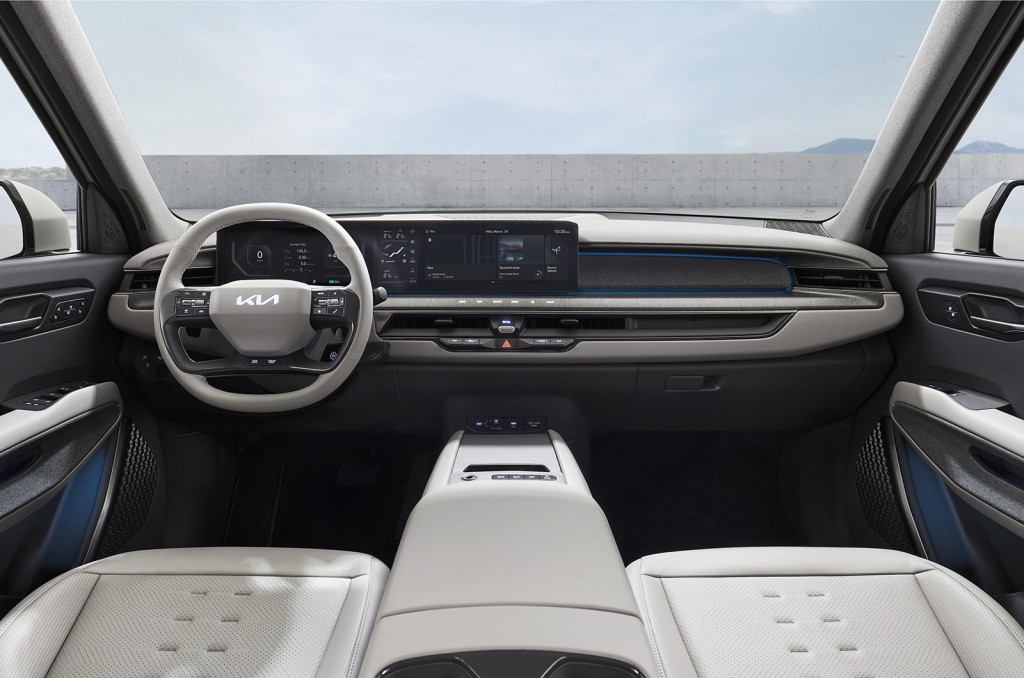 The interior utilises the flat floor of the E-GMP platform to offer plenty of space, including three full rows of seats – buyers will be able to pick from six- or seven-seat layouts.
The seats in the front two rows recline, and those in the second row can also rotate 180 degrees. The third-row seats aren't quite so versatile, but they still get cup-holders and mobile phone charging plugs.
Up front, the dashboard uses two 12.3in touchscreens and a 5in digital instrument display, while the centre console features a range of storage cubbies.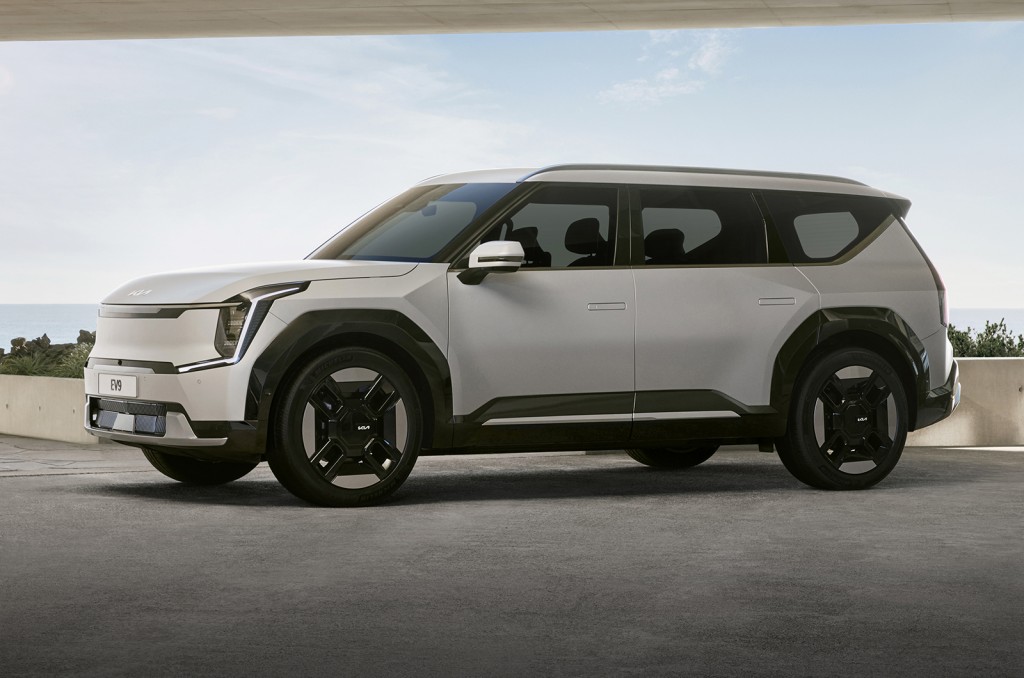 While Kia has now revealed the styling of the EV9 in full, it has yet to disclose any technical details about the new machine. But it is aiming for a maximum range of around 337 miles, suggesting a battery with around 100kWh capacity. Given the 800V E-GMP system allows for 350kW charging, it shouldn't even take too long to fill.
As with the EV6, the machine will be offered with a range of powertrains, including single- and twin-motor models offering two- and four-wheel-drive respectively.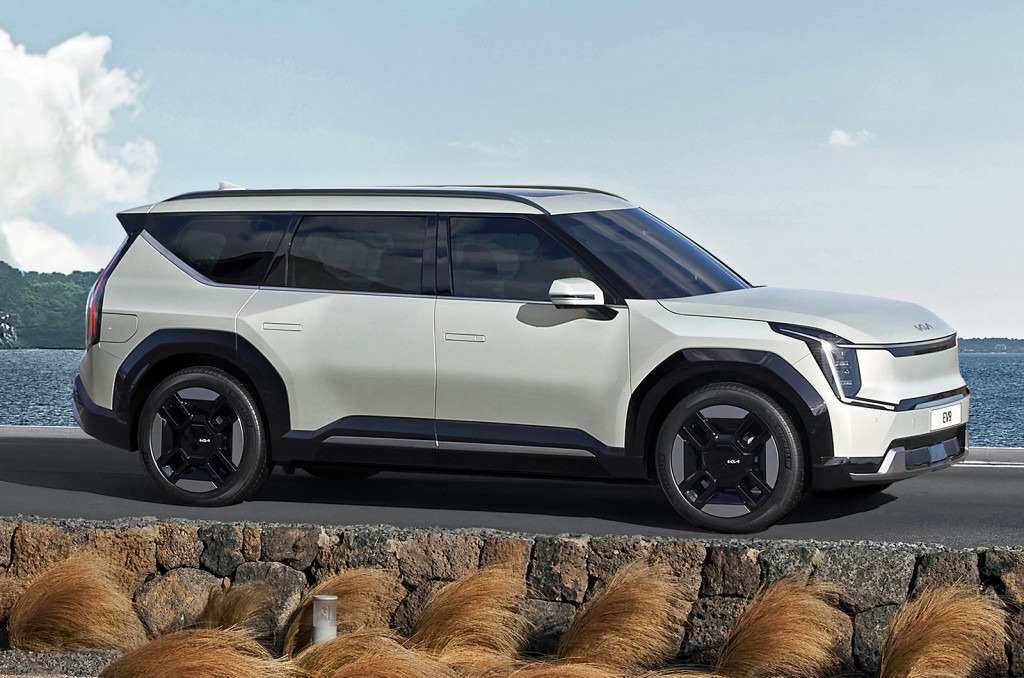 READ MORE
Subscribe to the Move Electric newsletter
e-CARS
Ten electric cars we're excited for in 2023
Getting an EV sideways: how easy is it to drift a Kia EV6 GT?
Q&A: Jaguar Racing's Sam Bird and Mitch Evans on Formula E's new era
e-BIKES
Ten electric bikes we're excited for in 2023
Can you get fit using an electric bike?
e-MOTORBIKES
Ten electric motorbikes we're excited for in 2023
Super Soco TC Max electric motorbike review
Cake and Polestar team up for new special edition Makka e-motorbike
e-SCOOTERS
Planned laws to legalise private e-scooters face delay
Five key takeaways from the rental e-scooter trials report
Which train firms have banned e-scooters from their services?
e-WORLD
Move Electric's best features of 2022: lap records, tuk-tuks… and sausage rolls
Volvo Trucks keeps on electric trucking with three new models